How do you transform your Instagram content into a valuable tool for your business?
In recent years, countless companies have begun to discover the power of Instagram for marketing and sales. It turns out that this popular social media platform isn't just a great place to share pictures of your lunch or your dog.
Instagram is also one of the best places you can be if you're a growing business.
Not only does Instagram boast more than 1 billion monthly active users, but those users are also highly engaged. Around 63% of them will check their app at least once a day, and a significant percentage frequently uses Instagram for inspiration on what to buy.
#Instagram does have the potential to turbocharge your #revenue and help your #business grow.
However, you need the right content if you're going to get results.
Start With A Content Creation Plan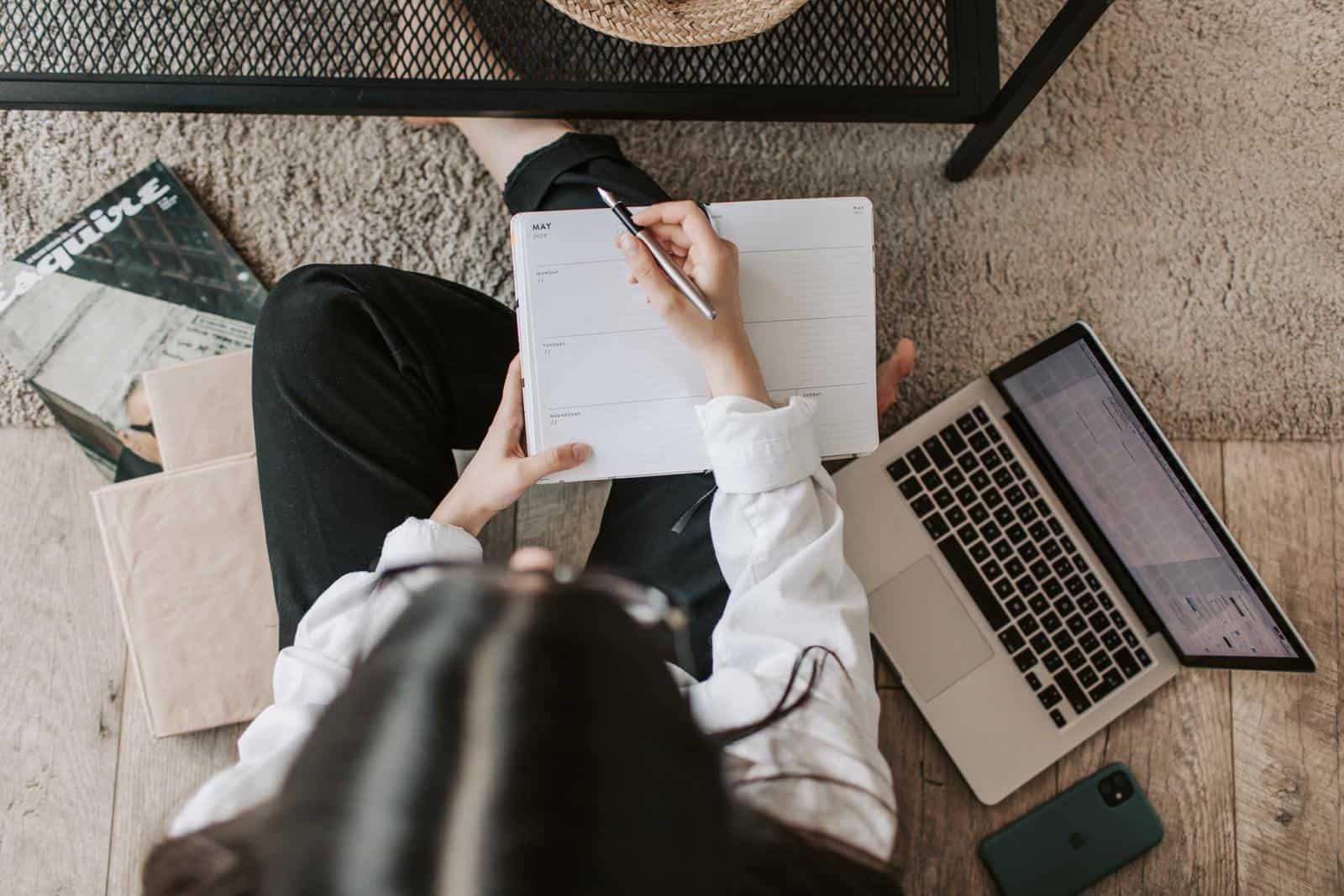 The first thing you're going to need before you begin generating content is a plan. Start by figuring out exactly how much time you have to spend on content creation, how frequently you're going to post, and what kind of content you can create.
Remember, there's more to Instagram than just feed pictures. You can also invest in Instagram Stories, shopping posts, Reels, and IGTV. The more time and money you have to spend on your Insta presence, the more comprehensive it's likely to be.
Have a schedule in mind for how you're going to publish content too. The best time to post on Instagram differs according to your industry and audience.
Take inspiration from the industry benchmarks in your area, but don't forget to check your Instagram insights for more specific insights into your target audience.
Got the basics of your content creation plan ready? Then let's move onto our go-to Instagram content creation tips for generating revenue.
1. Create Content That Appeals To Your Audience
This might sound like obvious advice, but you'd be amazed at how many companies simply guess at the kind of content their audience might like. Before you begin creating your Instagram content, think about your target audience. What kind of things are they interested in?
A sophisticated audience for an artist providing personalized sketches will want something entirely different to a young audience for a tech brand. Ask yourself:
What are my customers likes/dislikes: Looking at your consumer profiles, ask yourself what kind of things your audience will like and dislike. Are they fans of bright, playful content, or do they want something that's more elegant and refined?
What kind of companies do my customers already follow? Looking at the ventures your customers already follow will give you an insight into the content types that most appeal to them. Check your competitors for tips on how to use filters, how frequently you should post, and what kind of images you need to create.
What kind of content does my audience like most? Instagram is the go-to place for images – but you don't have to stick to snaps exclusively. Videos, stories, and even Instagram Reels could be more appealing to your target customer. Don't be afraid to mix things up.
You can learn more about your customers' preferences by examining your Instagram Insights. They'll show you things like which posts your customers like the most and which get the most engagement.
For instance, Airbnb knows that its followers will want to visualize themselves in some of its top-performing properties. That's why they publish pictures of real people in beautiful Airbnb homes. There's also a great caption to help you build the perfect shot in your mind.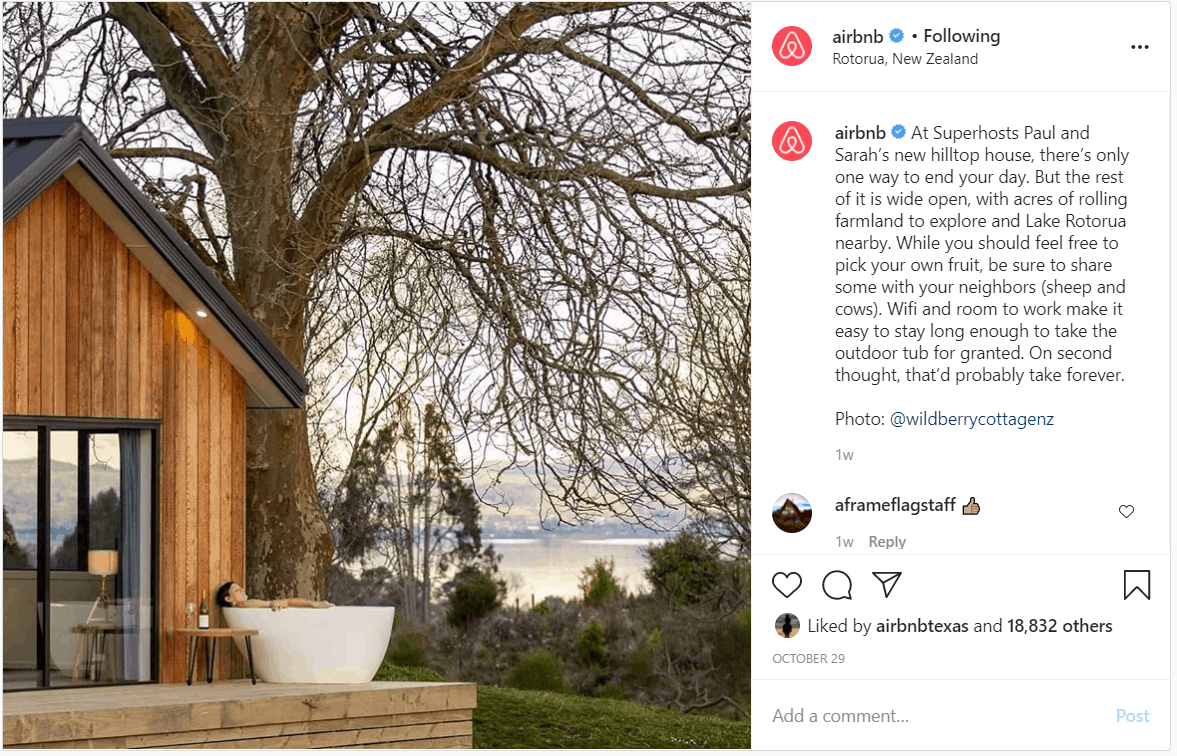 2. Make Your Instagram Feed Shoppable
Today, 70% of consumers say that they use Instagram to track down new products. Further 130 million users say that they frequently click on shopping posts – at least once per month. Making your Instagram feed shoppable is a great way to encourage conversions right there on the feed.
Although you can always use a link in your bio to drive people back to your product pages, being able to shop without going to any new websites is much more convenient for your audience. Fortunately, setting up Instagram shopping is easier than you'd think. Just create a product catalog on the Facebook page you have linked to your Instagram Business page to get started.
After that, go into your Settings and tap on the Business tab to turn on Shopping.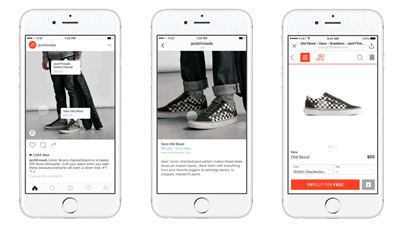 Once you have Instagram Shopping switched on, you can tap the items you want to tag as "shoppable" on your posts. It's that simple. You can also implement Instagram Check out so that customers can finish their purchase there and then.
All your customers would have to do is tap on the item they wanted to purchase on your feed to start the transaction.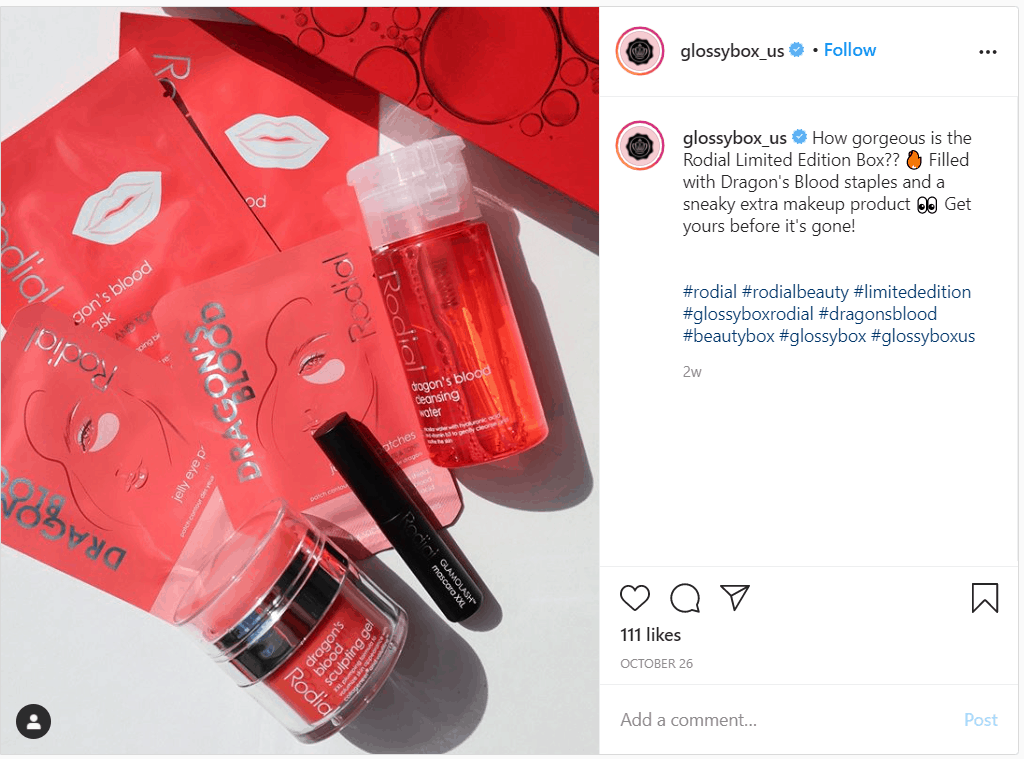 3. Create Instagram Ads
Sometimes you do need to spend money to make money. Posting great content regularly that engages your audience will boost your chances of a sale long-term. However, it's worth looking into some paid options too. Instagram ads are a fantastic way of giving your best content a much-needed boost.
According to insights, 75% of Instagram users say that they will eventually act on an ad they see on the platform. Notably, to create sponsored posts and ads on Instagram, you will need a business account.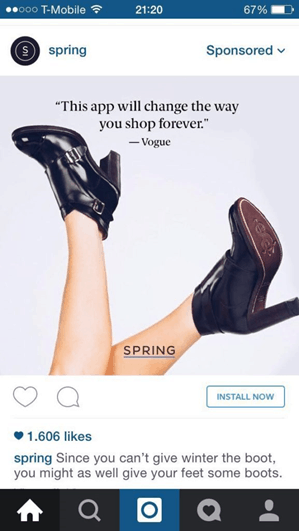 Switching to a business account doesn't just give you access to ad opportunities. It also means that you can unlock better Instagram Insights and see which posts your audience is engaging with most. This means you're more likely to promote the right content.
The key to successful Instagram ads is promoting the pictures and content that you know is most likely to capture audience attention. Offers and discounts are a great way to engage your audience, but you might also find it helpful to experiment with user-generated content and videos too. Sponsored videos get around 3 times more comments than sponsored photos, after all.
4. Leverage User-Generated Content
There's only so much that a brand can say to convince its customers that it has fantastic products and services to offer. Ultimately, your audience is always going to trust the opinions of other customers over yours. That's why it's so valuable to leverage user-generated content whenever you can.
User-generated content demonstrates how much other people appreciate your company and the products it sells. To start a UGC campaign, all you need to do is choose a hashtag for your followers to use when they're sharing content related to your brand.
For instance, the women's clothing company Aerie created the #AerieReal campaign to show off real people wearing its items. When people started sharing pictures of themselves in Aerie clothes, the company reposted the images, drawing extra attention to the shots: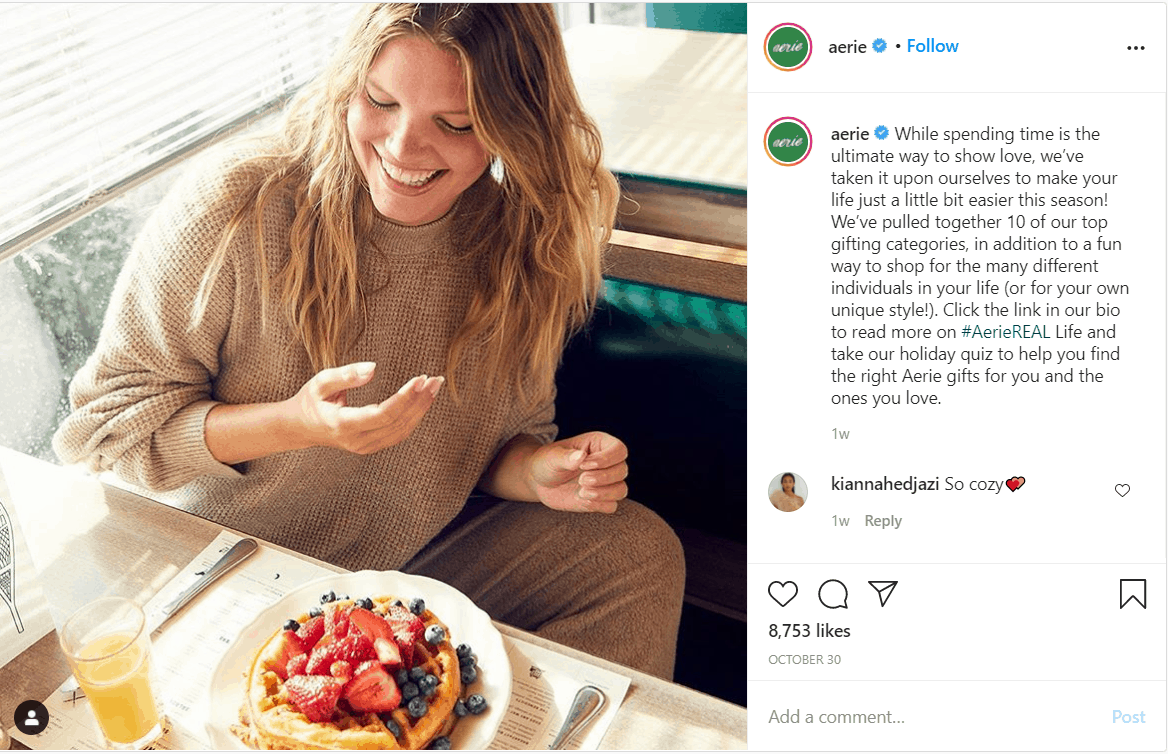 The result for the company is a ton of authentic and eye-catching photos that are way more appealing to customers than generic stock images.
If you're having trouble getting your customers involved in your UGC strategy, you could always motivate them with some bonuses and rewards. For instance, ask people to share pictures as part of a contest, then choose a winner with the best image to receive a prize.
5. Work With Micro-Influencers To Create Content For You
Finally, similar to user-generated content, micro-influencer content has a unique impact on your audience. A micro-influencer is an Instagram influencer with between 1,000 and 100,000 followers.
With micro-influencers, you're leveraging a certain level of popularity and trust that belongs to someone in your community. You might not have earned the same amount of credibility yet, but you can springboard off the reputation of another person, or boost your following and buy Instagram followers cheap.
Micro-influencers are an excellent choice for smaller companies looking to create more effective and lucrative Instagram content. They don't cost a fortune to work with, and they deliver a lot of authentic and meaningful posts.
Your work with micro-influencers can be as simple or complex as you choose. For instance, Audible Canada partnered with micro-influencer Jesse Driftwood to advertise ways to enjoy their product.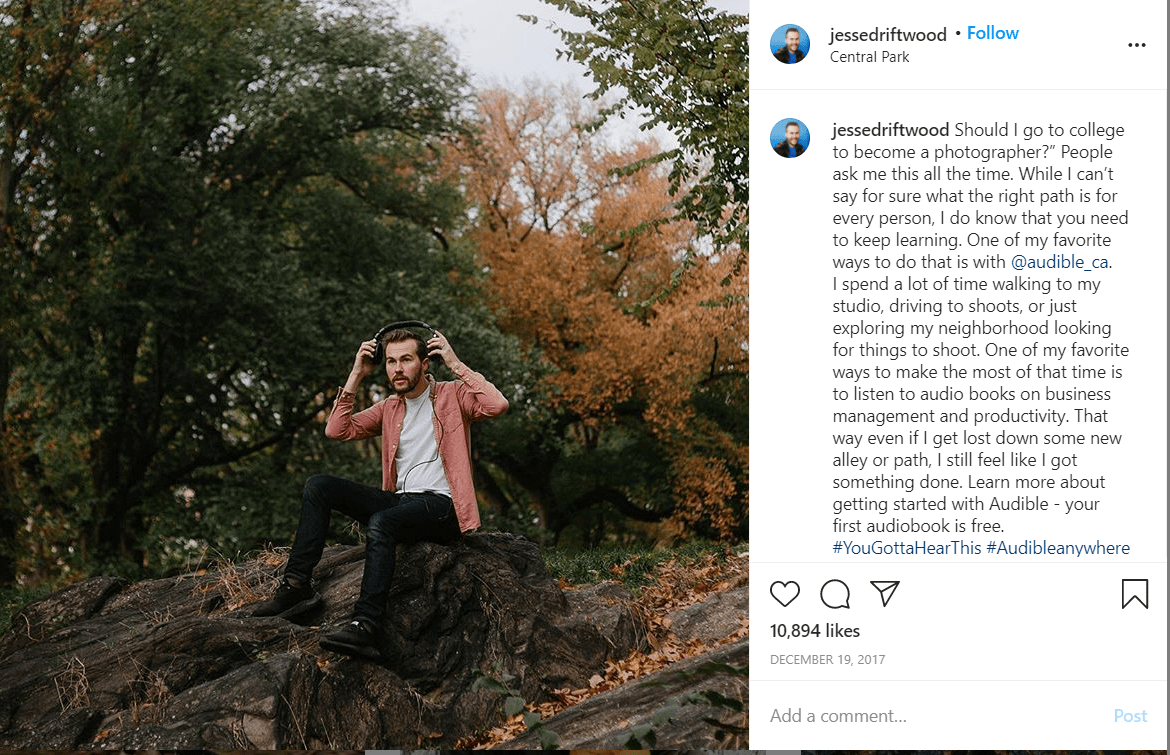 You could ask your micro-influencer to create a how-to using your products or request a picture of them wearing or using something you sell. You might even connect with a micro-influencer over a shared story, video, or Instagram Reel. Before that, it is advisable to have a verified account, so check out Instagram verification badge requirements.
Micro-influencers give you a chance to reach your customers through people they already respect and like. This gives your business reputation a much-needed boost and also drives new customers your way through additional channels.
Creating The Best Instagram Content
Instagram can be an excellent place for businesses to generate engagement, revenue, and new traffic. However, to access all of those benefits, you need to ensure you're creating the right content. While there's no one-size-fits-all strategy that works for everyone, the five tips above will set you on the right path for fantastic content creation.
Once you're designing the ideal content for your audience, you'll find your revenue, and your Instagram presence will begin to skyrocket. Good luck with creating content that works!