If you're selling products or services online, social proof is incredibly important. Your rating and reviews can influence people immensely and sway them over to your side if they're not sure whether they want to do business with you or not.
Good #reviews immediately tell everyone that you're a serious and professional #enterprise.
Because of all that, it is important to make these reviews easily accessible, if not even prominent on your website. Fortunately, there are some excellent customer review plugins out there, and we are going to cover the best in this article. Keep reading!
1. Trustindex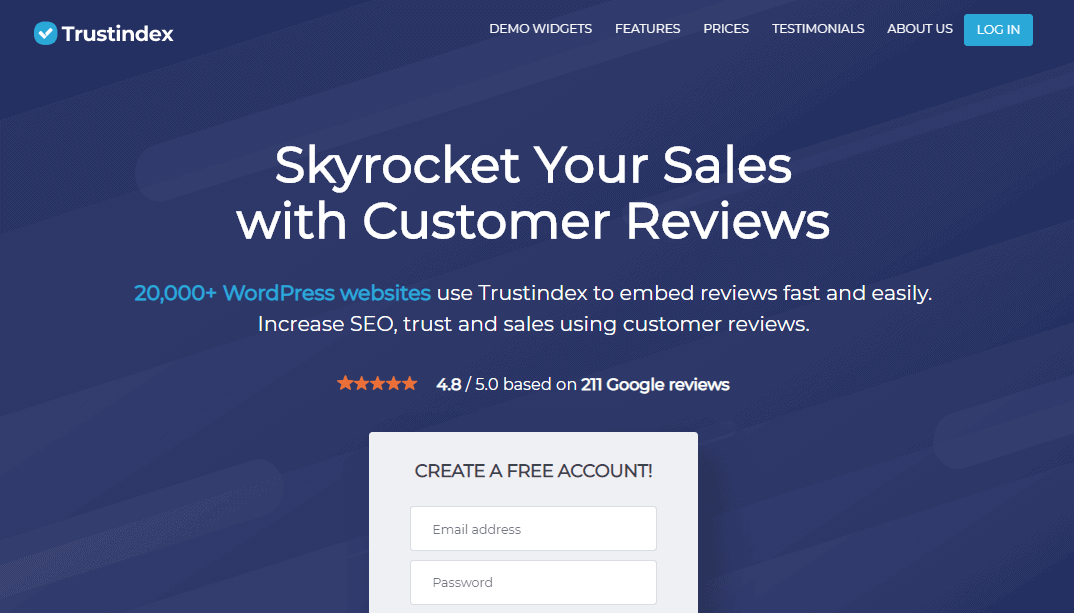 Trustindex simply has to go first on this list because it's incredibly easy to use but also very efficient in boosting your sales. On top of that, it has an excellent free version which is likely to satisfy most of your needs.
This lovely little piece of software can be used with any website builder, and it should be stressed that it helps with your SEO, too. With it, you will be able to display five different Google reviews and choose between several layouts and styles to blend those reviews seamlessly into your website's overall aesthetic.
On top of that, you will be able to filter out the reviews you receive in order to make sure the best ones are the ones that your prospective customers see. And this is all in the free version!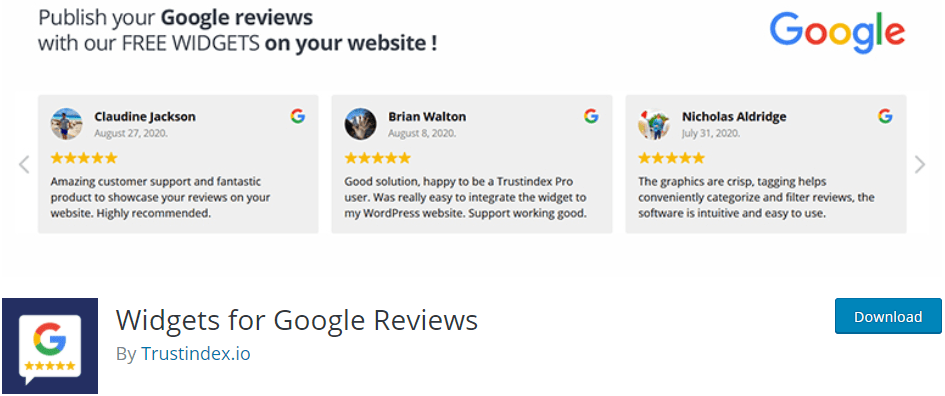 However, Trustindex's premium versions go one step beyond that as they allow you to show reviews from various different websites. Amazon, Facebook, Airbnb, Tripadvisor, Booking.com, all the biggest platforms are covered, so if you're present on them you can include those reviews, too.
You will also be able to customize various details of the design and use more widget layouts, plus a system will be in place to invite your customers to leave a review automatically.
Oh, and you will also get detailed statistical data in order to measure how much of an impact this plugin is having exactly.
So, whether you opt for a free version or a premium one is up to you, but keep in mind that there are three premium packages, so you may be able to find one that suits you perfectly. Naturally, a free trial is also available, plus there's even a money-back guarantee that can last up to 30 days!
A pretty good deal, huh?
2. Site Reviews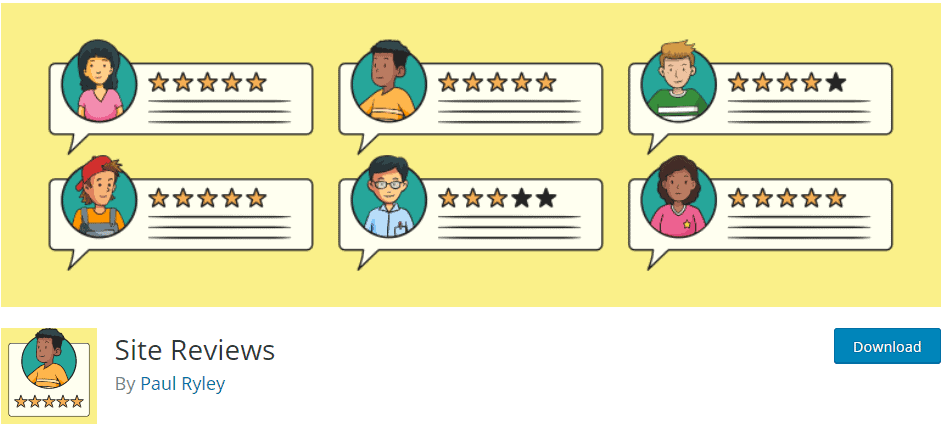 Another fairly simple solution for WordPress websites. Site Reviews is a plugin that helps you collect reviews in a fairly simple manner and allows you to display them on your website pretty much however you want. You can also pin the best reviews to the top of the list so that they're always shown first.
And while it can't connect to so many big websites like the previous example, Site Reviews does offer the option of importing and exporting the reviews you receive in order to move them to another website if you need to.
There are also a fair number of styles to choose from, and you can count on excellent support. Not bad for a completely free product.
So, if you would like your website to feature reviews but are not willing to get into a lot of details, this is a nice, simple, and clean way to do it. Great stuff!
3. Widget for Google Reviews by RichPlugins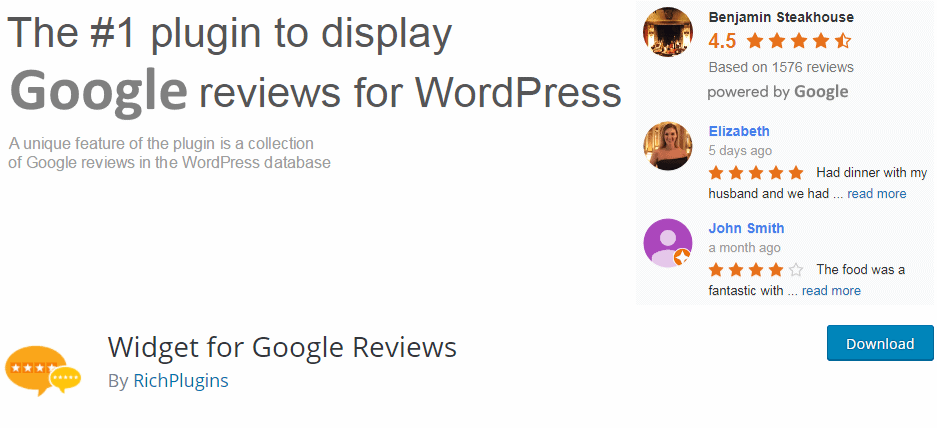 Widget for Google Reviews by RichPlugins is a direct competitor to Trustindex's widget, so it's quite interesting to compare the two. The main principle is pretty much the same – this plugin will connect to and bring up all the reviews you've received on other platforms so that they can be shown on your website.
It also has a free version, although the premium version is more expensive than Trustindex's and the money-back guarantee here lasts less time.
That is not to say that this is not a good product – it is, quite a good one, actually. There are plenty of features to enjoy, such as several themes and languages to choose from, benefits to your SEO, and the ability to shorten longer reviews. The choices are quite numerous, and you can make sure the reviews that appear on your website look perfect.
It's all excellent, but the number of options is just a tad lower than what Trustindex can offer you, which is why this product comes in third place.
4. Starfish Reviews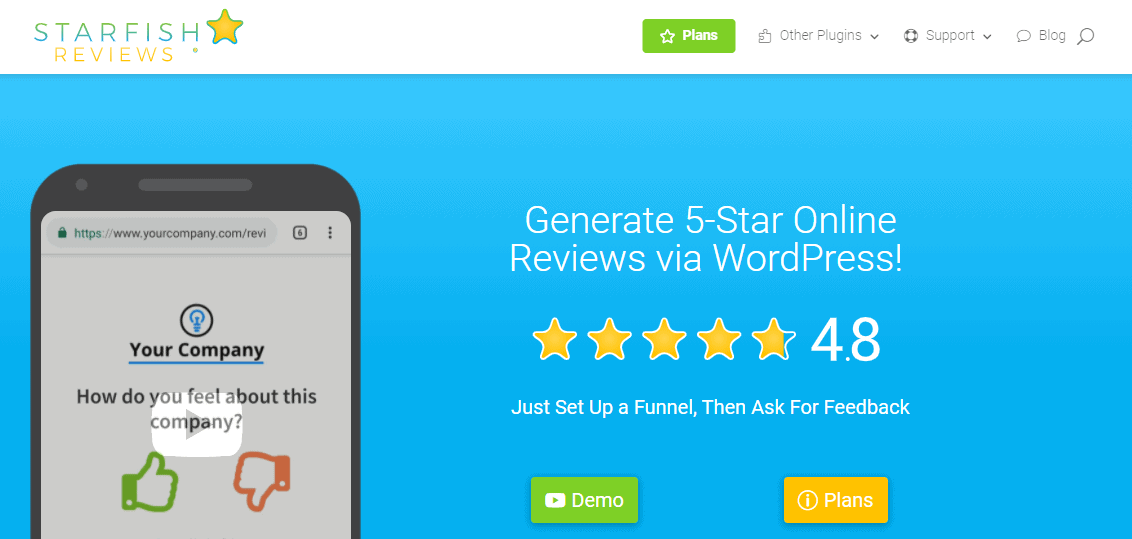 Now, this is an interesting way to get positive reviews from your clients. Starfish Reviews creates a funnel which can be fully customized to fit your needs and the description of the site you're running. Then, you send a link to that funnel to your clients via any channel you prefer: mailing lists, CRM, newsletters, whatever works for you!
Now comes the ingenious part – the funnel asks one simple question: How do you feel about this company? If the client gives it a thumbs up, they will then be asked to write a review, which is bound to be positive. If, on the other hand, they give it a thumbs down, nothing happens.
Not only will this save you a lot of time you'd otherwise need to filter out negative reviews, but your overall rating and tone of the reviews you get will improve dramatically.
Considering all of that, four dollars a month is really not too steep for a product like this, but you can choose between two more packages for more funnels if you need them. Plus, there's also a 14-day money-back guarantee, which is quite fair!
5. WP Review Pro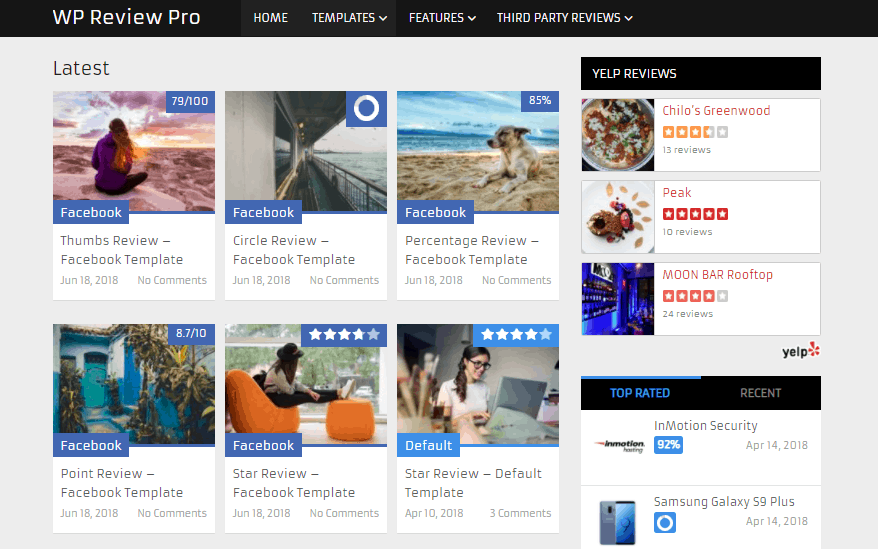 WP Review Pro is another good candidate because it is extremely versatile and allows you to approach the rating and reviews issue from a multitude of perspectives.
Most notably, it allows you to use several types of rating systems, from percentages to stars, so you can mix and match, experiment a bit until you find the one that works best for your website.
Users can also leave comments on other people's reviews, and it's even possible to compare different products side by side, which is a very nice touch.
Maybe a slight downside is that it only integrates with Google, Yelp, and Facebook to get you your reviews.
Other than that, this is a really excellent product, and you'll be happy to know that it has a free version for you to use. Plus, you can get a refund within 30 days from purchasing it. Certainly, a very strong contender if you have a WordPress website.
6. Taqyeem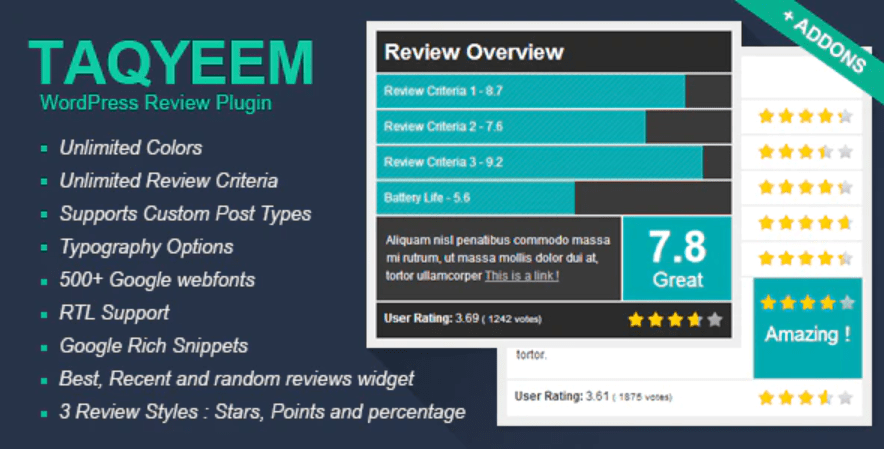 If you want your users to give really detailed reviews, Taqyeem could very well be the tool you need for that. We say this because it has an option to add an unlimited amount of criteria in the table that is the review overview, which allows you to provide your prospective clients with a whole lot of useful information.
Another thing that is unlimited is the number of colors you can choose from, so you can be sure this rating system will blend into your website perfectly.
Three different rating systems and changeable icons also sound very good. Plus, there are more than 500 Google Web Fonts at your disposal.
If you're running an online shop, you will be happy to know that this plugin allows you to manage the items you offer in a variety of ways by showing your customers the most popular items and the items that are the newest additions to your collection. Additionally, you can even group products according to their brand. Not bad!
7. Let's Review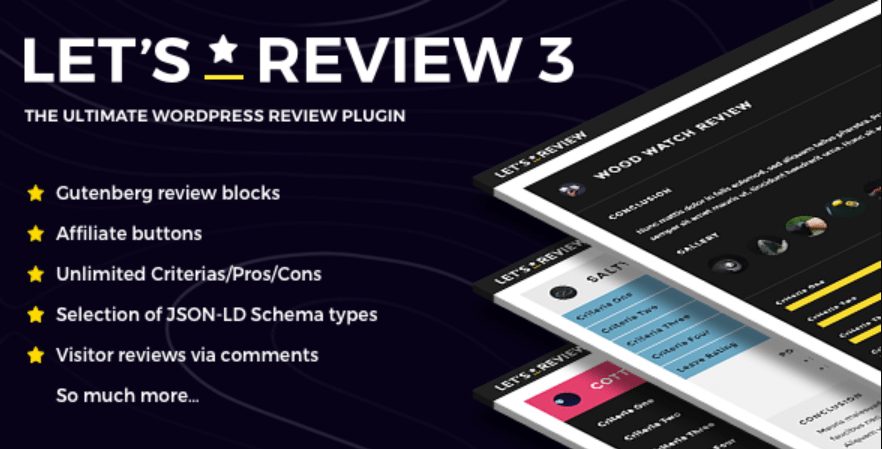 Another very interesting product with plenty of options. The main distinguishing feature of Let's Review is that it focuses on affiliate marketing, so you can add nicely designed buttons below the reviews themselves into which you then put an affiliate link. Pretty nifty, huh?
The number of affiliate buttons you can add is not limited, and neither is the list of criteria, pros, and cons every review can have.
The ratings come in several formats, among which are custom icons and image files, which can really help add that splash of personality to your website.
Another very nice touch is the fact that you can use the review box to show off more images of your product since you can set them to be the box's background. The end result is visually quite impressive, especially if you have some high-quality photos.
A powerful migration tool is also included in the mix, which means you can easily transfer reviews from other themes and plugins and transform them into Let's Review reviews.
All in all, a must if you're in the affiliate business.
8. Customer Reviews for WooCommerce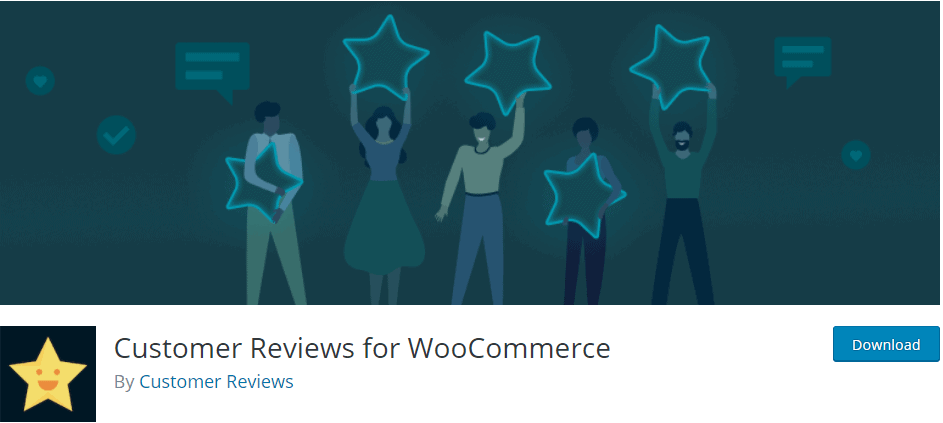 This wouldn't be much of a list of the best customer review plugins if we didn't mention something that can help you with your WooCommerce store, and the Customer Reviews plugin is just that.
It comes in two different versions – free and pro – but the free version already has a lot to offer because it will contact your customers via e-mail and then ask them to write you a review. However, once they do that, the plugin will actually check whether or not what they left you is spam and only those reviews that get through the filter will get published.
On top of that, the plugin will offer coupons with discounts to people who respond, which is quite an efficient way to grab somebody's attention and build a relationship with your clients.
The pro version allows you to add your logo to all of that and gives you dedicated support, among other things, so it may just be worth it to pick it up at $49.99 + VAT.
9. Easy Testimonials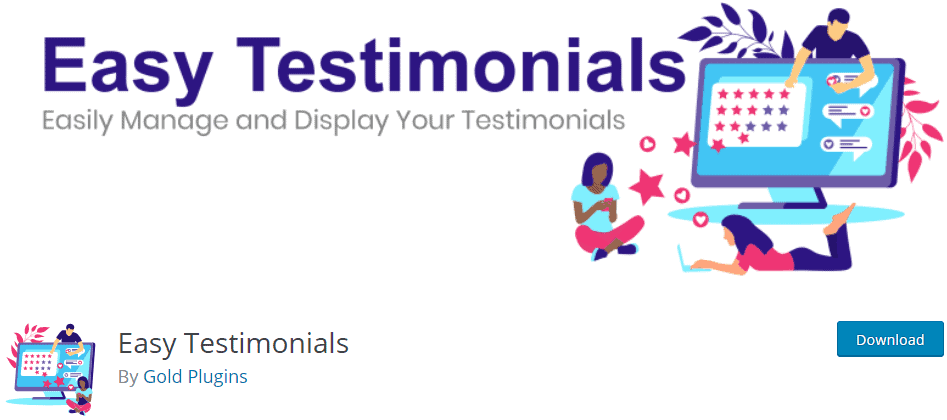 Last but not least, we'd like to introduce you to Easy Testimonials, a plugin that focuses on the kind of reviews known as testimonials. This means that the focus here is on the text a user writes and their story of using your product or service, not necessarily on the rating.
It's a great way to get people to open up, share as many details as possible, and provide valuable feedback to you. Not to mention that it can be extremely helpful to your prospective clients when they're making their decision.
A nice touch is that you can customize the testimonials with the users' photos and star rating, and even assign a unique color to each of them. But if you need more customization options, you can always consider buying the pro version. Yes, you can get all of this for free!
Oh, and you also have the option to allow only testimonials or negative reviews. The choice is yours. The bottom line is, though, that this is one great plugin if you're looking to get testimonials.
Conclusion
And that brings us to the end of our list of the best customer review plugins. As you can see, there are many fine candidates out there, each with something unique to offer you.
You can import reviews from all the biggest platforms in the world and transfer them to your website, you can invite and entice people to write you reviews, and you can even reward them for doing so. It all depends on what your strategy is.
Trustindex is our number one choice because of how easy it is to use and how many platforms you can connect to.
Your reviews from Facebook, Google, and even sites like Airbnb, Booking.com, and so on, will surely make an impression on every visitor your website manages to attract. And they will help with your SEO, too.
But if for some reason that doesn't suit you, you can choose between plenty of other great products, some of which specialize in certain platforms (e.g. WooCommerce). So, take your time, decide, and elevate your website by displaying reliable social proof that is sure to boost your sales!