Ever since 2021 rolled in, it seems like AI has been getting more popular by the minute. If you are inclined to follow trends and like to take chances, why not give AI content generators a try? We have created a list of the best AI content generators. Take a look and choose the ones that will suit you and your need the best!
Making an AI write content for you does sound like a dream come true, but you must be aware that it does have its limitations. The human language is a highly complicated thing, and so far, no AI has been able to fully grasp the small intricacies that we all take for granted in our day-to-day life.
Are you a content marketer? Take a look at these #AI content #generators!
Not only that, machines and AI do not possess consciousness which can make them create something truly original. If we consider that, we will start noticing that articles, longer blog posts, and poems or short stories are still out of reach for our robot companions.
But the things that AI excels at are repetition and finding patterns. Making AI perfect for creating short and to the point texts, from describing meals and clothes to businesses and hotels. AI can create short posts, and by reading them, we could never notice that humans did not do the writing. And this is what makes AI writing so great, as it can be a substitute for an employee in a firm. AI can occasionally write some content and save you the trouble of finding new employees or freelancers.
1. ContentBot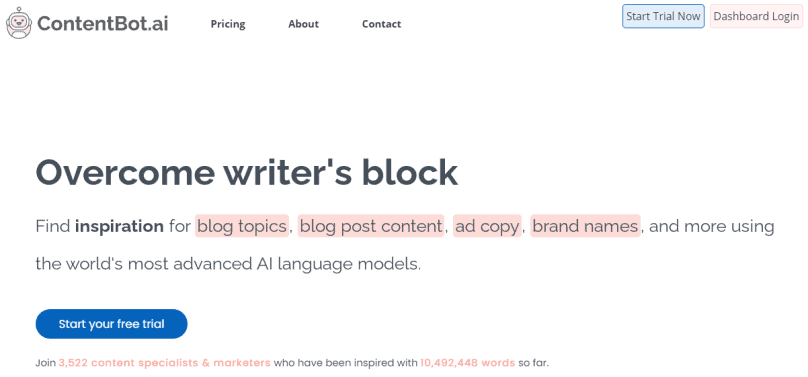 Taking the number one spot on our list is ContentBot. A lightweight AI content generator that aims to help you create more and worry less. When it comes to features, ContentBot has many.
To break it down into categories, we have tools that: help you create blog content, marketing, and sales copies, SEO and metadata generators, and founder tools.
If you run a blog, ContentBot can quickly help you generate topic ideas, blog outlines, or intros and help you change the tone of your post if you need to sound more professional. Speaking of professionalism, making ads, slogans, brand names, and headlines has never been easier as ContentBot has special tools created just for that.
For all of you that dismay editing metadata and SEO ContentBot can help you summarize, rewrite, and create unique meta content. However,  in our opinion, the most outstanding side of ContentBot is in its creation of landing pages and business or startup descriptions. You can find ContentBot at a discounted price on appsumo.
2. Content Villain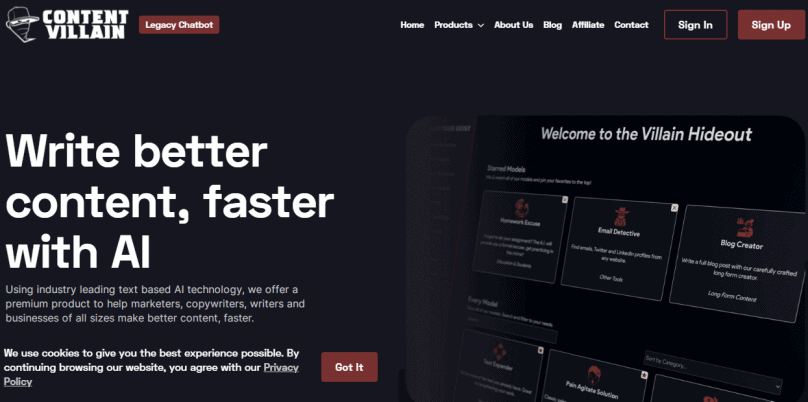 While the name does sound a bit malicious, we can assure you that this tool only has your best interest in mind. Specializing in creating long-form content, Content Villan helps spark ideas and create posts. When you feel like you are out of ideas, this tool boasts a whopping 50+ unique modes that you can use to create just the right text.
However, Content Villains doesn't stop there as they also offer custom solutions if you require something specific. And when it comes to connectivity, Content Villain has beat everyone else as it provides you with a fast and clean API that lets you connect to other workflow tools like Zapier, etc. With an additional Email detective that lets you find potential leads, Content Villain is a great AI helper. Not to mention the deal currently live on appsumo. So hurry up and take a look; we bet you won't regret it!
3. Writesonic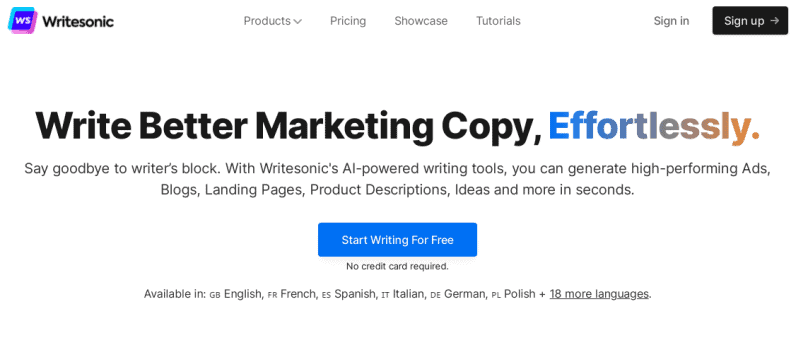 Marketed as a copywriting tool, Writesonic is an ingenious little AI writing helper. While others scoff at the idea of copywriting, Writesonic embraces it.
Why should you spend hours creating the perfect email just so that you can send it once? With Writesonic, you can always reuse that content later on and give a professional aura. When it is not helping you combat writers' block or saving you time by rephrasing text, it can help you create great custom-made ads for social media. With many other features and even more coming soon. Writesonic is a promising AI content generator.
4. Articoolo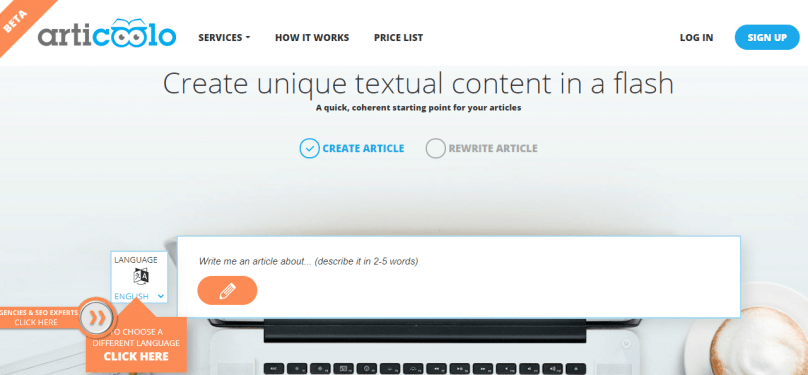 Last on our list, but not any less important. We have Articoolo. Like our previously mentioned tools, this one has many features. And you will be able to use them to help you create and generate blog posts. What makes Articoolo unique is that it focuses explicitly on creating articles.
Since it doesn't try to be a jack of all trades, this tool hones in and can create stellar blog posts, not only that it can create summaries or even rewrite whole articles. But the thing that stood out to us the most is that you can try it right on their website! So, no need to give any information or type in your credit card details, nothing! Just type something in and watch it do its magic. Unbelievable!
Conclusion
Now that you have a general overview of what tools are out there.
There is no reason not to give at least one of them a shot.
Picking out might seem challenging, but once you find the perfect match, we are sure it will become the perfect assistant for you. And the only question you'll have will be, "where was this tool all this time?"
Still, if you want our opinion on the matter, we suggest you pick either ContentBot or Content Villain as they are currently on sale.