WP Engine is a premium hosting provider that claims to be "the best platform for developing and hosting fast, reliable, and secure WordPress sites."
With so many various hosting options that may confuse you, WP Engine might seem like the perfect choice.
However, is WP Engine as hassle-free as claimed to be? Is switching over to WP Engine really worth it?
Keep reading to you to find all the information needed to figure out whether WP Engine is the best hosting solution for you.
About the company

Originally founded in 2010, WP Engine shortly became one of the world's leading WordPress hosting providers. The company itself is a workplace of more than 700 employees and is headquartered in Austin, TX. According to WP Engine's website, more than 90,000 users globally, including HTC, SoundCloud, and Foursquare, use the hosting service. The company is an award-winner and continually contributes to the WordPress community.
Hosting plans
WP Engine only offers a managed WP hosting service. As of now, there are four hosting plans to choose from: Startup, Growth, Scale, and Custom. The plans differ on the bandwidth, disk storage amount, traffic volume, number of websites, and pricing. All four plans include access to 35+ WordPress themes, 24/7 customer support, unlimited data transfer, and global CDN. The most advanced plan offers optional add-ons, including a GeoTarget feature, WordPress Multisite, and launch readiness assessment.
WP Engine provides some unique features that you'd have to pay extra for with a different hosting provider. Some of these features are staging websites, PHP 7, and git version control.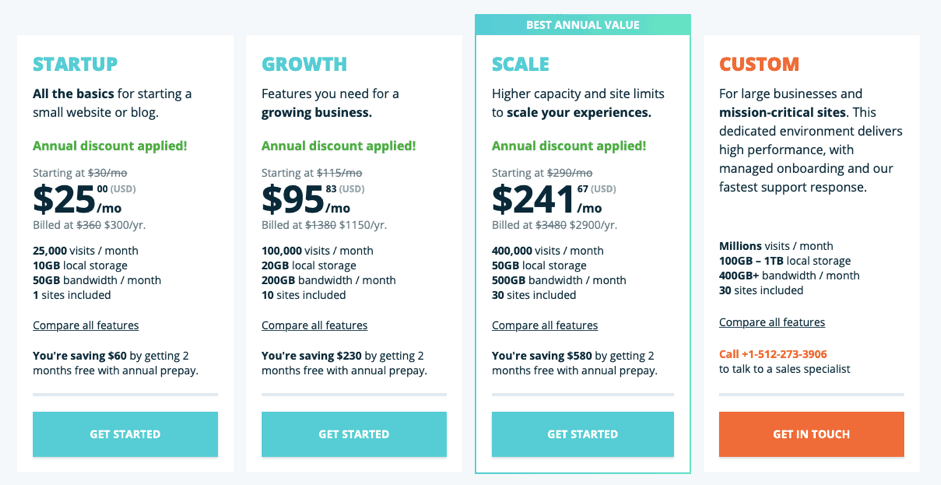 Regardless of the chosen plan, your website will be hosted on the same type of hardware, meaning that you'll get similar performance levels. Check other providers like SiteGround that offer a similar set of features at more affordable prices.
Performance
WP Engine offers a solid server performance with minimum cases of websites' downtime. There are a number of performance-enhancing features, like CDN, Page Performance feature that allows you to test your website and make improvements, and GeoTarget feature that customizes your website for different regions.
Server location is another crucial performance factor because it affects the website load time and brings SEO advantage. A total of 18 WP Engine's servers are located in North America, Europe, Asia, and Australia. Some data locations are only available for premium hosting plans, though.
Here are the results of the WP Engine speed test for a server located in New York City, NY. Given the fact that no additional performance tools were used, the numbers look great.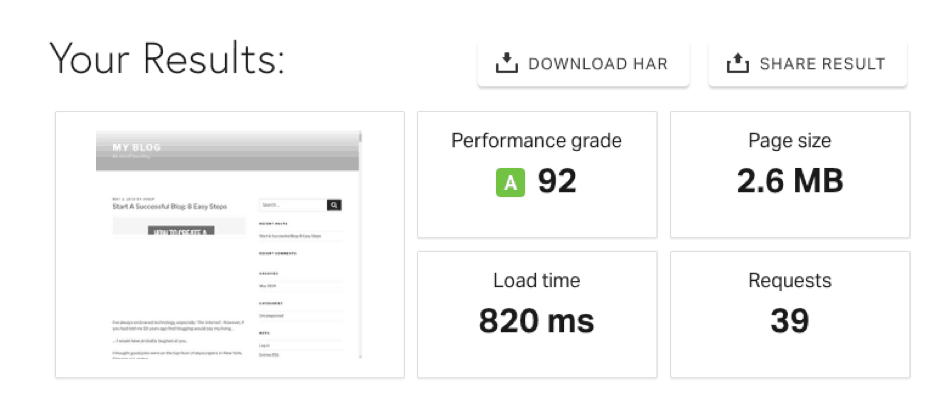 Source: WebsiteToolTester
When you choose premium hosting plans, you may get slightly faster loading time with the ability to accommodate more website visitors at the same time. However, as mentioned before, the difference won't be huge.
Keep in mind that WP Engine doesn't allow you to install certain WordPress plugins. This can happen if a plugin duplicates WP Engine's features or causes a high server load. You can find all of the disallowed plugins here.
Security
Overall, WP Engine includes all features necessary to keep your website secure and protected from threats. As mentioned on their official website, WP Engine blocks over 150 million attacks monthly. To stop this number of attacks, WP Engine offers the following security features:
A free SSL certificate via Let's Encrypt
Automatic WordPress updates
Intrusion prevention and detection
Prevention of web application attacks
Identification of plugin vulnerabilities
Proactive security maintenance
Additionally, WP Engine partners with third-party security companies to manage regular audits and code reviews, which is a great plus for security. With all that being said, WP Engine is capable of detecting security issues and ensuring your website's safety.
Customer service
WP Engine offers 24/7 customer service support, including live chat support or phone support, depending on your hosting plan.
You can easily reach the customer service team via your user portal or WP Engine's website. Customer service representatives are helpful, quick to respond, and competent to resolve your queries.
There is a Support Center with step-by-step tutorials on setting up a website, platform configuration, and troubleshooting. Additionally, you'll find a Resource Center full of well-written posts that can be filtered by topics, types of content, and your role.
Is WP Engine worth it?
As we've analyzed WP Engine's performance, security, hosting plans, and customer service, it's time to highlight the pros and cons. If you're still unsure whether to use WP Engine or not, consider the following.
Pros:
Guaranteed security of your website with various security add-ons.
Solid performance and fast loading times.
Qualified support experts.
Staging websites.
Good reviews from a large customer base.
Cons:
No domain registration and email hosting.
You can't use certain plugins.
Much higher cost compared to other similar hosting providers.
WP Engine hosting is perfect for you if you don't want to dig deep into the technical aspects and wish to focus solely on your website. In our review, we came up with the conclusion that WP Engine offers comprehensive hosting plans with a lot of must-have features. After careful consideration, we think that it's fair to say that WP Engine is a stable, secure, high-performance hosting service. However, the price of the hosting plans can be a real drawback.