Your security check has punched the clock once again, and it's confirmed: "Your Website Has Been Hacked." What could have been worse? This is probably the last thing you want to hear.
What do you do now, though? Let's walk through the entire process of how to clean and fix WordPress's hacked website, and see what follows next in the recovery steps.
As we all know, WordPress is the most popular platform.
Because of its sheer volume, and the number of websites developed with WordPress, about 90,000 WordPress websites is hacked every day.
This is one of the biggest reasons why it's so important to keep your website safe and secure.
However, detecting and cleaning is not always a cakewalk, since there are different types of hacks and each comes along with its own complexities. But, even if you have the primary security implemented on your website, people with noxious intent can still find loopholes to access your code. After all, you need to align with the proficient and savvy-experienced WordPress consultants to guide you through the process of cleaning a hacked WordPress website.
Herein, this article accompanies you with every know-how to check if your website is hacked, and what steps to opt to fix it, and how to prevent it for the future.
How To Check If Your Website Is Really Hacked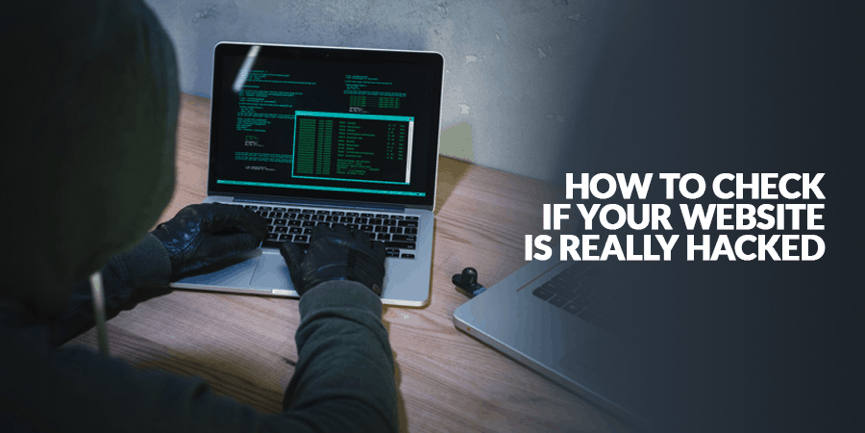 Hacks are really tricky as it can happen in many different ways. Moreover, your site could be hacked for months without it giving you any clue about it. Below, I have clutched the easiest ways to find and trace if your website is hacked or not.
Trick 1: Google Blacklists your website. In this, a warning appears to the visitor stating that " This site has been hacked. Visiting this site may harm your computer". Even, your website can be deindexed and not found on the search results.
Trick 2: You can find that malware is present on your web pages via Google Search Console. 
Trick 3: If you are fortunate enough, the client may notify you and are re-directed, or there is some SEO (Search Engine Optimization) spam on your website that will bring it to your attention.
Trick 4: Sometimes, your hosting partner or WordPress development company sends you a notice that you are detected with malware on your website. Even, sometimes your web host may suspend your account instantly and take your website offline.
However, this is not always the case. And, hackers are nowadays savvy in finding different ways to disguise their hacks and hiding it from everyday sites making it go unnoticed.
Sometimes, there is a sudden slowdown or unexpected significant dip in your website's performance. Many times, you notice a plugin you don't recognize is present on your website, or there is a new user added to your admin panel. Now, if you have cross-checked your site, and come to the nutshell your website is hacked, here are ways to be sure:
Look For Safe Browsing Status
Thanks to the Google Transparency Report, it's easy, reliable, and quick to check for the browsing status of your website. Simply visit the transparency report and enter the website URL. It will provide you with the current status of your site and simultaneously alert you about the unsafe content present on the site.
Use Online Tools 
There are numerous tools like VirusTotal available in the market that allow you to enter your website's URL and help detect if there is any malware on your site.
Many other tools available include aw-snap and Spamhaus. Somehow, still, these tools may not be sufficient to locate the hidden malware.
Use the Incognito Mode
Usually, the hack is not visible to the user and the site owner.
So, try to visit your site from some other browser or use incognito mode to check if your WordPress website is working efficiently and performance is fine.
Moreover, you might see your website homepage defaced or re-directing to some other site.
Don't Forget To Use Malware Scanner
This is the most recommended and the best way to detect if there is any malware on your website. Hackers are only becoming day by day smart and advance in their skills. Therefore, a malware scanner is your best fit for this situation and you can rely on it to find and fix the hack. 
If you are a bit technical and you know your way around WordPress and a hosting environment, then we highly recommend you to check closely this complete malware removal guide that will show you exactly how to clean up your site from malware, and protect it from getting hacked again.
Contact Your Host
Check and verify with your hosting partner if they have detected any malicious activity on your site. They will provide you a lending hand to locate the hack and fix it.
A Quick Run-Down From Scanning To Cleaning A Hacked WordPress Website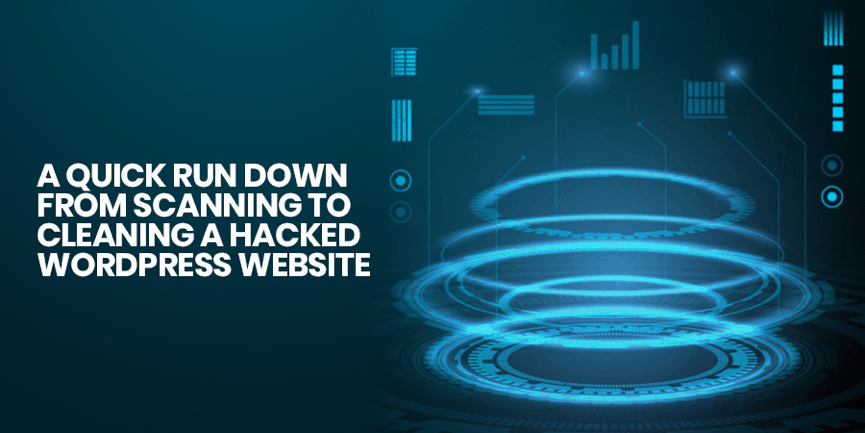 To fix your hacked website, you need to scan for the files that were affected first; afterward, you can proceed to clean it up. So, there are two options available to clean up a hacked site. You can do it either manually or with a help of a plugin. Well, we will proceed with the plugin option first because that's the easiest.
Scan & Clean A Hacked Website Using A Plugin
Scanning and cleaning up a hacked website manually is a tedious and time-consuming task. WordPress security plugins, on the other hand, make it easy for you by automating the complications and fixing your website for you. By taking advantage of such plugins, you can easily clean up the malware in minimal time and get back to business.
Step 1: Choosing A Security Plugin
There are numerous WordPress security plugins available on the market that will scan, clean, and fix your website.
A Reminder: "There is no One Size Fit All solution."
However, only a few of these plugins will do a thorough scan, while others rely on outdated methods such as signature matching to try to detect malicious code. Oftentimes, new malicious code goes unnoticed, so you may think your website is clean when eventually it's not.
Taking into account the challenges encountered in trying to locate the hack, all you need to have is a deep and thorough scan, and you should pay particular attention when choosing the malware removal plugin.
The leading WordPress website development firm recommends using Malcare software to scan your website because it makes sure to employ over 100 signals to find malware – even the one who is smartly disguised or hidden. Just sign up, and then the automated scanner will run through your entire website and locate malware in under 60 seconds.
Also, many plugins require you to contact their experts and request for a regular cleanup. Further, they will proceed to fix your website, and this process may consume some hours or in some scenarios some days too.
Step 2: Step Up For A Backup
Before you step up to fix your site, I personally recommend you to create a backup of your website. This will ensure you don't lose any vital information and data while cleaning up your hacked website. Whereas, if you sign-up for Malcare, you get access to WordPress backup, so you don't have to create the backup yourself.
Step 3: Download & Install The Plugin
This one is a bit self-explanatory, isn't it?
Step 4: Flip Through Your WordPress Website
Visit the website and add your website to the plugin's dashboard. The plugin will run an automatic scan on the site. Even if you are a first time user, you can add the dashboard and click security effortlessly, without any trouble, and the page will eventually show the health of your website.
If your website is hacked, you will be notified with a pop-up notification that will tell you about the number of hacked files that are on your site and the data that is under potential risk.   
Step 5: Clean The Hacked Website
Cleaning the website with a plugin is quite easy. You just have to select the "Auto-clean" option and follow the provided steps.
However, all the above information is great if you are a techno-geek and if you come from a technical background. But what if you don't? Don't worry! We got you covered.
Let's take a look at the following step-by-step guide on how to fix your hacked website, from an experienced WordPress web development company.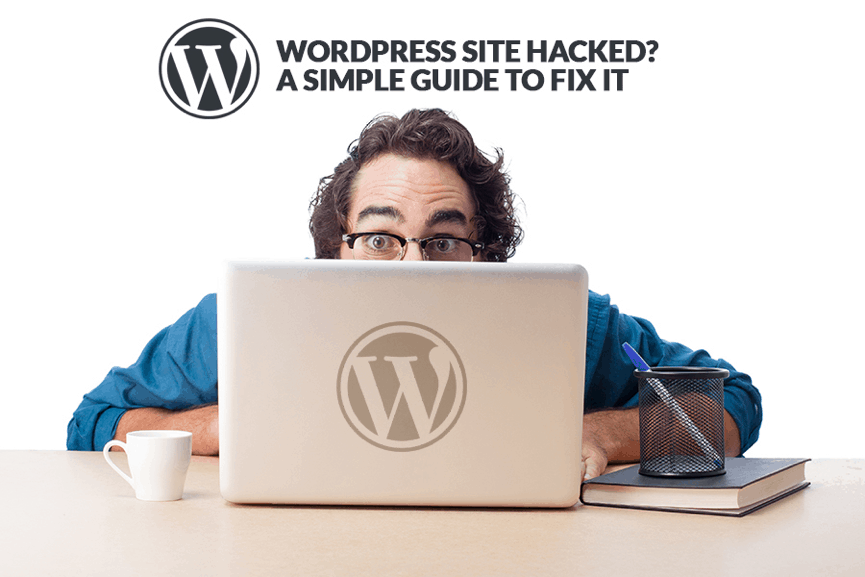 Step 0: Hire WordPress Developers With Proven Record
Security is the utmost concern nowadays, and if you are not comfortable dealing with codes and servers, then it's better to hire a WordPress developer to do it.
But why?
Simply, because hackers hide their script in multiple locations allowing for hacks to re-bounce again and again. Although, we will show you how to find the right developers and regain peace of mind knowing that an expert is properly cleaning your website.
For all the DIY folks, just follow the steps explained below to recover your hacked WordPress website.
Step 1: Identify and Locate The Hack
I understand, dealing with a hacked website is a stressful task to accomplish. Try to remain calm and jot down everything you can about the hack for the checklist.
Are you able to login to your WordPress website?
Does your website include illegitimate links?
Is Google marking your website insecure?
Is your WordPress website re-directing to some other site?
These points give you a brief view to talk with your digital partner and have a reliable solution as you go down to fix your website.
Also, it's imperative to change your password before you start with the cleanup process. And, again change the password once the cleaning process is done.
Step 2: Give a Shout to Your Hosting Company
Mostly, a good hosting partner proves to be a blessing in these situations. They have experienced staff who are pros in dealing with these on a daily basis. What's more, they understand their hosting environment, which will guide them better.
So, start by contacting your hosting partner and follow their instructions. Sometimes, the hack may affect more than one website, especially if it's on a sharing basis. If you are lucky enough, you may get your site clean from your host side. 
Step 3: Restore Using The Backup
Do you have a backup for your WordPress website? If yes, it's the best option to restore from an early point, at the time the site wasn't hacked. If you re able to do this, then you are good to go.
However, if you have a blog with daily content, then you are at the edge of losing blog posts, new comments, and much more. In this scenario, weigh both pros and cons. Maybe hiring someone to do it for you is not a bad idea.
Step 4: Scanning & Removal Of Backup 
Have a look at your WordPress site and delete any inactive or malicious WordPress theme or plugin. Unsurprisingly, this is where hackers usually hide their backdoor.
Backdoor is the term used for bypassing authentication and achieving the ability to access the server while remaining hidden remotely.
Most of the hackers always and foremostly implement the backdoors. This gives them access even after you find and remove the exploited plugin. For all this, you need to hire a professional WordPress website development agency.
Step 5: Check For User Permission
It's mandatory to keep a close check on the user permission for all your WordPress website. Cross-check that only the authenticated user and team members have access to admin accounts and that the consent of other users hasn't been tampered with. Still, if you find any suspicious new users, remove them instantly. 
Step 6: Change Passwords & Secret Keys
Be sure to change all the passwords related to your website. These include the passwords to access your WP Dashboards, FTP, MYSQL Database, cPanel, and many others that could help others in accessing your site.
Moreover, if you have a password generator, be sure to use it to ensure your password is strong, unique, and not accessible for hackers to try their hands on.
In The End
After all, you have walked along till here, and probably you by now you know the immediate step to fix the hack; through a plugin, or aligning with the trusted and experienced WordPress Development Company.
However, it doesn't mean that they won't try it again. WordPress security is a continuous effort because those shadow character will never stop trying to gain access to your site.
In addition to maintaining your own WordPress site, it's the right time to take security into your own hands and match the pace with what it takes to keep your website safe.