If you have a project you want to get up and running and you have a team that is working on the project, the only thing you are missing is a project management app. It can be rather difficult to set everything up, assign tasks and missions if you don't use an app of this sort that makes your life easier. You don't even have to be in the office to take care of deadlines, to-do lists, and other project details.
#ProjectManagement applications are especially useful if you have a large #team and a lot of tasks to go through.
So why not manage your team members and assign tasks online. It makes a huge difference when everything is in the same place because having things centralized eliminates the possibility of mistakes and you can be sure everything is saved and backed up.
Most project management apps have discussion and announcement boards which make it easy for all of the members to be updated and in the loop. Like Benjamin Franklin said, "By failing to prepare, you are preparing to fail." Take Franklin's advice and use project management apps because preparation is the key to success.
This brings us to Asana, a tool for managing tasks and workflows.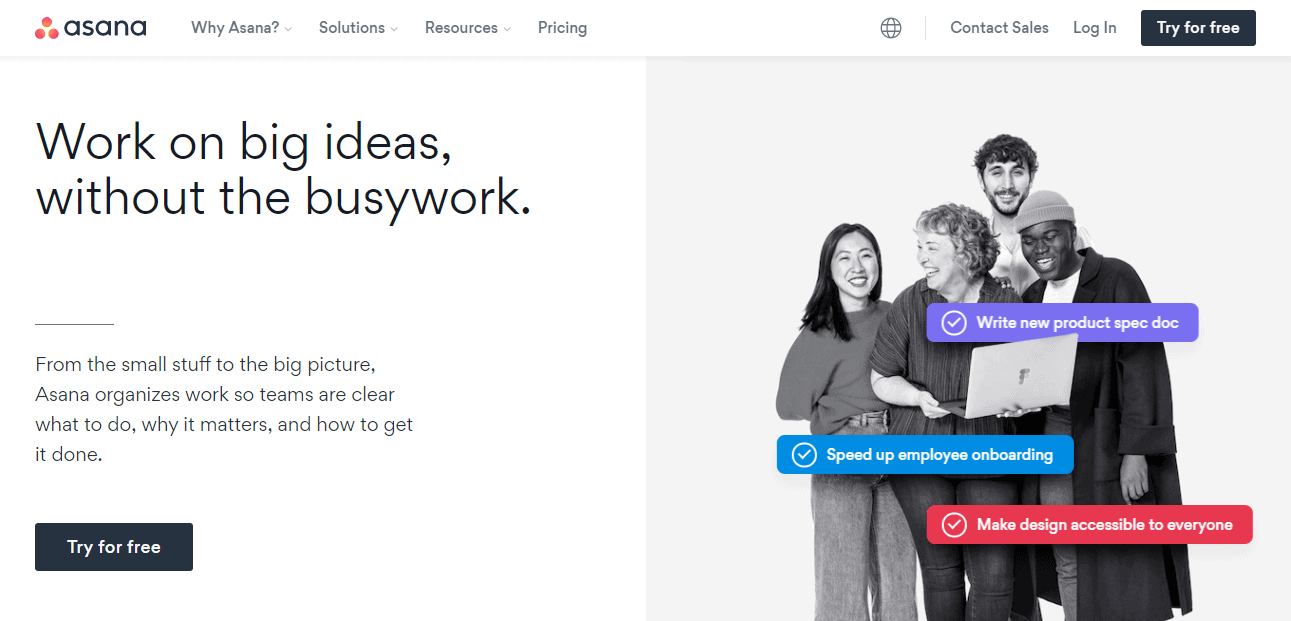 First of all, Asana offers four different plans: Basic, Premium, Business, and Enterprise. Basic is free and stays free forever, and is meant for teams that are just starting out. Premium is $13.49 per month while Business is $30.49 per month and both of those are for teams that are more established. Lastly, Enterprise is for organizations that need some additional help.
Asana's features include setting goals, building a timeline, making portfolios, managing workload, submitting forms, automation, and much more. With Asana, you can set a certain goal and track your progress. Setting goals and seeing your goal progress is very helpful for all of the members of your team. It helps to keep the goal in mind and makes it satisfying when the goal is reached.
With the timeline feature, you can set up project plans and make sure nobody misses the deadlines. Once the plan is on the schedule, you can also easily adjust it if requires changes. It's like you have a planner, but now everyone can see it and know what task is the priority.
Another useful feature of Asana that can make management easier is the portfolio.
Having different portfolios makes it easier to save and find multiple projects, and everything is in a single view. You can track progress in real-time and also share portfolios so everyone can see the status of important initiatives.
Sometimes you can get overwhelmed with everything you have to do and manage when working on a project. Asana helps you to visualize your project, with boards that are clean-looking and easy to use. If you are a team leader, it is in your interest to make sure everything goes smoothly with your team, and having everything all laid out in an app helps immensely.
Asana also relieves you of boring manual tasks, saving you time and allowing you to pay attention to more important tasks. You can use rules to set automated routine tasks and customize your own rules as well.
Once you set Asana up the way you want it, it's easy to track who is responsible for what task, information about the task, and the task's progress.
Now that you are more familiar with project management apps, here are some Asana alternatives:
SmartTask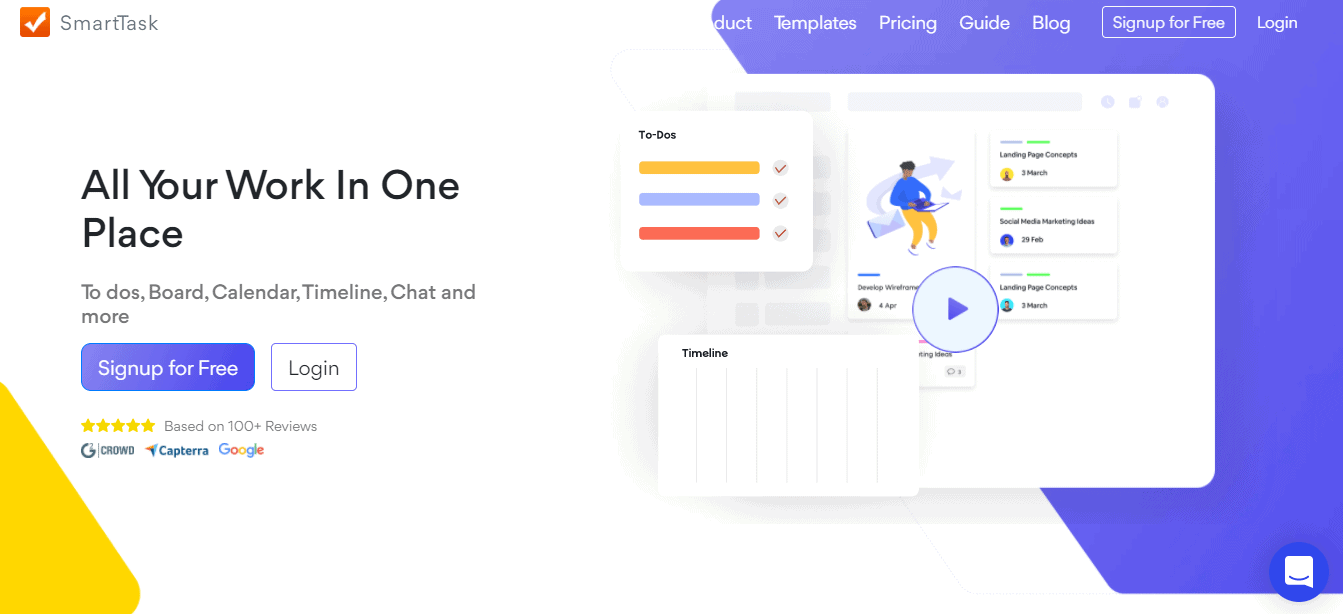 SmartTask is a tool that helps you deal with internal communication, scheduling, and work management. On the platform, you can choose between different views and decide what is best suited for your goals. There is a Tasklist view, Board view, and Timeline view.
The tool's simple interface makes it easy to see who is doing what and when it is supposed to be done. You can also keep track of your deadlines with the Calendar view, and the Portfolio feature allows you to see every project that is in progress.
SmartTask's Sales Pipeline feature gives you a way to track inquiries, where you can also attach clients' contacts and save all communication history, which is very helpful when you have a large number of clients.
You can customize the workflow exactly the way you want it with Custom fields that let you add additional info to tasks and Custom Charts that visually analyze your data. Finally, you can get insight into your team's performance over time and be sure that everything is going according to plan.

Google Tables makes project management more efficient by using automation. With Google Tables, you don't have to worry about the manual work of sending emails and reminders.
Google Tables's bots work for you and can send recurring email reminders, messages, and updates. While you can focus on important work and keep the data collected from various websites in Google Tables.
The tool is made to work with existing Google technology so you can import your data from Google Sheets, Google Groups, and Google Contacts. You can also use included templates and customize the views in any way that you prefer.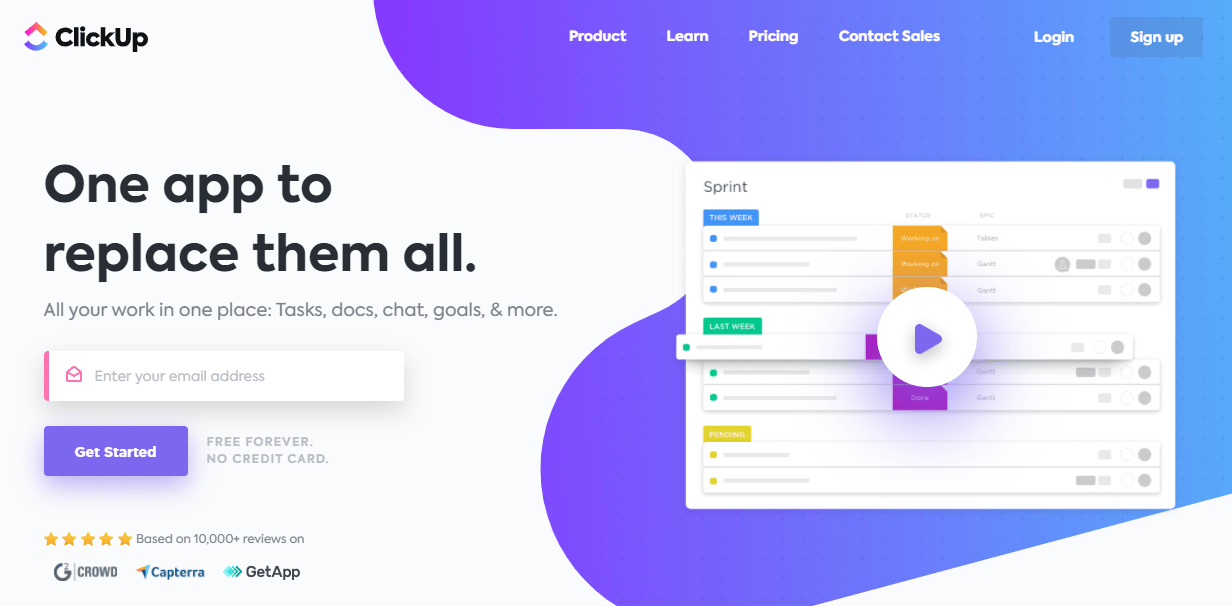 ClickUp is a project management platform that gives you a much better way of organizing your projects and materials.
What makes ClickUp different than other similar software is the hierarchy method they use. ClickUp offers custom statues, checklists, goals, workload charts, and more to ensure that every task is successfully accomplished. You can organize your tasks, filter them, and sort them so you don't waste time searching for something specific.
A very helpful feature is time management. You can sync your Google calendar, track time, and set up start and due dates to make sure everything is done when it should be done and that you are not missing any deadlines.
Final thoughts
With all that being said, it might be a better idea to use a project management app than to not use one, especially if you have a big team and several projects. Even if you have a smaller team, you can benefit from using such a tool.
If you don't know where to begin, then try out SmartTask which starts at 49$ on AppSumo. And of course, good luck with your project management journey!