If you aren't doing email marketing, are you really doing any marketing at all? With email marketing being one of the most efficient and most commonly used marketing techniques, it's really something no business can go without.
Through email marketing, you can start achieving some amazing results from building your subscription list to getting a significant increase in lead generation. On top of all of that, email marketing was and still is one of the most efficient and cheapest ways to keep your audience engaged and up-to-date.
Need a free solution for your #emailmarketing needs? Look no further than these 7 amazing #plugins!
Unfortunately, email marketing isn't the easiest thing to do. If done manually, it can be quite tedious and time-consuming, two things no one is fond of. But on the bright side, there are loads of email marketing plugins available which will automate the entire process and help you get things done faster than ever before.
To help you find the perfect one for your marketing needs, in this article, we will list the best email marketing plugins that are not just packed with features but also absolutely free.
Without further ado, let's see which plugins we saw as most noteworthy.
MailPoet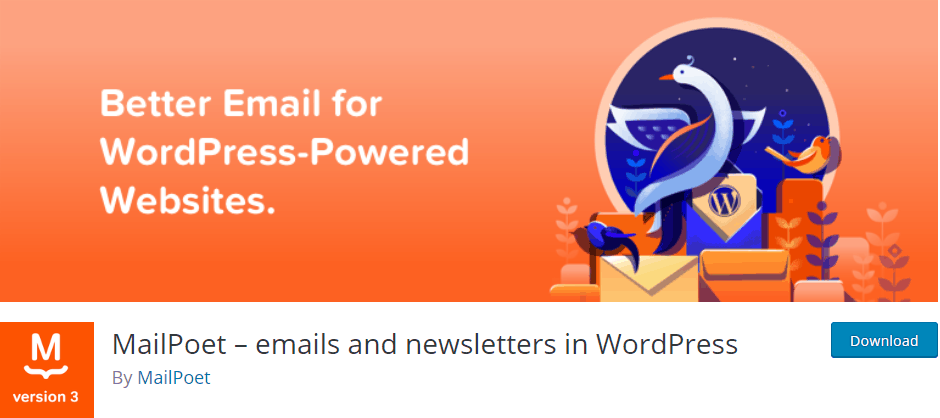 MailPoet is not only one of the most popular email marketing plugins, but it is also one of the most trustworthy ones.
It is a great option for anyone who is looking for a plugin that will enable them to create newsletters, post notifications as well as automated emails and autoresponders.
MailPoet will provide you with a drag-and-drop builder for creating your newsletters which will work amazingly with your WordPress site.
Using the builder, you can create a newsletter from scratch (or with the help of one of the available templates), include social media icons, posts, and images into your newsletter, and choose among 70 different themes.
For all the newsletters you send out using this plugin you will be getting stats on clicks, bounce rate, and the number of people who have unsubscribed.
MailPoet also comes with a beautiful and very effective signup widget that will help you capture more subscribers than ever before.
Other notable features include the automation feature for welcome emails, new user signups, and blog notifications, and also the email scheduling feature which is pretty self-explanatory.
This plugin boasts a great rating for both its free and premium version and has recently made even the premium version free for all of you with 1000 email subscribers or less.
SendinBlue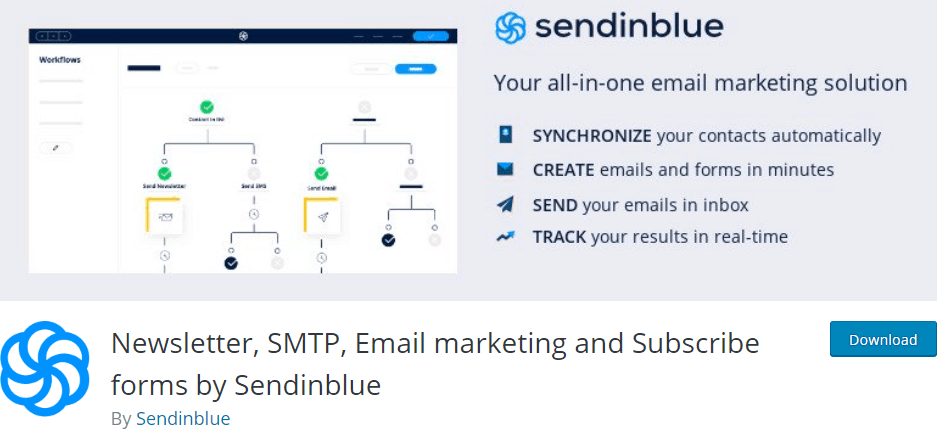 If you want an all-in-one email marketing plugin then SendinBlue is the solution for you. With SendinBlue you'll receive features that will help you build your email list but also features that will make managing email marketing a piece of cake.
From a drag-and-drop email camping builder to email automation and performance statistics features, SendinBlue has it all.
SendinBlue will allow you to build not only email campaigns but also customized subscription forms that will get people's attention. Contact list management is also a dream with this plugin thanks to segmentation options which make everything a bit more simple.
The previously mentioned performance statistics this plugin will provide you with will cover not only clicks and read receipts but also your bounce rate, A/B testing results, and heat maps.
It's free, but the free plan does have its limits, those being 9000 emails per month or 300 emails a day. Customer support will also be included in the free plan but only for a 60-day period.
Although it's more of a positive than a negative, the only drawback with SendinBlue might be that it has too many features so novice users might find it a bit complex.
MailChimp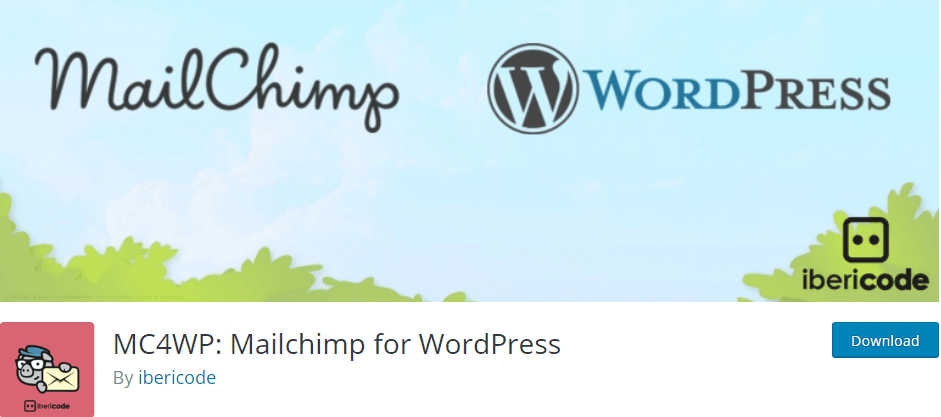 Whether you work in marketing or not, you have probably heard of MailChimp by now.
With its 7 million users MailChimp is an extremely popular plugin that will allow you to design and send email newsletters, manage subscriber lists in any way that you most prefer, and create eye-catching forms.
For creating the forms you will get plenty of pre-built templates that are all customizable and mobile-friendly. The forms can be of any kind, ranging from signup/opt-in forms to contact and checkout forms.
Of course, MailChimp won't be lacking in the automation department since it will allow you to automate both your notifications and detailed reports.
Maybe the best thing about MailChimp is that it is extendible with addons and also integrates perfectly with popular eCommerce and form creation plugins.
To use MailChimp for free, all you need is a MailChimp account, and just like that, you will be able to cater to up to 2000 email subscribers without any fee whatsoever.
You should also take into consideration that MailChimp isn't just an email marketing plugin but a full-fledged email service so it's going to get the job done even better than you expected.
Newsletter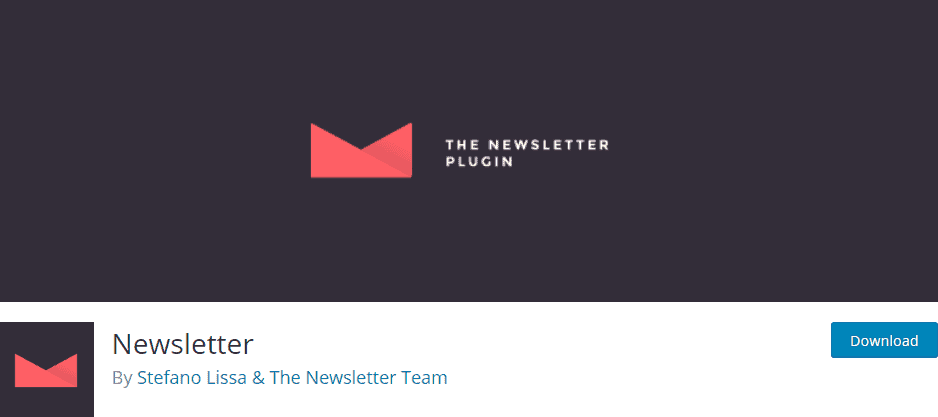 Similar to the other plugins we mentioned, Newsletter is a tool that will let you create emails (using a drag-and-drop builder), build contact lists, send out emails, and enable tracking options all from your WordPress dashboard.
Along with all the functionalities it offers, it also supports a number of extensions that will further expand its list of functionalities.
Creating emails will be a breeze thanks to the beautiful and easily customizable templates you will receive. Besides those, you will also get pre-built subscription widgets which you can incorporate into any part of your site with ease.
One thing that you will have with this plugin that isn't often seen in similar ones is the feature that will allow you to control even the delivery speed of your emails.
Every newsletter you create with this plugin will be responsive, and all the opt-in forms GDPR compliant thanks to the possibility of adding a privacy checkbox as well as a single or double opt-in option.
The Newsletter plugin will be compatible with all the most popular SMTP plugins and will offer a ton of premium addons for you to choose from. Additionally, the Newsletter plugin will allow you to segment your leads and see how your emails are doing with the help of a built-in reporting tool.
HubSpot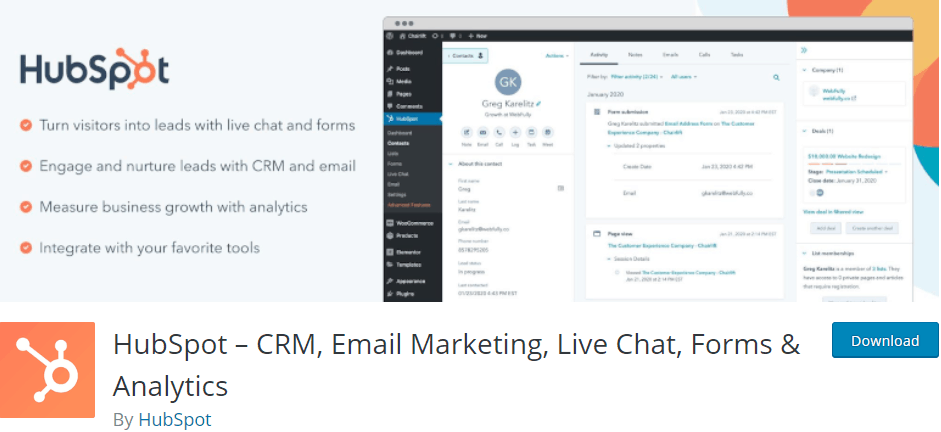 HubSpot is a reliable marketing tool that will come packed with features. It includes pre-built forms and pop-ups but also lets you build custom ones through a simple drag-and-drop builder.
With HubSpot, you will create professional and effective emails that will without a doubt get the reader's attention. To help you out with that, HubSpot will even include so-called goal-based email templates which will cut the email creation process in half.
Using HubSpot you will be able not only to send out email campaigns but to optimize them as well through A/B testing and having an insight into their analytics.
Thanks to personalized subject lines, content, attachments, and calls to action you can create using this plugin, your subscribers will feel like the emails you send out are tailor-made for them.
Best of all, HubSpot is not only an email marketing plugin but an all-in-one marketing platform that can provide you with a CRM, live chat, chatbots, ads, reports and so much more.
On top of all that, HubSpot is integrated with 300+ tools so it will truly have everything you need.
Email Subscribers & Newsletters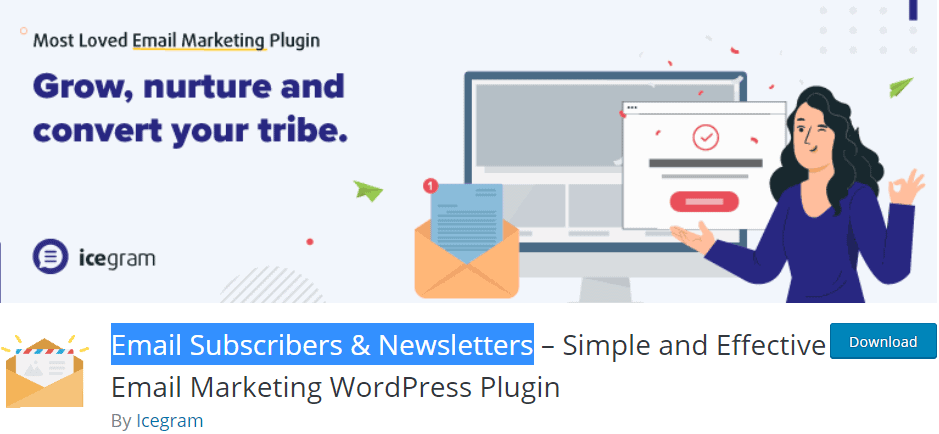 Email Subscribers & Newsletters is a multipurpose marketing plugin that will allow you to create and manage mailing lists and also to send out email campaigns manually or on a schedule.
Besides that, this plugin can be used for releasing automatic updates triggered by specific events.
The plugin comes with a very practical sign-up box that can be integrated anywhere on your site. It also has a very useful notification system that will alert you on new subscribers and all other things of that sort.
Insight into your email data will be available as well and will include info such as when an email was sent out and when it was viewed.
Everything mentioned thus far comes in the free version while the premium one will come with newsletter testing options, email templates, spam filtering, and much more.
FluentCRM – Marketing Automation for WordPress
FluentCRM is easily one of the obvious inclusion to this list. The plugin has taken the WordPress space by storm since October 2020.
With lucrative features like Email Campaign Management, 360' Contact Overview, Smart Contact segmentation, Email Sequencing, Email Marketing Automation, etc., FluentCRM offers everything to set your email marketing on autopilot and skyrocket your business.
FluentCRM provides an efficient block editor for composing beautiful emails. You can also save any templates you've created. So when you're ready to start sending an email campaign, you don't have to craft emails from scratch. You can simply select one from your saved templates!
It also provides an advanced recipient selector from which you can set advanced conditions to find the right people for the campaign. Moreover, you can also A/B test your campaigns.
After a campaign using this plugin, you will be getting click rate, open rate, click to open rate, and all kinds of data for analyzing your campaign.
Other than that, FluentCRM allows you to create forms with Fluent Forms. These will allow you to build customized email subscription forms and web forms to collect leads. It also integrates with 30+ WordPress plugins. So whether you want to generate leads or turn your customers, students, members, etc., into email subscribers, FluentCRM got your back.
But what sets FluentCRM apart from its competitor is that it turns your WordPress dashboard into a fully-functional email marketing automation platform. You can dictate every customer interaction with a visual automation builder and send personalized, relevant emails to maximize your revenue.
FluentCRM is free to download and use. But if you need the more advanced features, you will find it among the most price-efficient plugins. It costs annually only 129$ for a single site license with advanced features and unlimited contacts!
Conclusion
So, ladies and gents, how did you like our picks for the best free email marketing plugins? Let us know in the comments!
We genuinely hope that you saw at least one plugin on this list as a potential addition to your email marketing workflow. But if you are still on the fence, you can always take a few of the mentioned plugins on a test drive.
At the end of the day, they are all absolutely free!