Have you been trying to grow your store? But could not find the right tools for that? Well, we know the struggle of finding the right fits.
Shopify apps are just what you need to make that happen. These apps can help you to grow your small business and even sell more. And you can promote your products faster and earn reviews from customers in a much simpler way.
Still looking for the #best free #Shopify apps to increase sales? Take a look at these!
But these apps can also help you grow healthy communication with your customers and make rewarding sales for them, which can lead to satisfying customers bringing you new ones.
Furthermore, what is essential to know is that Shopify apps can also help you track your inventory much easier, and you will always be aware of when to restock your products. These apps are the easiest and safest way to grow your business and shoot it into the stars. You must be ready to invest some time as well as patience and do some learning. That is why you should check out this guide by eCommerceCEO to understand the differences between WooCommerce and Shopify.
But, without further ado, let's jump in.
1. Expertrec Smart Search Bar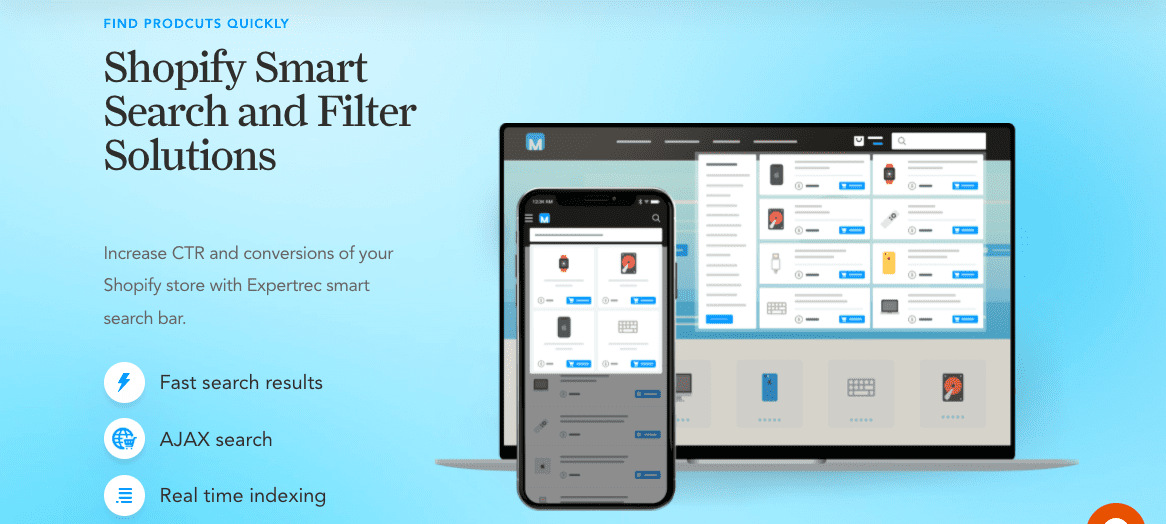 Expertrec is a shopify smart search that allows customers to find products on your online Shopify store quickly. Expertrec smart search algorithm learns from user behaviour and re-ranks the outcome to improve the site search experience for customers.
Expertrec's Shopify Smart Search includes functionality like Personalized search, NLP, Merchandising, Voice search, Recommendations, Spell checker, and product variant filters. It also supports more than 30+ languages. Many online store's conversion rates have increased due to Expertrec search engine solution.
2. Easyship

The app that took first place on our list of top 5 is Easyship. It is an app that will quickly improve your business to the whole another level. Easyship is an all-together shipping app with the main focus of finding worldwide customers with decreased shipping fees.
It is excellent for you to have customers from different parts of the world. Everybody loves when the shipping fee is low.
Using Easyship, you will notice many advantages that this app offers. Some of them are the main control panel where you can maintain all your orders, even proportions, and a way of storing certain products.
As well significant benefit with Easyship that you have access to payments and bills, and even maintaining returned orders and much more.
If you are trying to find a place to grow your business and be as much in control over your products, Easyship is just the right choice for you.
3. Shopify Email

The next spot on our list of top 5 goes to Shopify Email. This tool is simple but yet so effective. Online life has changed lately, and we are all aware of that. Emails became an indispensable part of our lives, and most of our daily tasks are done through them.
Suppose you are looking for a simple way to promote your products online. In that case, the effective way is to take advantage of people being obligated and use emails every day and choose Shopify Email to advertise and grow your store. With this app, you make an email, create a list of recipients, and promote your shop.
However, with this platform, you can also approach subscribers from your main Shopify admin control panel and send them your special offers. One of the advantages that are also important to mention is that this app is a simple one to use.
Everything is pretty much 'few clicks operated.' There's even an option to use pre-made templates. These templates will use your shop logo and even photos of your products from your Shopify store and their instructions and explanation.
With this app promoting your products will become a stress-free, everyday activity.
4. Jebbit

The third spot on our list goes to Jebbit. It is an app that will enable you to make all kinds of quizzes. You are probably asking, "Ok, but how can that help me with the growth of my business?" We will be pleased to explain it to you. Using the app can help you interact with your customers through these quizzes and help them choose the right product.
If your shop contains cosmetics, the quizzes that match personality and make-up would be a huge hit, or the questionnaire to match accessories with your current mood as well.
Matching quizzes will enable customers to shop, have fun, and find their perfect fit as well. This app's advantage is that it can appear on any platform, including emails, social media, texts, and so on.
Jebbit app will leave a pleasant experience for your customers, and it will even lead them to come back and shop in your store again. And every owner wants to see their customers come back and shop again, right?
5. Sales Notification

The fourth spot on our list is reserved for Sales Notification. With this app, you will show all the latest sales and purchases on your online shop to the buyers. Offering your customers hot products and best sellers will peak their interest in particular products and most likely motivate them to shop at your store.
Sales Notification as one of the primary goals has trust-building with customers by letting them access the latest orders from other customers.
One of the dominant features of Sales Notification is Sales Pop. It will allow you to control which of your products will be shown in this app, which is also great if you have a brand new product that you want to emphasize or even a new sale on some of your most popular items.
It also provides you to keep certain products or even whole orders private and not show them at all.
Thus, Sales Notification is an excellent way of having your store under control. However, compared to the other apps on this list, this tool is a little more challenging to use. But as soon as you get used to it and figure out the basics, it will be simple to operate.
6. Sales Countdown Timer

Our final fifth, but not a less important app on this list, is Sales Countdown Timer. It is in human nature to become curious when we see something counting down. We get this urge to go and see what it is. If we know it's only a few products left, our mind sees it as a good product with an even better offer that would be a pity to miss.
It is simple as it sounds. If you have only a few products left, put them up on a sale, and make a customized timer. With online shoppers or even first-time visitors, seeing a countdown timer with certain products will create a sort of adrenalin rush.
It will awake that desire to look through your store even more and try to catch an even better offer before the timer runs out. It is the reason why this app is the perfect choice for online stores and hot sales.
There is no need for convincing people to buy, step up your game with simple tricks and watch your sales grow.
Conclusion
In this article, we have listed some of the best Shopify apps for your store.
Of course, many more Shopify apps can help you with your business and online promotion.
These apps can make running a business much easier and more fun for you and your customers. They can also help you interact with your customers, meet their desires, and improve your shop.