Maintaining a successful online business is an art form that instead of brushes or musical notes, relies on insights and thorough analysis to construct masterpieces. And as a true form of art, it's wrapped up in countless challenges that need to be completed in order to reach the first class.
Time and dedication are the obvious factors responsible for achieving those results, but the one sitting on top of the pyramid is feedback. Why so? Well, your users are the reflection of your success and if the number of them is increasing and they are satisfied with your artistry, that means you're heading in the right direction.
Creating #polls has never been easier thanks to these 6 plugins. Get to know them better in this great article!
There are numerous ways to garner feedback on what's going on your website, mostly through metrics tools. And although these tools offer precious insights that can be converted into a strategy for your improvement, they often show too much information.
Rather than rummaging through all of the data generated by metric tools, direct communication through polls could be much more efficient and beneficial.
The key benefit of polls is that you can ask precise questions with sufficient response options (throwing in an open field for your users to write in is always a good idea). The information received from those polls could and most probably will consist of exactly what you need to know.
They usually take a few minutes to complete so your users won't have time to get bored, and since they're super easy to create (if you are using the right tool), it won't be a hustle for you either.
In the end, you'll receive clean results that require no processing, without any misconceptions, all neatly packed in charts and graphs.
So it's clear that polls can do wonders in determining your current standpoint and constructing a strategy for future accomplishments. But which plugin should you use to create them?
In order to find out the answer to that question, let's hop into discussing the top 7 plugins for creating polls in WordPress.
1. Forminator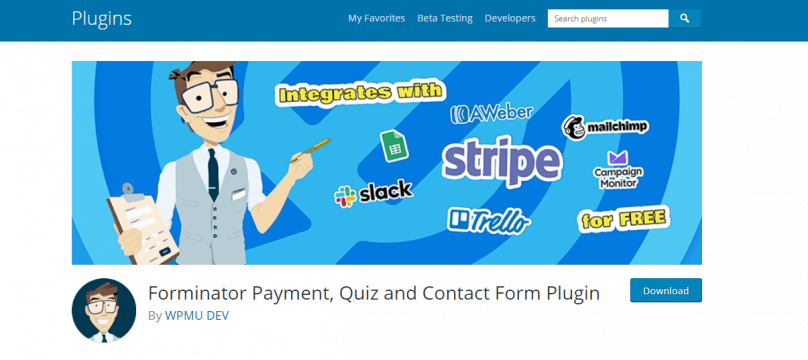 Although this isn't a plugin dedicated strictly to polls, it is still a tool that will make your poll-creating tasks a walk in the park.
Using Forminator you will be able to create custom polls quickly using a drag-and-drop builder and will receive real-time results for those polls in an organized and clear format.
Besides being custom, the polls you create with Forminator will also be interactive and will come with plenty of dynamic options and settings. You can check out all of the options, features, settings, and everything else related to Forminator polls in their extensive documentation.
Other things you will be able to create using Forminator include:
In a nutshell, using Forminator is your safest bet if you want to integrate your site with polls in the easiest and most intuitive way possible. But as we said, its poll-creating features are only one part of its arsenal.
2. Yop Poll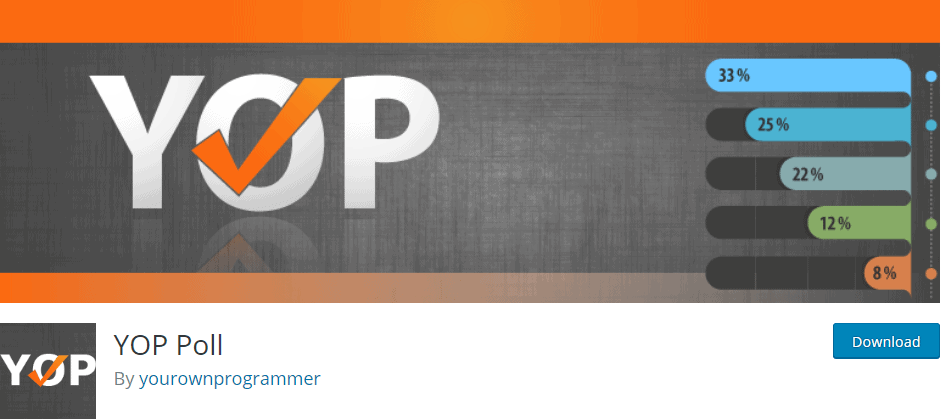 We kick things off with a plugin that is lightweight and simple in its usage but is also packed with features and customizations – Yop Poll.
Using this plugin, everything is managed through your WP dashboard, with shortcode integration to ensure maximum flexibility. But the real customization features are yet to be explored.
Poll scheduling – to start it and end a poll at your will
Run multiple polls at once
Displaying polls – decide which poll to display from your active polls list
Poll answers – other answers, multiple-choice, sorting by multiple criteria
Vote permissions – decide to whom you want to give the option to vote (guests, registered users) or even block a user from voting
Reset stats – reset a poll
Those are only a few features of this plugin with many more in stock. So it is safe to say that Yop Poll is an amazing plugin that provides insane functionality, is simple to learn and use, and is completely free.
3. WP-Polls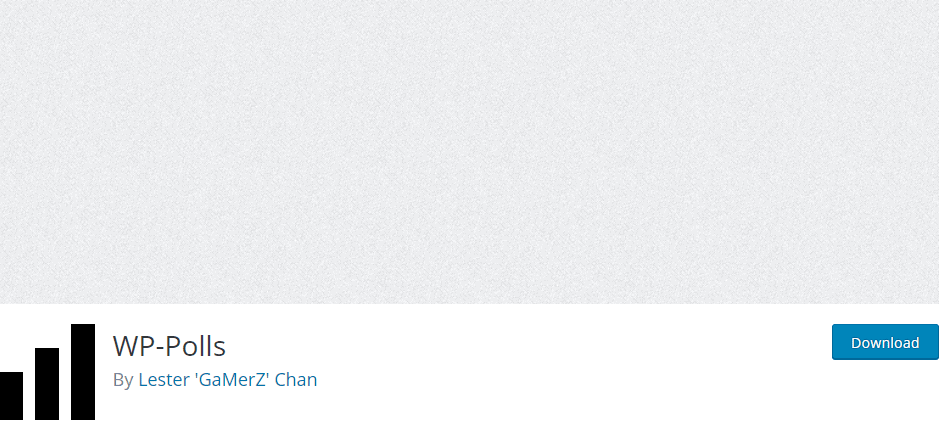 A good chunk of people prefers simplicity in their plugins, or in other words, a minimalistic approach to getting the job done in record time with minimum effort, which is exactly what WP-Polls provides.
The customizations offered by WP-Polls are a mixture of super simple and advanced. And all the action happens through your dashboard so everything is a click away, and the entire setup can be done within seconds rather than minutes.
On the other hand, if you want to change a few advanced settings, such as templates or CSS styles, you can do so by using the shortcodes which aren't complex at all.
With useful features at your disposal, over 100,000 downloads, and overall very satisfied users, this plugin might be just what you are looking for. And to top it all off – it's free.
4. Responsive Poll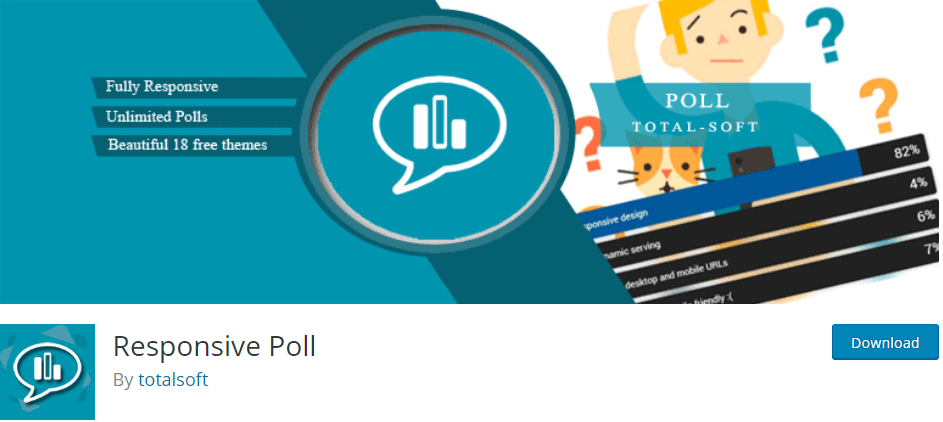 Being easy to use, smooth and slick is what makes Responsive Polls the true gentleman among poll creating plugins.
It functions on the user favorite drag & drop mechanism, with the HTML5 canvas element, which means all modern browsers are supported.
Its main strength is in the insane diversity in animated chart types, with Pie Charts, Radar Charts, Doughnut Charts, Polar Charts, Line Charts, and much more available.
Talking about features, it gives you a variety of them through:
Adding images or videos
Editing answers and questions
Cloning tool for duplicating polls
Adding multiple polls
Using animation effects
Showing results to users before or after voting
Ease of use, numerous features, and top-class support are only a few things that make this plugin truly top-notch. Plus, its regular license is priced at only $16.
5. TotalPoll Pro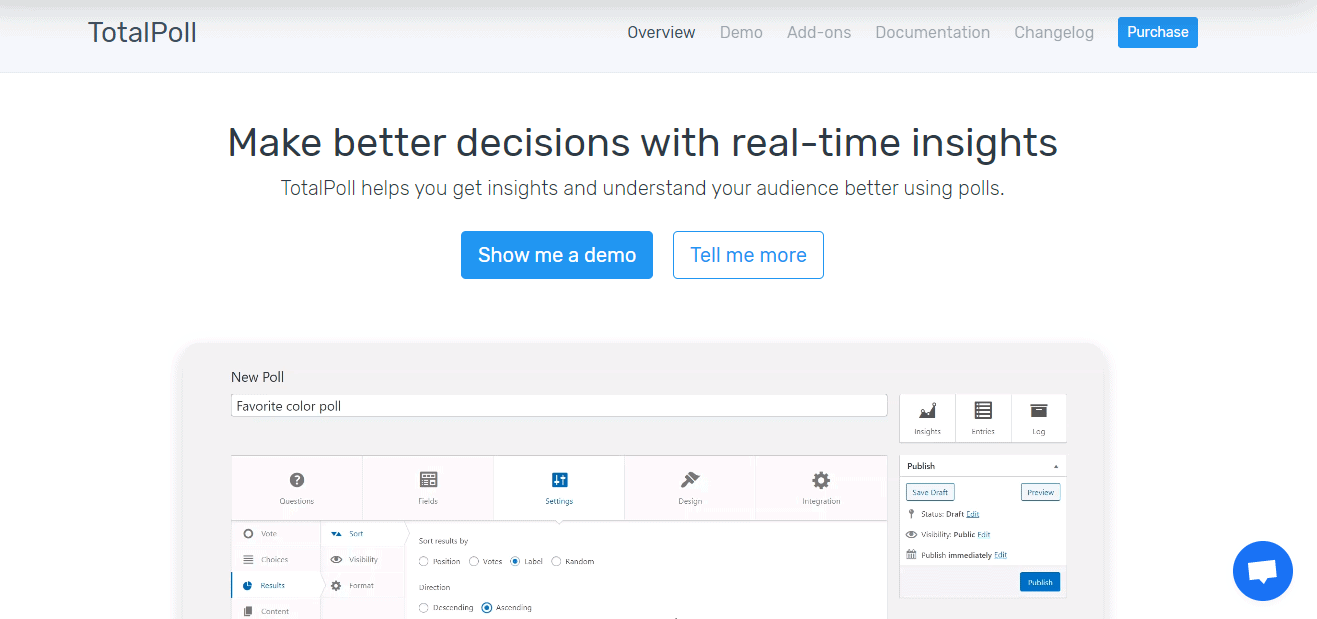 Are you hunting for software that is full of power and countless possibilities, packed with features and has a more than a reasonable price? You've arrived at the right place.
TotalPoll Pro is a plugin with so many features and benefits, that you probably won't believe they are all integrated into this single masterpiece.
It's very user friendly and gives you full control over the polls. It comes with a responsive design and touch optimization. Plus it's mobile-friendly and offers a flawless experience on android, iOS, or Windows Phone.
Shifting towards poll making features, here's what you can expect:
Multiple Choice Questions
Different Choice Types
Restrictions & Limitations
Templates
Extensions
Design customizer
And that's just scratching the surface.
It is optimized for search engines, has custom fields and visually oriented insights, is secure and actively maintained…basically this plugin is the full package that can become your next poll making tool of choice for a price of $29.
6. OpinionStage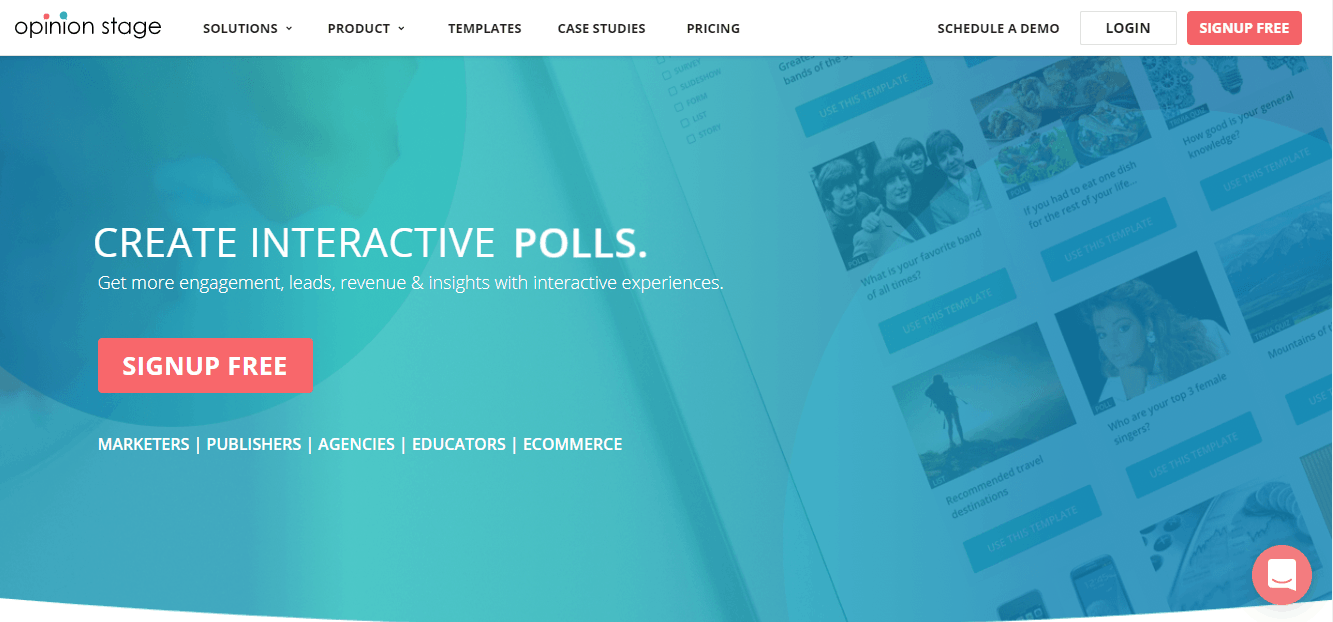 We complete the list with another exceptional plugin that won't fail to amaze you with its ease of use followed by great features.
What sets it apart is the versatility it possesses in creating polls, quizzes, and forms, so if you want to change your format or introduce quizzes or forms in your future projects, this plugin has got you covered.
Also, it's powered by various features, such as:
Hundreds of Optimized Templates
Images and Video integration
Displaying results in real-time
Call to action buttons
Integration with Mailchimp, Zapier, Webhooks…
Exportable details to CSV/XLS formats
A very lightweight plugin that fits the needs of every user, has a healthy supply of features, is backed up by versatility, excellent support, and is completely free? The 5-star rating is there for a reason, and is sending a strong message – you need to give this plugin a test run.
7. Poll Maker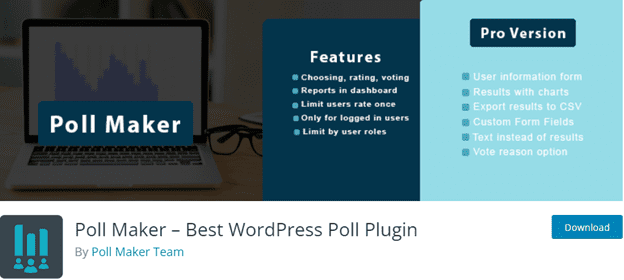 With its basic features, the WordPress Poll plugin was designed to make it incredibly simple to create stunning online polls for your WordPress website.
It can be used as an interactive content source for your website or to conduct elections and surveys.
For needs that are more complex, the plugin produces Pro packages that include advanced capabilities, like a Versus type of poll, polls that can be imported and exported, custom information form fields, third-party integrations, and many more!
Using the Poll Maker plugin you will be able to create:
Choosing polls
Rating polls
Voting polls
VS (versus) polls
Dropdown polls
Range polls
Text polls
The official documentation of the plugin and ready-made demos will help all beginners to make their experience better with the WordPress Poll Maker plugin.
Summing things up
Poll creating is one of the best methods for receiving feedback from your users, boosting your engagement and traffic, and improving your overall performance.
It might have been your least favorite task in the past and you might've even considered it to be repetitive or a waste of time, but with the right software by your side, it's never been easier to create polls with great results ready to come!