There are numerous ways to earn online, and launching a membership website is among the more sustainable ones. They allow you to showcase content to your subscribers and restrict it – fully or to some extent – for other visitors.
Membership sites are highly automatized, and this is what allows for the abovementioned sustainability.
In other words, once you go through the arduous process of setting up your membership website, it doesn't require much work upon launching. So, make sure to compile quality content upfront and pick a suitable plugin. Once you set it up correctly, you can relax and let your website generate a steady income for you.
Common Advantages
Together with charging the monthly subscription fee, you will also gather an extensive email list of people interested in what you have to offer. This is a great stepping stone for launching a successful email marketing campaign. To further help these marketing efforts, you can share some bits of your content for free and thus create loyal followers. They can then be easily converted to subscribers, thus expanding your user base and consequently increasing your revenue.
We have picked some of the best membership management plugins for your website in the making.
MemberPress
This is definitely the most popular among the plugins for creating membership websites. The ease of use and the number of features must have contributed to this reputation.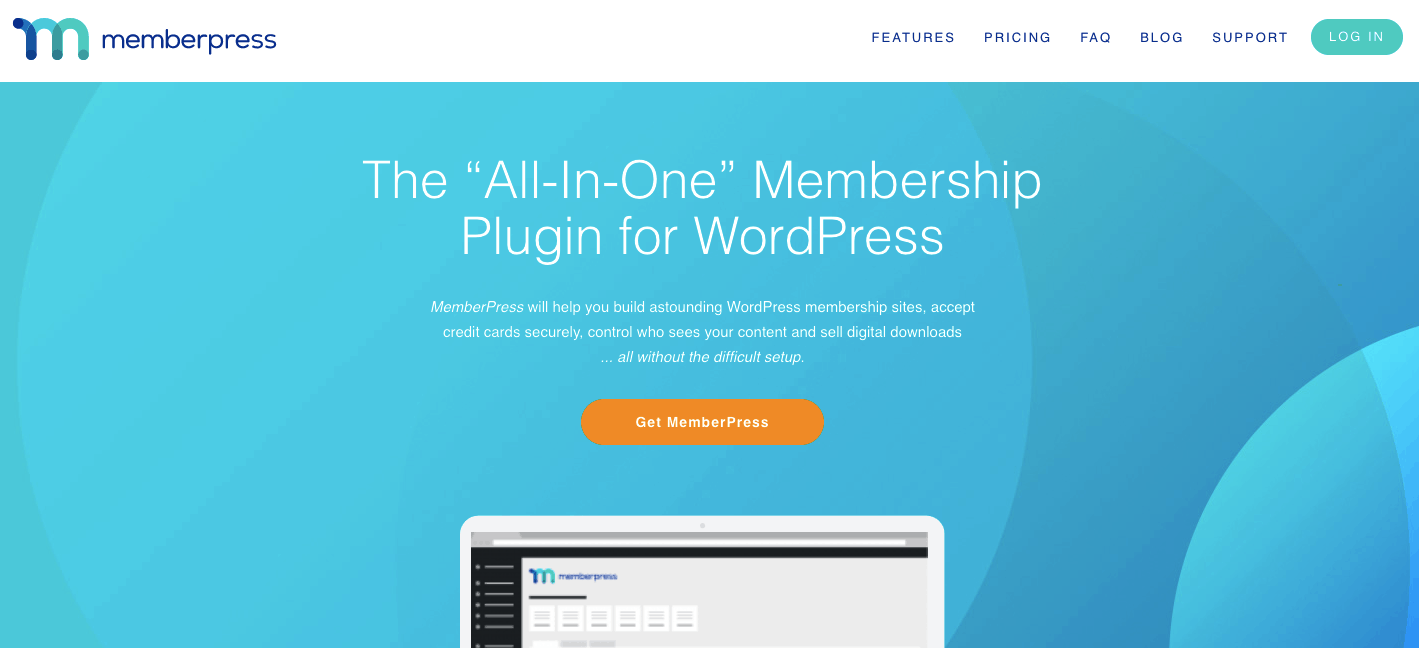 Setup is fairly easy with this plugin. You can do it in a few simple steps:
Installation,
Payment gateways configuration,
Adding products,
Inviting people to the site.
When it comes to membership options, MemberPress allows the creation of infinite member accounts. Additionally, you can create as many membership levels as you wish. Also, you can place members into groups and decide their upgrade dynamics.
Content sharing is customizable, as well. Firstly, MemberPress allows you to restrict the access to your content for non-members. You can choose to "hide" different categories or tags, or narrow down this choice to certain pages, posts, or files. On top of this, this plugin allows the drip content feature. This means that you can choose to let your subscribers see the content depending on certain criteria such as length or level of subscription.
When it comes to payment options, MemberPress supports PayPal and Stripe, whereas the Pro and Plus versions also work with Authorize.net. It also allows you to create and customize coupons with an expiration period, products to which the coupons apply, as well as the amount of discount – whether it will be expressed in percentage or a fixed amount.
Another handy feature is that your customers receive email notifications for various events. You can customize these email notices to be anything from warnings of the upcoming membership expiration dates to the various promotion advertisements.
All in all, you probably won't be wrong if you choose this membership management plugin, especially if you are planning to offer online courses as a product to your clients.
RestrictContentPro
This is another membership plugin with a fairly easy setup process. It even comes with a set of notes which lead you through the setup. So, customization and its integration with WordPress should be effortless.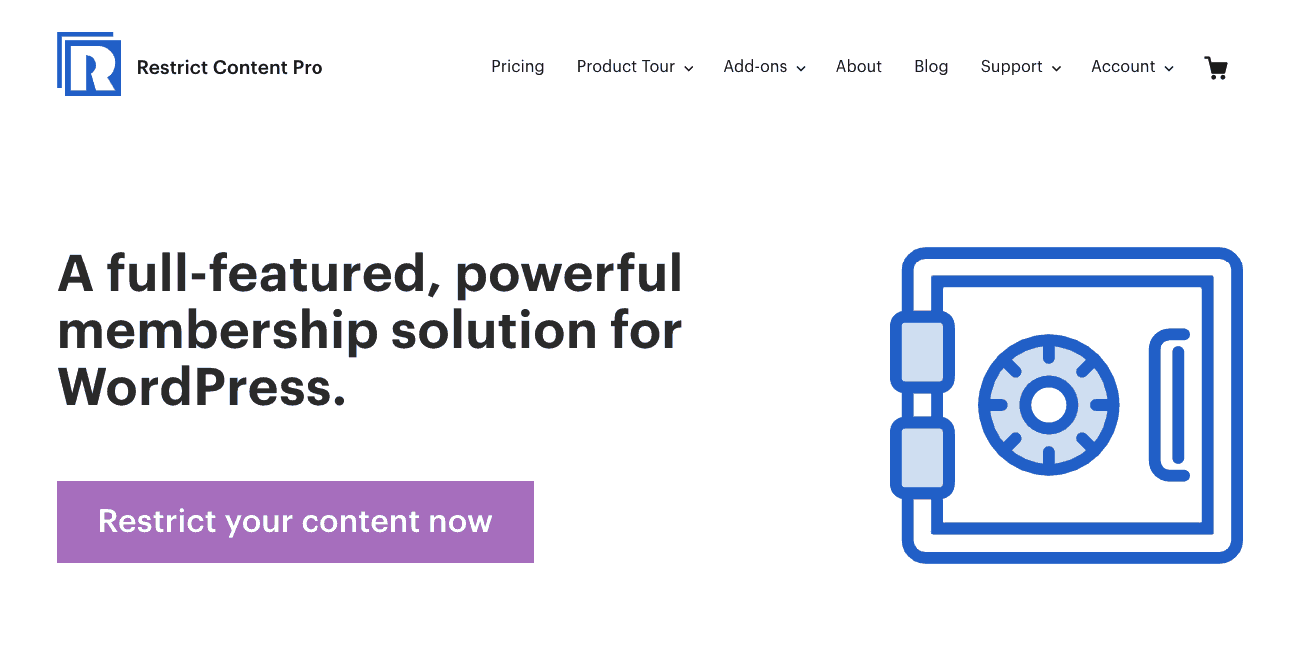 There are unlimited subscription levels, and it's up to you to decide the number. Your customers, on the other hand, are free to upgrade or downgrade their membership whenever they want. This plugin is great for managing club membership websites, magazine subscriptions, private forums, and various others.
RestrictContentPro allows content restriction based on a category or a tag. Alternatively, you can choose to restrict access to some posts, parts of certain posts, or choose the content-dripping option.
The developers have thought of payment options and added PayPal, Stripe, Braintree, 2Checkout, and Authorize.net built-in integrations. For other payment options, you'll be able to find addons. More importantly, you can use multiple payment channels at once.
Promotions are always important when you are building a membership or sale website, and this plugin enables you to send your customers discount codes. You can choose the expiration date, flat discount rate or percentage, and an unlimited number of products that can be at a discount.
Finally, you will receive detailed earnings reports, and you'll be able to export these data to CSV files or other formats. In addition, RestrictContentPro provides you with prompt support, so you won't have to wreck your brain with the issues you can't solve alone.
In summary, this developer and the beginner-friendly plugin has a rich set of features which are suitable and handy for various membership websites.
This is a new but powerful WordPress membership plugin which is eight times more affordable than other membership plugins and comes with a  user-friendly interface and extensive feature set to stand out as one of our preferred plugins.
SureMembers
This is a new but powerful WordPress membership plugin which is eight times more affordable than other membership plugins and comes with a  user-friendly interface and extensive feature set to stand out as one of our preferred plugins.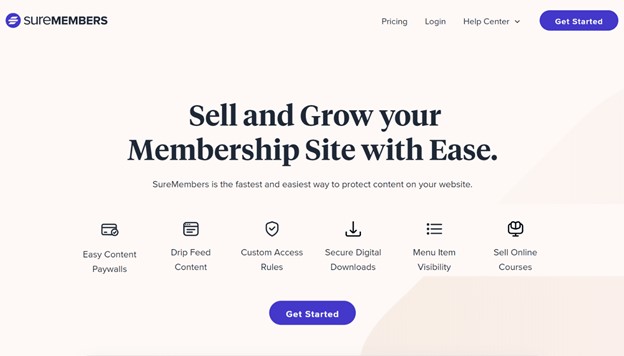 Setting up your membership site with SureMembers is very easy: takes a few simple steps:
Effortless installation

Seamless configuration of payment gateways

Easy addition of products

Inviting individuals to join your site
SureMembers offers multiple membership options and allows you to create unlimited member accounts. It also offers the flexibility to create multiple membership levels, group management and upgrade dynamics to provide a personalized experience to your members.
To prevent content sharing on your site, SureMembers provides options to restrict access to premium content for non-members, whether it be entire categories, specific tags, or individual pages, posts, and files. With the drip content feature, you can selectively release content based on subscription criteria such as length or level.
When it comes to payment options, SureMembers seamlessly integrates with SureCart to provide multiple payment options like PayPal and Stripe. You can also create and customize coupons with ease and apply multiple options such as: setting expiration periods, applicable products, and discount types.
For staying connected with your customers through email notifications. You can customize emails to range from membership expiration warnings to enticing promotional advertisements.
SureMembers ensures a great membership management experience without any prior knowledge. Whether you're selling online courses or any other digital product, SureMembers could be a great companion to create growing community sites.
S2Member
This WordPress membership plugin is certainly worth mentioning thanks to the time it's been around, its solid user base, and an available free plan. This free plan has somewhat limited features, but it can cover the needs of undemanding websites.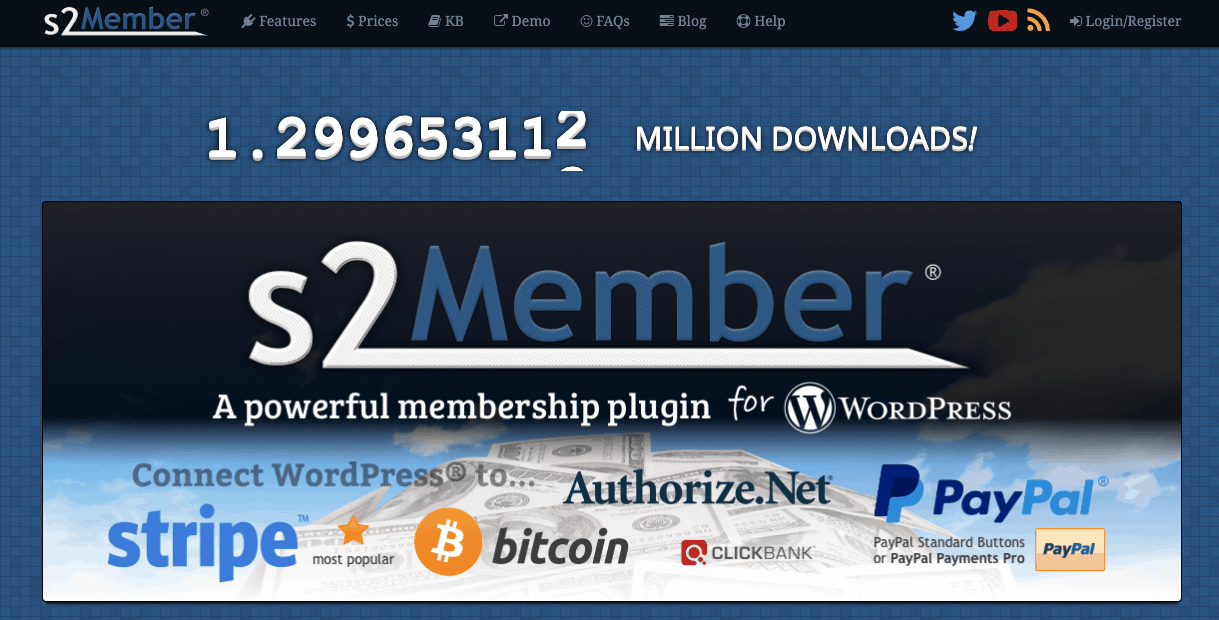 For slightly complex requirements, there is a comprehensive paid pro version. Still, none of these options is completely beginner-friendly, so keep this in mind if you are a novice to WP.
With this plugin, you can restrict the registration option and enable it only for paying customers or choose to restrict certain parts of the content. Besides the usual restriction features, such as those based on a tag, category, or a post, you will be able to prevent or limit video material streaming or download of certain files. Note that with the free version, you can create only four membership levels, whereas the paid variant allows you to create as many as you wish.
S2Member offers coupon card generation, as well as payment through PayPal if you are on the free plan. Pro plan, on the other hand, also includes Stripe and Authorize.net.
On top of this, you will be able to set up personalized transactional and sign-up emails for your customers. They, on the other hand, will have an option to upgrade or downgrade their membership whenever they wish to.
In general, S2Member is a good choice for start-ups, as well as more developed businesses. Its pro version is especially comprehensive, so bear it in mind as an alternative.
Final Thoughts
These three are some of the most reliable plugins. Which one you choose depends on your plans and needs. In any case, there are a few more things to remember before you begin the process of your website setup. Always keep in mind your WP abilities and already existing plugins on your site.
It may happen that the membership plugin you are thinking of buying is incompatible with other plugins you've included. Hence, try to test the compatibility on your local install, and add it to the live website only after the test worked out. Also, it's best if you keep it simple in the beginning, so don't opt for numerous features if you don't need them.
You can always buy plugins later on once your site starts thriving. We certainly hope this will happen soon enough. Good luck!