Are you having trouble setting shipping for your eCommerce store?
Every eCommerce store owner wants to provide the best shopping experience to their customers. Starting from the website's design to the quality of the products and to the customers receiving the products they purchased.
Navigating the shipping process is one of the most challenging aspects of running an eCommerce store. You want to ensure that all of the settings required to deliver products purchased through your website arrive safely at the customer's delivery address.
Sometimes, handling #shipping in your #eCommerce store can be frustrating and tiring. Don't worry; in this article, we have a #plugin that will save your nerves. Read on!
Setting shipping on your WooCommerce store is an important step every small business owner needs to set up. Without the shipping method, you will not be able to send your products to the customers. However, you need to arrange it well to ensure that your customers are not confused with your shipping methods.
WooCommerce offers three shipping options you can choose from, flat rate shipping, free shipping, and local pickup.
WooCommerce Table Rate Shipping Pro
WooCommerce Table Rate Shipping Pro is a premium plugin designed to make the shipping process more manageable. It contains different shipping features that will come in handy. Especially when you are switching up products, and you need to set your shipping for different products.
You can choose whether you would like to ship your goods by weight, the number of items in the cart, or any other shipping method they offer. This plugin grants many different features that will help you optimize your website shipping method in the best possible way.
You will get an unlimited number of shipping zones and rates. WooCommerce Table Rate Shipping Pro also allows you to set shipping classes, add a handling fee, ship based on the number of items in the cart, set shipping rates based on the country, and so on.

They offer a 100% money-back 7-day guarantee. In case you are not satisfied with this plugin, you can quickly get your money back.
How to Set Up WooCommerce Shipping
Today, you will learn how to set up WooCommerce shipping based on the number of items in the cart. This easy-to-follow tutorial will help you ship your products without too much trouble.
If you have a free version of WooCommerce Table Rate Shipping Pro, you can't choose this option. That's because this option is not possible to choose in the free version. To ship based on the number of items in the cart, you must download a pro version.
Installation
To install WooCommerce Table Rate Shipping Pro, you need to log in to your WordPress website, type the name in the 'Plugins' section, and 'Add New.' You can begin using this plugin after installing and activating it. This way, you will be able to calculate the WooCommerce shipping based on the number of items in the cart.
Head over to 'Settings' and then 'Shipping.' Now is the time for you to set up the shipping zone. When you define it, specific rules apply to that zone whenever someone orders your products from there. Fill in the blanks with the name of your zone and its location. Also, you have to choose a shipping method.
The methods you can opt-in are:
Flat rate,
Free shipping,
Local pickup,
Table Rate Pro
Here you need to choose 'Table Rate Pro.'
Editing Method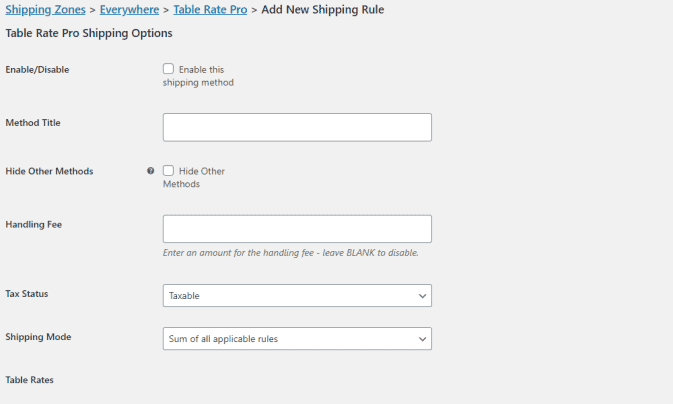 Further, when you add your shipping method, you will have to edit it. Firstly, you need to add a new shipping method. Enable that shipping method and choose a title for it.
Also, you will get recommended titles you can choose from. 'Standard' is one of them, and it is the one we recommend picking, but you can set whatever sounds better to you.

The title will show on the cart or the checkout page. Setting a 'Handling fee' is optional. A handling fee is an amount that it will add up to the order. The next important step is to choose 'Tax Status.'
You can specify whether you want the shipping to be taxed or not. Also, you must set 'Table Rates' for it to function correctly. It will present you with various options.
Shipping Classes
The first thing you need to do is choose what kind of shipping class do you want. Also, the vital fact is that you can apply shipping classes to a group of specific items. Furthermore, you can use them to give various rates to distinct types of products.
It is a way of setting particular rules for particular merchandise. You probably have different products on your website, and you are looking for a way to differentiate the shipping cost.
The best way to do it is to follow a set of rules. It will help you set different shipping prices for different types of products. After you've defined the class, you must select a condition. This option instructs the plugin on how to apply this rule. You can choose by the Weight (oz), Total Price ($), or Item Count.

It would be best if you chose the 'Item Count.' It will then set up the shipping based on the number of products in the cart. Further, you should set 'Min Value' to 0 and 'Max Value' to infinity, covering every possible number of items in the cart. Now you can select how much you want to charge. Also, you can establish how much you will charge per order and item.
Shipping Zones > Zone name > Table Rate Pro > Add New Shipping Rule.
Conclusion
In conclusion, this is the simplest method for configuring WooCommerce shipping based on the number of items in the cart. Keep in mind that to do that, you need to get WooCommerce Table Rate Shipping Pro.
It is worth investing in this plugin to help you set your shipping method in a few minutes.
Take your time while you are doing it, as it is essential to set it correctly. If you decide to, you can always change some things in the future. When setting up your shipping method, be sure to have in mind different aspects of your products. Sometimes if your shipping is too high, it will make your customers think twice before actually purchasing it.