Managing your inventory is the key to attaining maximum efficiency and productivity within your business, but we can all agree that it can be a pain in the back, am I right?
Everybody has been on the lookout to cut the time needed to perform certain tasks and increase overhaul business management in any given company. So, here you are, and it's good that you are because even the simplest of plugins will greatly improve how you manage your inventory in your online business selling physical goods.
The following inventory management tools will greatly improve your online business, and if done correctly, increase the number of satisfied customers.
I will include what makes each of them pop, and if need be some of the downsides like costs (not that it is expensive, it should be considered pocket change if you have a stable business). So, let's get to it!
1. WP Inventory Manager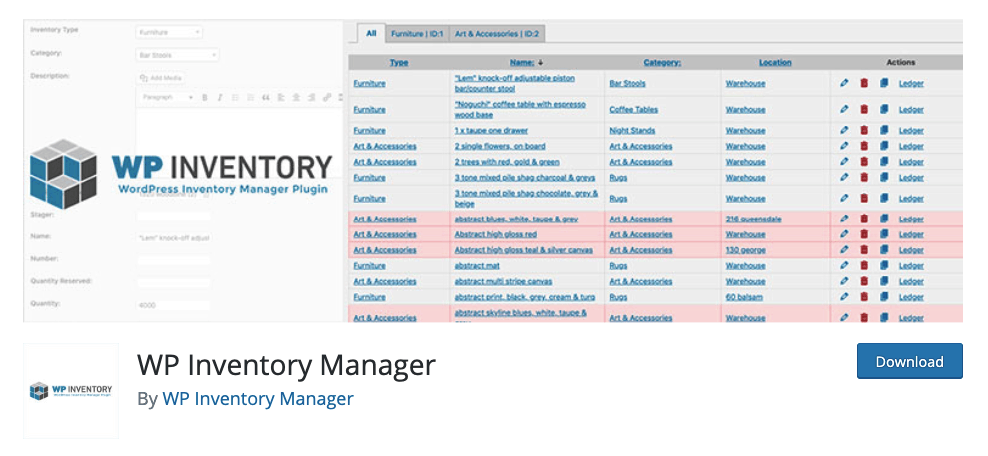 Starting off is the WordPress Inventory Manager. It's easy to set up and use even for people who have never used WordPress.  If you are familiar with how WordPress functions and is presented, then you will have no trouble adapting and getting used to this plugin.
If you are still having trouble understanding and using the product, then I recommend you go to YouTube. They have a couple of videos explaining and teaching you how to use the plugin to maximize efficiency.
If that doesn't help you and you have further setbacks and issues while using the plugin, then I recommend that you get into contact with the support team that is more than willing to help you out!
Let's say drawbacks are that you can get a premium license at a separate price, but even with the free version, you can get a lot of stuff done with little to no trouble. If you are a bigger business, then you will find that the premium version is not that bad, and it will increase your business's inventory management to the next level (I mean it costs only 15 bucks a year).
2. WooCommerce Out of Stock! Manager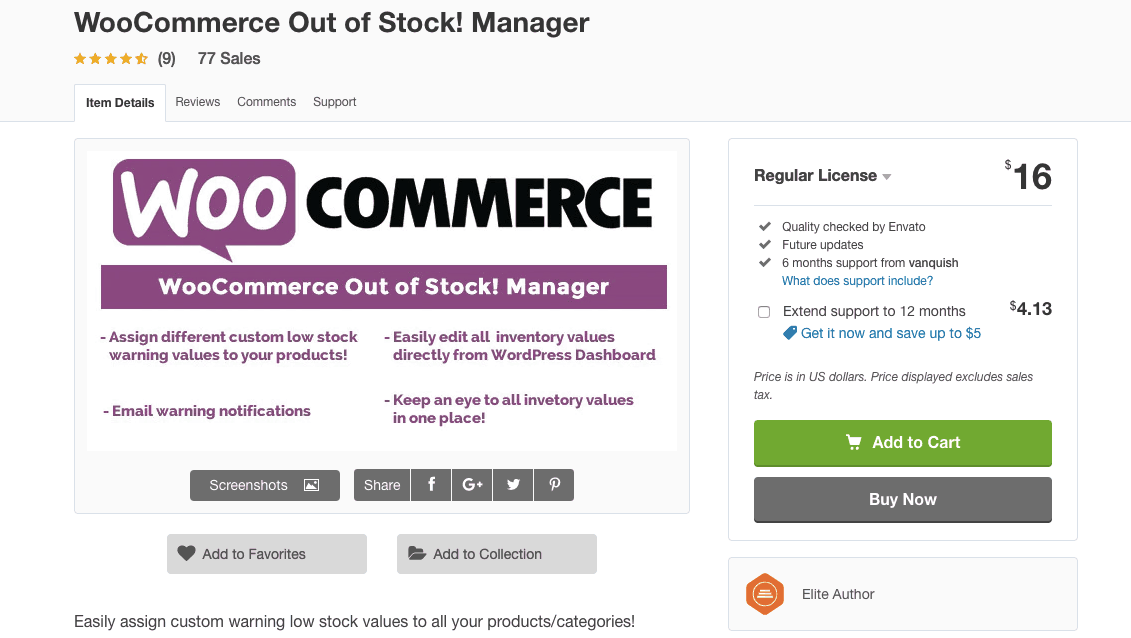 WooCommerce Out of Stock! Manager is a very simple and slick plugin. It is a great starting point for anyone who is starting out and is new to the business. It will increase your productivity and overall efficiency, making everything nice and neat. It has a great number of features, and the design quality is also very high! The customer support is on point, and they get the job done very well, so no objections there.
3. Katana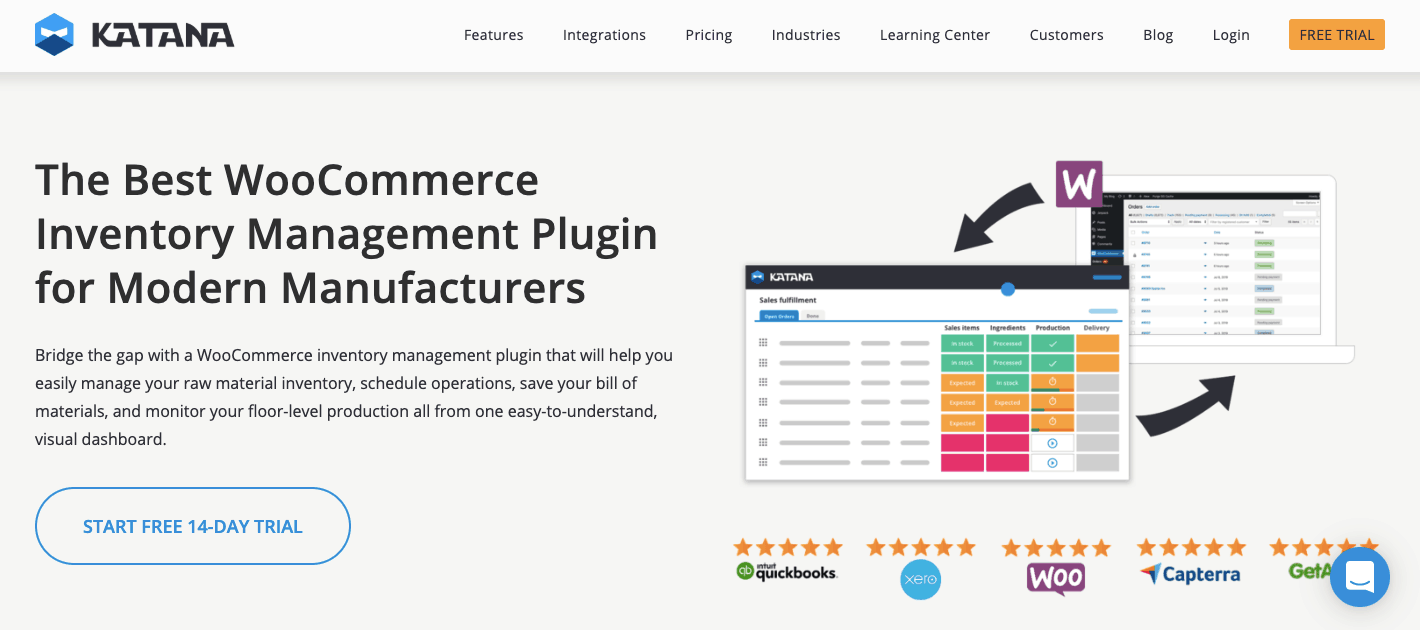 Now, Katana is a heavy-duty plugin that is very professional and robust. It is capable of filling orders, shipping, selling, seeing stock availability, and all that jazz.
What makes this plugin stand out from the rest of them is its ability to organize your business inventory from the beginning of the production cycle. That means that it can calculate the number of materials needed to create a certain product, how much manufacturing costs, and the availability of excess material that is not currently in use.
So, if you get an order in for a specific product and you do not have said product in your inventory, Katana will tell you if you have enough material to manufacture the ordered product.
It really is amazing, and I myself couldn't believe it. So, with this plugin, you can get the manufacturing floor-level of control (as said by the developers) and manufacturing costs. This plugin will greatly increase your productivity and inventory management!
4. ATUM Inventory Management for WooCommerce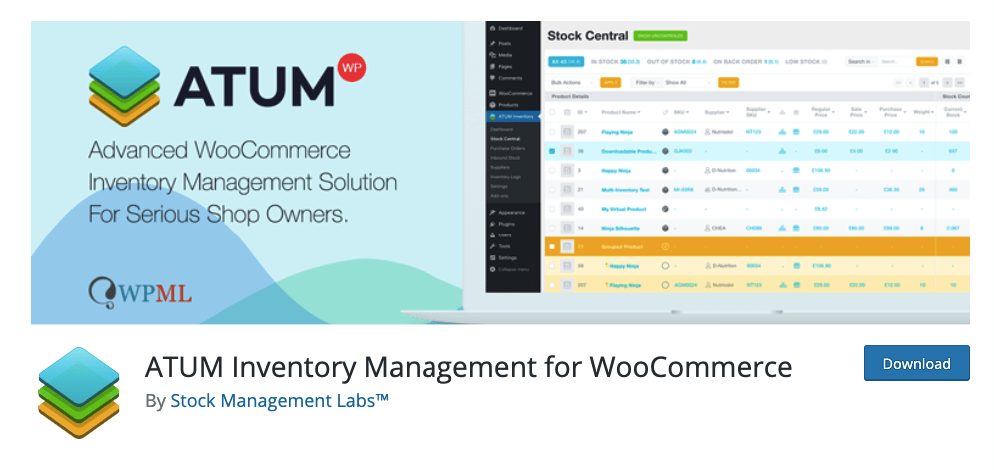 ATUM Inventory Management for WooCommerce is yet another WooCommerce inventory manager. The color layout and the color combinations are simply on point and do not feel too excessive (speaking of colors, they have added additional color modes that will increase your management capabilities). The same goes for the overall design of the plugin. It is very slick, simple, and modern looking.
The reason why I'm mentioning this plugin is not because of its base plan, but for its premium plan. In the premium plan, you have the ability to add a couple of warehouses that are scattered in different locations. Plus, you can now add additional suppliers who supply you with materials that are needed to manufacture your product.
So, this is a great plugin in and of itself. Even without the premium plan, it is still a solid inventory management plugin, but the premium plan is where it really shines (especially if you have multiple warehouses and multiple material suppliers).
5. Scanventory – Mobile Inventory Management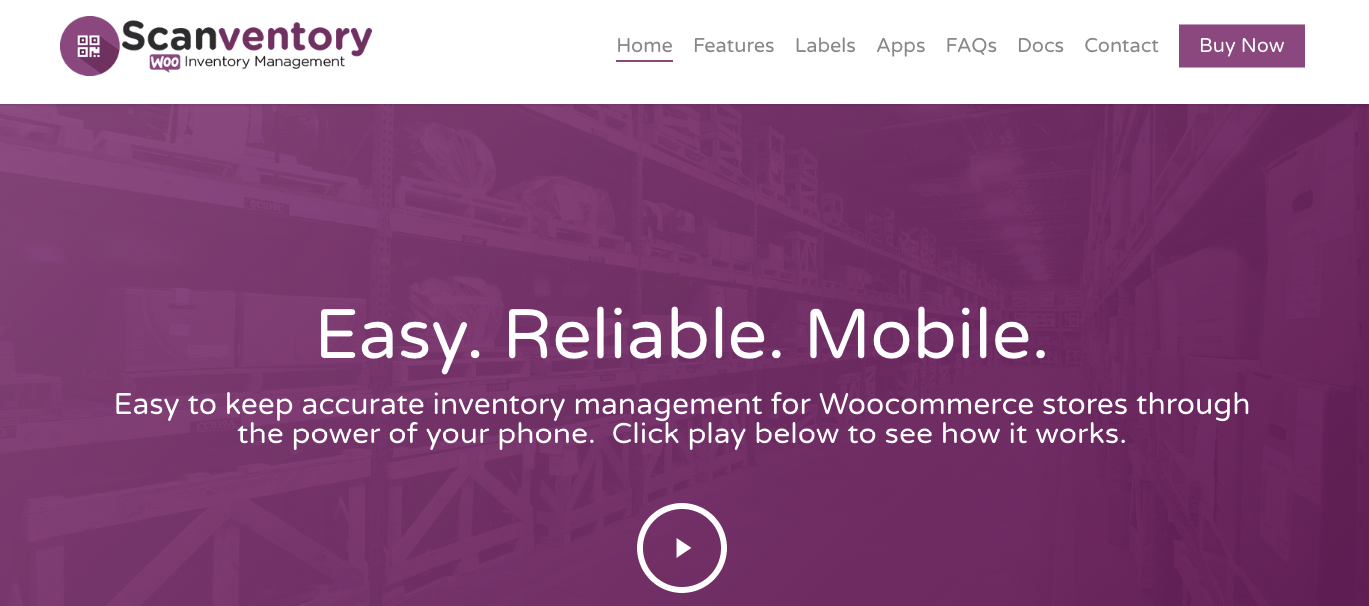 And last, but not least is Scanventory. Now, this is not just any inventory management plugin. If you have a physical warehouse and you want to save up time from needless clicking and logging in around – this is the go-to inventory management plugin!
By this, I mean that it removes the need for you to log in into WordPress as admin, then go find the product you want to edit, edit it and then save up the changes made (and you have to do this for every single product you have available).
Well, with this plugin, all you got to do is install it and use QR codes to manage your products through your smartphone or tablet! That's right, you have the ability to make your own QR codes for each individual item you want to sell, and you can also print them out and stick them to the product itself.
You are probably wondering which of these inventory management plugins are for you?
The easy answer is that it all depends on your needs and what it is that you are selling. If you want something simple, quick, and fast, then WooCommerce Out of Stock! Manager is what you are looking for.
Then again, if you have multiple warehouses and online stores, then Katana is the way to go. And finally, if you want to increase the productivity of your on-location warehouses (if you are evolving more around that), Scanventory is your best bet.
Quite frankly, all of these plugins do the same thing, and it all depends on what you prefer and what look you are looking for. Whichever plugin you choose, I guarantee that you will be more than satisfied (especially if you pick the premium memberships), and your business productivity and efficiency will increase in no time!