Every business needs an ID card. In today's world, it is vital to stand out among others. You have to take care of the visual identity of your business or service. Presenting it well online is the best way to grow and expand.
Are you thinking about #upgrading your website #banner? In this article, you can find the best #free #online banner makers for your website!
Also, if you are at the beginner phase, it is great to find free tools that can help you have a better start. Further, we are presenting you with some of the best free banner makers. Keep reading to get the best design and visual presentation and better results in the future.
1. FotoJet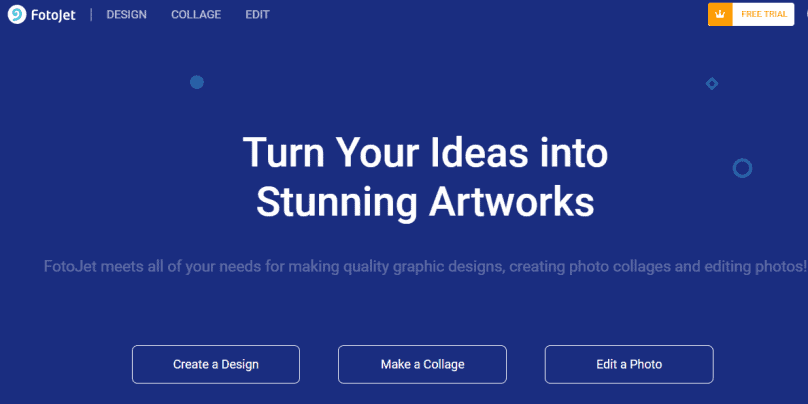 FotoJet is one of the best free online tools for making banners that you will find out there. It is ideal for creating banners for social media accounts, other social platforms, and your website. FotoJet is easy to use, giving the user complete control over the design.
Also, this plugin offers around 1000 free templates divided into different categories. These categories are arranged based on various topics. The templates are professional with a fantastic design that gives the user power over the task and a sense of easily gotten high-quality results.
However, firstly the user will select a category and template. Further, the user gets an option to edit the template by adding different content and photos to get a fully personalized banner. The final step of this process is saving the banner and sharing it on the preferred networks.
FotoJet is a free tool offering a lot and asking for nothing. User does not even need to register to get personalized banners. Isn't this incredible? For getting better insight about FotoJet and its services, run to their website.
2. Piktochart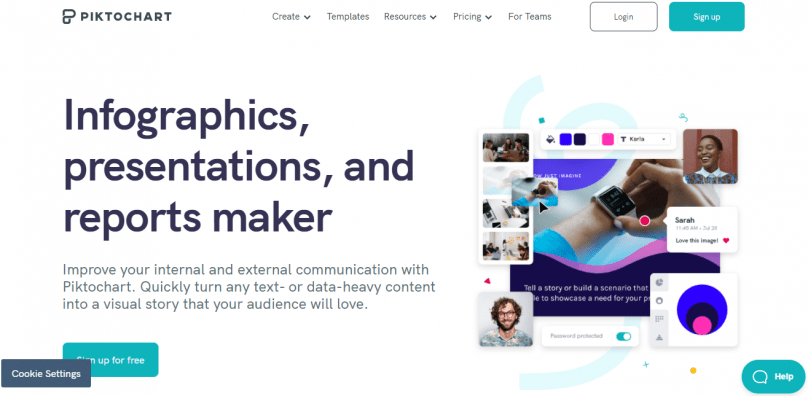 Piktochart is another excellent free tool for creating personal banners. The main task of this plugin is to help users make an infographic design website. It led to deeper and more specific content, offering the creation of reports, posters, and other personal presentations. However, it is a simple and easy-to-use tool that saves time.
Also, Piktochart will bring you professional results. It provides thousands of different professional templates which can be easily edited and personalized. If you want to join more than 6 million Piktochart users, go to their website and start with the first click.
3. Canva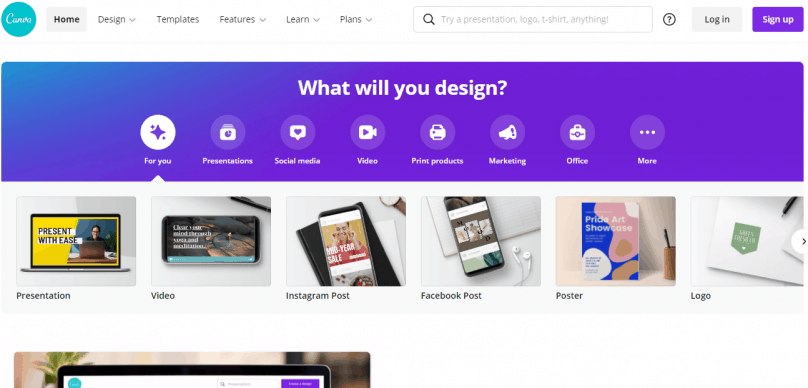 Canva is an online platform that offers everyone to make different visual content without much professional knowledge or experience. It allows users to create a professional visual identity for specific services or needs. However, among many possibilities, creating banners is one of the most popular features on the Canva platform.
This plugin has thousands of free editable banner templates and different designs. This plugin is for you if you need a banner for social media pages and websites to be recognized and unique. Canva can help you with its attractive and easy-to-use user interface and drag and drop functions.
However, after selecting a preferred template, you continue personalizing: editing, changing colors and fonts, adding personal photos and text. You can download it and share it online with your friends or customers when you finish the banner. One of the 'catchiest' advantages of Canva is the possibility to edit your banner over a desktop. And all that while you are sitting!
Also, you can use a mobile phone when you are on the move. On the Canva website, explore more options and start by selecting your template.
4. Adobe Spark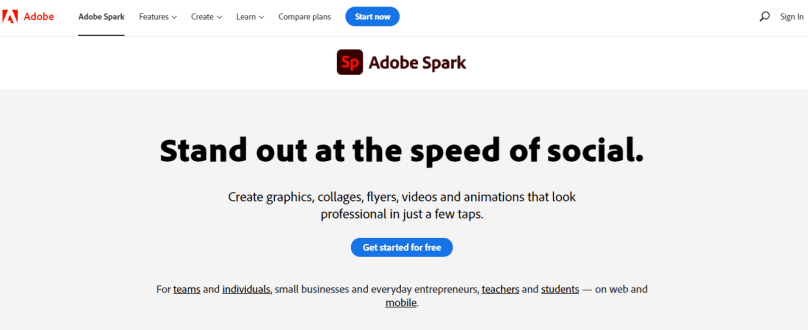 Adobe Spark comes from the famous Adobe family. Like the other family members, it also offers fantastic designs. It is a web-based apps suite that requires no special designing skills and brings excellent results and professional banners.
You can select your favorite template among hundreds of different templates and images. Easy edit and text changes bring you a personal banner that will help your website to stand out. Start with the first click here. https://www.adobe.com/express/
5. Designhill Banner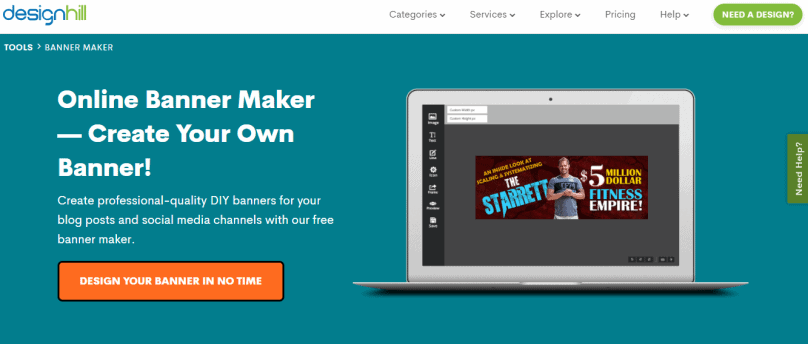 Designhill Banner maker is one of the best free tools for creating website banners. It allows you to create professional banners for your websites and other social media accounts. Its library has plenty of different design elements (images, icons, etc.).
However, it is essential to mention that these elements guarantee your banner will be attractive. They are also accomplishing your business needs. Check their platform and start designing to see how Designhill banner maker works and gives you free banner fast.
6. Crello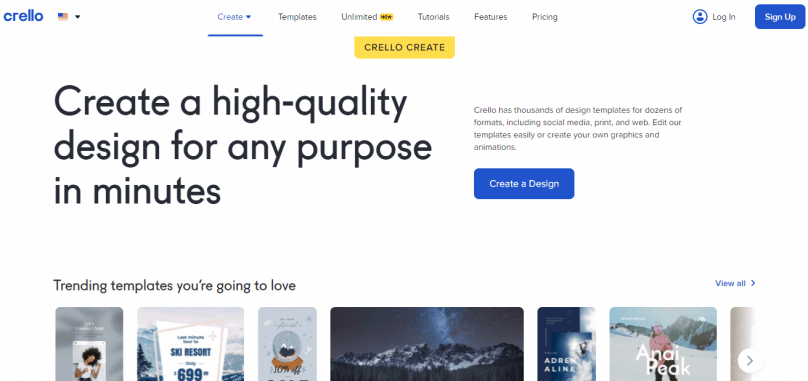 Crello is another excellent free tool for making banners and other visual content your business needs. It offers thousands of design templates with different formats, images, and fonts. And also, an option to change everything completely.
Its user interface is very friendly and easy to use to upload your illustrations and images. The first step is to click on their platform. Everything else will be easier than that.
7. Fotor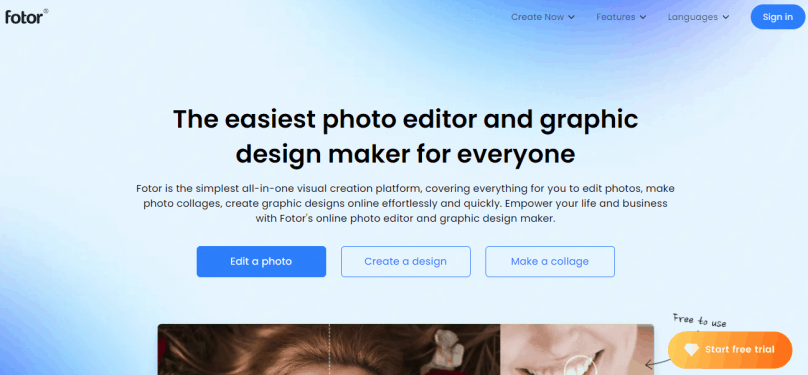 Fotor is a design platform that offers free services for your business. It is a straightforward platform where you can quickly edit photos and create graphic designs without specific knowledge. And we all know that when a plugin doesn't require specific knowledge, it is an enormous plus.
Its online editor is simple and easy to edit selected templates and designs. For your business, Fotor has everything that you need for your visual identity. Start here and check its options.
8. DesignWizard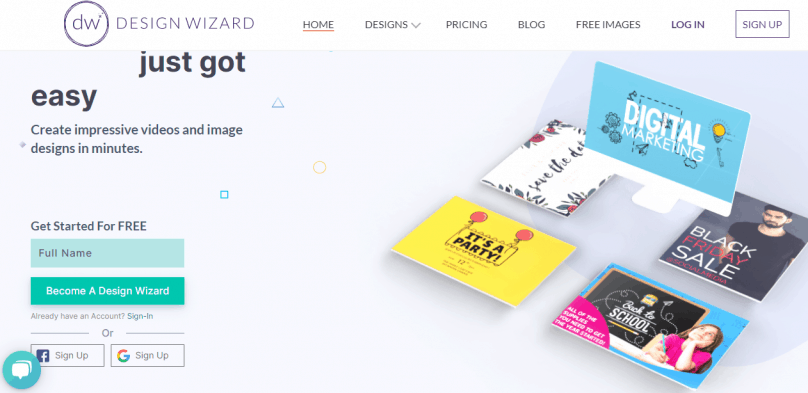 DesignWizard is also an excellent tool for banner making. It offers many fantastic banner design templates which can be easily customed and edited in their online editor. You can add text, add your images or change fonts and formats. After finalizing your design, you can save it and download it for further use.
It is in excellent form for your website and social media profiles, where your unique personalized banner will help you with your business and potential clients. Besides many free templates, it also offers advanced features that you can apply when your business grows. Check everything here
9. BeFunky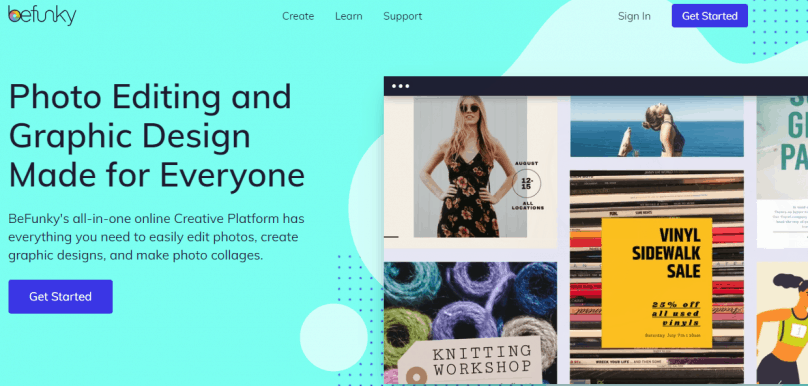 BeFunky is a fun and funky online platform for creating all creative content that you can need. It offers you many services, and creating unique banners is one of them. However, its online editor helps you to customize selected templates among many professionally designed templates. The drag-and-drop function makes designing simple and easy.
Also, uploading your images and starting with a blank page makes your design more personalized and shows the inner designer you. BeFunky is user-friendly and puts you on a higher level even if you don't have previous experience or specific skills. Enter their online editor, start customizing, designing, and be funky.
Conclusion
This article presents you with some of the best free tools for making banners for your website and social media accounts. These plugins are very easy to use, with a simple online editor and hundreds of different templates.
However, you don't need a specific skill or knowledge to start using any of them.
Choose a banner maker that will suit you the best. And this depends on your preferences and what works the best for you and your business.
Two things are certain: your business deserves its unique visual presentation, and each of these tools can help you with that. Start with your first design.