Suppose you are a business owner of a leading company having a goal of achieving maximum leads at the end of each month. In that case, you must have a lead tracker and implemented SEO digital marketing.
Want to generate high-quality #leads? Then using these #enterprise #SEO tools is the way to go!
However, search engine optimization can be a simple process when you have a business website with a few webpages. But what if your company is big and has a website with thousands of pages? In this situation, executing standard SEO strategies becomes a bit challenging. That's because their SEO requirements are different from regular sites. Thus, they need more than SEO, i.e., enterprise SEO.
Why You Need Enterprise SEO Tools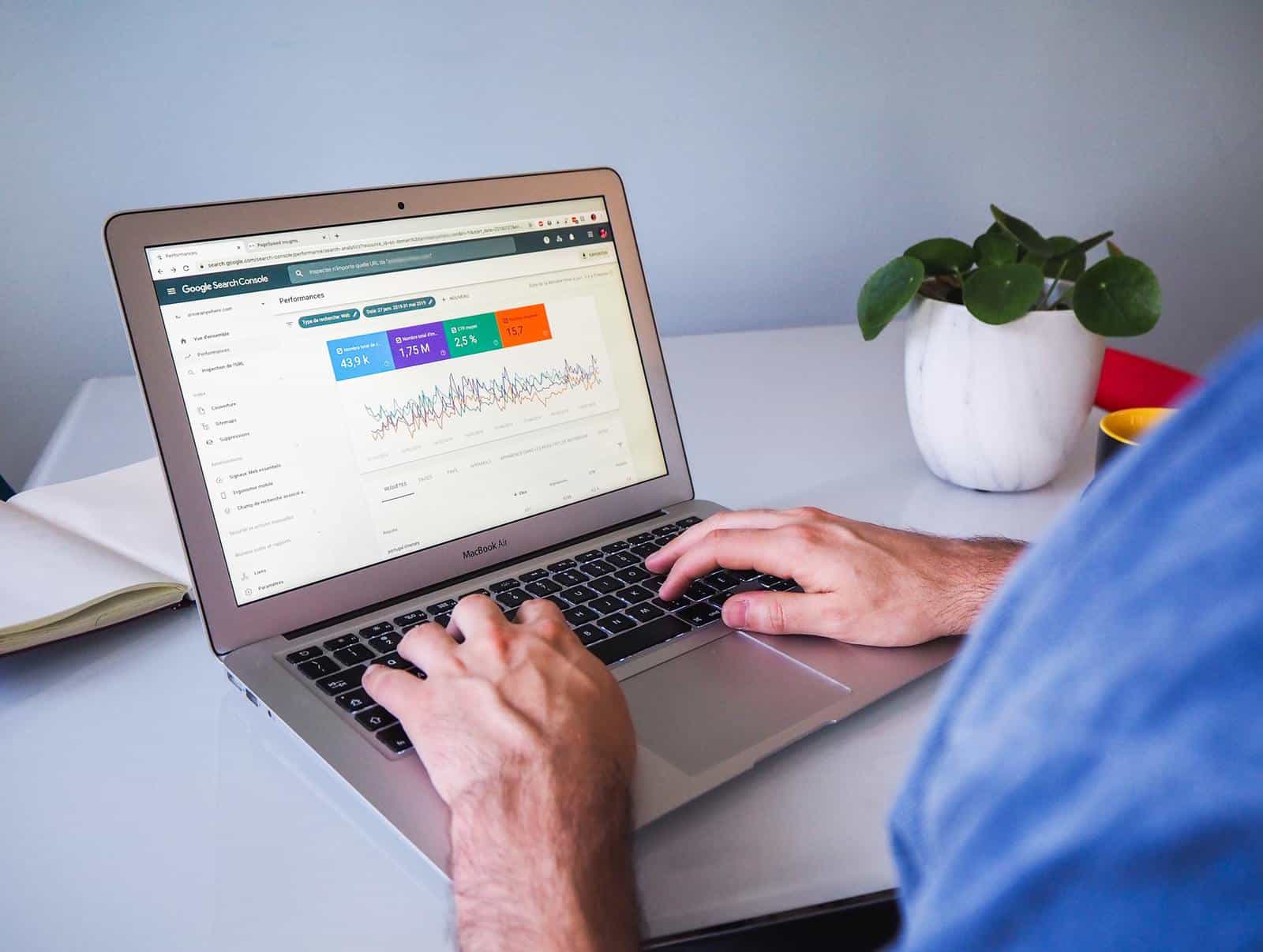 With thousands of pages, sites, and keywords to manage and optimize, enterprise SEO is defined as a complicated and time-consuming process. Here using the enterprise SEO tools or platforms, one can maximize efficiency and minimize time and errors involved in managing search engine optimization campaigns.
Whether you are thinking of do-it-yourself or want to hire one of the leading digital marketing agencies like Adaptify, SmartSites, Major Tom, etc., knowing enterprise-level SEO tools is very important. Below are the top picks with summarised capabilities to help you narrow down on the best one for you.
Lower-Cost Enterprise SEO Tools
1. Ahrefs (Inbound Links)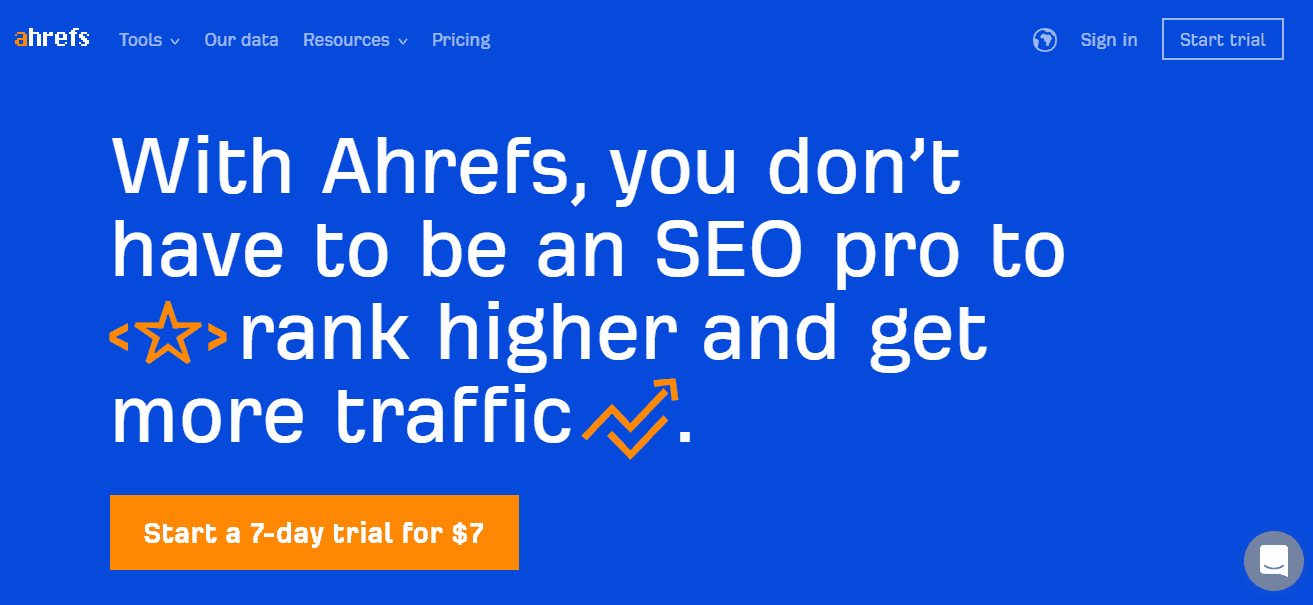 Inbound links are the links that come to your website from other sites. Thus, it is necessary to keep a record of these links to know the specific days on which you earned backlinks or broken links.
Here, the Ahrefs tool helps you with providing details like the time when each link was last seen, the page links are connected to, and social signals related to the inbound link.
2. SEMrush & Google Search Console (Keyword Research)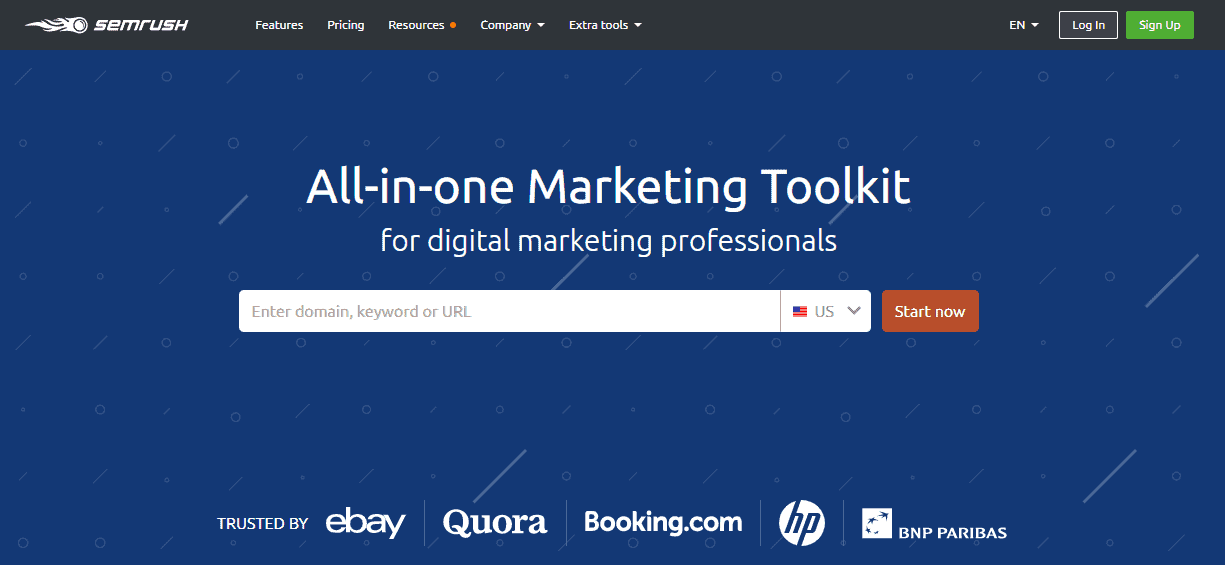 Keyword research is a significant element of an SEO strategy which helps to gain higher website ranking. To know the exact position for which a keyword ranks or the amount of traffic received by your site, you have to consider a paid version of SEMrush.
While for no-cost behavioral details like clicks or impressions, Search Console, i.e., Google Webmaster tools is the best.
3. Screaming Frog (Broken Links)

Broken links to a site can affect the ranking position on search engines. Therefore, knowing the number of broken links or canonical issues is very important.
Here, Screaming Frog helps you crawl your pages for broken links. Also, you can target other websites for linking, crawl their pages for broken links, and then contact them to offer one of your URLs as a replacement.
4. WebPageTest (Load Speed)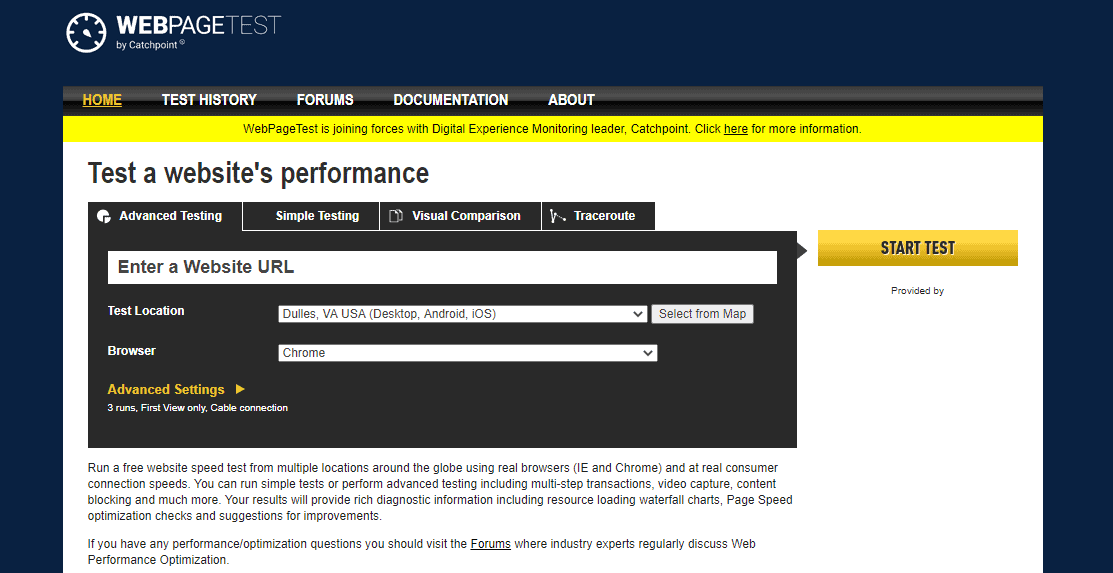 Search engine rankings are depended on the following factors like user's behavior, page load speed, and much more. If you desire to get higher rankings for your website, then it is essential to keep all these factors up-to-date.
With the WebPageTest tool, you can keep an eye on not only page speed but also other search engine ranking factors.  
5. BrightLocal (Local Search)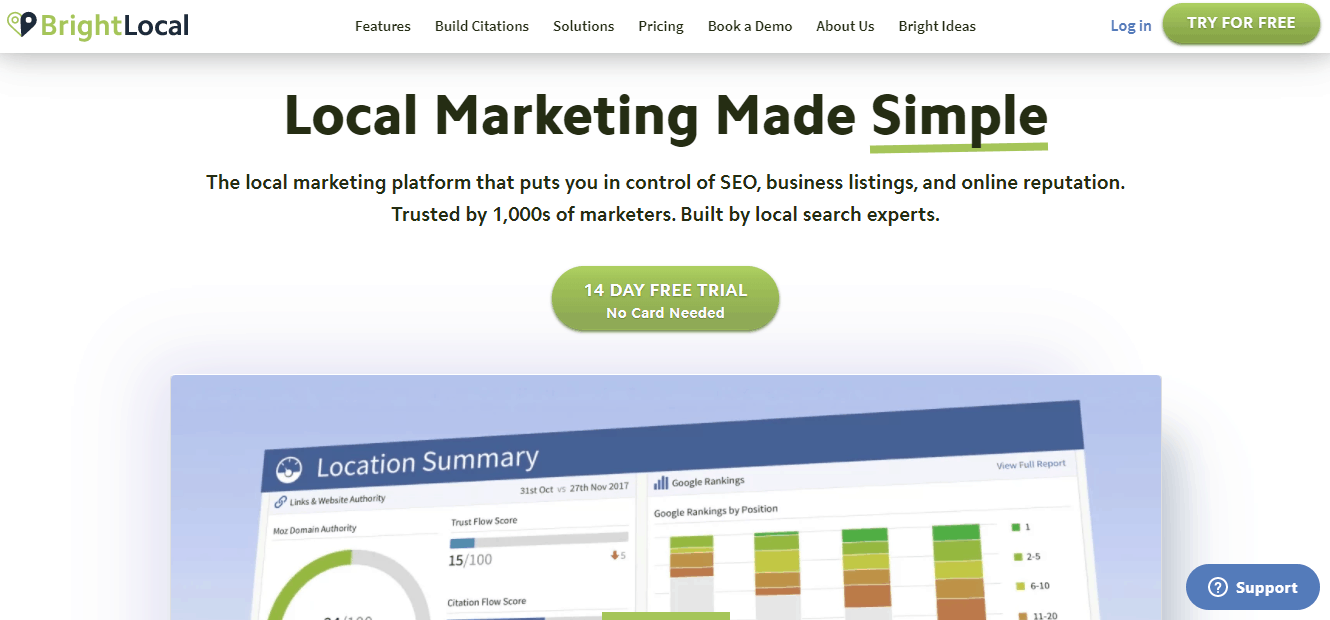 For all enterprises that want to target customers based on geographical elements, then BrightLocal is the ultimate tool for them.
It provides an all-in-one local dashboard. Also, it can track rankings on search engines like Google, Bing, or Yahoo, monitor customer reviews, audit Google My Business, and build citations.
Complete Enterprise SEO Tools
6. seoClarity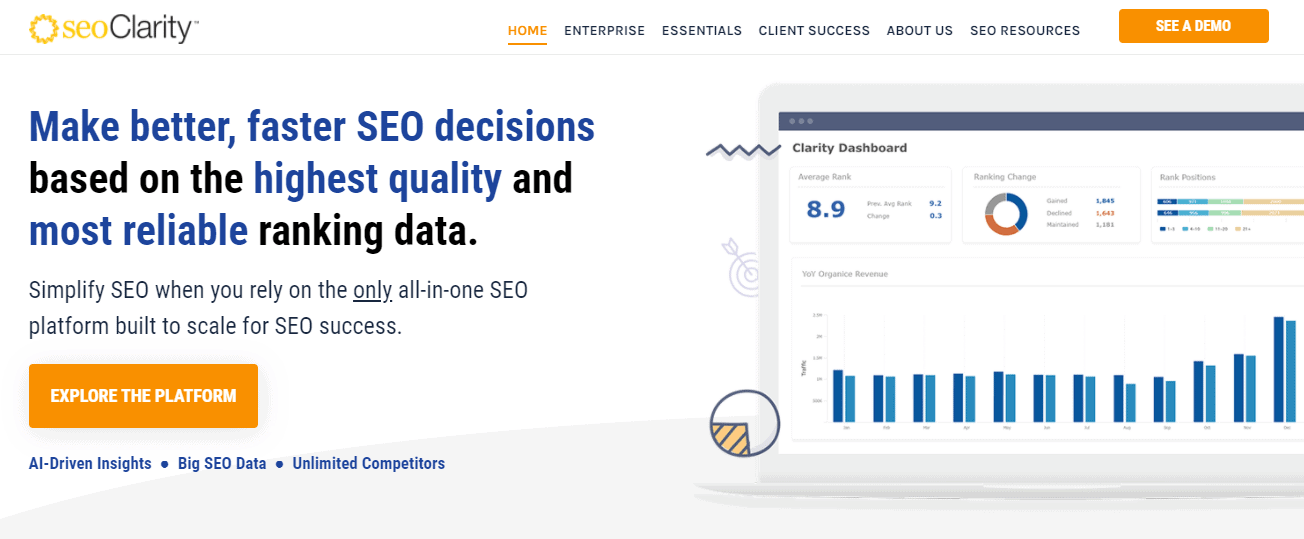 As a complete enterprise SEO tool, seoClarity allows every marketer to create customizable SEO dashboards. From performing site audits and deep crawls to identifying plagiarized content and site errors, everything is covered in these tools.
Also, one can use the Keyword Clarity tool to find out domain pages which can help in gaining SEO rankings or the Link Clarity tool to know which pages need inbound links the most.
7. Linkdex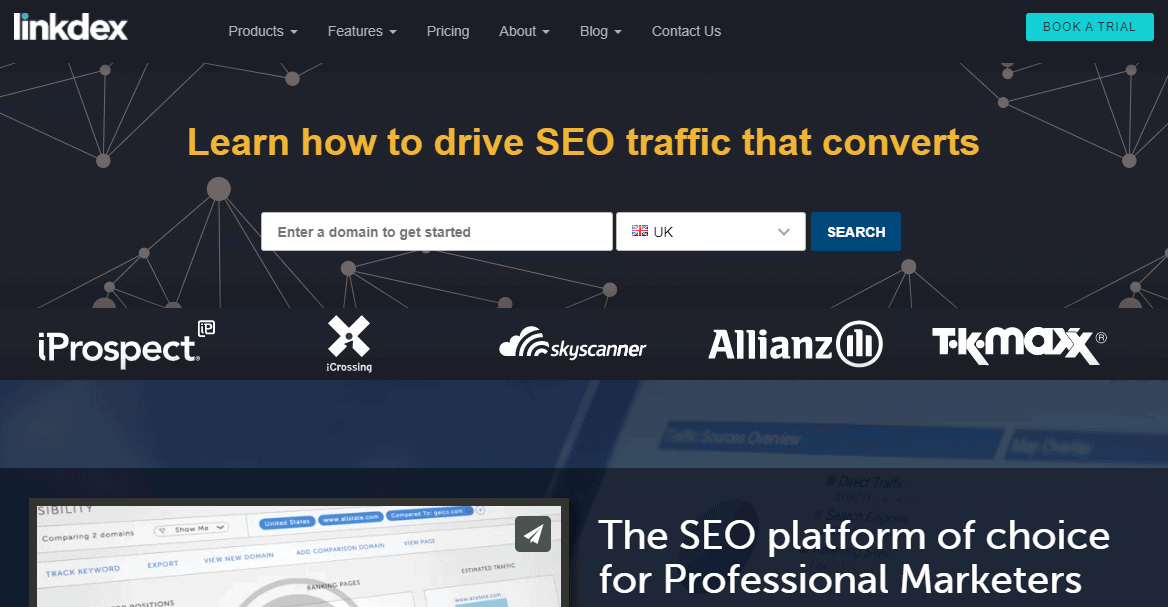 If you are looking for a link-building tool, then Linkdex is the best tool you should consider. Here you can know which domains link to your competitor's site and your pages.
Also, if you got a rejection from a webmaster or a link disavowed, then you can see all these details in this tool. Furthermore, you can also use this tool's robust tracking and forecasting tools to observe the optimization changes.
8. BrightEdge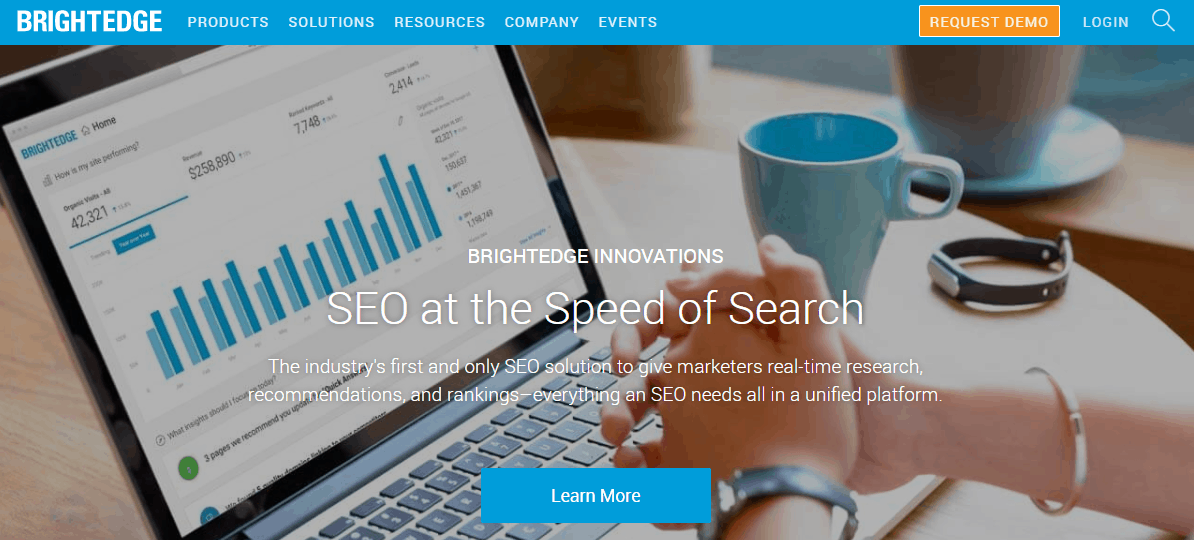 BrightEdge is a powerful tool that provides an overview of your website visibility based on the local carousel, images, videos, links, and so on. As a result, it helps you prioritize tasks parallel to your SEO challenges. Additionally, the tool also offers in-depth competitor analysis, inbound links that are driving SEO success, page templates, and insights on the pages.
BrightEdge's discovery tools help you know which keywords are doing well against competitors. By integrating social data with SEO details and domain analytics, this tool also creates a 360-degree view of your digital marketing tactic.
The Bottom Line
Every big company and desire for success at every stage needs enterprise SEO tools. That's because they help to perform research, execute tasks, and maintain an SEO strategy for better search engine rankings.
All of the above-mentioned enterprise SEO tools, which include complete to low-lost enterprise tools are useful for your business success.
Thus, if you have a large organization with flush SEO & digital marketing budgets, then considering these top enterprise SEO tools is a must.