If you are a user of the Shopify platform, you are undoubtedly familiar with the different ways of conducting marketing campaigns for your online stores. Marketing through the use of email is perhaps the most crucial part of any eCommerce marketing campaign.
With this #article, we are presenting you with the best #email marketing #services for your Shopify. Read on, and we promise you, you won't regret it!
The possibilities are endless, from better connection with potential and current customers to managing all sent and received emails. This type of marketing encourages engagement, sales, and overall eCommerce business. Email marketing tools designed exclusively for Shopify users' companies are there to make the job much easier.
These tools should allow users to create personalized messages, automate marketing, and run promotional campaigns via email. We have created a list of the best tools to provide you with everything you need to conduct strategic campaigns for your eStores.
1. Klaviyo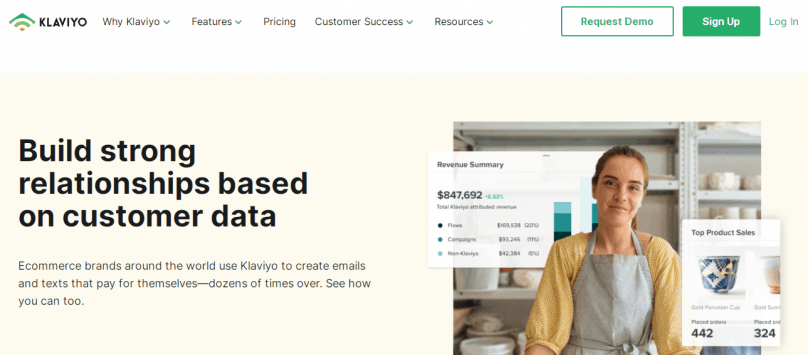 One of the main competitors in the market is Klaviyo. It offers various email templates tailored for shopping carts, sales, feedback, and anything related to the eCommerce industry.
You can create numerous segments based on different conditions following the purchase of certain products, how much they spend on assets, and the like. On the Klaviyo dashboards, you can see critical metrics for each current campaign you run.
You can also filter data, specific products, and customer behavior. Klaviyo offers personalized automated streams, CRM, SMS, and push notifications.
2. Sendinblue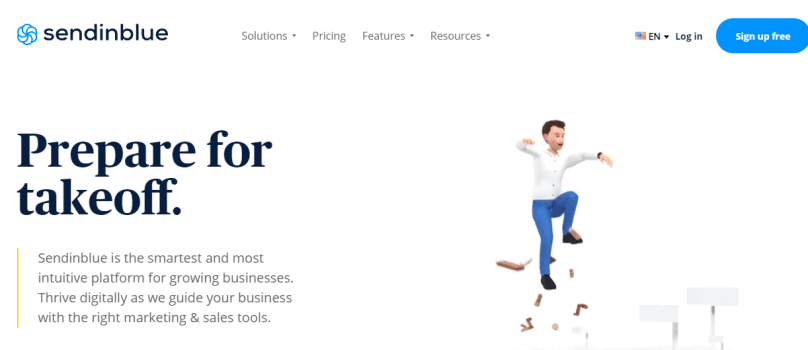 A powerful marketing platform created for Shopify stores called Sendinblue offers many marketing tools ideal for growing your business. The Sendinblue application provides transactional emails, promotional campaigns, centralization of incoming emails, SMS marketing, and marketing campaign automation.
You can segment by created actions to create user groups and target those groups via email, SMS, or Facebook. Telephone or online live chat is also available in the premium and business plan. The free version of Sendinblue offers an unlimited number of contacts and up to 300 emails per day.
3. Omnisend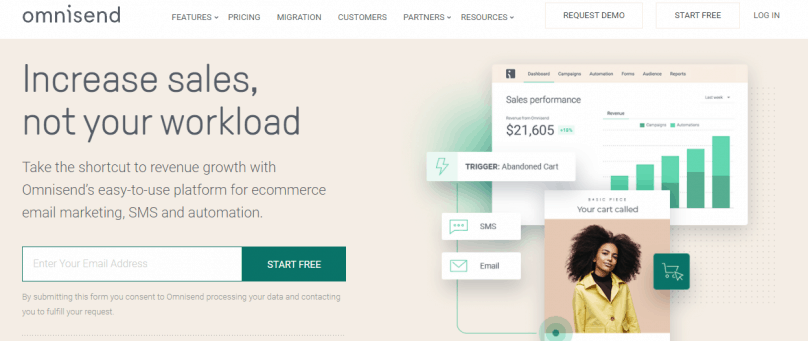 Another app designed for eCommerce is Omnisend. Just install the app and connect to your eCommerce created on the Shopify platform. The app provides multi-channel support outside of email that you can use to target your audience via either push notifications, Facebook Messenger, or text messaging.
Also, the built-in email editor works on the principle of drag and drop, and as such, does not require knowledge of coding to use. In addition, you have access to many features such as automatically-generated discount codes, interactive elements, and product recommendations.
We have to mention that the automation option is available in trial and paid versions. Also, you can make adjustments according to your eCommerce requirements.
4. Drip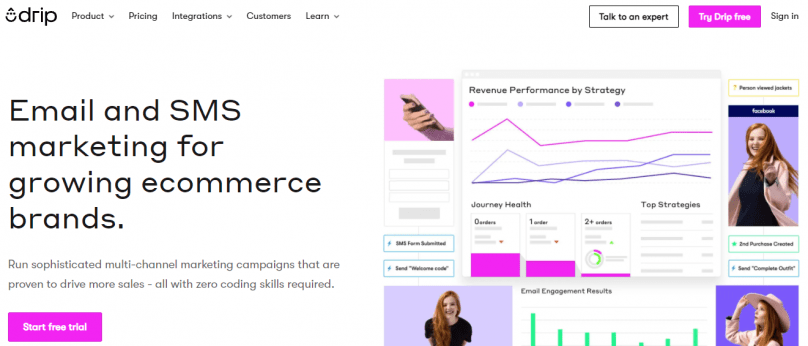 Drip allows users to launch marketing campaigns via email with automation and texting. You can also use features like audience syncing and audience segmentation. The application contains two types of email builders. The first is to create text and personalized emails, while the second is designed to design emails.
Drip includes over ten templates created for email automation specifically for Shopify platform users. Dashboards offer insight into your eCommerce engagement metrics and information on total revenue or revenue per subscriber.
5. MailerLite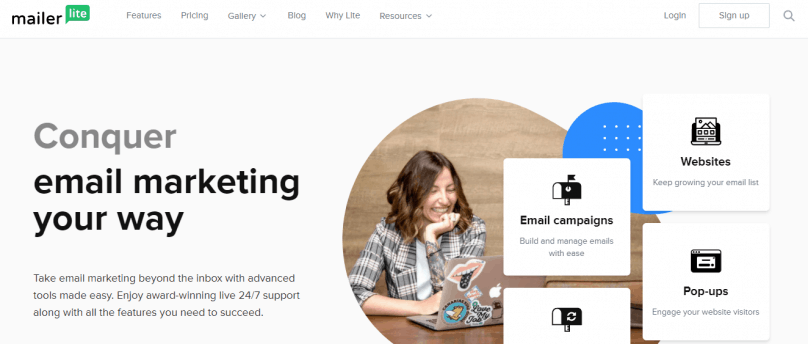 The MailerLite application offers standard software features for implementing marketing strategies via email. You can use it to generate leads, personalize emails, automate marketing campaigns, create surveys, or build websites. It is suitable for beginners when it comes to editing and making new patterns.
There is the possibility of integration with the Shopify platform to add products from your store to your emails. However, we also have to mention an advantage. It is a feature that makes it easier to track and analyze the results achieved. Especially those related to the sales process or the entire campaign.
MalierLite comes with a free option for 1,000 subscribers. However, for anyone over this amount, you need to set aside $50 per month.
Conclusion
This way, we hope that the mentioned application features, price ranges, and other features will help you choose the best platform for you. In addition, it is essential to consider your business goals, accessibility, and adaptability of eCommerce to market demands.
Most of the mentioned applications have built-in editors.
And they work on the drag-and-drop principle, further simplifying the whole job. Finally, we will note that you should always be careful. Simply because specific tools can become more expensive over time. It all depends on how many email subscribers you have.