All businesses, regardless of the size, need a customer support system to ensure they are delivering quality service and increasing their consumer loyalty, retention, brand reputation, and other consumer-related factors that determine business sustainability.
Depending on the industry you are in, some customer support channels could be more effective than others. For this reason, most customer support SaaS tools offer multiple communication channels for you to choose from, in order for them to remain relevant in the competitive market.
Want to take your #customersupport to the next level? Then check out this article which talks about the top 5 #SaaS tools that can help you turn that dream into reality!
However, besides the type of customer support channel, the level of support you wish to provide and the number of clients that need to be supported are also important factors when choosing a customer support software for your business. Some platforms are the best in phone support, others are champions in support tickets, live chat, and so on. So you really need to know what is your main priority and how to improve your business with the proper reputation management software.
To help you out as much as we can, here are our top 5 picks for customer support SaaS tools!
LiveChat – Live chat support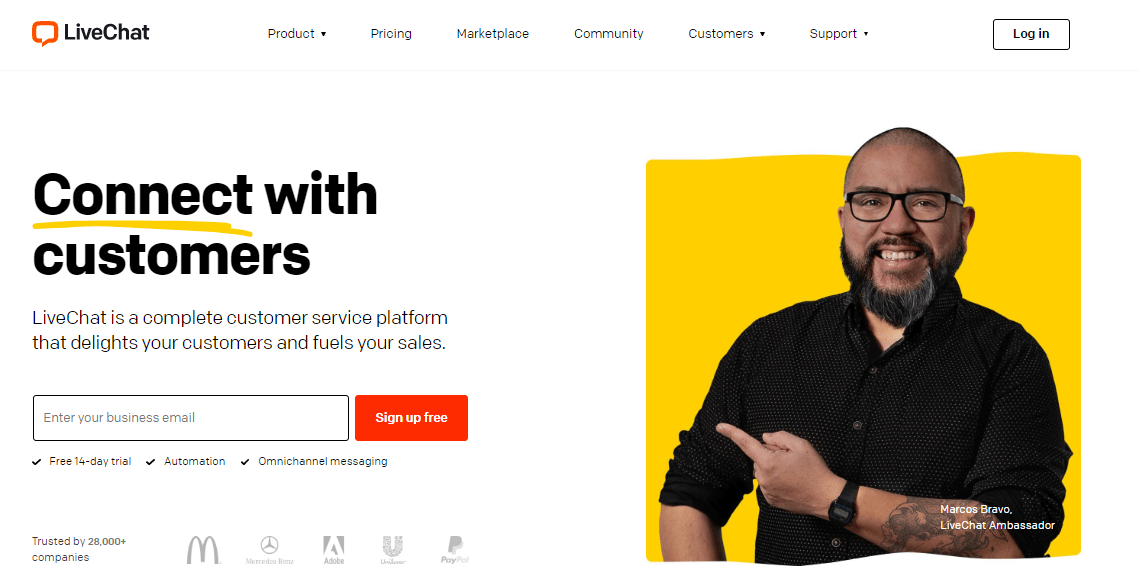 It's easy to see why LiveChat made the cut for our list of the best customer support software on the market. The company has built quite a huge reputation around one specific channel, live chat with consumers – hence the name. This cloud-based customer support software should be your tool of choice if you consider live chat to be one of the most prolific means of supporting your clients.
LiveChat is packed with all the essential features you might require in order to provide highly efficient customer support through live chat. The tool offers message sneak-peeks, which allow you to see what the customer is typing even before they send it giving you a head start when looking for an answer. It also allows you to save common questions, share various types of files and screenshots, transfer chat to your team members, and do so much more.
If you want to engage with multiple clients at once, you can integrate LiveChat with your Facebook messenger, WhatsApp, email, Apple Business Chat, and other apps. This way you will be able to control multiple chats without running several windows.
The LiveChat service is available on desktop as well as on mobile devices which means that your customer service agents can provide support even while on the go. On top of all that, using LiveChat, you can conduct online surveys and measure your customer loyalty using the Net Promoter Score feature.
LiveChat has a free trial in case you want to check out how it works before purchasing it. The premium starter package for small or home offices, which has the least features, starts at a $16 monthly fee per agent billed annually.
Zendesk – Knowledgebase support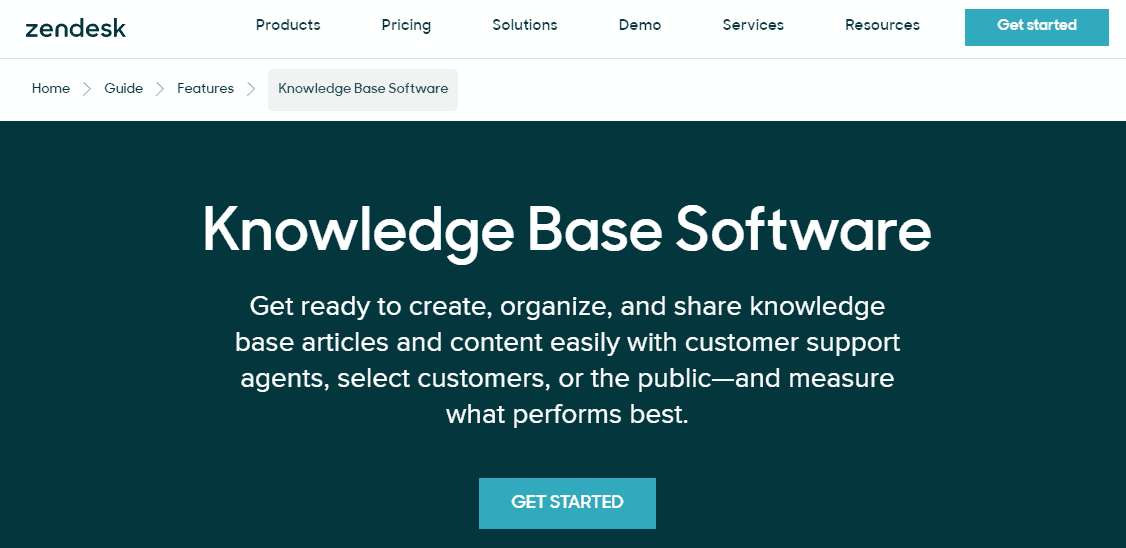 This SaaS tool for customer support is one of the most sought-after tools for delivering exceptional customer experience. Zendesk provides a full suite of essential support solutions and also has an outstanding reputation in the knowledgebase customer support system.
The Zendesk knowledgebase management system is easy to customize and user-friendly ensuring that your clients find the right information without the help of anyone. The system doesn't keep you in the dark while your customers explore the knowledgebase customer support page. Instead, it provides insight that unravels gaps in content and a guide on topics that are not being covered in your articles.
Zendesk knowledgebase software makes your content accessible to anyone by providing the option to translate your articles into different languages. Of course, creating articles in the software is very easy, because you will have several pre-made templates with rich formats and content structure on disposal to help you build a knowledgebase with very little effort.
Zendesk's knowledgebase support plan is available in the support suite premium package which starts at an $89 monthly fee per agent. This service plan includes other customer support channels such as live chat, voice, and ticket forms, which make the plan a great option if you are looking forward to combining several support channels.
Freshcaller (Freshworks) – Phone support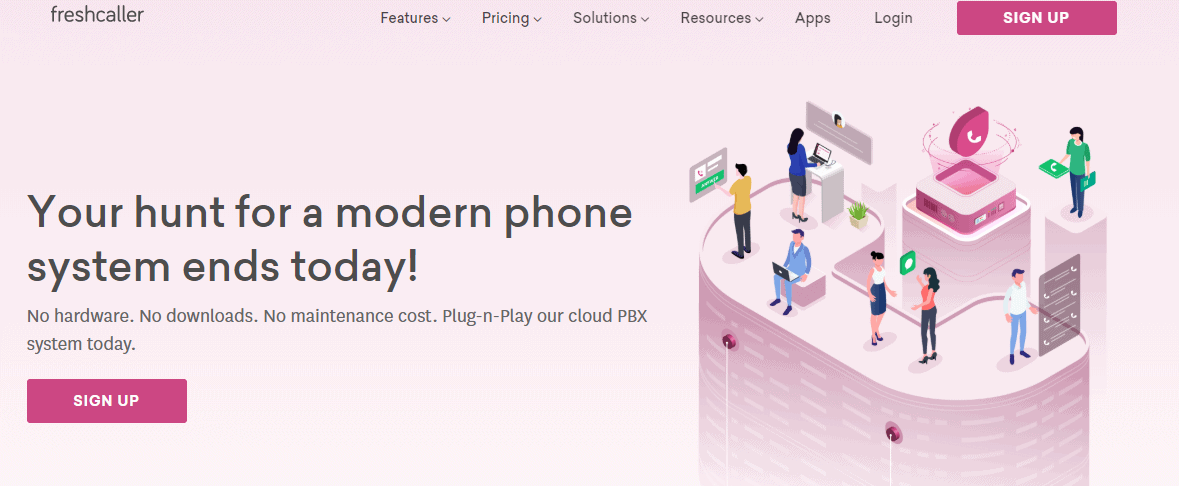 Customers who need urgent attention to resolve the issues they are facing mostly prefer to call your business line in order to get a prompt response, instead of going for chats or articles. Meaning if your customer support is mostly phone-based, then you should consider using freshcaller, which if you didn't know, is powered by freshworks.
This feature-rich cloud PBX system that was specifically built to serve as a powerful call center allows you to acquire local numbers from over 40 different countries and to have access to all the services of a phone system, but with business in mind. Aside from the numerous options to handle the call process, the service includes call masking, tool-free phone numbers, vanity phone numbers, and the ability to port-in numbers without notifying your clients.
Freshcaller also allows you to manage and monitor all business calls using exceptional features which include a real-time dashboard, call barging, service-level monitoring, call metrics, excellent reporting, etc.
Freshcaller has a free trial, and its premium package for agents starts at a $19 monthly fee per agent.
Zoho – Ticket support
You can be sure that when using Zoho Desk you will have an effective cloud-based helpdesk ticketing software at your disposal. As one of the top SaaS tools for customer support, Zoho's ticket management system is designed to make customer service much easier, error-free, and smooth.
Zoho Desk allows you to integrate several customer support channels into one. And with it, you will have access to email, live chat, social media, web form, and phone calls all through a single interface.
Of course, the system is user-friendly, easy to set up, and has intuitive automations, segment analysis, and auto-suggest features. These will help you route tickets to the appropriate department, prioritize tickets, and will also suggest solutions based off of the keywords from customer requests.
Zoho Desk gives a 15-day free trial and prices its premium package at a $12 monthly fee per agent.
Freshdesk – Community forum support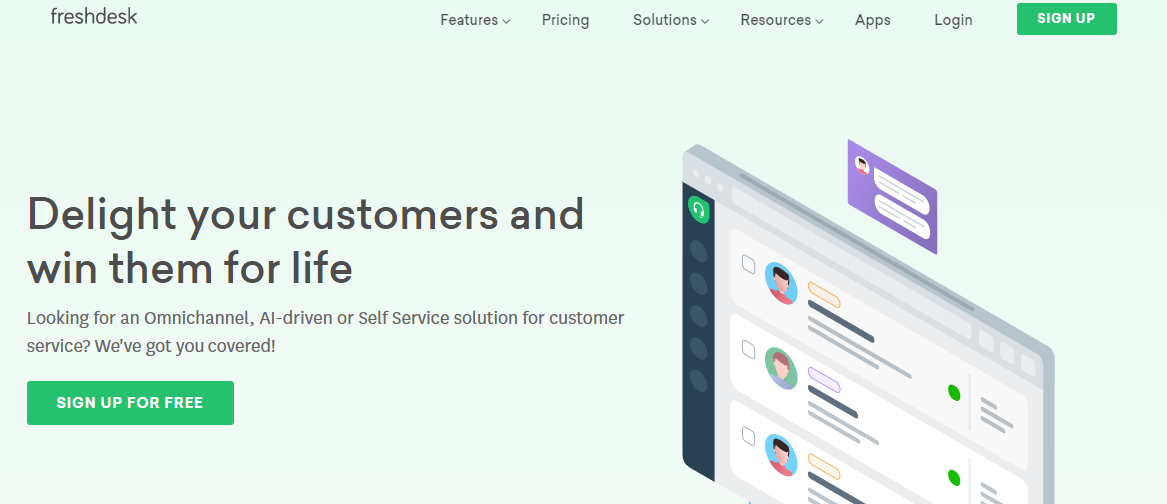 Last but definitely not least on our list of the top customer support SaaS tools, is another product from Freshworks, called Freshdesk.
While you can for sure build community forums using content management systems like WordPress, Freshdesk should be your top choice if you wish to do the same using SaaS software for customer support. Besides that, Freshdesk includes other features that you might require from a standard help desk software, features such as ticketing and knowledgebase support.
The service comes with a customizable team dashboard, curated field reports, bespoke analytics, ticket auto-assigning, and more. This omnichannel helpdesk software will allow you to interact with your clients through multiple channels in one app, those channels being email support, website support, phone support, chat support, Facebook and Twitter support, and WhatsApp support.
Freshdesk has a 21-day free trial, but to build a community forum you will need one of the premium packages ranging from the garden package onwards. Purchasing that will cost you a $29 monthly fee per agent.
Which of these SaaS tools for customer support is the best one for you?
As clearly stated earlier, the best customer support software for you will be the one that includes the most productive channel for your business.
While most cloud-based helpdesk tools offer multiple communication channels, you should stick with the tool that has the most advanced features for your most preferred channel.
Freshdesk and Zendesk look promising if you wish to integrate several customer support channels. However, Zendesk seems a bit pricier even though its knowledgebase support is top-notch. On the other hand, Zoho Desk can be seen as your budget-friendly customer support software that is great for when you are just starting out and want to see which channel works best for your business. So everything is really up to your needs and preferences.
Are you using any of the above-mentioned customer support SaaS tools? If yes, please give us your feedback in the comments below. Tell us about any outstanding features or drawbacks you noticed or anything else you think is worth mentioning.