If you have a skill or knowledge that you want to share with others and make money off of that, then creating and selling online courses is for you.
By having an online #course, not only can you earn money, but you can also build a community and lay a good foundation for your #business or personal #brand.
There are, however, numerous online platforms where you can sell your online courses. Fortunately, we've made a list of the 9 best platforms to help you create courses and make money online.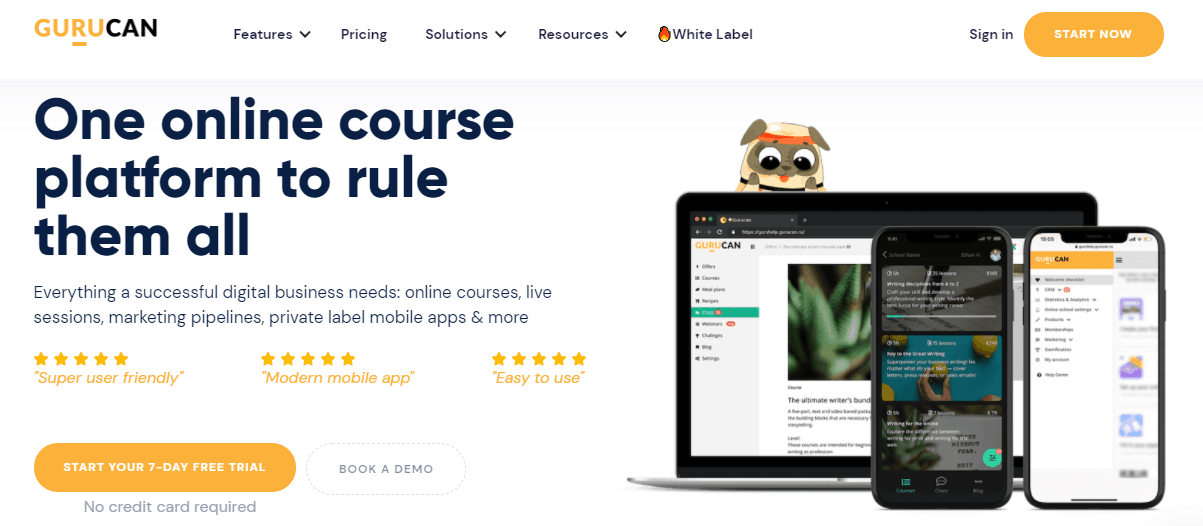 Whether you are an advanced online course creator or just putting together your first online course, Gurucan is an amazing online course platform. This platform is designed for content creators as well as online coaches with a desire to provide an amazing learning experience and build an energetic and devoted community around an online course.
It enables you to design basic video lessons and scheduled challenges, drip courses, and training.
Furthermore, it keeps your students engaged by giving you an opportunity to create built-in quizzes, reports, and chats as well as track their improvement.
Gurucan gives you the ability to personalize a branded mobile app, select a design and upload your logo to make sure your branded experience is seamless.
With Gurucan's remarkable marketing options, you can put your marketing on autopilot or run your own more complex marketing campaigns.
So, all in all, with Gurucan, you certainly can not go wrong.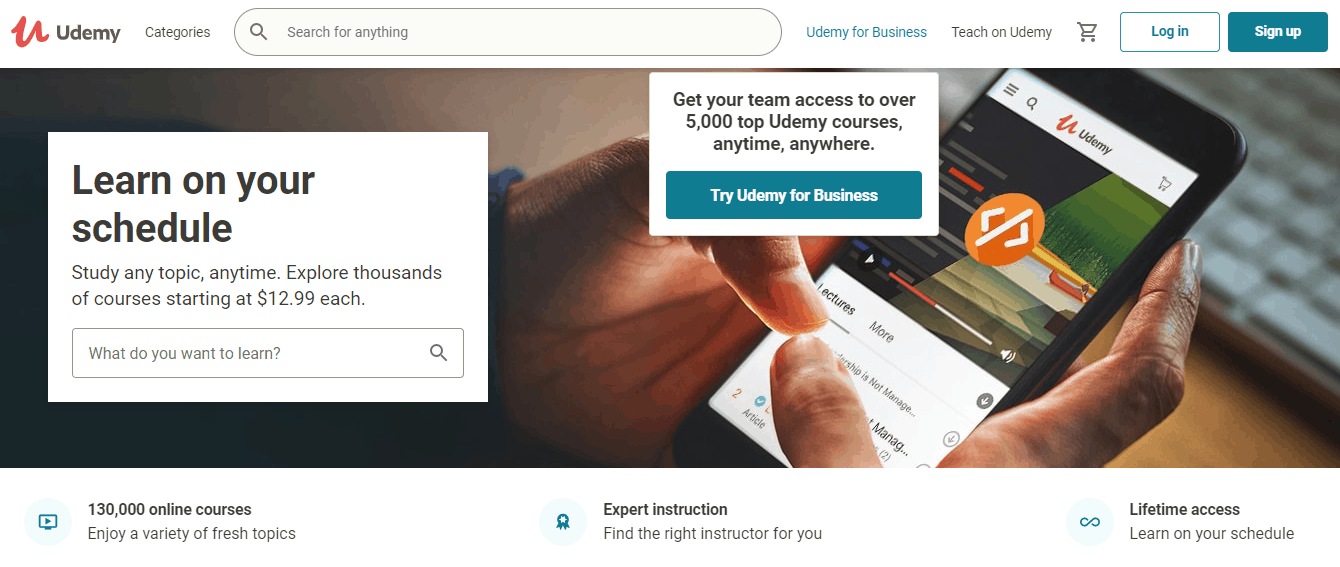 If you are looking for a platform for launching your first online course, then Udemy might just be the right choice. It offers massive support for both creating and marketing an online course. You can rely on Udemy for reviewing and giving feedback on your course, advice about equipment, tutorials on how to film your videos, and which topics to cover.
They even offer marketing programs to help you get into the game.
If you are not sure which topic to cover in your course, Udemy provides you with useful marketplace insights to help you see how popular certain topics are.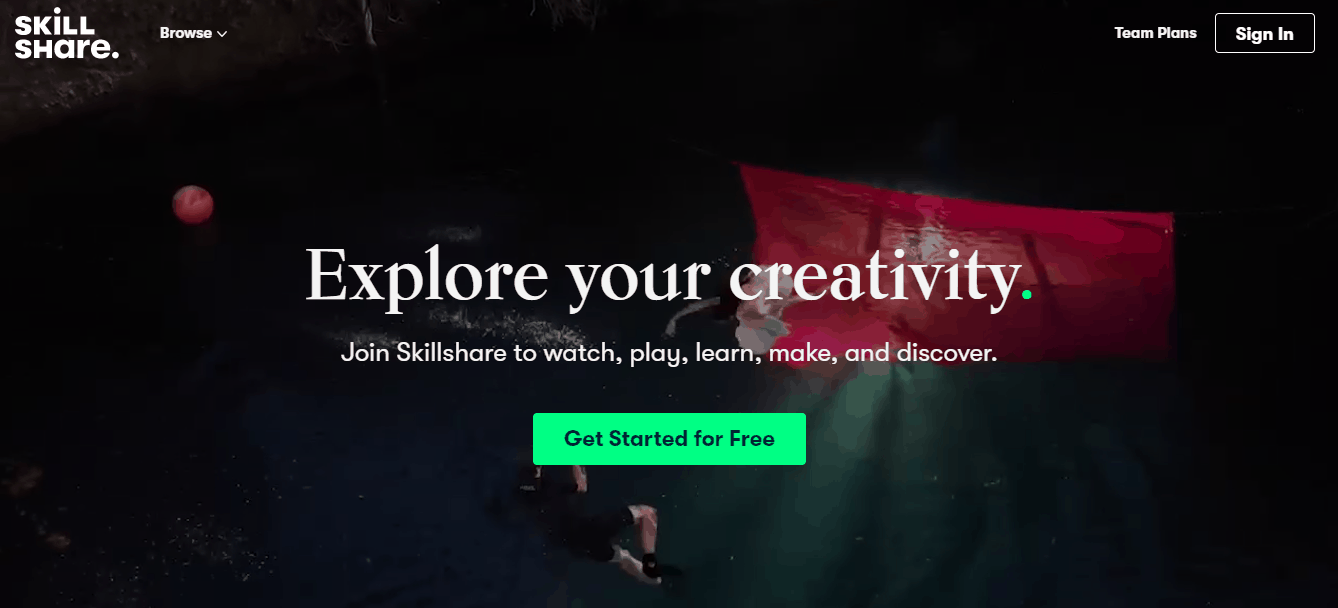 Are you into teaching creative skills? If so, Skillshare is the right platform for you. This platform is mostly used by photographers, bloggers, and like-minded creative people willing to share their knowledge with others.
Skillshare allows you to upload shorter prerecorded classes composed of class projects and video lessons as well as discuss topics of interest.
You can participate in Skillshare's Partner Program to earn money through their royalty pool when you have more than 25 students enrolled in your classes.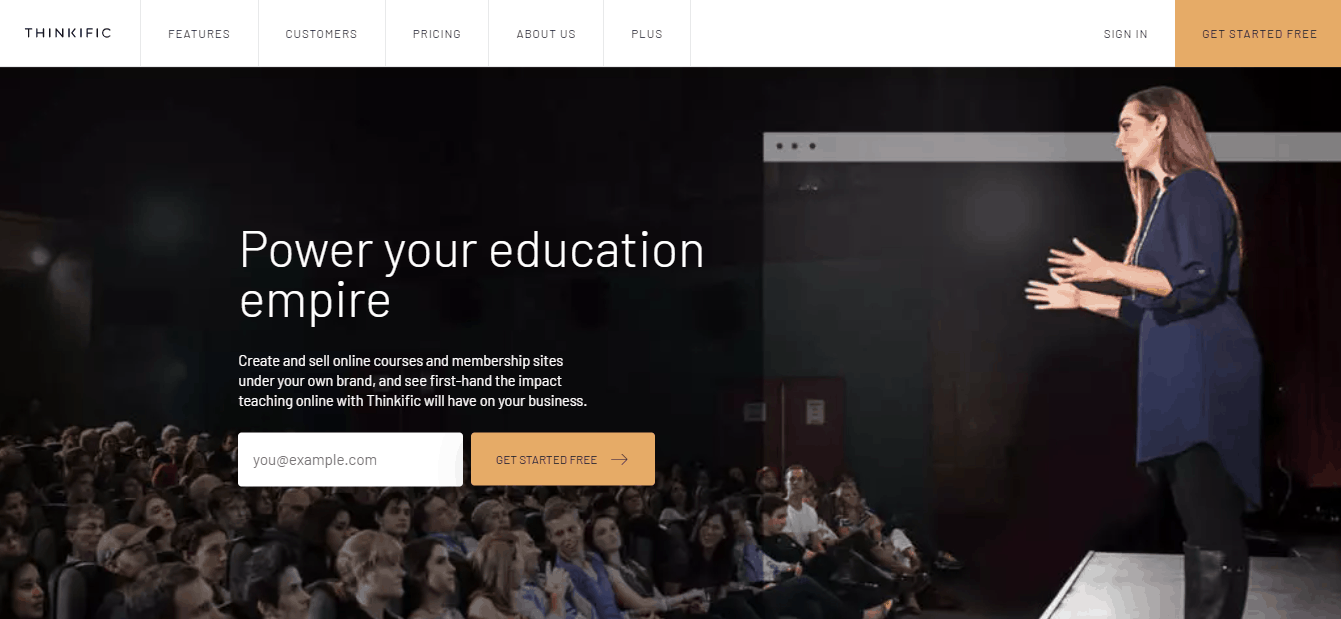 If you are building your course from scratch and/or are on a budget, Thinkific is a great online course platform. With Thinikfic, you have the opportunity to create up to three online courses for free! This option offers you a chance to sell your courses and have as many students enrolled as you can, all without any transaction fees.
It provides you with a simple and organized drag-and-drop editor, a clean interface, and all the tools you need to make your course both memorable and profitable. To put it simply, with Thinkific, you are in good hands.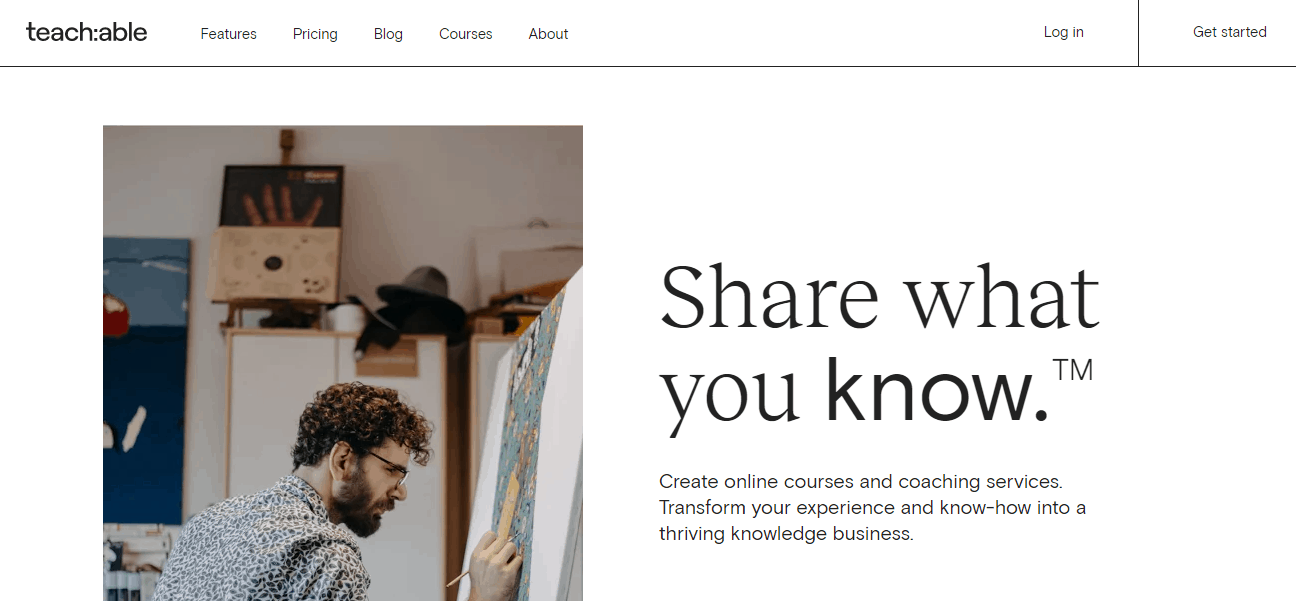 This is yet another amazing online course platform designed for creating an online school. It is an easy-to-use customizable platform with simple panels, allowing you to create your courses in no time.
One of its most useful time-saving features is the fact that it is integrated with Calendy and Zoom, so your students can access all the necessary information in one place.
With Teachable, you are also given an option to go through a detailed creator training course and to have an instant payout. It also has integrated email marketing strategies, which give you total control over your branding.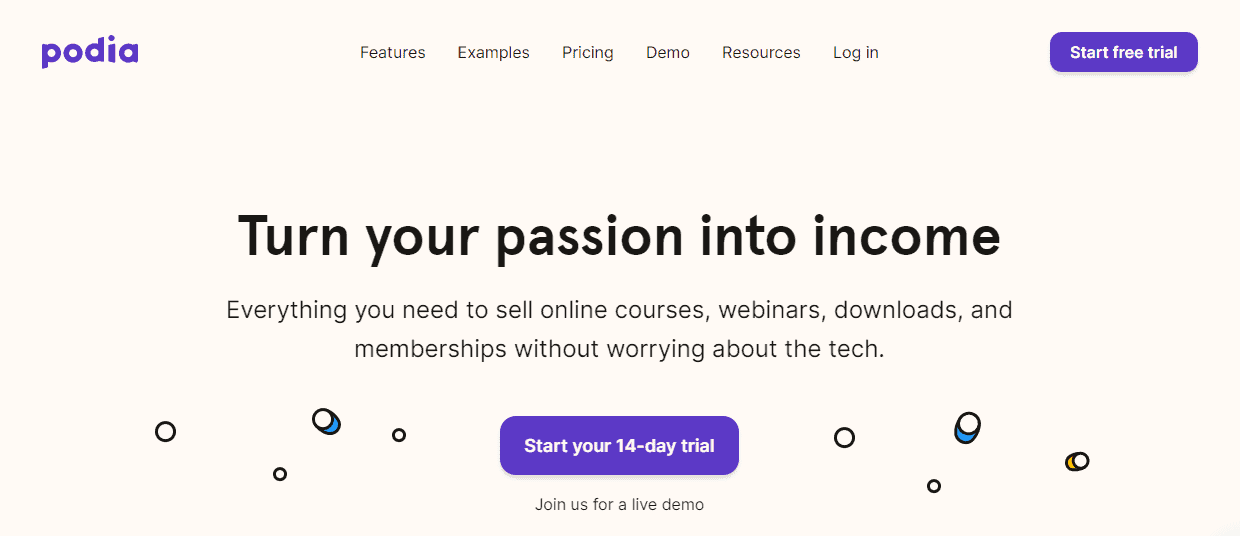 Podia is one of the most popular platforms on this list. It is a platform designed with three simple categories: digital downloads, membership sales, and of course, online courses.
Podia allows you to connect with your Facebook groups, host webinars, and even run affiliate programs. With its clean interface, this platform is ideal for beginners and small business owners with a desire to grow and connect with their community.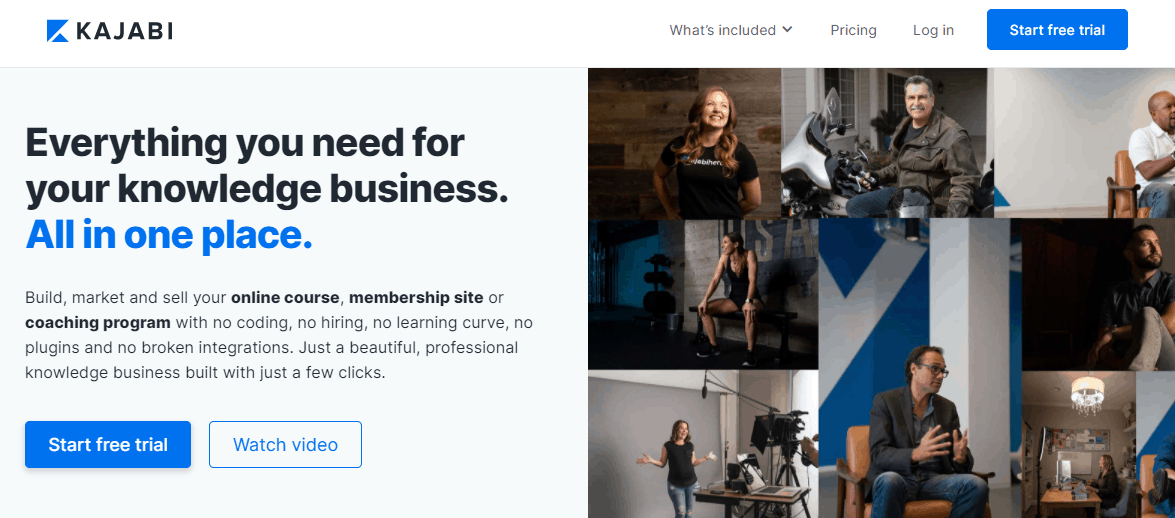 If you are a busy course creator in need of great automated marketing features, Kajabi is an excellent choice. This platform is great for selling longer, more detailed courses. With it, you can create a whole marketing funnel using only a few clicks.
With its automated email marketing, unlimited landing pages as well as blogging space, it is an excellent option for established businesses. So, if you are willing to splurge on an online course platform with remarkable marketing features, Kajabi will not disappoint.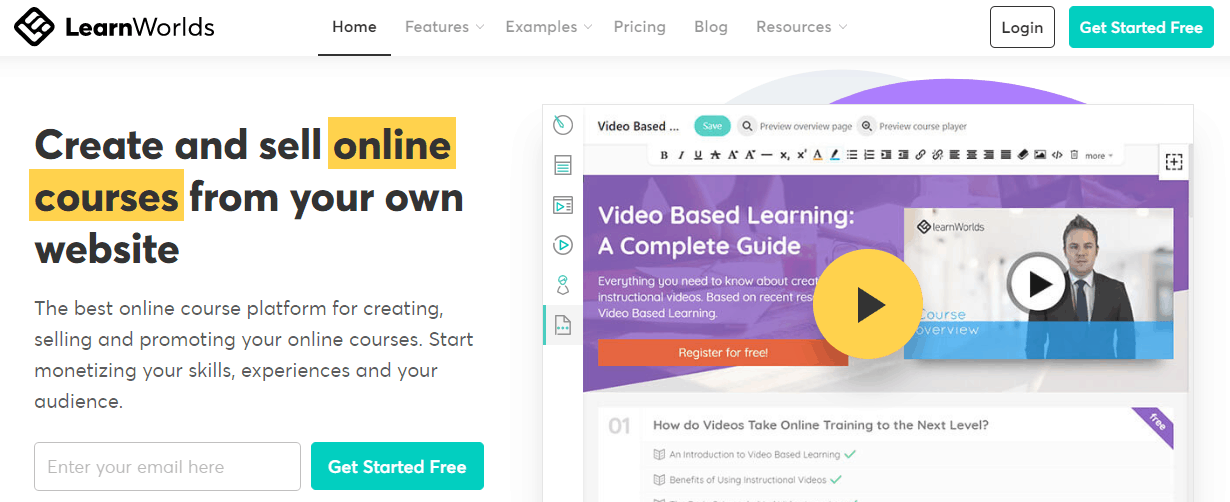 LearnWorlds is another platform great for creating an online school. It is ideal for content creators in need of a flawless sales page for their courses.
By encouraging content creators to use their social learning tools, it promotes an interactive way of learning.
LearnWorlds puts an emphasis on online school customization, as well as uploading and converting your prerecorded content.
This online course platform surely deserves a "premium" label and is gaining a lot of traction at the moment.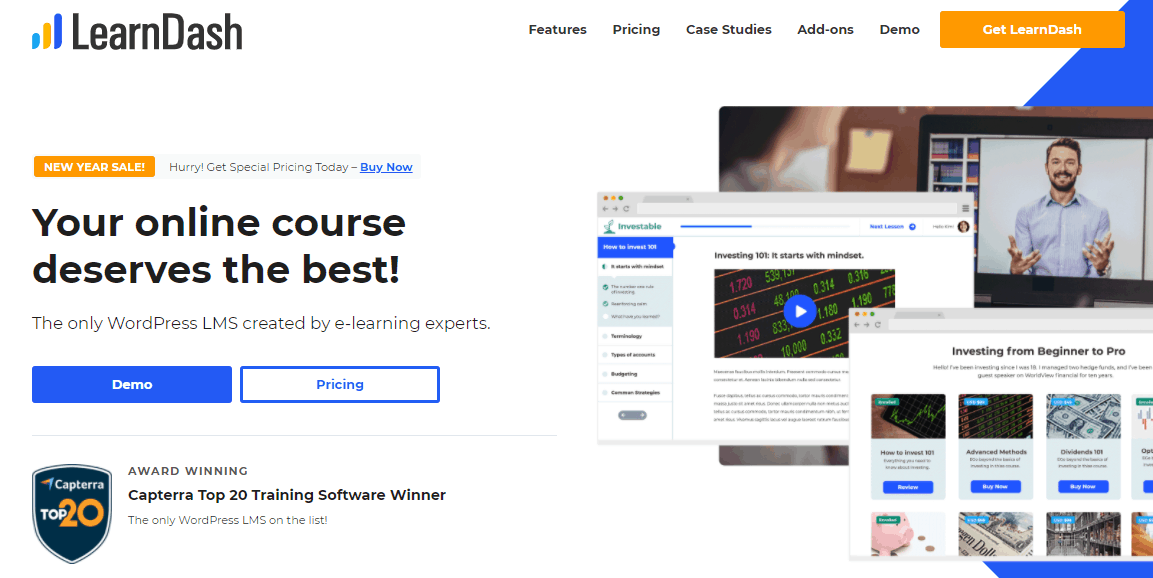 Are you looking for an online course platform but are worried about having to build your online course business from scratch? LearnDash has a solution for that. It offers you the ability to integrate its platform with your existing WordPress website.
This platform is customized to be a great learner-friendly platform, giving you numerous opportunities to award your students and create certificates. You can even license your content in order to sell it to another business or organization.
So, if you are a savvy content creator who wants to have full administrative control over your content and nurture your audience, you will be pleased with LearnDash.
Conclusion
These 9 online course platforms are currently the top options on the market. Which one you will choose is up to you, but do make sure you choose the platform that suits your needs the best.
In my opinion, Gurucan is an excellent option because it was designed with both beginners and advanced course creators in mind.
It puts an emphasis on marketing strategies and takes building a devoted community seriously, which is the ultimate goal of creating and selling online courses.
And in case you're looking for additional tools, Envato Elements offers a large bank of educational resources to create engaging content.