Online courses are gaining popularity in today's world. There are many sites that offer hundreds, even thousands, of online courses on any topic, from finance and banking to health and fitness.
People like online courses because they let them take the course with a laptop and internet anywhere, and it lets them follow the class on their own terms and at their pace.
If you are a blogger or a business with a website that thinks it would be beneficial to enter the online courses industry, you came to the right place. We will explain to you how you can create an online course with WordPress and list the best plugins and themes that can help you create and offer the best online courses to your clients.
What do you need to create a course?
First, you need to get your WordPress website running. We would recommend you get managed hosting that will deal with updates, backups, and installs for you (WP Engine, Bluehost, or Flywheel). You will also need a learning management add-on known as LMS plugins to be able to create an online course.
Then, you need to create and join an email marketing platform (such as MailChimp) so people can subscribe to your site and channel, so you can send them future emails and newsletters, and an opt-in form page so people can sign up for your course. You need to create a welcome email, lesson emails, and a final end-of-the-course email, so you have enough chances to increase user engagement and increase conversion rates for your other courses or services offered.
Next, plan your course. Think about what kind, of course, you want to create (think in terms of an outline of the course, type of content provided, any restrictions, and method of distribution). After you have planned out your course, you need to find the right plugins that will help you manage your course. Here are the ones we recommend:
1. Sensei
Sensei is integrated with WooCommerce, and it comes with many extensions available to you so you can customize your site. You can create quizzes, assignments, and have them graded automatically. You can create badges and certificates upon completion and give them out to your students. Gamification is supported, including integration with BadgeOS.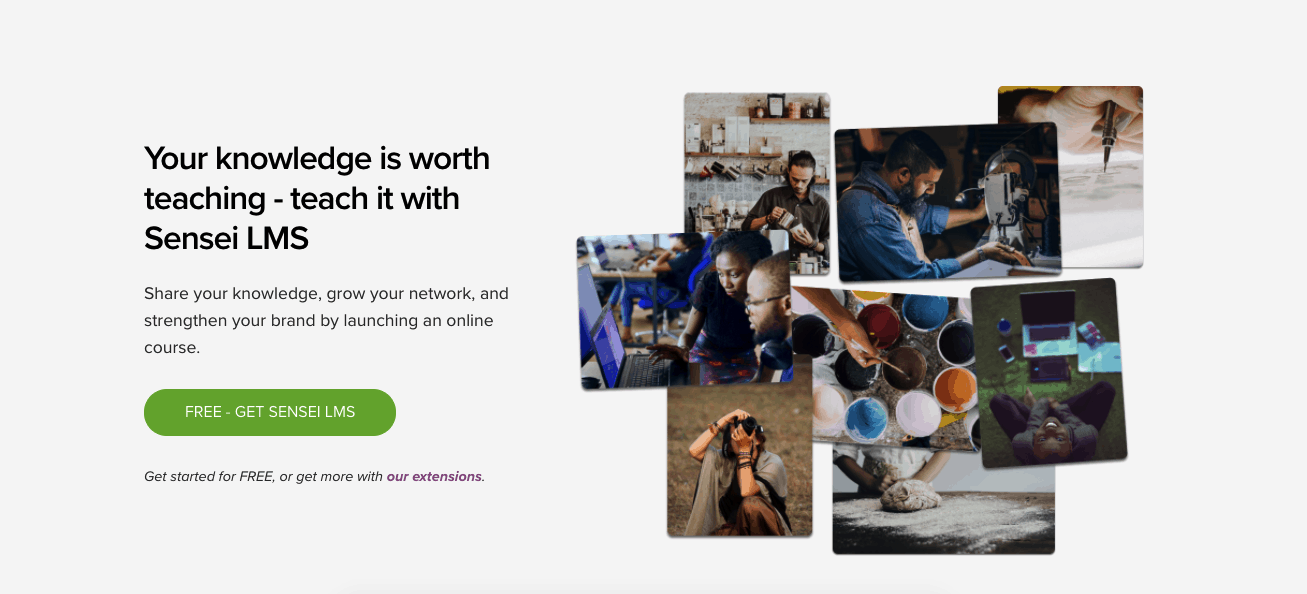 Sensei LMS works with any WP theme, and you do not need to have any coding experience to be able to use and activate it.
How to Install Sensei?
Log into WP admin panel and go to Plugins-> Add new
Enter Sensei LMS into search field
Click Install then Activate
Click Install Sensei LMS Pages, which will create two new pages on your site, Courses, and My Courses
Go to Settings to customize your course
Click here to see other settings options for this plugin.
2. WP Courseware
WP Courseware has a drag-and-drop option for building a course. It works well with any well-coded WP theme, and it is integrated with other major e-commerce plugins.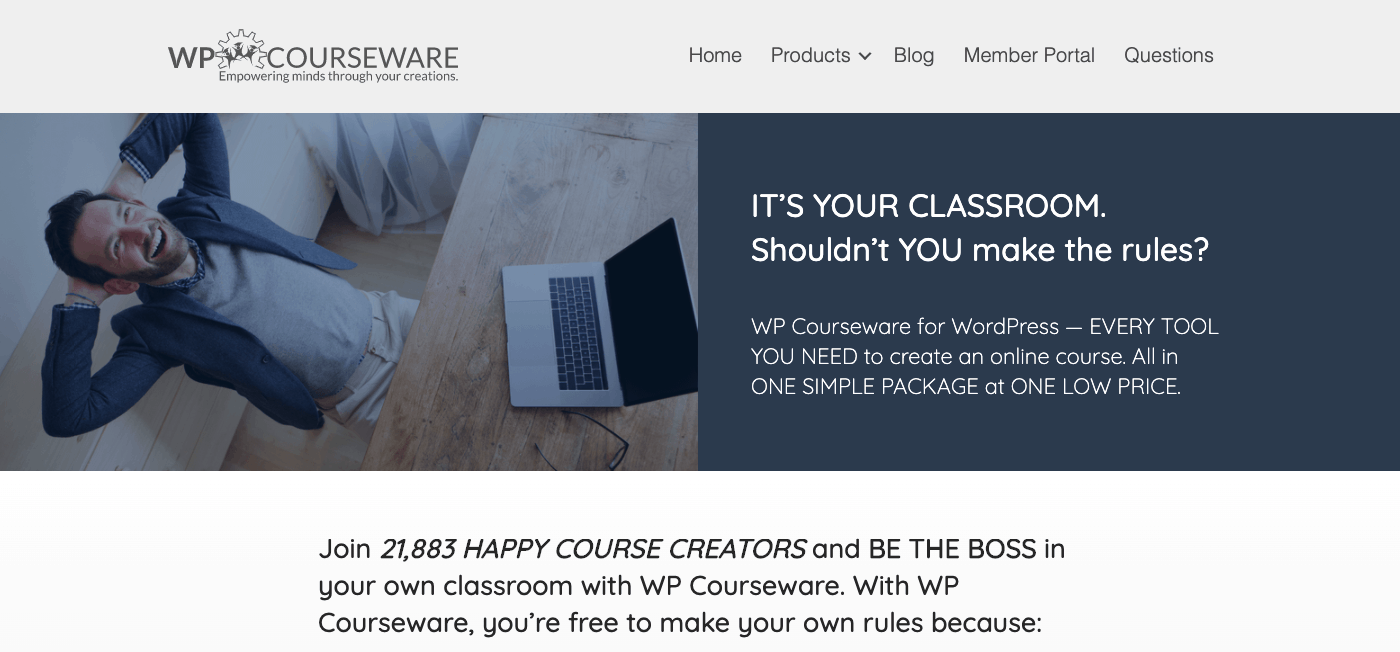 You can create both smaller and larger courses, and you can divide courses into modules and units, and add a section for instructor profiles, grade book, emails, and other features needed to run a good online course. You can create different quizzes with a question bank and add timers for your quizzes. You can create video courses, and you will get access to good technical support and monthly Q&A webinars with several e-books about creating online courses.
There is a built-in shopping cart option, and you can connect your course to PayPal or Stripe for easier payments. You can have a 30-day trial, which lets you test this plugin before you commit to it.
3. LifterLMS
LifterLMS is a free plugin, but it has a premium version that offers additional support. With the premium version, you can add graphics and more themes to your course.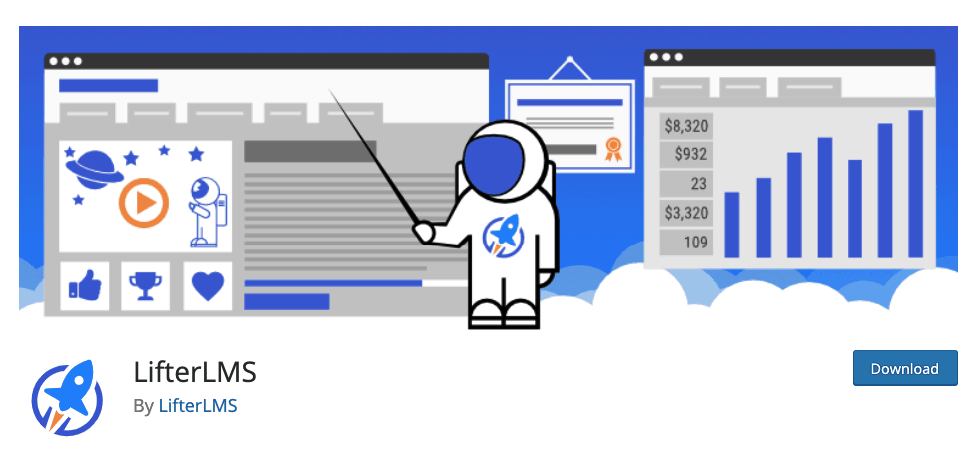 LifterLMS supports multi-tier courses with training modules and lessons. You can create smaller courses or full degree programs, depending on your audience. You can add multimedia lessons as well as videos, audio, images, and text.
You can use the option of sending automated emails and give out certificates upon completion to increase your user engagement. You can also use restrictions to ensure only members can access your course.
Setting up payments is also easy (credit cards, PayPal, Stripe, or check payments). The plugins, especially the premium version, comes with great technical support.
How to Create Online Content
How you create a course will depend on which theme or plugin you download. However, they will all follow a similar outline, so to make sure it all works well for you, follow the specific guidelines for your plugin. These include setting up payment options and adding your license key for the plugin.
First, you need to create sections and lessons for your course, which you create by clicking on Add New button. There you will add titles, images, and descriptions for your courses. You can also see the course status and make it open, available, free, recurring, or closed. Below, you can see course pre-requisites, access expiration date, and course points. Once you complete these, you can save and publish your course settings to make it publicly available.
Once you have created these settings, you need to add lessons for your course. Simply go to the Builder tab and click on Add Lessons button to add them and create a course outline. In this section, you can do some post-editing by adding images, galleries, videos, and other features, whatever you need to create a good and engaging lesson.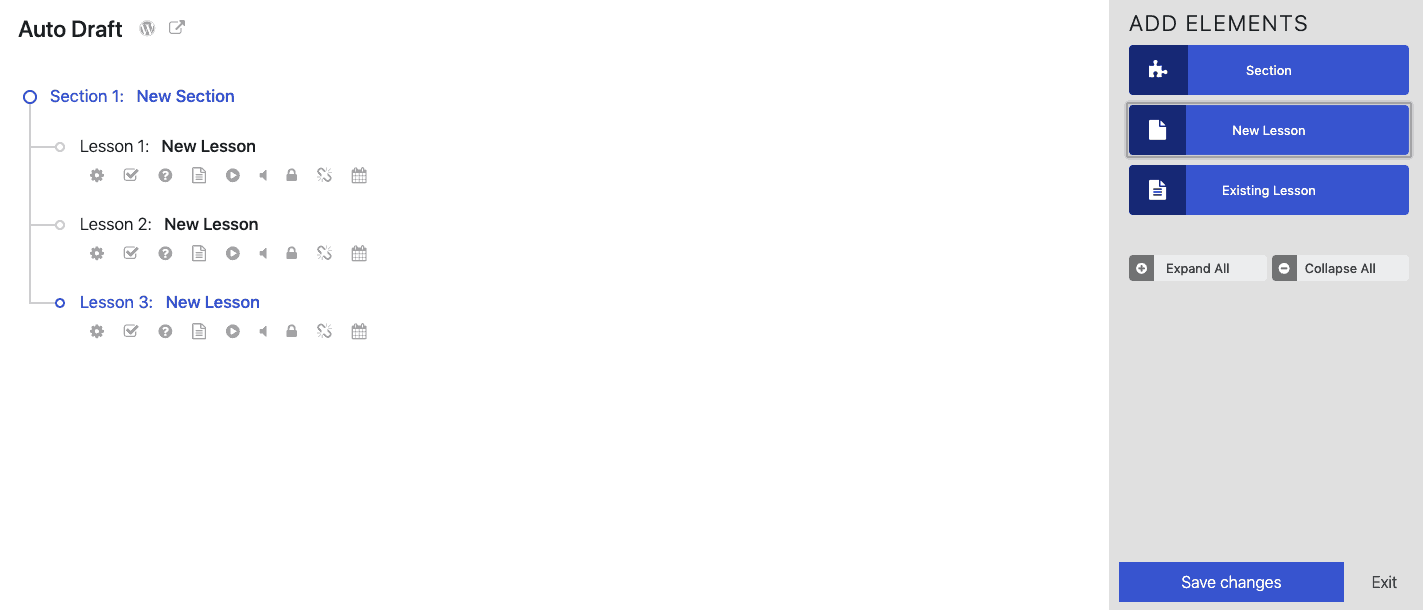 After, switch to the Settings tab where you will see options to control lesson material, progressions, and assignments. Update it as needed. Click Save, and your lesson will be published.
If you want to create smaller topics, the process is the same as for the lesson, except you don't associate topics with a course, but with a lesson.
To add quizzes, go on the Quizzes page and click on Add New. Provide a description for it, associate it with a course, lesson, or topic, and set the pre-requisites. After you are done, click on save and publish your quiz. For now, the quiz is empty, so to add questions, go to Questions page and click on Add New. Provide a description for questions and choose the correct answer type for your questions and then edit answer choices. Lastly, associate your questions with the quiz you have created.
You can enable assignments by going to the lesson options and checking the box for assignment uploads. There, provide descriptions and instructions for your assignments and what you expect from your students.
Some plugins come with the ability to give our certificates upon completion to your students. To do this, you will probably need some knowledge of HTML. First, you need an image file you will use for your certificates. Go to Certificates Page and click Add New. Here you can edit your certificate, add its name, title, and other data you want to use. When you are done, publish it and associate it with a course, lesson, or a quiz.
How Your Course Should Look Like
Make sure you create separate posts in your WP site for each module and copy the text into the appropriate post. Make sure each post is numbered and given a title, so your students know where they are at in the course. Add some images and styling to make your content more engaging.
At the end of the section, add a clear action step link so your students can think about the section or do some research on the topic given to them.
You can add a downloadable pdf file about the current section with all major information or assign them with a research project or give them a quiz to take.
Add links to previous and next sections so your students can navigate through it quickly. Add a Call to Action link at the end of your course to a similar course or a paid product or service where you can sell your other services.
Besides the plugins, there are also some themes available for WP that come with the ability to offer and create online courses. Here are some of the themes available:
1. WPLMS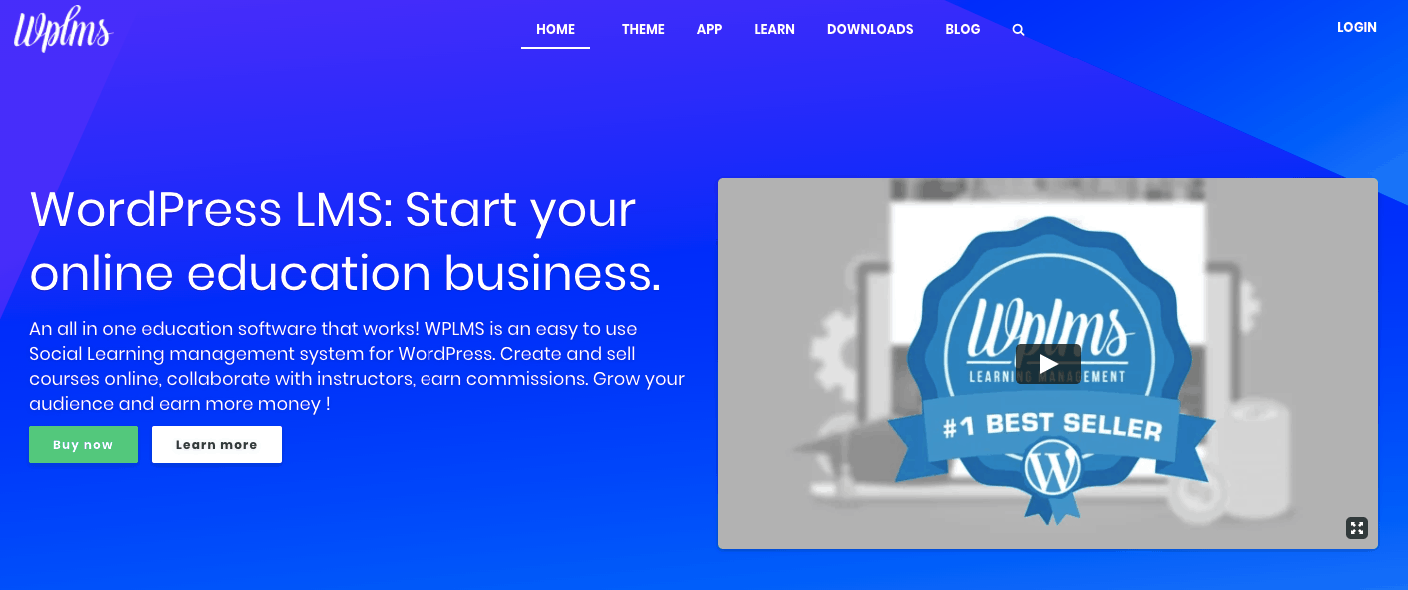 WPLMS is a WordPress theme build on BuddyPress and WooCommerce. It is a lightweight and clean theme with mobile-friendly support. It has a great loading speed and caching process. You can also access student analytics, add quizzes and course analysis, and sell other online courses.  Students can upload assignments and can access the course via their mobile app.
It is great for anyone offering educational services as it makes course management easier.  This theme comes at $69 per single-user license.
2. BuddyBoss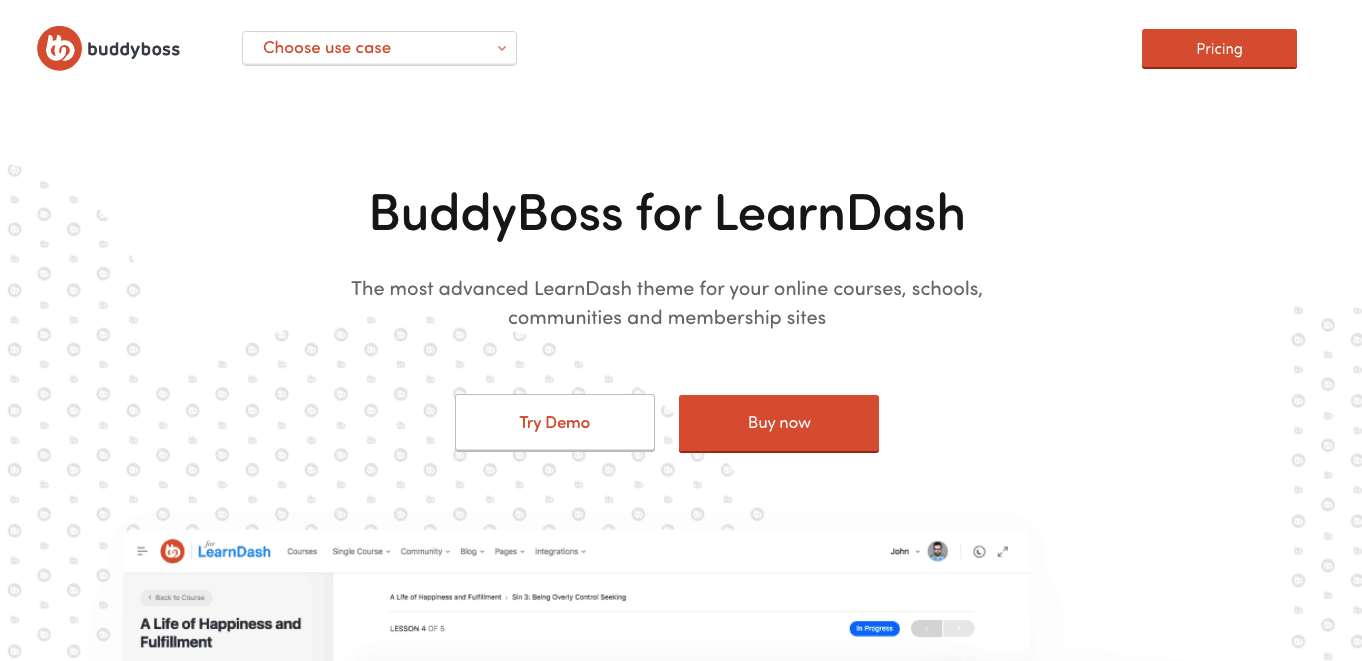 BuddyBoss is a LearnDash theme where you can create groups and forums for your students. You can choose which theme you want to use, as well as translate it to many other languages, besides English. You can add a timer for quizzes, offer certificates and badges, course points, and give user reports to your students.
It has an easy interface to use and create courses and pages, so you do not need any extensive knowledge of web coding or previous experience to use this theme.  Students can also access the course via their mobile app.
It comes at a one-time purchase license of $228 for one site or $288 for five sites with technical support and updates.
If you need help with LearnDash, you can always hire an expert like Andriy Haydash.
3. Academy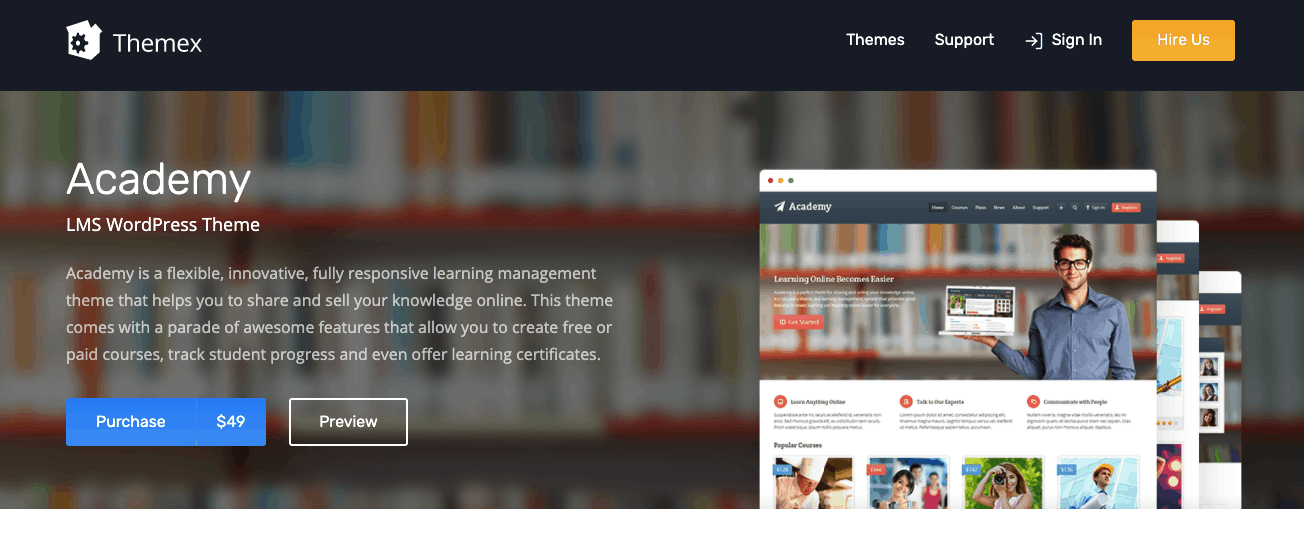 Academy is another great learning management theme you can use for your online courses. It comes with the ability to upload files, see course ratings and prices, create certificates, see student progress and course statistics. There are also options to see lesson prerequisites, add quizzes and different media, such as videos or images.
The regular license comes at $49 for a single product.
4. LMS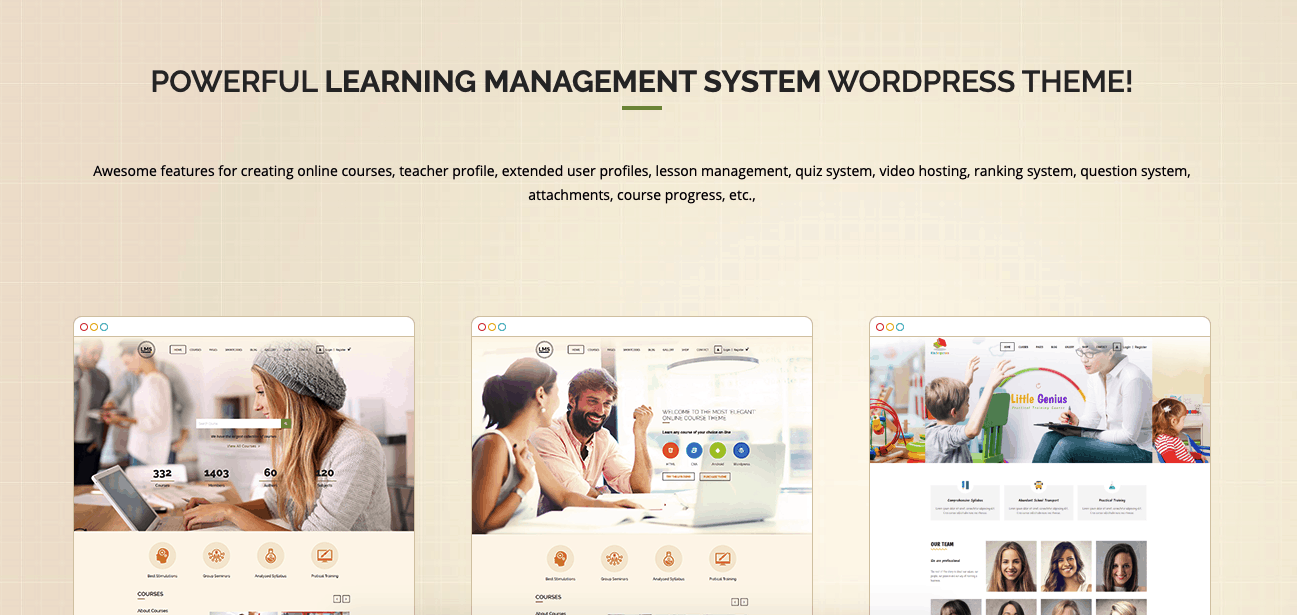 LMS is one of the most trusted learning management systems, WordPress themes that are great for e-learning. It has a great Page Builder option to create pages for quizzes, courses, lessons, and lectures. It also gives you the ability to track your students' progress so they can see where they stand in the course. You can drag and drop different content and sections for your course.
This theme has a great dashboard with all statistics to analyze each student, and you can create certifications and badges for completed courses.
You can get this theme for $59 per single-user license, and you get technical support with it. It is also SSL compatible.
Conclusion
However, before buying a plugin or theme, make sure that some of the plugins are not already included in the theme, so you don't buy the same product twice.
When you are done with your course, it is time to market it to the right audience. Make sure you are utilizing your email lists, watch out for SEO ranking, and the usage of proper keywords so the right customers can reach you and subscribe to your course.
We hope this article has made it easier for you to understand how to create an online course, which plugins and themes to use, and how to get the correct audience to subscribe.