Online auctions or also known as virtual auctions are a way for you to sell a product or service with minimal costs and effort to a worldwide audience. Auctioning is a great option when you are having a hard time putting a price on your product or service and/or estimating how much a buyer is willing to pay for it.
By competing and outbidding each other, buyers determine the growth of the prices, whether you decide to set a starting price or let the buyer start off with one is totally up to you. A common misconception about auctions that a lot of people have is that auctions are only for items like antiques, artwork, cars, etc.. Well, a lot of live auctions are limited to those type of items, but when it comes to online auctions the possibilities of what you can put up for auction are endless.
Auctions come in various types like ascending, descending, and can last for any amount of time, open for bidding 24/7.
They make up a huge portion of the eCommerce industry and can include one or all of the following methodologies, customer to customer, business to business, and business to customer.
Are you considering adding online auctions to your business?
For people looking to start an online business or expand their current business, online auctions are a great option for several reasons.
They aren't constrained
Unlike live auctions, online auctions have no time or geographical constraints. Regardless of the buyer is in China or your city of residence, no matter the location or time zone, they have equal opportunity to place a bet on your auctioned item.
Open for anyone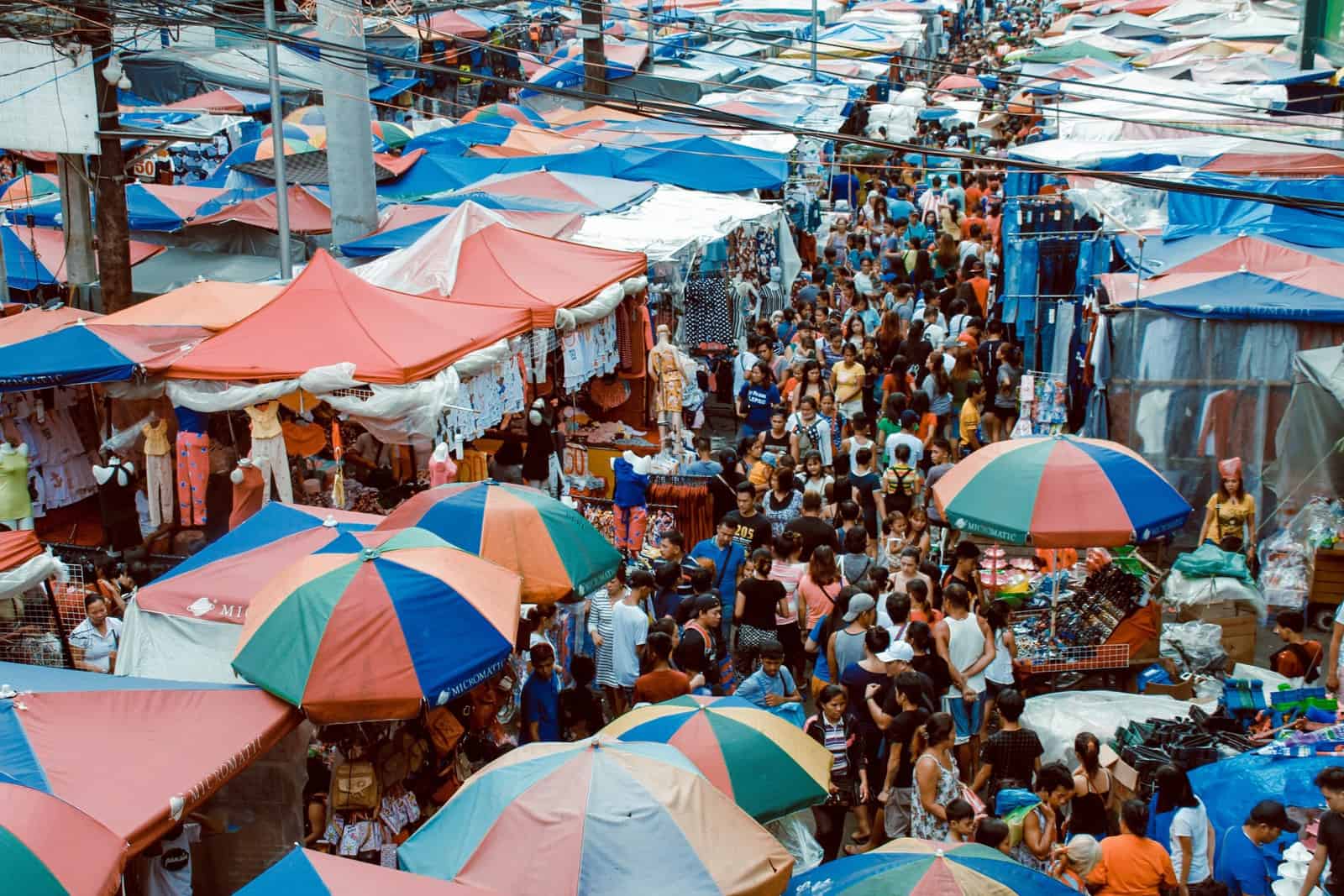 Anyone can be an online auctioneer or bidder as long as they do business transparently and according to law. The playing field is leveled so big, and small sellers or buyers don't have any advantages against each other.
No upfront cost
When selling a product or service through an online auction, there is no initial investment, only after completing a sale, do you pay a certain percentage if you are using online auction services on some platform. Live auctions, on the other hand, have the cost of the auctioneer, space where the auction is held, storage of the items, and other costs, and for buyers, some live auctions have an entrance fee.
It is diverse
Online auctioning isn't a new concept; it has been present for a long time, with many companies building a big reputation for themselves through it. While eBay is the clear frontrunner in the industry, there are many other companies in the business, some having a market with a rich selection of product categories, others catering to specific markets.
Saves time and money
Both the selling and bidding in online auctions can be done from the comfort of your own home, saving time and money for both the seller and buyer.
The buyer doesn't need to set aside time and money to be present at an auction physically, and the seller doesn't have to use a middleman like retail stores to distribute and advertise products to potential customers.
In case a company has unwanted inventory (seasonal, discontinued, damaged) it wants to get rid of and reduce financial losses caused by it not being sold, online auctions are a great way to sell it at a price suited for the customers.
You can compare and research
Most online auction sites will have the product on display for an amount of time before allowing people to bid on them. This way, people can do their research on the same or similar products from another seller and see which one best suits their needs and how they are willing to bid on it before actually placing a bid.
The choices are endless
Buyers are not limited to one seller or one item, and taking that into consideration auction websites allow filtering through products and finding the specific one you are looking for easily.
Win-win situation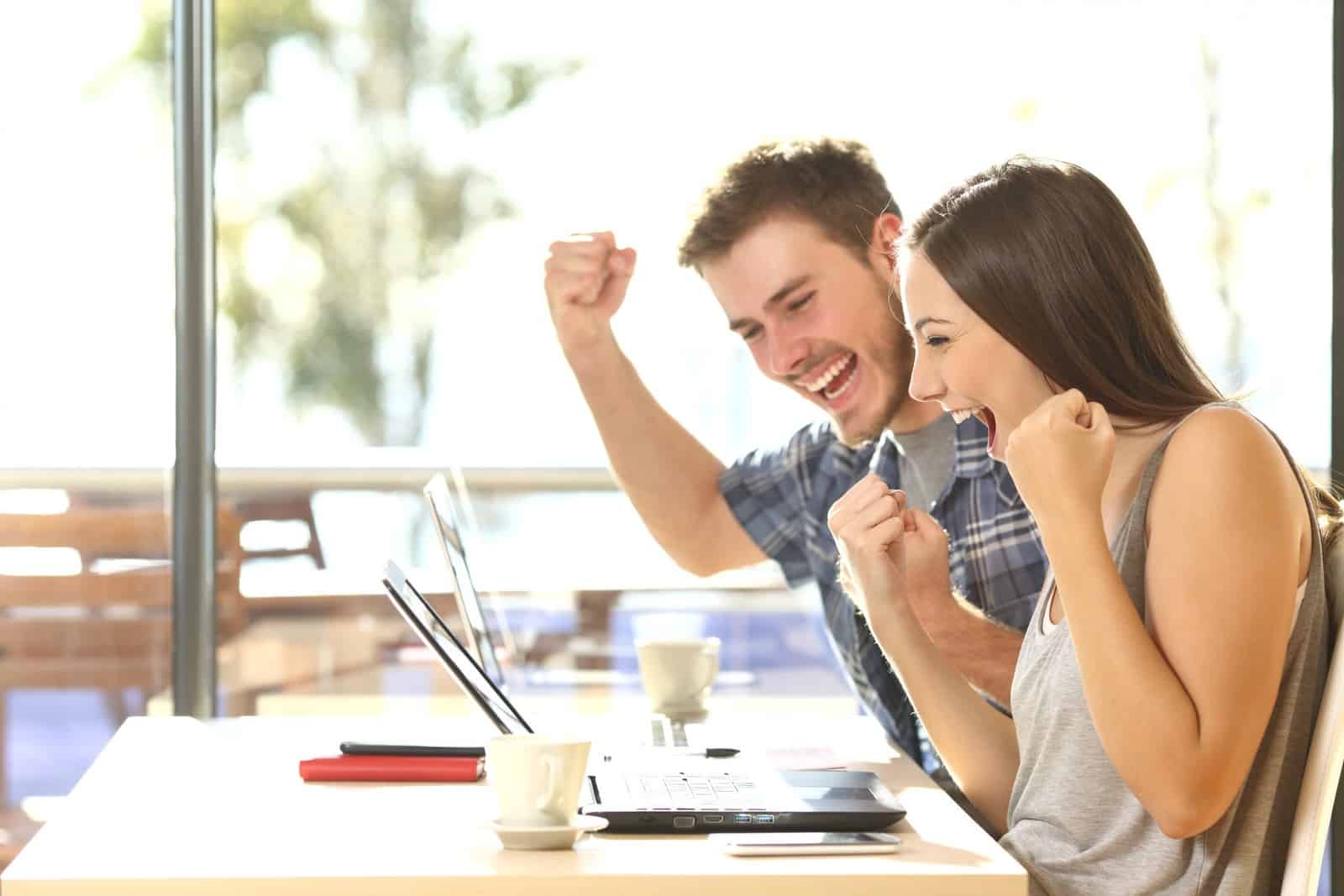 By using auction websites, both the seller and buyer benefit. The seller gets the most exposure for their product or service, and the buyer has an abundance of options at the lowest price to choose from.
Everything is for sale
Online auctions include everything from clothing, construction material, to various types of services. There is a customer base for everything, so this doesn't come as a surprise.
Transactions are quick, easy and reliable
Transactions in online auctions are pretty straightforward. The payments are usually made through PayPal, which is an easy-to-use and reliable payment method. Shipping methods and times and return policies are disclosed with the buyer in order to avoid future conflicts and misunderstandings. And the seller is aware of the profit from the sale he/she will have after it is completed.
It is addicting
After scoring a deal on an auction site once, people will most certainly come back to score another one, and if the experience they had while bidding in the auction was good, they wouldn't hesitate to recommend the same to the people they interact with.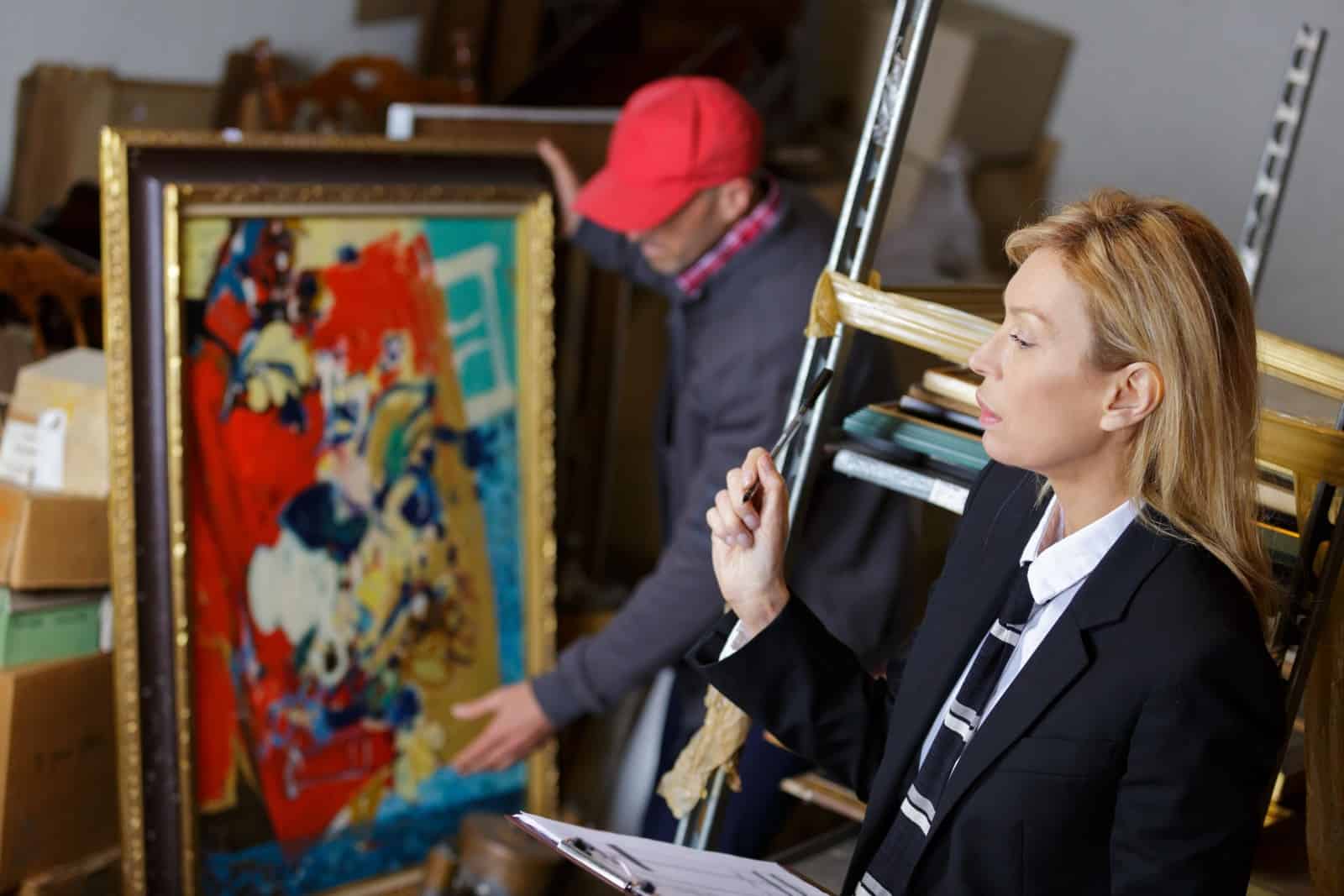 Full of information
At a live auction, you are presented with a product or service with a short description that is not repeated, and you are probably only able to view the product from a distance. And online auction of a product or service, on the other hand, can be followed up with related documentation, audio and/or video clips, images, which you can view as many times as you would like.
Customer protection
A good and legitimate auction site puts its sellers and buyers above making a profit and makes sure no one is getting scammed.
Besides customer service, most of the sites will have a rating system implemented so the users and buyers can have an idea with who they are about to do business with.
Instant feedback
When selling through online auction sites, based on the progress of the auction and interaction with the bidders, the seller can acquire feedback about their prices, products, services and etc..
Expands your business
If you start doing online auctions, that doesn't mean that you need to stop your traditional business practices. An online auctioning website can be an expansion of your business, allowing you to reach previously unreachable markets and customers.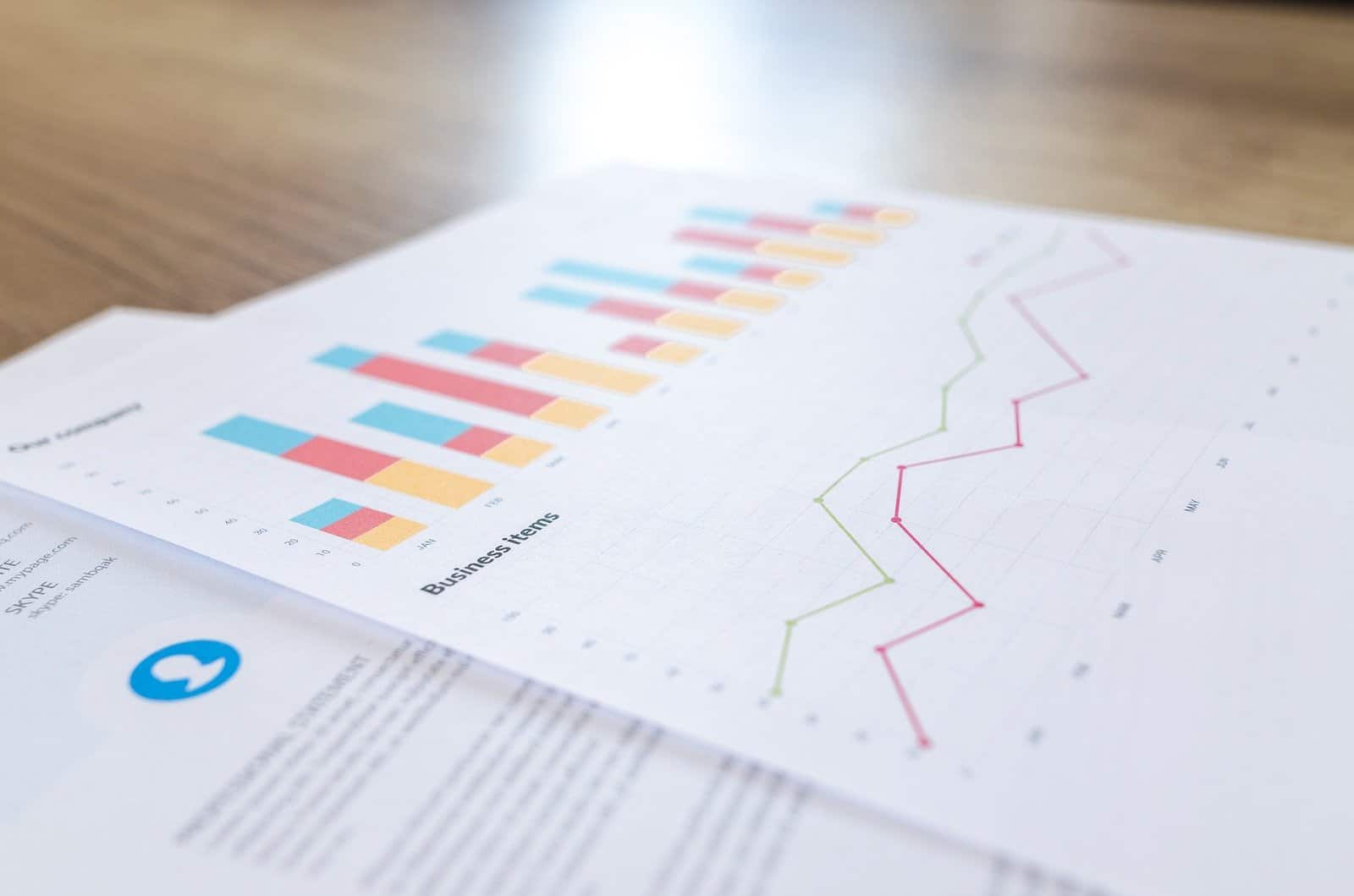 Well known examples of online auction sites
As mentioned previously, the number of companies in the online auctioning industry is significant, but the most popular one is by far eBay. You might be thinking, "But why?".
Well, eBay was a pioneer in the industry and the first company to have this unique business plan to let both individuals and businesses sell through auctions. Being the first at something doesn't guarantee success, but it definitely guarantees recognition.
eBay has had success since day one and owes it to several factors.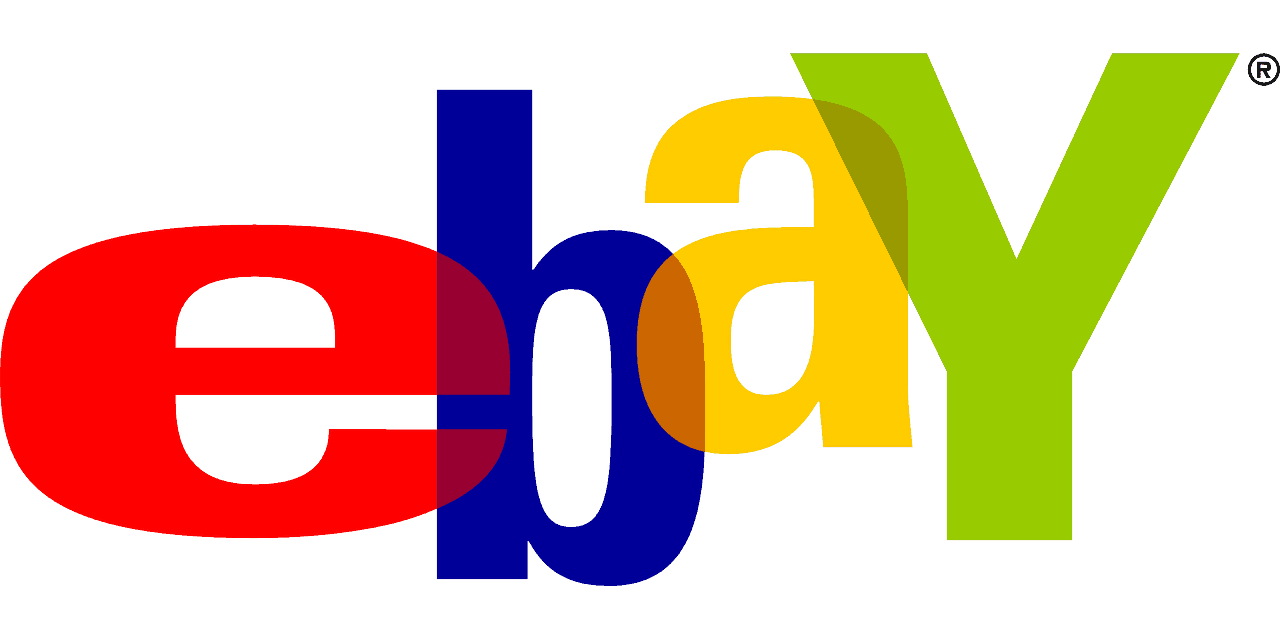 Thanks to its brand recognition, it is most often the entry point for anyone looking to enter the eCommerce industry.
It has a unique feedback system that allows people to post comments on their recent auctioning experiences. Each user has a score representing their online reputation, and that score and reputation could keep buyers and sellers from doing business in the cases that the score is unsatisfactory.
eBay realized early that you could profit from working with your competitors, for example, its collaboration with Google, Yahoo, and of course, PayPal.
The partnership with PayPal ensured that there would be an easy way to complete transactions for both the seller and buyer with fraud protection incorporated.
While other online auctioning companies focused on aesthetics and promoting their other services on their site, eBay stayed true to its initial business concept, and with that left the selling business as the focal point the entire time allowing it to stay ahead of its competition.
How to get in the world of online auctions?
After you have decided that selling through an online auctioning website is an option for you, you have two routes to choose from, an existing marketplace on a hosted auction site or a dedicated auction site specifically for you and/or your company.
Using an existing marketplace on a hosted auction site became popular with people looking to do occasional auctions, small or medium business, and in cases when the company doesn't possess enough resources to have the technical staff to monitor the site and all the auctions taking place on it.
A dedicated auction site can be for both small and large companies wanting to do regular auctioning and have complete over the auctioning process. A major advantage of dedicated auctioning sites is that you can easily incorporate your marketing plan in them.
Like any website, building a dedicated auctioning website used to be quite costly, but thanks to web creation tools like WordPress, that is now a thing of the past.
Are you interested in how to build your own eBay-style auction website using WordPress? The next few steps are essential in building one.
1. Domain name
A good domain name is one of the most important things if you want to have a successful website. A memorable domain name that truly represents your business is part of a good marketing plan. It boosts your ranking in the search results, leading to more visibility of your site and with that more organic traffic and gives your site more professional credibility. Consider having a good domain name as marking your territory on the internet.
2. Hosting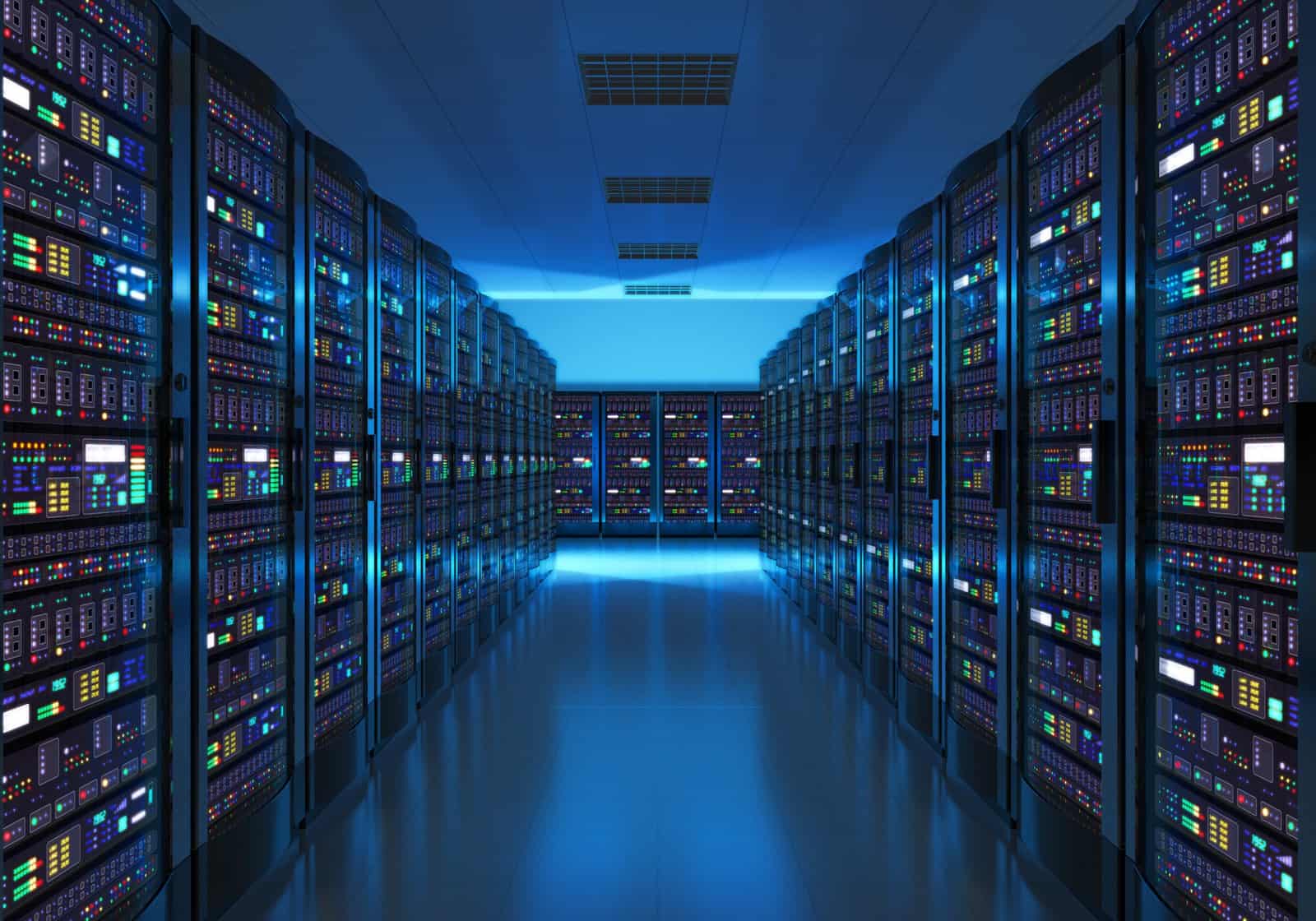 Without hosting, your website is only available to you and not to your customer base, and what is an auction site good for if it can't be reached by potential buyers. Deciding on a web hosting provider shouldn't be a quick decision, you should make sure that your auction site will be hosted by a provider capable of handling the incoming traffic of your site and the ability to support its potential growth. Nobody likes a slow and laggy website, that can be a breaking point for a business, especially an auctioning business where time is the most crucial factor.
3. SSL certificate
Any website, but especially ones that deal with sales, should look and, in fact, be a safe website. An SSL certificate is a way for your users to know that your website is secure and that all data shared between you is shared through a secure connection and is encrypted. Only authorized people are able to access the information and not just anybody. All this is very important for sites where personal and payment information is shared. Also, not having an SSL certificate makes your site look sketchy and can lower its performance and SEO ranking.
4. Auction theme for your site
Every website needs a theme; it is what gives the site character and a coherent look. Besides that, an auction website requires a way to display the auctioned in the best way possible, so the potential buyers can view and compare the items easily. An auction theme for WordPress can turn a regular site into a legit marketplace. Some of the best auction site themes for WordPress are.
Essential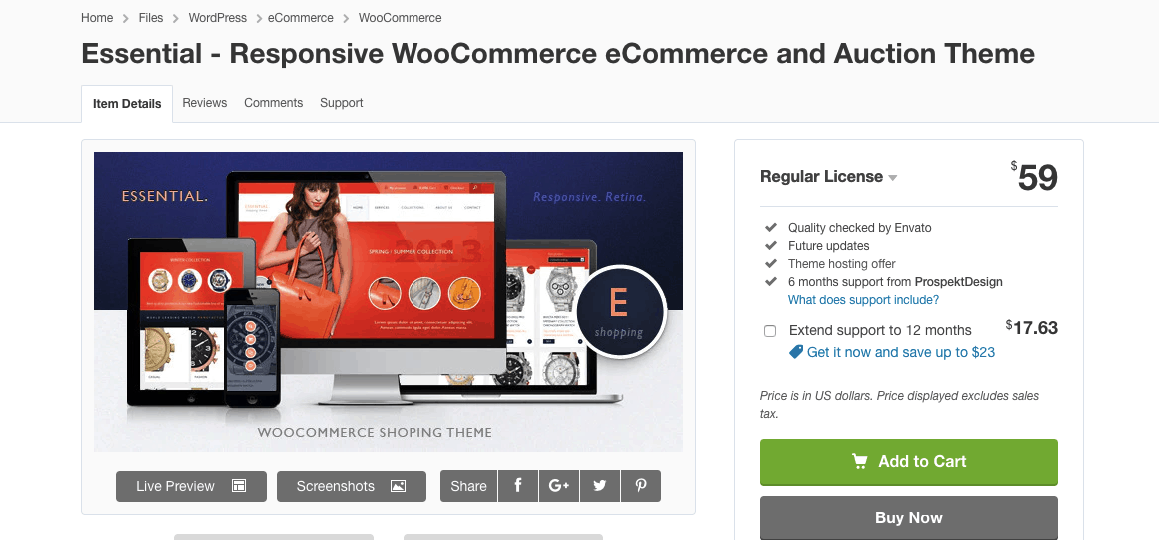 Essential is a theme with WooCommerce offering two different types of homepages, two types of sliders, and an unlimited color scheme. It is fully responsive and rich with widgets. Includes Google maps integration and a bulk discount plugin. The CSS and other aspects of the theme are easily customizable.
Auction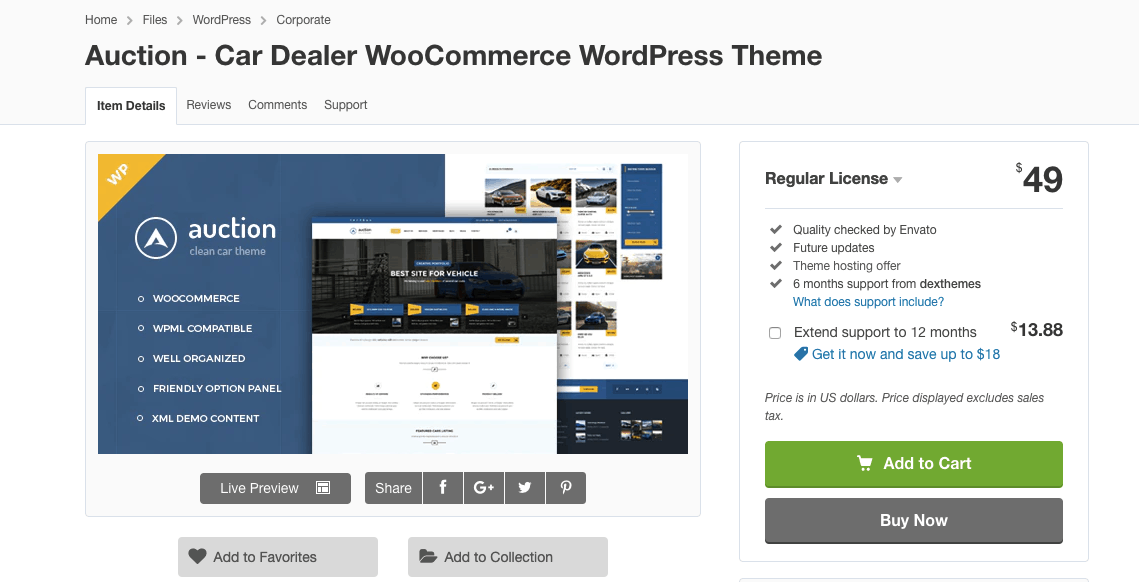 Auction is a plug-and-play solution that will allow you to build a fully functional online store. It is built with a clean and good code, which makes it SEO friendly. The site owner gets a variety of monetization tools such as charges for listings, featured listings, membership, etc. The users are able to post feedback and ratings and send private messages to the seller.
Classify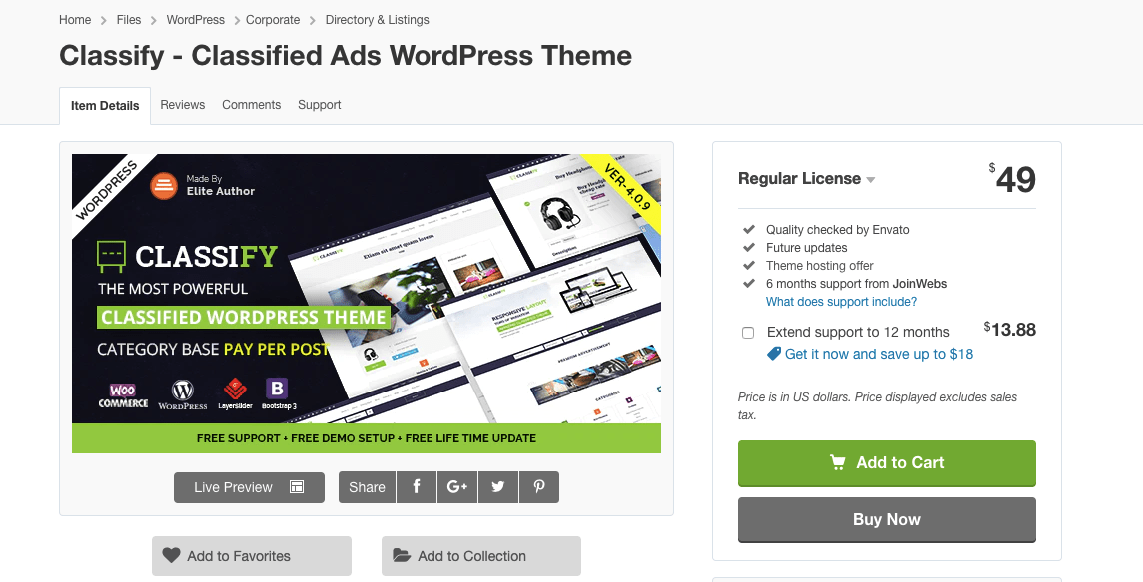 Classify has options forsidebar or fullwidth listings. Monetization through pay per post, video ads, featured ads, and regular ads. The theme has a mobile-first design across all devices and is also integrated with WooCommerce.
Adifier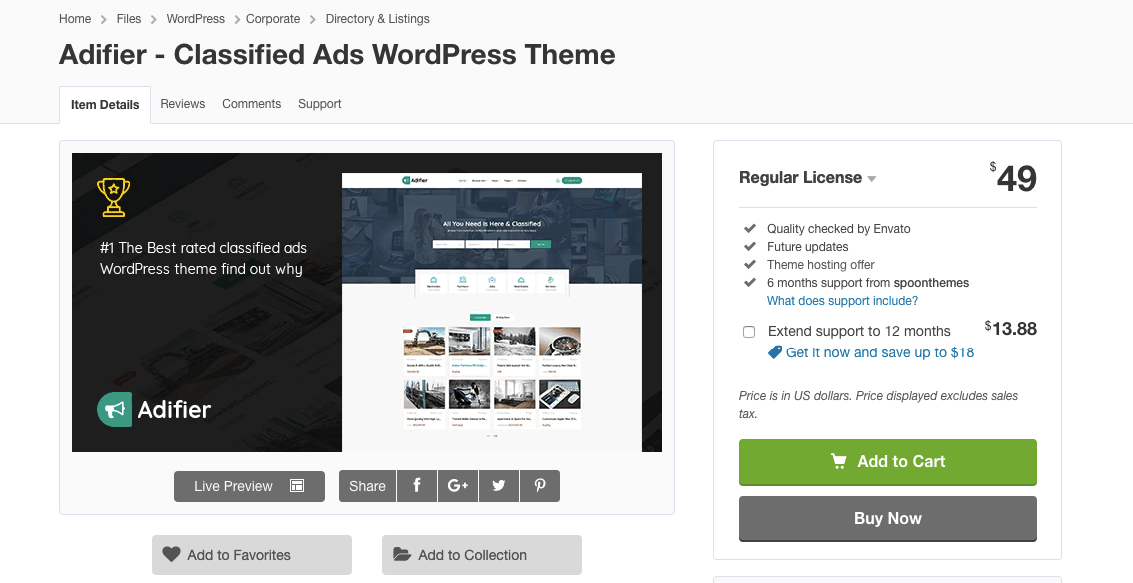 Adifier is a theme with a review and messaging system, social login, and custom fields. It supports five payment methods and lets you create bump-up ads, highlight ads, top ads, and also to import custom ads. Fourteen ready-to-use demos are available for you and various subscription modes for the users. You can even create packs with a limited number of ads.
WordPress Penny auction theme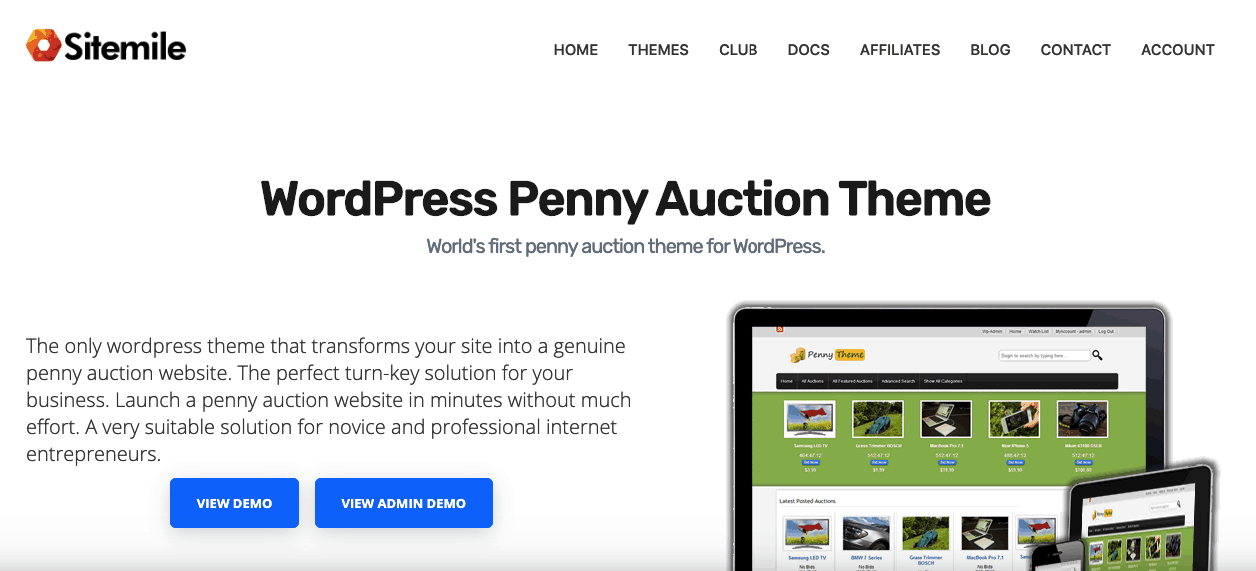 WordPress Penny Auction Theme is great for beginners because of its user-friendly and easy to navigate layout. It offers blog support, membership support, email notifications, and social media integration. With it, you can define bidding packages, minimum starting prices, auction times and etc.. It is, of course, SEO optimized and has multiple payment gateways, including PayPal. The theme comes with lifetime support and much more.
5. eCommerce plugin
For any website making online sales, an eCommerce plugin is a must. They are what makes a regular site into a commerce site. eCommerce plugins come in a variety, and you can choose a plugin suited to your needs, the chances are that there is a plugin dedicated to the type of product or service you are looking to auction off. Before deciding on one eCommerce plugin, just be sure that you know your business well, that your eCommerce plugin and auction theme are compatible and that the plugin supports your desired payment method. A few of the most prominent plugins on the eCommerce market are:
WooCommerce

WooCommerce is probably the most talked-about plugin on the market. That is majorly attributed to the fact that it is free but, at the same time, rich with features. It is great for building and expanding your business and is great for a business of any size. As long as your hosting is able to handle it, WooCommerce can support an unlimited number of products of any type and visitors. The plugin is constantly updated by dedicated developers looking to make it even better. Most themes are compatible with WooCommerce, and WooCommerce supports all major payment gateways.
WordPress EasyCart shopping cart and eCommerce store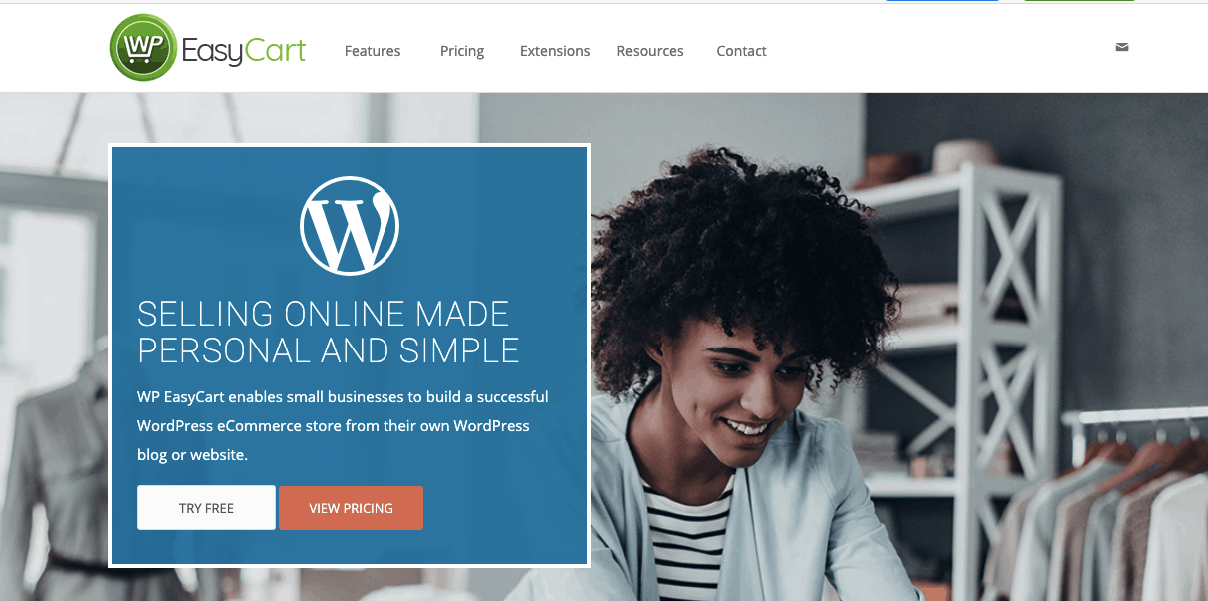 WordPress EasyCart is a plugin on the rise that is perfect for small businesses ran by people who do not possess a lot of training in using an eCommerce plugin. It integrates smoothly with all important software like MailChimp, QuickBooks, and others. With this plugin, you have full control over the site and hosting, and you can sell any type of product.
Easy digital downloads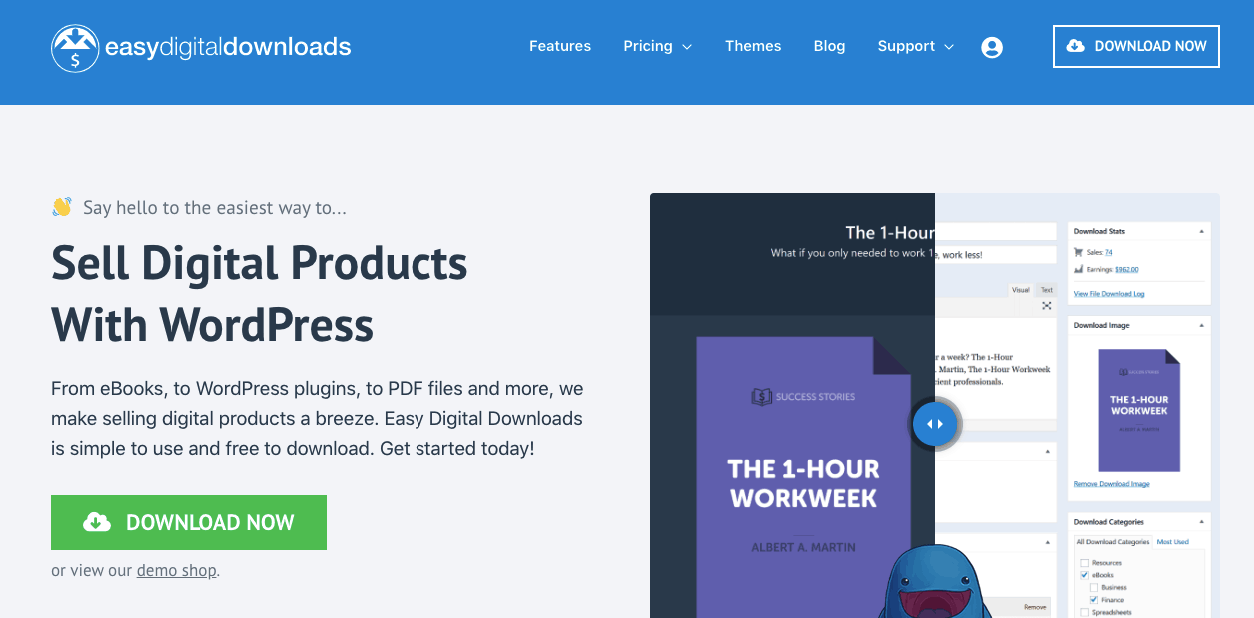 As the name suggests, Easy Digital Downloads is used for selling digital products, although other plugins allow you to do the same, Easy digital downloads gives you a more focused approach on that. All purchased products are delivered to the customer over email. The plugin itself is free but also comes in several paid versions. All versions include customer support, licenses, updates, special integrations for email marketing, and multiple payment gateways.
6. Auction plugin
Now that your site has a theme allowing you to display your products in the best way, an eCommerce plugin allowing you to make the sales, the last step is to make the site an actual auction site. That is done by incorporating an auction plugin into it. Some of the best ones you could take into consideration are:
Ultimate WordPress Auction plugin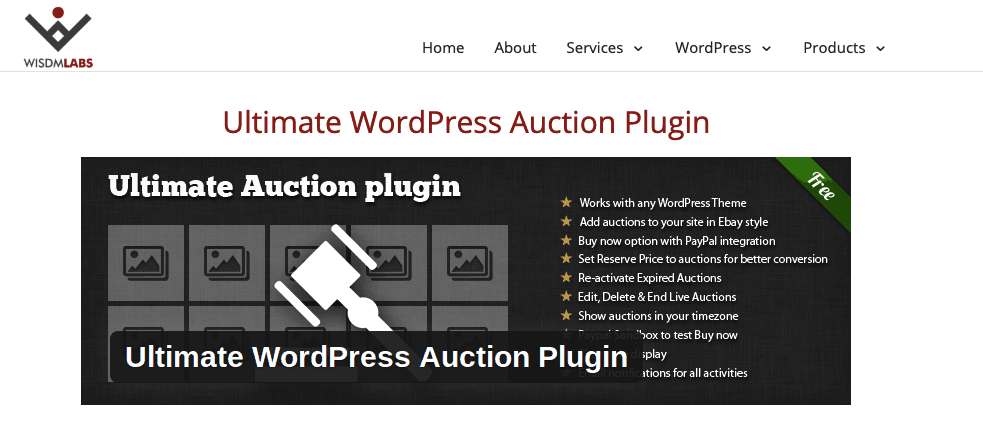 Using the Ultimate WordPress Auction plugin, you can set the initial and reserve price, categorize bids, and add bid from other platforms. Registered users place bids and are notified over email anytime there is an update on the bid. The plugin utilizes AJAX, which means there is no need for reloading the site frequently. Payment methods like PayPal and credit or debit cards are supported.
YITH WooCommerce Auction

With the YITH WooCommerce Auction plugin, alongside the regular auction settings, email notifications, and payment gateways, you are able to set the initial and reserve price. The rise in the price is automatic after a higher bid is placed, and the auction period is extended in the case of last-minute bids. The user can bid anonymously and can choose to make a purchase instantly using the buy now option.
WordPress auctions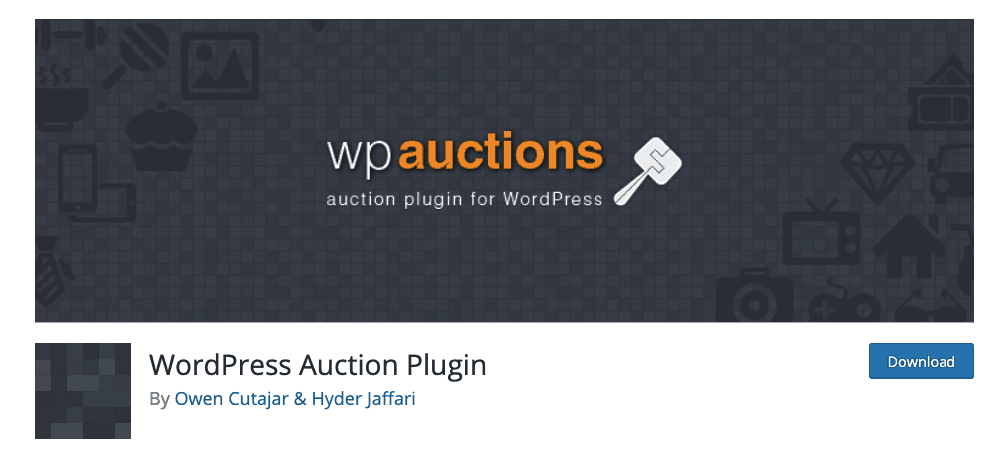 WordPress auctions is a plugin for putting your own products for sale. Users can bid, sell, or both, you make that call. It has a unique feature to the other plugins, which sells the product to the highest bidder or the one closest to the reserve price in case the item hasn't been sold. It has multiple security features, including protection against bot bidding.
Conclusion
For anyone looking to start a fast-growing and profitable online business, an auction website is a great place to start. It can be built in a very short amount of time. The huge variety of plugins at your disposal, whether it be the themes, eCommerce plugins, or auction plugins, enable you to create a site that will support putting almost anything up for auction. If you want to be putting up your items for bidding or simply own a site that will allow the people to do so, the choice is yours.
Using eBay and other auction websites is great, but having your own is even better. So why not give it a shot when creating one has been made more than easy.