You may wonder about why do you need, or why do you want a notification bar, or notification bar plugin. Well, there are many benefits to using those plugins. From growing your mailing list to sharing news.
An attractive notification bar plugin can help you bust your website and also increase your profit.
We believe that busting your profit is your final goal, and we understand you. That is why WordPress offers a variety of notification bar plugins that can help you. They can make your site more attractive and finally make your life easier. Notification bars help you to communicate with your customers. This may seem like a one-way communication, but it most certainly is not. Notifications help you to put forward your message about your products and your activities.
Here we will provide you with a list of top five WordPress notification bar plugins, some of them are free, and others have options where you can pay for additional services. You may find at least one that will help you, and that will suit your website.
1. Hello Bar

The Hello Bar is one of the oldest and best-known notification bar plugins that are available at the moment. It allows you to connect your website with this platform. Afterward, you can display and optimize notification bars on your website. Hello Bar offers free and premium plans, so if the free plan is not enough for you and it does not suit your needs, you can always upgrade and be able to access advanced features plugin has to offer. The positive features of this plugin are the ability to collect an unlimited number of subscribers' emails and also integrate your notification bar with all major email marketing services.
On the other hand, there are also some negative aspects of this plugin, one of them is that the free plan only allows you access to basic designs, and it limits you to 5 000 views per month.
Limiting views is maybe not what you want; if that is the case, there is also a premium version. You can get this version if you pay $29 a month. It is your job to find what works best for you.
2. WPFront Notification Bar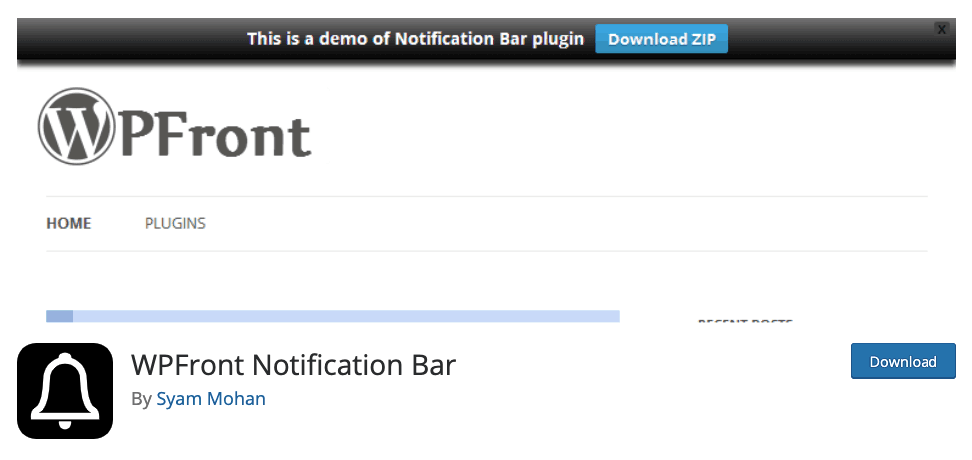 WPFront Notification Bar is a free WordPress Plugin that enables you to display news. It is relatively easy to set up, which is always nice to hear; all you are required to do is to write a message and then add an appropriate button. As previously mentioned, this is a free WordPress plugin. And are several useful aspects of this plugin that should be mentioned. First of all, the display setting is very useful, and you can display a notifications bar on top or on the bottom of your page. You can also choose the Sticky bar option so that the notification bar can be continuously displayed as the user scrolls down the page. Other benefits are customizable colors. There are also advanced settings if your demands are a bit higher.
On the other hand, customization is very limited, and there is no analytics, which is not good for your overall business because you want insight into your visitors and overall activities on your website. If analytics is not something that you care about, then this plugin is good for you.
3. Sumo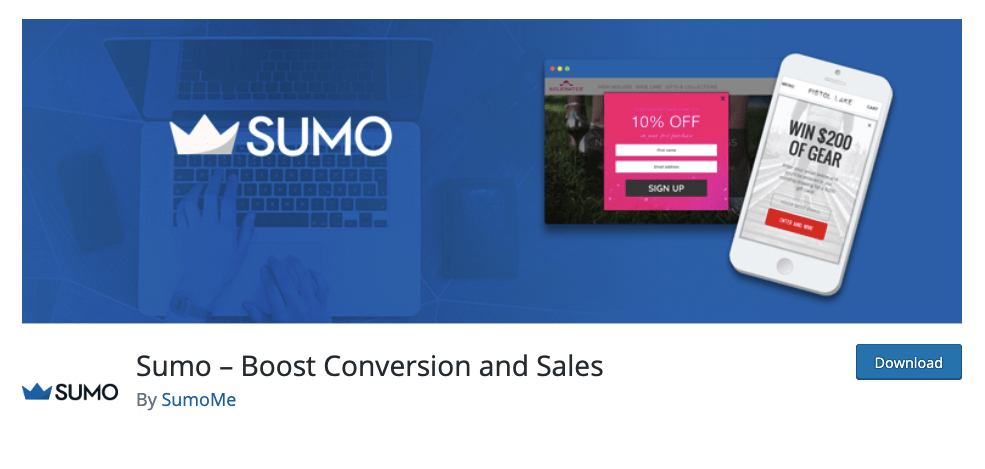 Sumo is a new generation plugin, which allows you to incorporate notification bars, pop-ups, social media buttons, and e-mail marketing services. Sumo is focused on increasing the conversion rates of your website, and it helps your website to become a more effective marketing tool. Sumo offers a powerful set of features that any WordPress should be able to make use of. From bloggers and small businesses to a freelance portfolio and e-commerce stores. It allows you to add a notification bar on top or at the bottom of your page. It can also allow you to draw e-mail subscriptions or social media followers using a display call button.
Sumo also offers free and premium plans.
The price of the premium packet is $39 per month (billed annually).
4. WP Notification Bars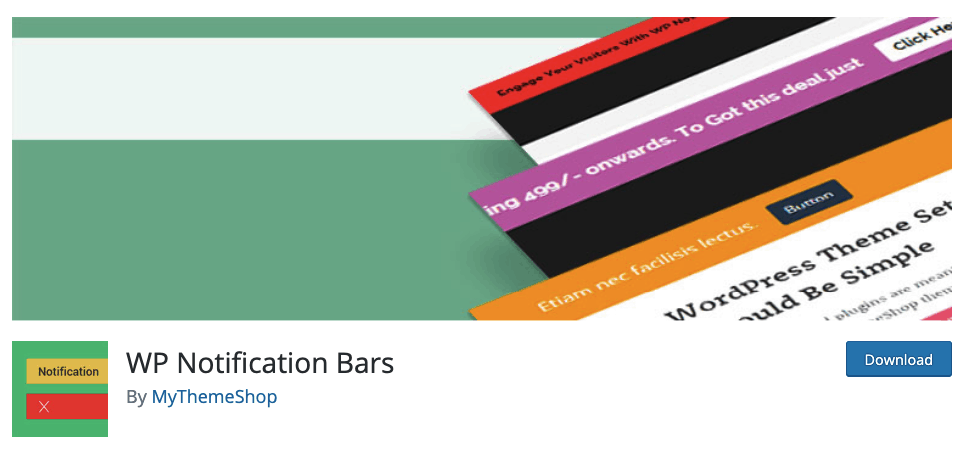 WP Notification Bars from MyThemeShop is another free WordPress plugin. It is great for marketing, promotions, and custom notifications. This plugin is extremely user-friendly, and it is great for beginners, but it is also good for professionals who do not want to be bothered by complicated plugins, and their set-ups.
The pros of this plugin are:
Unlimited amount of notification bars
Display notifications bars to a specific audience or group. For example, to only Instagram visitors.
Free forum support on the MyThemeShop website.
The cons of this plugin are basic customization options and limited target options.
5. Top Bar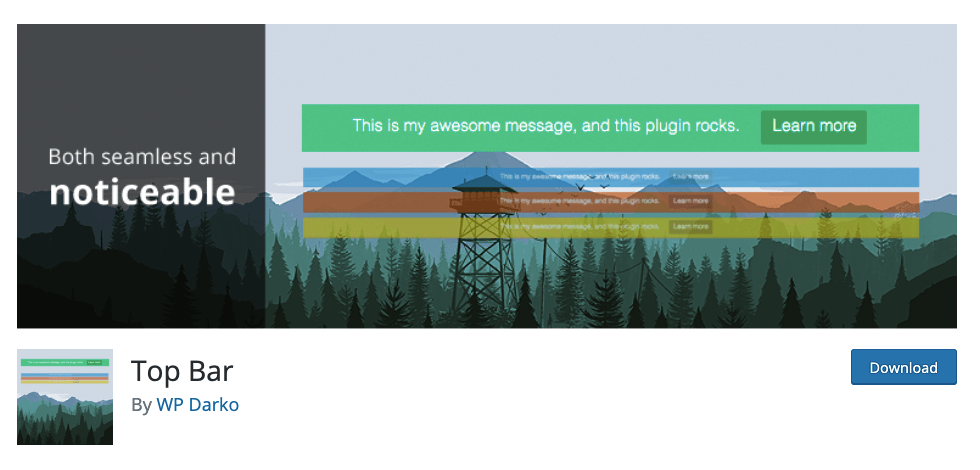 Top Bar is another free WordPress plugin that is a bit basic, but it still does the job.you are able to customize your notification bars with bright and bold colors. It allows you to write your own custom message. A sticky bar feature is also available. On the other hand, customization options are limited, and there are no trigger settings. That means that the notification bar will be on your display until you disable it.
Overall
As you can see from our list, WordPress notification plugins have different features. All of the free ones seem to have one thing in common, and that is customization. Every free plugin on the list has limited customization. Some people do not mind this and do not see it as negative, but also there are people who want their site to be fully customized. Which plugin you will choose depends on your business needs and on your personal needs and taste. It would be a good idea to focus more o functionality rather than on the other things. We are not saying that design is not important, we all know that it is, but in the long run, functionality always wins.
Notifications serve as a business buster, and it also allows you to communicate with your customers and inform them about your new offers and activities.