If we take a closer look today, most of the online services we use and take for granted are free of charge. Email accounts, social networks, blogs, online stores, etc.; most of these sites require you to accept cookies, and they retain small bits of data about your visit.
Yes, you have read that correctly, what they get in return and what is so vital in today's market, data. Furthermore, to put it in simple terms, whoever has the best data usually gets more customers. Also, this way, they can have a more accurate customer profile for their marketing and campaigning.
Are you looking for a good alternative for Google Analytics? Take a look at this list of 10 awesome alternatives, and choose your favorite.
One of the biggest mistakes entrepreneurs usually make is to put too much trust in their gut feeling and neglect the collected data. Sure, sometimes relying on gut feeling and intuition can be significant. For example, when interacting with people on a personal scale. But, for mass communications, it's the data that shows us the hows and whats.
The collection and analysis of said data have become a crucial part of operating an online business. There are multiple ways you can do this, but it's usually one of two options. You either stick with Google Analytics or a Google Analytics alternative.
In the rest of the article, we will explore some of the alternatives to Google Analytics and why you should consider them.
1. Matomo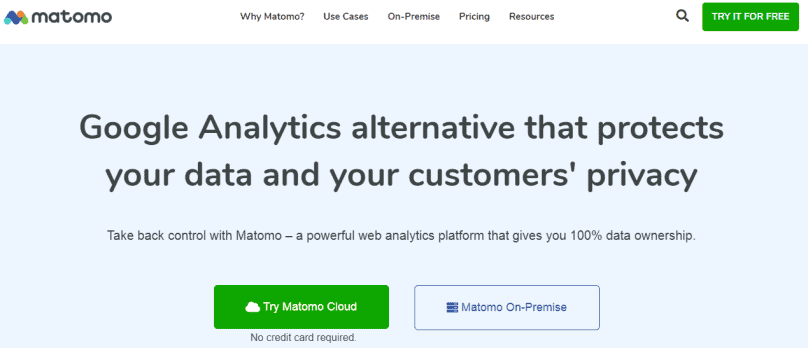 Our first alternative option is Matomo, a great tool that allows you to import historical Google Analytics data. But also, it is essential to mention that this is a fully-fledged web analytics tool packed with features and options to make your job easier.
One of their motos is "Ethical Analytics, Powerful Insights," which should tell you that they put a lot of users privacy and data ownership. Besides that, they also allow you to host your Motomo on your servers for additional levels of protection.
2. FoxMetrics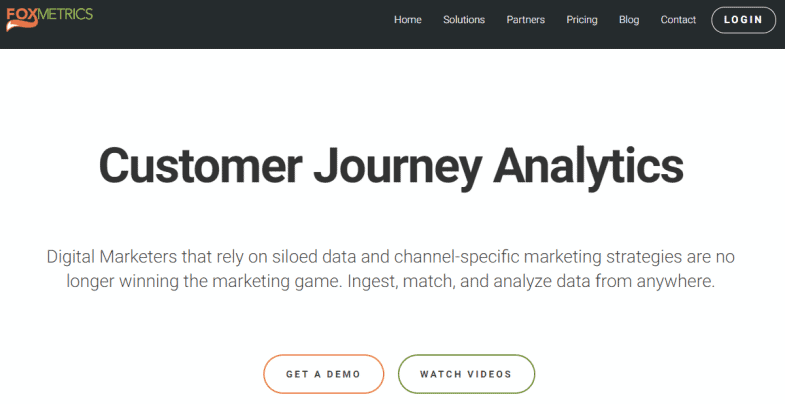 Another great alternative option is FoxMetrics. They allow you to use and filter data with the help of SQL report generation and storing data in particular data centers.
However, you must be wondering what does the fact you can use SQL give you? For starters, it will enable you to create unique and specialized queries to get specific information. Also, you can use this information in any scenario.
Besides SQL, Foxmetrics has a Javascript library for even more data extraction and filtration options.
3. Mixpanel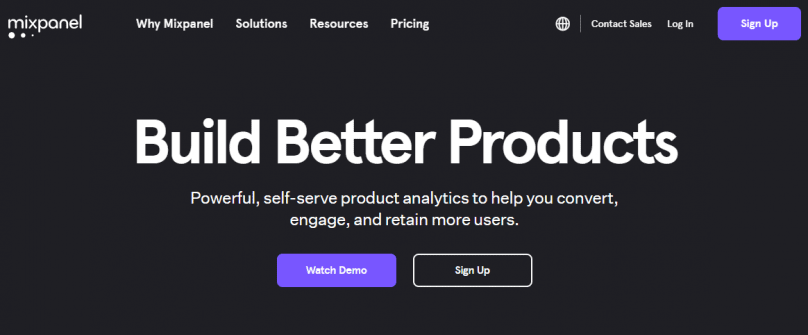 Mixpanel is a simple yet effective alternative to Google Analytics. To sum it up, it gives you the ability to have a deep understanding of your users' behavior. Are you wondering how does it achieve this?
It does so using some clever tools and tricks. You can analyze predictive data and see which user groups have a higher chance of a conversion. Stay on top of any changes with metrics change notifications and detailed data to see what caused them.
4. StatCounter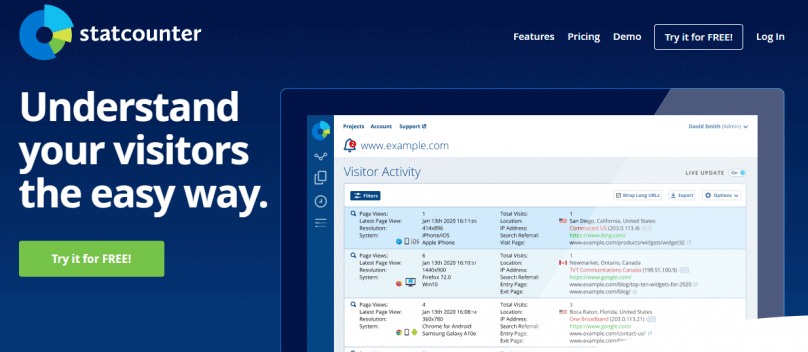 StatCounter is another alternative option with a slightly different approach. First of all, it allows you to detect and check for click fraud on the paid ads. However, besides that, it will offer you a somewhat more personal and detailed data analysis.
Using StatCounter, you can put yourself in the shoes of a specific user and monitor their entire journey, checking for and identifying potential problems with navigation, site organization, and general user experience. Also, this can be a great asset in determining what and how to fix it.
5. Chartbeat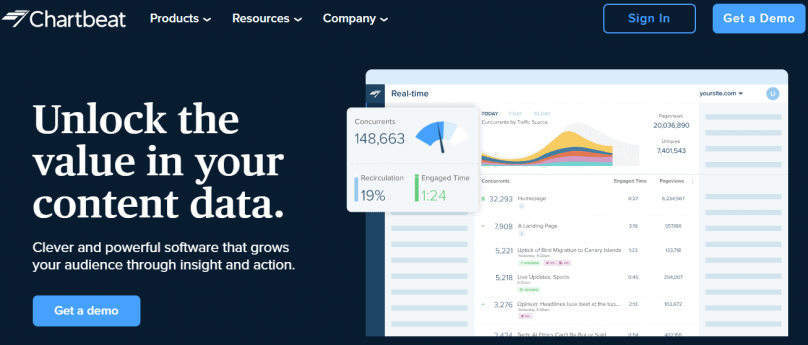 What if you are not just a minor entrepreneur but have a substantial online business with millions of monthly page views. Then Chartbeat is designed and made just for you. Be able to analyze and identify your best readers. See how they interact with your content. All of this will give you a much clearer picture of your user base.
Chartbeat can also integrate with Facebook Instant Articles. Besides some additional Facebook monitoring options. It has a video dashboard, which you can use as a central hub for your info.
6. Leadfeeder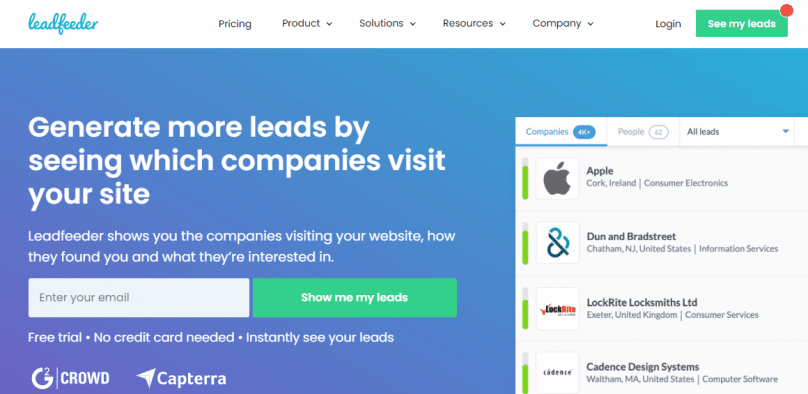 While talking about integrated and multi-capable systems, we will mention Leadfeeder. As its name suggests, this is an integrated marketing and sales data analysis tool. It has many quirks and features; it will allow you to view what pages are being viewed, has integrated CRM, and tracks when companies visit your site.
Leadfeeder can also generate leads. Besides software, they also have live webinars that can help you maximize their tools.
7. Clicky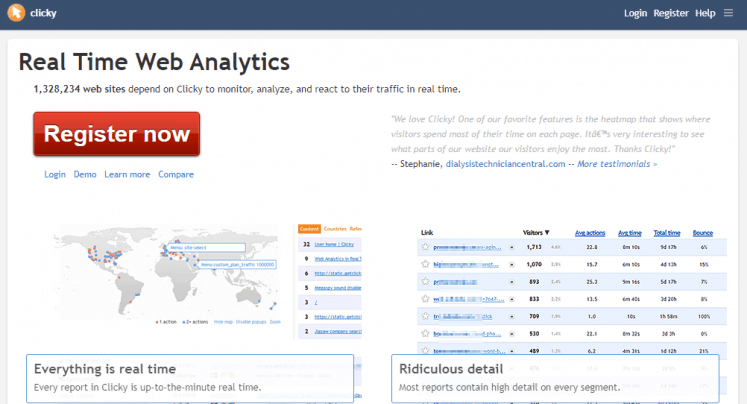 Clicky comes as another Analytics alternative to the Google stock option. Besides essential analysis tools, Clicky claims that they have one of the best bot detectors. However, this can go a long way in removing spam known to clog up data with irrelevant samples.
Besides preventing irrelevant and misleading data, Clicky can monitor and signal when your site is down.
8. Heap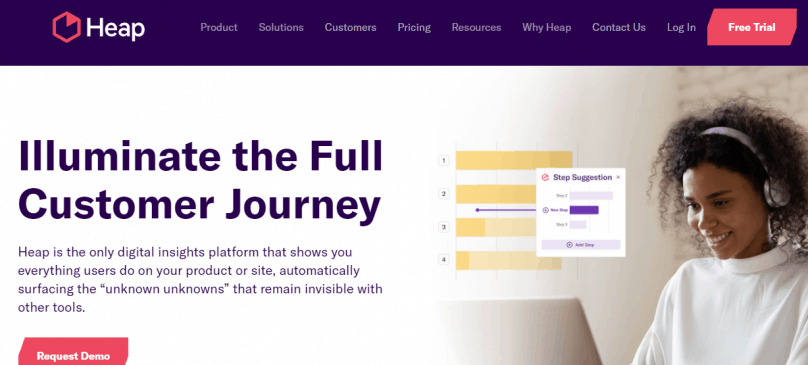 What is Heap? It is an analysis tool that is specialized for a particular category of data. Heap's best usage is to monitor, track and analyze product data. It means that this alternative option is best suited for eCommerce sites and other types of online stores.
Using Heap, you will have a clear image of how users interact with your products and what needs to be touched upon.
9. GoSquared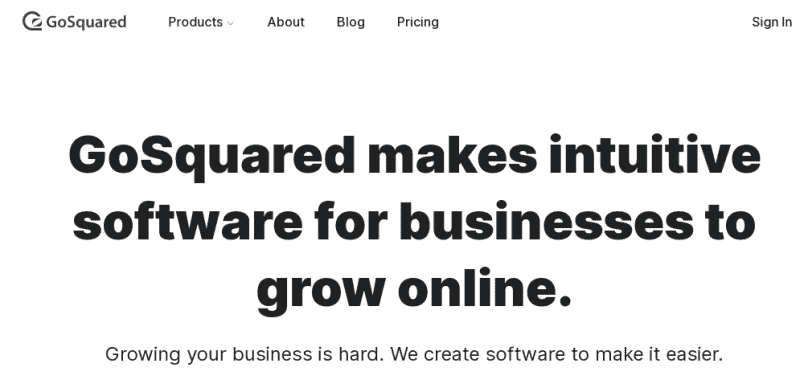 Do you know what is better than just providing raw data and information? Providing the necessary help and aid, such as things like interpreting said data, etc. That is what GoSquared offers with their live chat feature. Now you will check individual users' activity, what leads them to your site, and other valuable bits of info.
GoSquared offers quite a few packages when it comes to features and pricing. The best thing is that you can combine packages and their features to your liking.
10. Woopra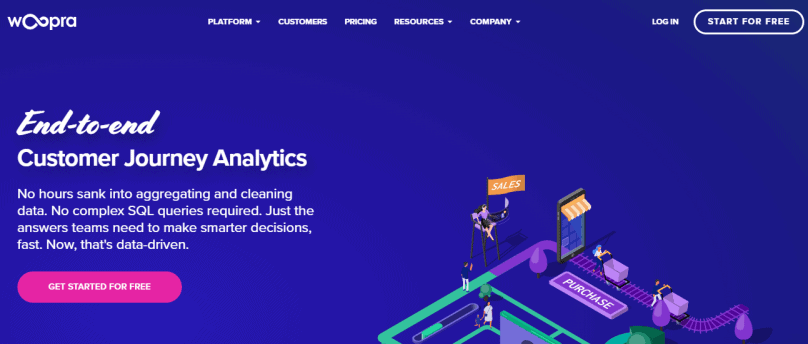 Last but not least, we have Woopra. It is a tool used for providing a lot of crucial information about products. Whatever data you need to keep track of your product sales, you can find, sort, and analyze using this fantastic tool.  Another big thing about Woopra is the integrations. Interestingly, this plugin is combined with more than 50 different products, such as Google Ads and Drive, Salesforce, Hubspot, etc.
Conclusion
In the end, we have to mention; whether you are a small business owner looking for your first analytics solution or an established business owner. With a developed and large customer base, the above list should have a solution for you.
Consider one of these alternatives and start gathering and analyzing the essential data.
You will see improvements in your business in no time.