Owning a site and maintaining it completely manually can be a bit tricky. Your site can contain some rather shady links to other websites, that can potentially be malicious. And you surely don't want your visitors to deal with that. There's a great solution to this, though.
WP Links can scan any and every individual link on your #WordPress #website without you having to do it all by yourself
It comes in the form of a rather simple-to-use plugin called WP Links. It can scan any and every individual link you'd like without you having to do it all by yourself. Taking care of your external links is important, and WP Links ensures your external links open exactly how you want them to. All it takes is a few clicks of the mouse to set everything up and customize your link as you see fit. You can also notify your visitors of any links that might be unsafe to click, and the fact that they are leaving your website.
It is compatible with all plugins and themes, so don't be concerned about it breaking any of those. With the help of WP Links, internal and external links can be managed like a dream. As a site owner, the plugin can definitely come in handy as even the small sites have way too many outgoing links, so checking them manually is not really an option.
1. How to control the links
External links can be accessed via the plugin's menu, right from the first tab. Simply check the Settings for external links and a list of modifiable elements will be displayed below.
So, you can customize how your outgoing links work. You can choose to open them in the same window/tab/frame, each one separate in a new window (meaning if you click on four links, those will turn into four new tabs or windows), all in the same window (clicking on a second link would load over the first one without opening any new tabs or windows) or in the topmost frame where a new link always loads in the topmost frame at hand.
There's also the option to set follow or nofollow, meaning that all links that don't lead to your website get the chosen attribute. Furthermore, you can add to rel attribute, such as adding "noopener" that blocks possibly malicious sites, "noreferrer" that stops refer information being sent to the linked site, "external" that marks a link as an external one, "sponsored" which marks a sponsored link you got paid for, "ugc" that marks links made by users.
Not to mention you can set icons that appear next to outgoing links. Set it left or right of the link, and select either an image uploaded from your PC, one of the WordPress icons, or one of the Fontawesome icons. You can add CSS classes to the outgoing links, as well.
All of your links automatically get icons assigned to them if you opt for icons in the first place. An image you linked to an external source gets an icon you have chosen, too. However, you can choose not to go for this option, and simply skip adding the icons.
Internal links can be configured the same way external ones can. The difference is that internal links direct the visitor of your website to a specific page on your site, while external links direct them to a page on a different website. Just set the attributes you would like, save the settings and the plugin will automatically apply them. It's as easy as that.
2. Set exceptions
Once you customize everything you'd like to your needs and wants, you can create exceptions to those rules. For example, there's the option to set pages and post IDs that the rules you have set do not apply to. You can also set a specific CSS category, so when the link falls under that CSS category, the plugin makes an exception. Not to mention, you can add intricate and long lists of individual URLs the rules won't apply to, either. The possibilities are endless, as the plugin is as flexible as it gets.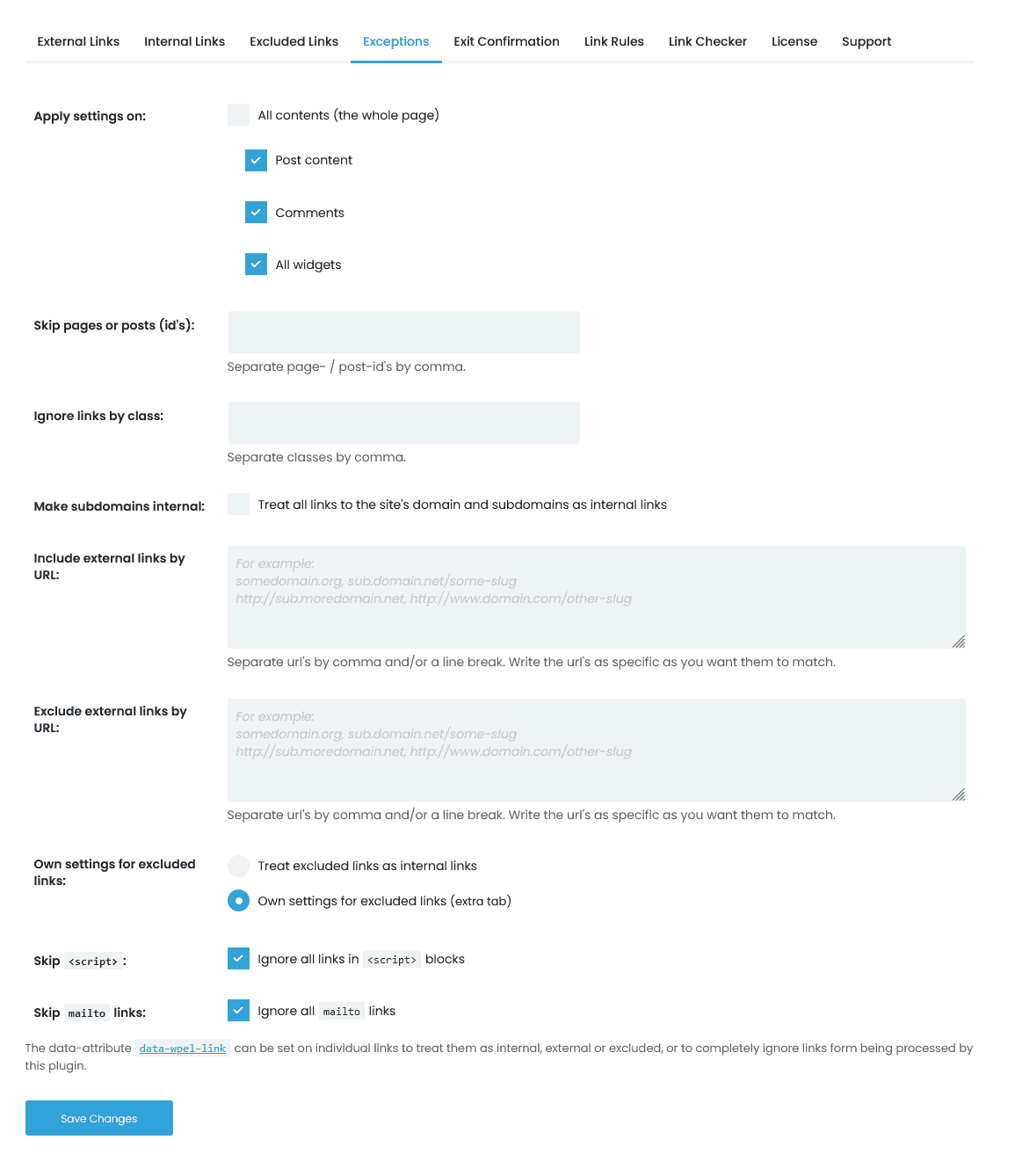 3. Exit Confirmation
There is also the option to turn on Exit Confirmation by clicking the tab in the plugin's menu. Naturally, when you enable this, a popup gets displayed to every user that clicks an outgoing or external link. The popup can be fully customized, including the modification of the shown text, along with its color, size, and the size of the popup in general. This lets the user know that they have exited the site they were on as they have clicked a 3rd party link and that it will lead them to another site. You can also get a preview of the popup so you know exactly what it looks like before you apply it.
4. Link Rules
Creating a list of rules with WP Links is as easy as ABC. Each link that contains a certain keyword can be recognized and then the rules can be set accordingly. For example, you can set the dofollow or nofollow options, as well as the inclusion or exclusion of an icon, and so on. To exemplify even further, if you have an URL that contains the word "apple", the plugin automatically makes note of that so each link can get a specific icon the user sets. Naturally, it is applied to every address that contains that keyword (for example, a site with the address www.bestapples.com).

5. Link Checker
The Link Checker feature confirms whether all of your outgoing links are valid, whether they are internal or external. The scanner automatically checks if it's functional, and if all attributes are just right so you get that SEO effect you are going for, making the most out of it. Links to bad sites are also reported, so you don't have to worry about that, either.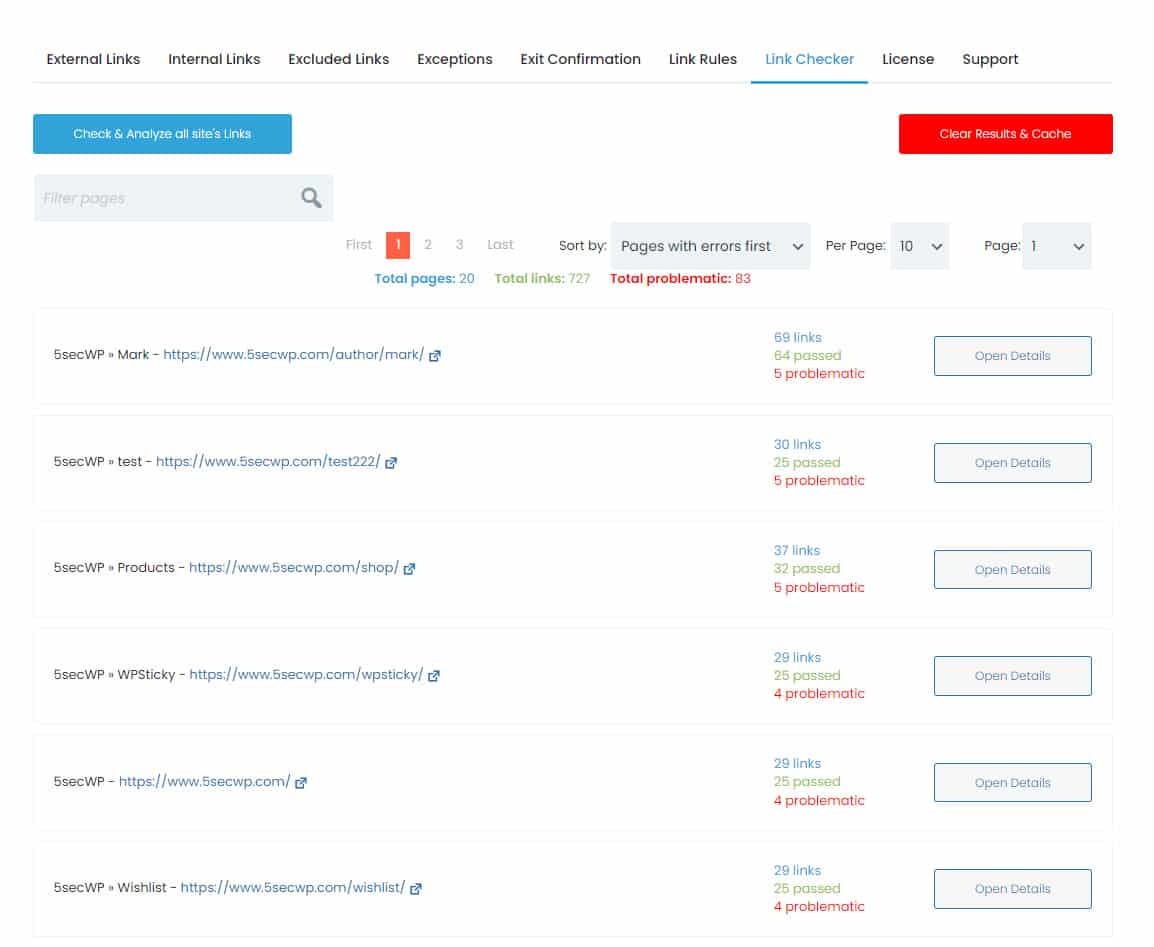 With the press of one button, the whole website is inspected, along with every single link on the site. Then you get a list of all the link that are dodgy. WP Links displays the links that don't lead to anywhere (also known as the "404 error"), the ones that have been redirected, the ones leading to malicious sites, and so on. The Checker also gives you an instant preview of the link leading to a page or a post so it can be edited quickly and easily, without any trouble.
Conclusion
WP Links has a completely intuitive and user-friendly way of installing and using it. No experience or special skills are needed, and it has a central dashboard where you can check out all of your licenses, sites and purchases. No code is needed for rebranding the plugin, either.
The plugin offers a full refund guarantee within 7 days if you are not happy with it, so you don't have to worry about making a commitment. However, WP Links is used by more than 150,000 site owners, so chances are you will be satisfied with its service. The plugin will not break or even slow down your site one bit because it doesn't load any additional CSS or JS files in the frontend, so you'll be safe on that front, as well.