Running a real estate website is not an easy thing to do. There are many little things that you need to make sure are working properly, along with checking the market, creating rental agreements, running your blog, advertising an online business, and finding customers.
Probably the most important part of your business is your website.
In today's world, having a clean, modern, fast, and easy-to-navigate website is what matters the most to customers, and this is true for real estate, too.
Having a professional website (with many functional features and add-ons) will help you turn your potential customers into your current customers.
Today, it is really easy to create a website, especially by using WordPress. This way, you can avoid buying websites from franchisors or affiliates and, instead, focus on controlling your own brand, website design, and functionality.
This is made even easier if you use some of the WordPress plugins we will recommend that are designed specifically for the real estate business.
1. WPRealEstate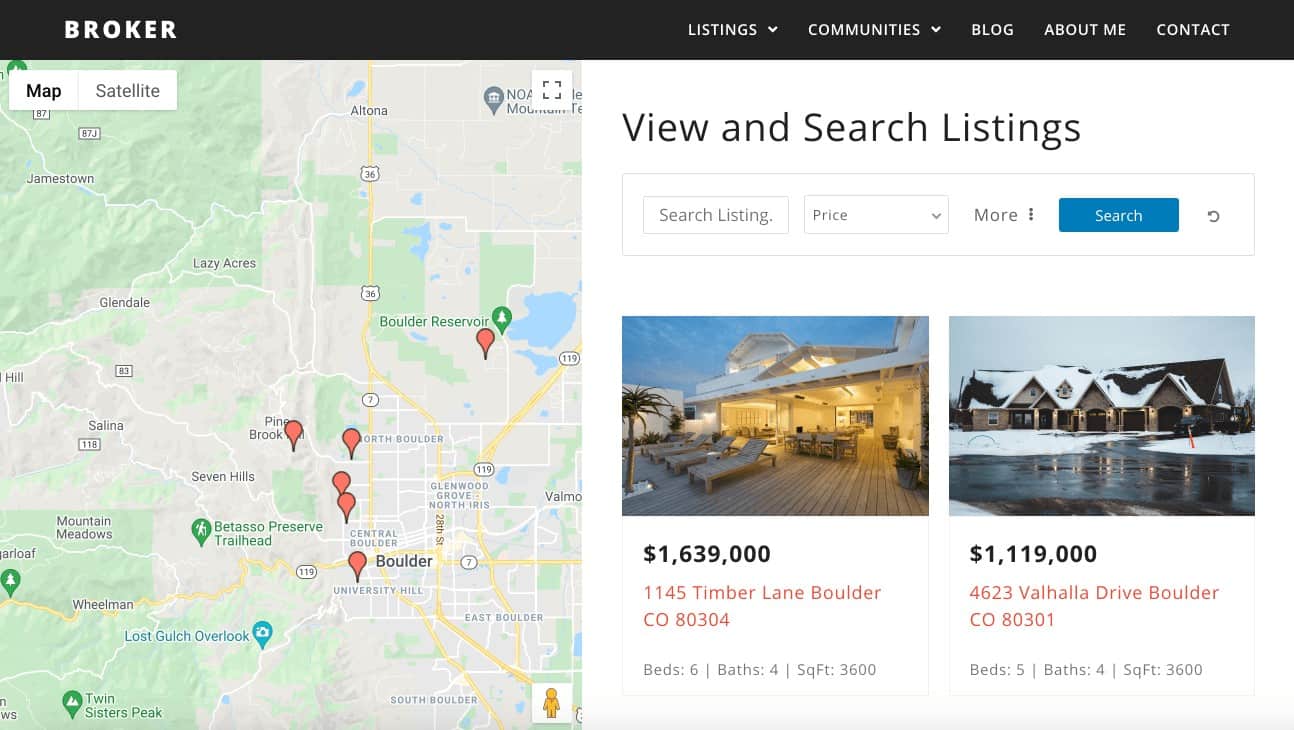 WPRealEstate is a new real estate theme brand but the team at WPRealEstate has worked on other popular WordPress themes and plugins for nearly 10 years.
Their WordPress real estate plugin allows you to create manual property listings and also integrates with the MLS via the RESO web API. You add listings via the block editor. And there are blocks to display listings, agents, maps, search forms, and more. The plugin allows you to create a beautiful search interface for visitors to search, filter, and map your listings.
The plugin can be used alone or with the WPRealEstate theme. The theme offers a great library of designs for real estate agents and brokers, along with hundreds of customization options. The cost for the plugin ranges from $79 to $199 depending on whether you buy it alone or with the theme and depending on the number of websites on which you want to use it.
2. Estatik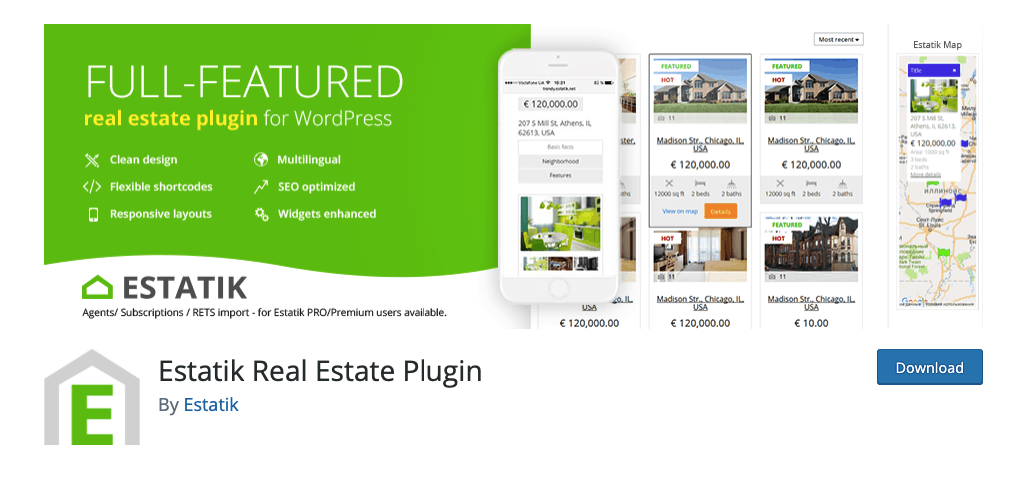 Estatik is a really good WordPress plugin that allows you to have a responsive layout with a photo gallery on your site (you can create a slideshow), map view without the need to install a map plugin, a mortgage calculator, Google Maps location, and it is integrated with PayPal. It allows your customers to sort listings by date, price, and popularity, which your visitors will surely appreciate. You can also add property labels, such as featured, hot, or openhouse to your listings.  You can use your own theme, but it also comes with its own themes and multiple demos so you can see how your plugin works on different versions.
The premium version costs $89, but it allows you to have a lot more features, such as MLS (multiple listings service) integrations (this is a large database of real estate listings), subscription plans with PayPal payments, CSV import, PDF file generation, video tours, and a great support team.
3. Real Estate Pro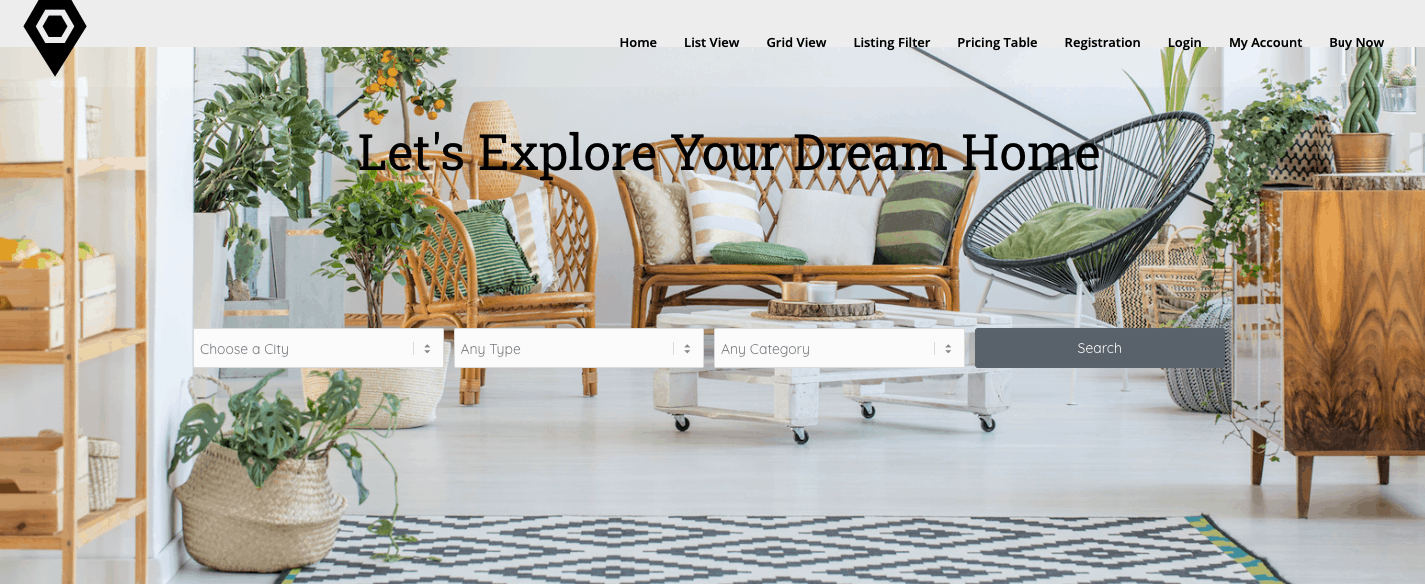 Real Estate Pro is another WordPress plugin that is easy to use as the settings, pages, and templates are all configured after you have installed and activated the plugin on your website. You can also have an image gallery, and it works on phones and tablets. This plugin is compatible with MailChimp, so all of the emails of your customers can be stored in your database, which makes it convenient for you to have access to all of your customers (lead generation, easier conversion, increased customer satisfaction).
Moreover, you can use Visual Composer with it (plugin for easy page building, no coding needed). However, it is not integrated with MLS.
You can use this plugin to manage your own property listings and/or to sell them to third-party agents. It costs $40 at the Code Canyon website.
4. WPL Real Estate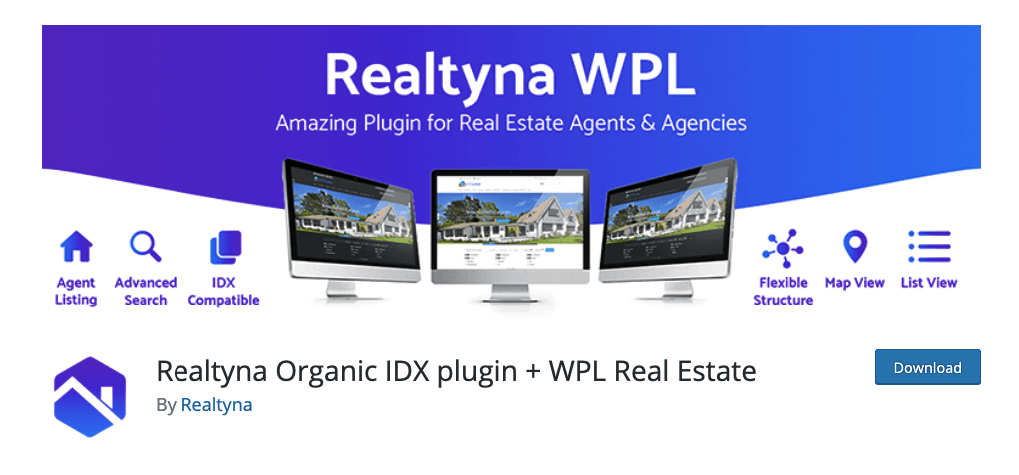 WPL Real Estate is a plugin developed by Realtyna, a web development firm that has been in the online real estate business since 2007 (you can say they know what they are doing as they have been in this business for some time). This plugin allows you to list agents, have a map view of your listings, and give the option of advanced search to your customers.  You can post agent information and share photos, so your customers know who exactly they are dealing with. It is compatible with any WordPress theme, and it has a related listing feature, meaning that if a customer is looking at a particular listing, additional relevant listings can be shown to increase the chances of closing the sale.
It comes in a free and premium version and can easily connect with MLS.
You can also manage your database so you can add/change/delete fields without actually changing the custom database. It also has several add-ons, such as the demographic package (learn about geographical regions and demographics of your customers), cloud hosting (starts at $49.95/month), and the franchise multisite solution (helps you build and maintain multiple real estate websites).
5. Essential Real Estate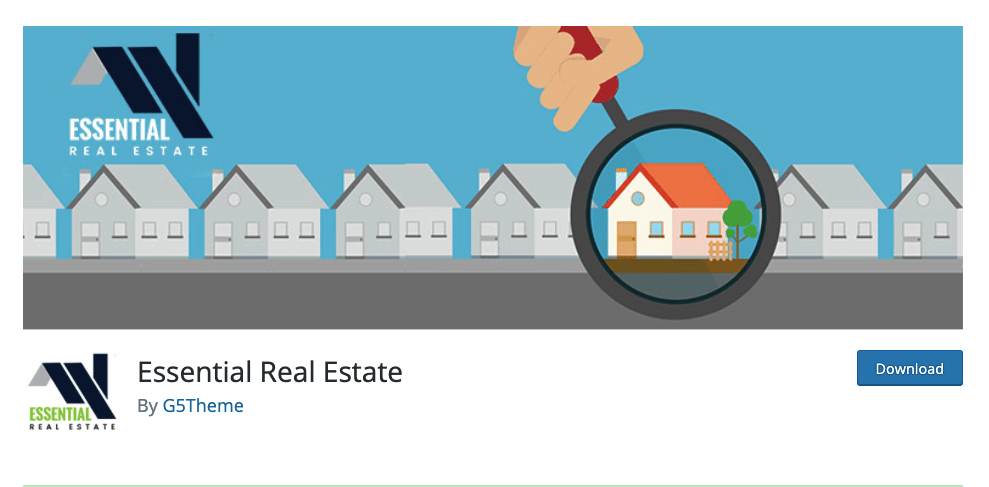 Essential Real Estate is great because you can use a lot of premium features in the free version of the plugin. For example, you can customize the page layout, it supports global payments, property lists, single agents, and it comes with a 5-star rating. It already has a template for some pages, such as Search Page, Listing Properties, Agency, Payment, etc. so it makes it easier for you to build your website. Some other features include flexible searches, favorite properties page, different payment methods (PayPal, Stripe, Wire Transfer), email listing alerts, and more.
The only downside is that it might take you longer to learn how to effectively use this plugin because of so many amazing features.
6. IMPress Listings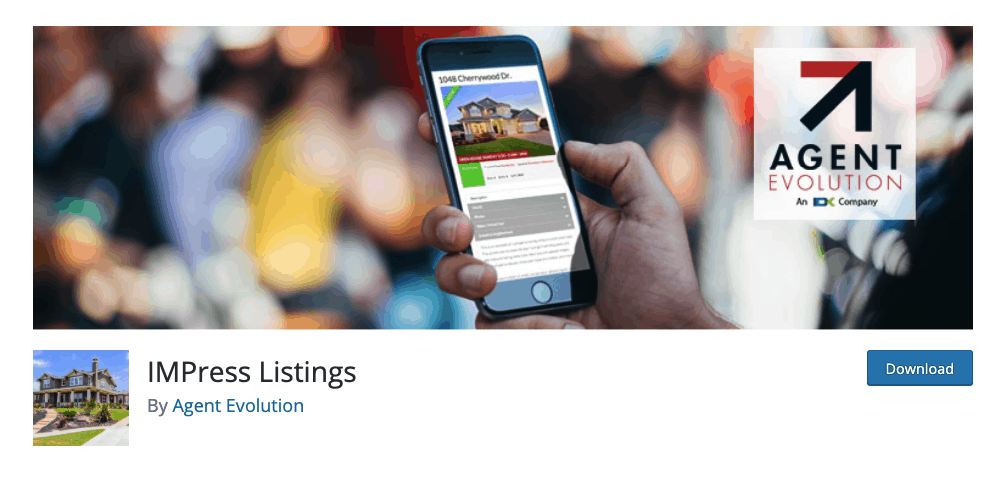 IMPress Listings is a free real estate plugin that used to be known as WP Listings. It comes with the option to separate listings based on location, status (sold, reduced), property type, and features. It automatically adds Google Maps location for each listing (you don't need to worry about spending time and adding the address manually), it works with mobile and any WordPress theme.
The Premium version gives you access to additional templates for property listings and MLS integration, through the use of IMPress for IDX Broker plugin.
7. WP Amortization Calculator

WP Amortization Plugin is a premium plugin that every real estate agent should have on their website. It helps your visitors create a mortgage loan calculator. It attracts your customers with a free PDF report that will be sent to their email, so you can even generate leads from these emails and increase sales.
This is definitely worth $21 to download the plugin, and it is compatible with any WordPress theme.
8. WPVR – Virtual Tour Creator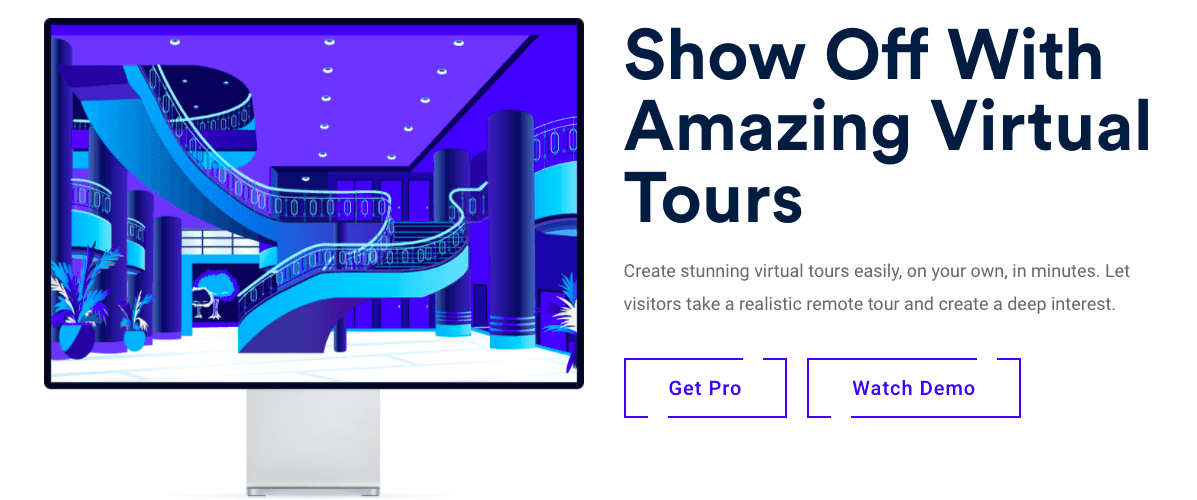 WPVR makes it easy to create a virtual tour of your real estate properties and showcase them on your website.
You can build a complete virtual tour of your listing using multiple 360 panorama images, connect them to create a virtual walkthrough, and set valuable information inside the tour to guide and convert your visitors.
And inside the tours, you can use hotspot content to explain the details of your listings and set contact forms to book a visit and ask general queries.
Overall
Real estate is a tough and very competitive market. Luckily, if done properly, it can be very profitable. Having a good, easy-to-use, and professional website will help you perform better than your competition and break into the market.
To get started with these plugins, you just need to download and install them, and you are ready to go. Hopefully, this article helped you find the right real estate plugin for your website.