Search engine optimization requires careful planning and a well-thought-out strategy on what will be done and how. Luckily for marketers, there are different types of tools out there that can help with SEO.
If you need a good #SEO tool, then #Ubersuggest should be your number one choice!
Out of all the tools out there, we recommend you use Ubersuggest. A relatively new tool that is gaining popularity.
Ubersuggest can do well-rounded research of keywords that can help you, as a marketer, rank high for your keywords, increase conversions, and increase your profits. This tool is constantly updated and upgraded, with new features being added all the time. Hence why we think it is a must-have!
Ubersuggest Review
As the headline says, in this article, we will review Ubersuggest and hopefully, you will realize what a great tool it is.
To start things off, we can say that Ubersuggest is a freemium tool that can be used by anyone and is designed to help you improve your SEO by generating new keywords and keyword ideas. It was acquired by Neil Patel in 2017, who expanded the original version of the tool and added cool new features.
Now, we will review the tool and go through all the features that Ubersuggest has.
The Features and the Dashboard
Below is a screenshot of how the Ubersuggest dashboard looks like. There you can see some basic info and all the different features of the dashboard.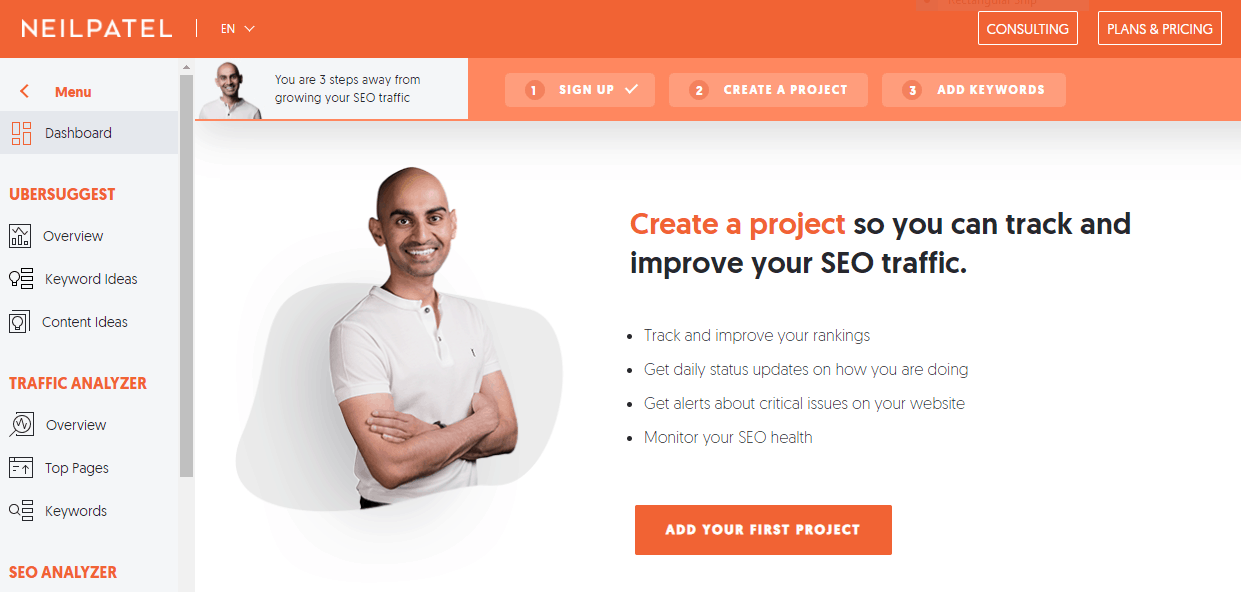 The main feature is "keyword ideas". This feature basically helps you come up with new keywords. So how does one use it?

Well, you just need to type in a keyword in the search bar, choose the language and a location, and click on "Search". Then, the tool will find a long-tail version of the term you typed in. If you don't know, long-tail keywords are keywords that are typically longer in length (3 or more words) and have a lower search volume.
Single-word phrases and keywords are high in competition, which means slower conversion rates, while long-tail keywords are low in competition, but higher in conversion rates.
The long-tail keywords are important for SEO because, as we said, they are low in competition, easier to rank higher for, and have high conversion rates as they are more specific. What this all means is that people who search for them are further down the sales funnel and are more likely to buy products. That is why this tool has been specifically designed to show you long-tail keywords you can rank high for.
Once you type in your keyword, the results will look like this: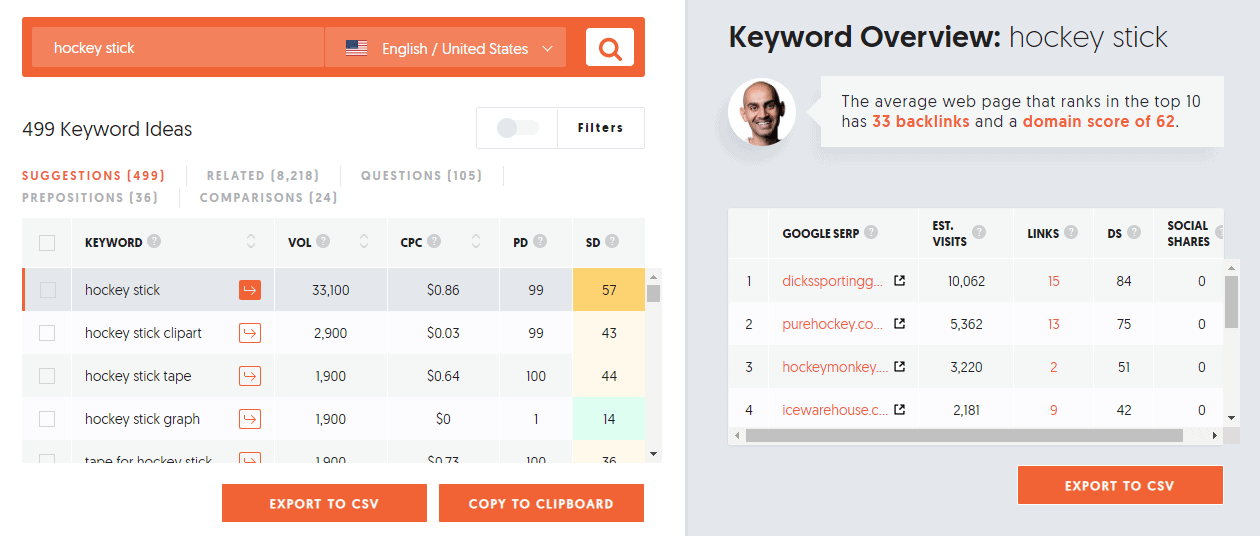 As you can see, the results show different keyword terms and the volume of searches for those keywords. You also get the average CPC, PPC, and SEO competition so you can analyze which keyword would suit your campaign the best.
What this tool also offers is the suggested section of keywords. These are results based on your main keywords.
You can also generate different types of keywords. These include:
related results (related to your main keywords, but don't need to be on the same topic)
questions (keywords that are shown as a question, which is great for broader results that are still related to your main topic and for which your audience still searches, but not specifically to buy something; it is great for building awareness- for example, "does email marketing work?")
prepositions (keywords that have two related concepts, for example, "SEO tools for excel" and "SEO tools")
comparisons (list of and/or terms, or in other words, keywords that someone is comparing, such as "keto diet vs paleo")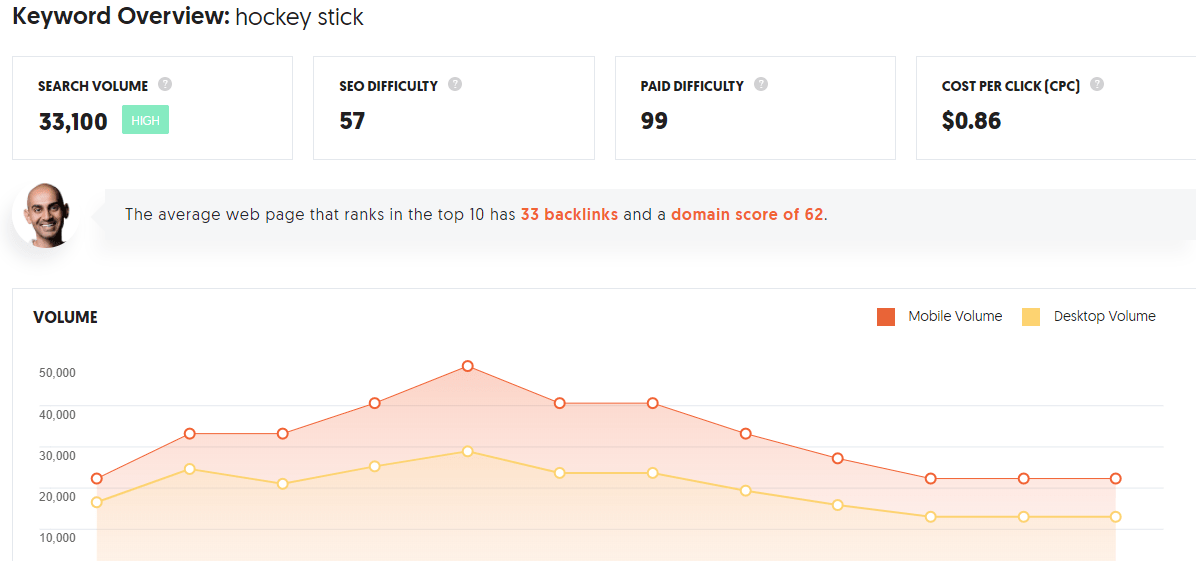 All of these keywords are generated just with Ubersuggest (which is free) and we think this is what makes it one of the best and most rounded SEO and keywords tools out there.
There is also a keyword overview feature that gives you some information about a specific keyword you want to rank for. It will show you search volume (how your keyword has been trending in the last 12 months), SEO difficulty, paid difficulty, and CPC.
This is useful to check and analyze once you have narrowed down your keyword list to a few keyword terms. And you can also see the average number of backlinks you need to rank high for that keyword.
Content Ideas Feature
The Content Ideas feature helps you by suggesting content that is optimized for SEO. It does this by generating a list of articles with your target keywords. The keyword is shown in the title and meta-description. That way you can see what type of content will drive more traffic based on the keywords you have chosen.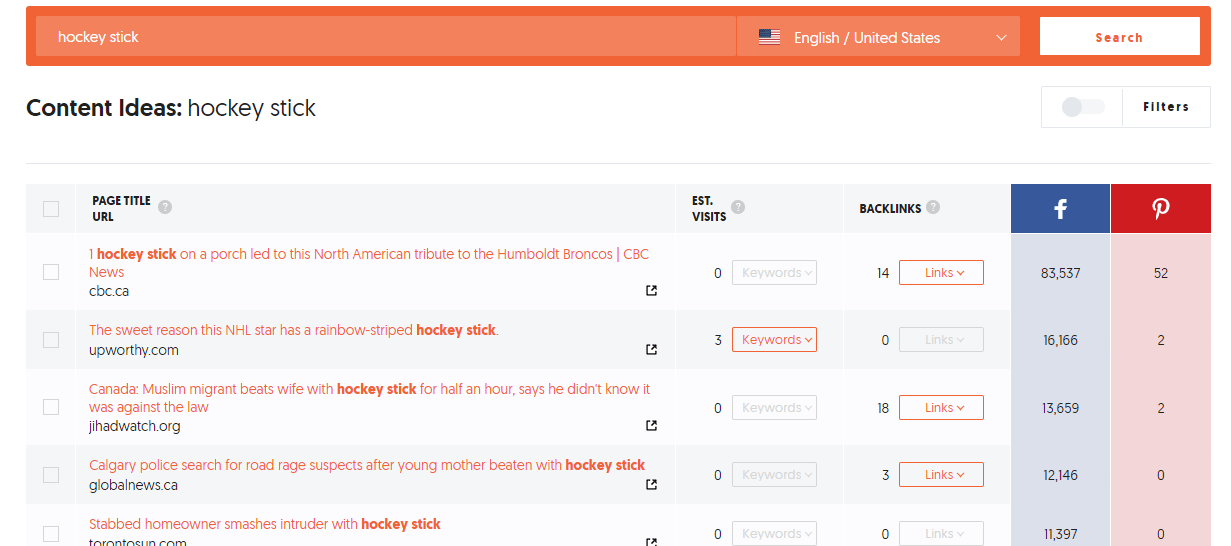 Domain Overview Feature
The next feature we will discuss in this Ubersuggest review is called Domain Overview. Using it, you can get an insight into how your competitors are ranking for specific keywords, the total number of keywords they are using and ranking for, their organic monthly traffic, their domain score (an estimate of how much link authority their domain has), and a number of backlinks. And naturally, you can use this feature to analyze your own domain and upgrade what needs to be upgraded.
You can also see the top pages that receive the most traffic from search engines. You can organize this by country and see the SEO title, URL, estimated number of visitors, and the number of backlinks a site has.
Now, when choosing a keyword you have to remember, the SEO difficulty score generated by Ubersuggest is estimated based on backlinks. It doesn't consider page speed, on-site SEO, titles, descriptions, and content quality. That is why it would be better to find a page that already sends competitor traffic so you can use it as a guideline for your site.
Keywords Feature
Another interesting feature is the Keywords feature that shows you the keywords that send your competitors the most traffic. This, you can also organize by country, see the search volume, SEO position, and estimated number of visitors. And you can use it to generate some new keywords that could work for you.
Here is a list of pages with the most traffic, organized by country with their URL, estimated number of visits, and backlinks displayed.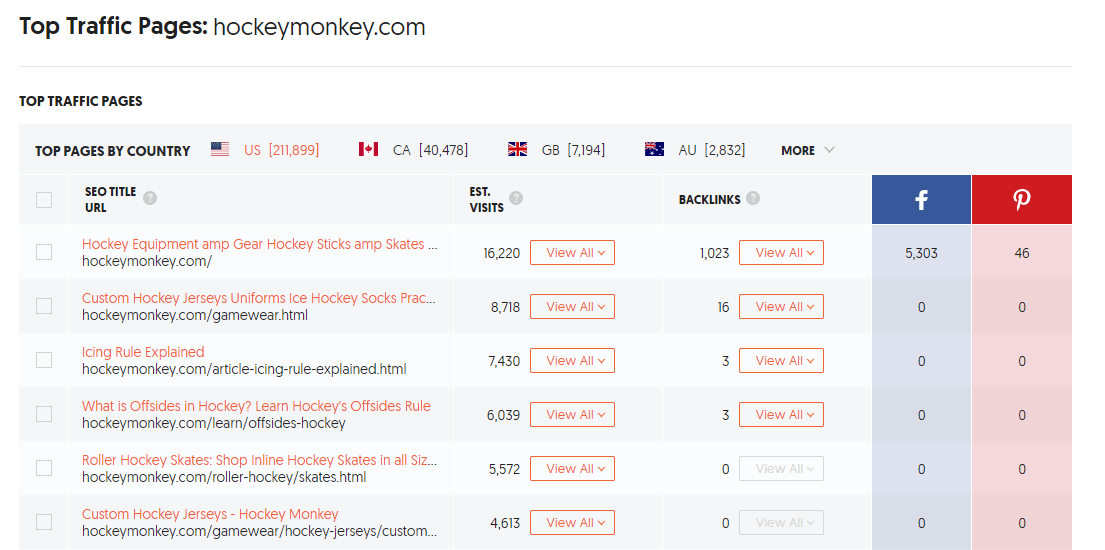 Site Audit Feature
The Site Audit feature runs an SEO audit of your site and gives you recommendations on what to improve. Things to consider are creating mobile-friendly pages, having Google index your site, speeding up your loading times, deleting zombie pages, analyzing backlinks to check their quality, using snippets, and improving the quality of your content.
This is how your report will look like: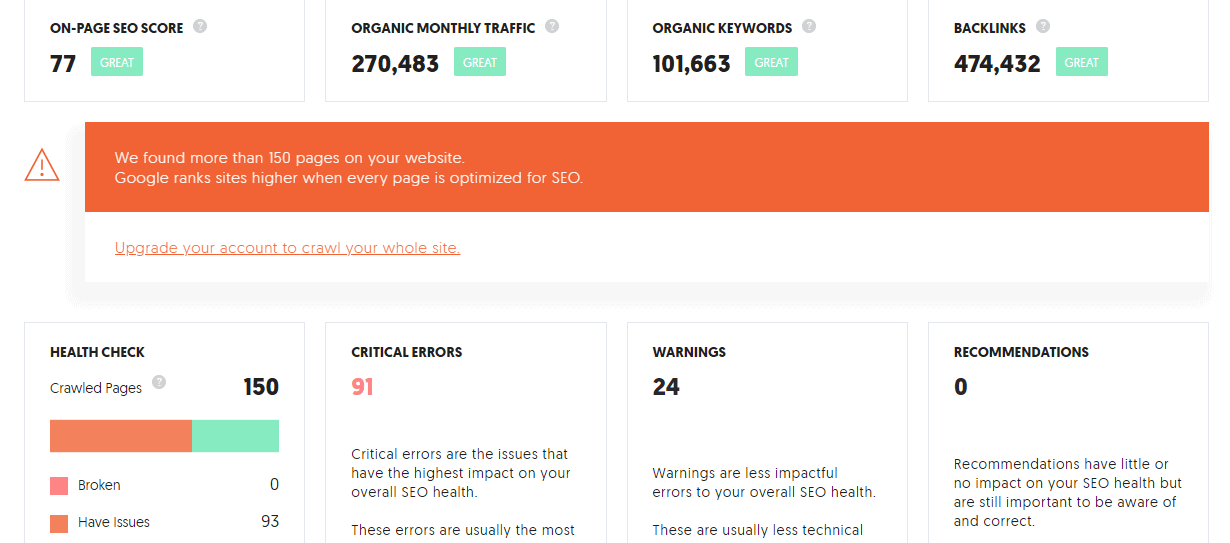 In this audit, you get the rate of organic traffic, organic keywords, and the number of backlinks. You also get an on-page SEO score out of 10, health checks that tell you where the critical errors are that you need to fix, such as duplicate content, blocked pages, and more.
Here is an overview of some other issues it can find:

A very important element you can see is your site speed. It shows you your site loading time for both mobile and desktop pages. And if you click on Advanced Breakdown you can see some issues that you can fix to speed up your site.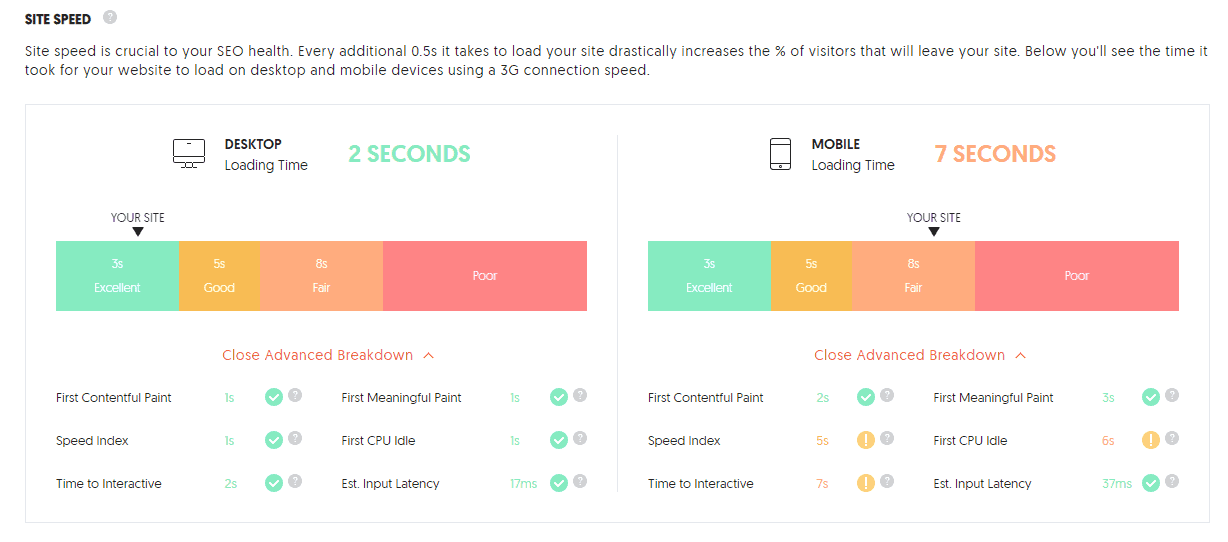 Backlinks Feature
The Backlinks feature gives you an overview of your domain score, the total number of backlinks, and referring domains. For the referring domains, you can see if there are any .gov or .edu site linking to your site, which would give you more credibility.
It's good to mention that you can filter your backlinks (use nofollow links or search for a specific link from a particular domain).
Here is a sample overview: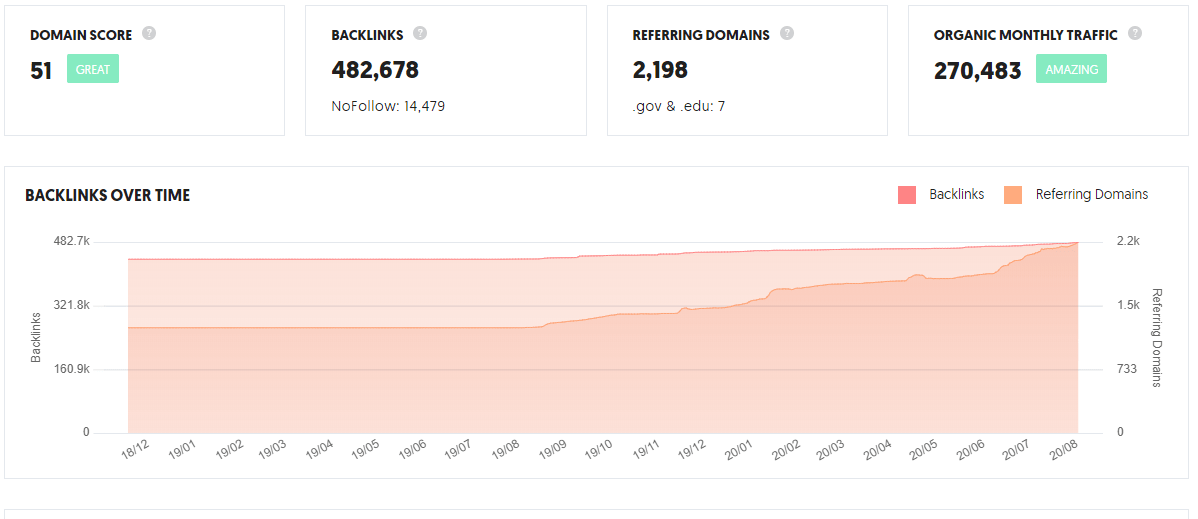 And here is an overview of dofollow and nofollow links:

Fixing these issues can help you achieve better SEO.
Dashboards
If you have more than one site on which you want to use this tool, you can set up a dashboard so that it tracks your traffic, monitors your links, and more. You can also set up projects for each website and see how well they are doing.
For this, you need to create an account (which is still free) and allow it access to your Google Search Console data. If you set up a tracked keywords report, you can see your average ranking positions, distribution, and changes in your SEO.
Here is what pops up as you click on "Create a Project":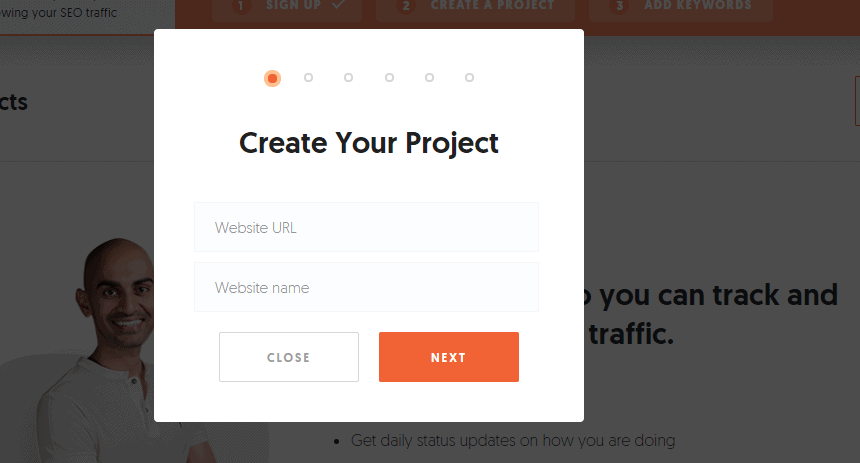 After typing in a name and URL, you choose your location and enter the keywords you are ranking for.
Once this is done, you can start monitoring your sites.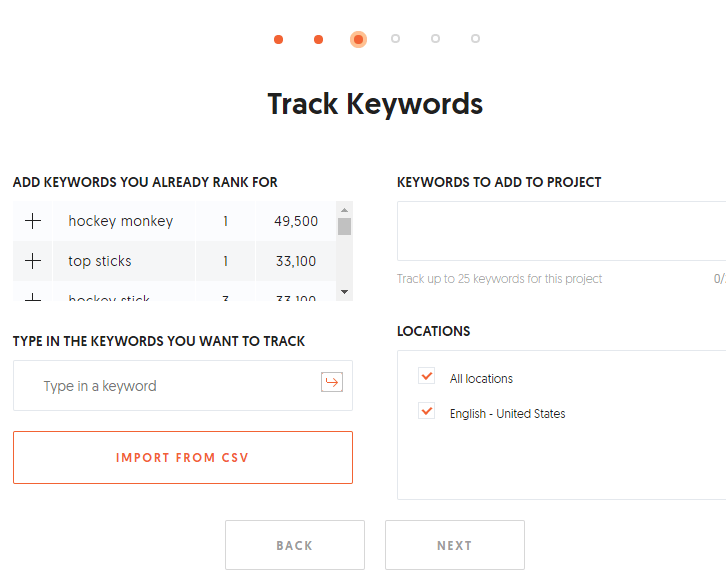 Ubersuggest vs Competitors
Naturally, there are other SEO tools out there, such as Ahrefs, SEMrush, and Moz. And all three are unique in their own way.
Ahrefs is a tool that offers you features needed to improve the ranking of your site and it analyzes backlinks, SEO, and keyword ranking.
SEMrush also offers features to analyze your keywords, your competitors, and it gathers some useful information you would need to run a successful ad campaign such as paid search competitors, audience analysis, and trends. Also, most of the features are offered in the paid plans, with the cheapest one being $99.95 per month.
Moz also offers tools for keyword analysis, rank tracking, website crawling, and on-site SEO. While it has a wide range of features, most of it is offered for paid plans, with the cheapest one being $99 per month, a lot more expensive than Ubersuggest.
As you can see, if you analyze Ubersuggest vs Moz, Ubersuggest vs SEMrush, or Ubersuggest vs Ahrefs, Ubersuggest appears to be the best choice as it offers the same features as all the other SEO tools, but for free.
What Keywords to Choose
To rank high and have great SEO, you need to choose good keywords. To choose the right ones, you need to spend some time analyzing the stats related to your chosen terms so you can see if they fit your campaign.
We suggest you create a list of keywords and search for similar keywords.
Search what your competition is using and ranking for, then find low competition terms, identify the search volume (you will probably want to use a keyword that has a strong search volume for your industry), and finally, assess what is your earning potential and your click-through rates.
Doing this well will ensure your potential audience actually clicks on your site.
Also, don't forget to choose keywords that are trending in popularity so you can get more traffic from them as their popularity grows.
Need help?
If you're ever stuck, don't worry, this tool comes with a database of terms and educational documents that you can use to improve your SEO strategy and learn how to properly use this tool.
You access it by clicking on the Knowledge Base tab.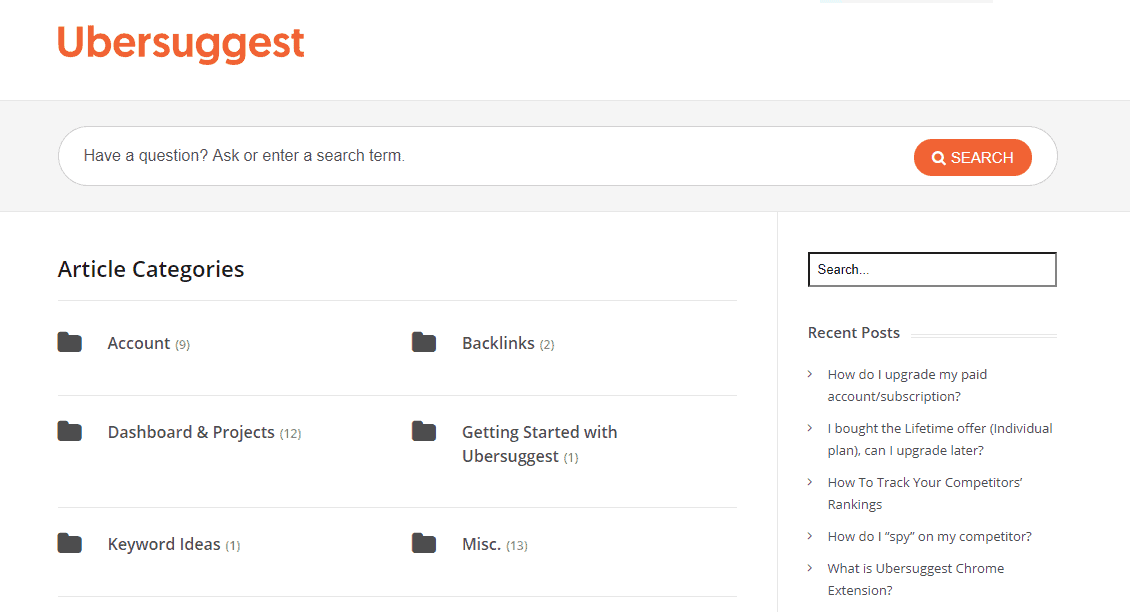 What is the price of Ubersuggest?
As we mentioned before, the tool is free to use. By signing up, you get access to more suggestions and daily rank tracking. And although there is a daily limit for the searches, those are canceled if you sign up for a paid plan.
There are different payment plans for those who need more features, especially if you are a large corporation and need to run SEO campaigns on a large level. The plans range from a basic plan costing $12 per month to the most expensive plan costing $40 per month, which still makes the tool relatively affordable when compared to other tools. However, most of the features are offered for free.
Conclusion
Ubersuggest is a freemium tool that offers a lot of SEO-improving features for free. This makes it one of the most affordable SEO tools, especially for startups and new marketing teams with a limited budget.
After we have done a short Ubersuggest review, we can safely say it is a great tool that is perfect for startups and small businesses who need a tool that has all that is needed for a good SEO strategy. It is also perfect for newbies as it is easy to use and you can see different keyword ideas that are based on multiple sources.
Lastly, we would like to point out that Ubersuggest has a new free Chrome extension that helps you find more keywords on Google, Amazon, and YouTube. You can get the extension at this link.