With the massive uprise in the popularity of online learning, there is now more access to online certification programs of all kinds, and project management is not excluded from this.
An online certificate program in project management might be a good option for anyone already working in the field or looking to expand their skillset and maybe eventually transfer to a different career path altogether.
According to recent statistics, 97 percent of businesses believe that product management is crucial to their operations. And while project management has always been around, it did not gain popularity as a standalone career path until the 1950s.
If you are looking for #online #project #management #courses then you have come to the right place. We have listed several free and paid options for you.
Project managers can now be found in almost any industry. And it should come as no surprise that a project can only be completed as efficiently as it is planned and managed. So, if you're one of these individuals looking to broaden their horizons, then keep reading.
What Online Project Managements Courses Have to Offer
Full-time employees can benefit from online project management certification programs by maximizing their potential. They can accomplish this by teaching them how to efficiently plan, schedule, budget, and execute projects. What better way to complete a project?
Through taking online courses, professionals can acquire degrees, certificates, or extra globally recognized certifications in the PMI field, depending on the curriculum and the institution running the course. While some are more minimal, others are way more comprehensive and can lead to a career change. Today, we'll talk about both, so stick around.
Top Free Paid-For Online Management Courses
1. Brain Sensei's PMP Course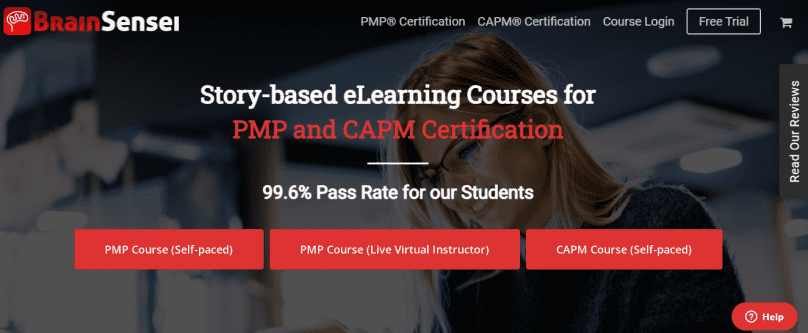 Brain Sensei is one of the most popular online PMP credential courses. If you get it directly on their platform, all services are available at a reduced cost – and hey, who hates discounts? Brain Sensei's e-learning program is a training course that focuses on assisting professionals in preparing for their PMP certified tests.
The program is six months long, and over those six months, Brain Sensei's curriculum provides learners with nine multi-assessment modules and over 800 practice test questions.
This test preparation course is ideal for working professionals who want to advance their careers while working. However, it also implies that self-motivation is required, and you will be doing a lot on your own.
2. CompTIA Project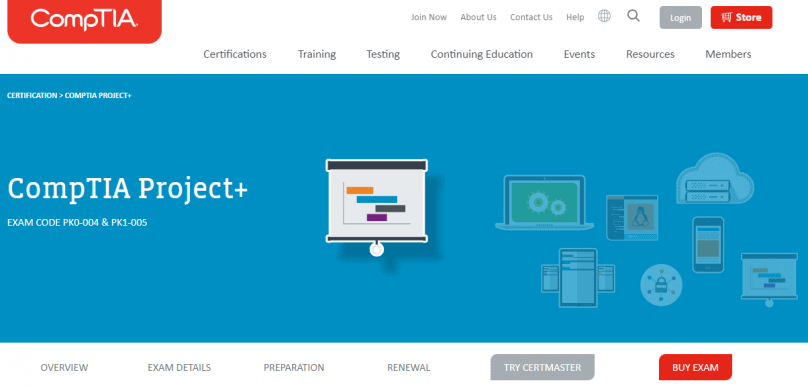 CompTIA Project+ is a certification offered by CompTIA, the world's largest technology trade association. The course is primarily intended for entry-level project managers or those in charge of smaller, less complex projects.
The course provides more than enough resources and information from various sectors. Some of them are: the IT sector, research institutes, government officials, and independent experts teaching essential project management information.
After completing this course, you should have the knowledge and abilities necessary to effectively manage the project life cycle, project documentation, stakeholder coordination, and effective communication. Essentially, this course is a bit of an all-in-one of project management.
3. Project Management Principles and Practices Specialization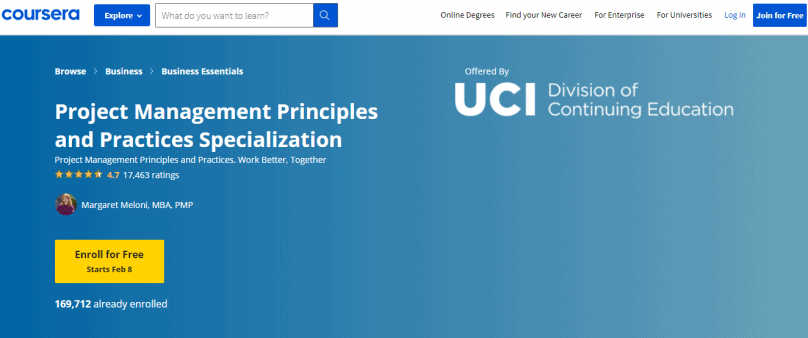 The Project Management Professional Certificate program does have some professional pre-requisites, but if you meet them, we would highly advise you to take this course. It is a set of four comprehensive, hands-on courses that teach project management fundamentals and prepare learners to manage work projects effectively.
Also, it provides the most efficient ways for completing projects within budget, schedule, and resource restrictions while ensuring that the end-user receives the result they anticipate.
Learners work on a variety of projects and tasks throughout the program, providing them with the necessary working knowledge of project management fundamentals and the chance to put it into effect. The course is well-reviewed by previous attendance, and we all know customer reviews are gold.
Top Free Online Management Courses
1. Fundamentals of Project Planning and Management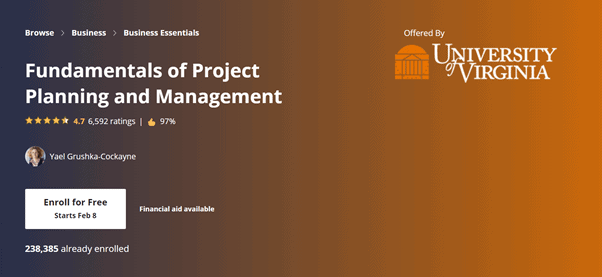 The Fundamentals of Project Planning and Management is an introductory course that covers the fundamentals of project planning and execution. Everyone who enrolls will learn about standard business practices and how to manage various projects.
Also, you'll learn how to design and manage projects if you sign up. Furthermore, this course contains a wealth of information that will almost certainly ensure project success.
Planning concepts and execution approaches are also included in the course, and both are essential for efficient project management further down the line.
2. Introduction to Project Management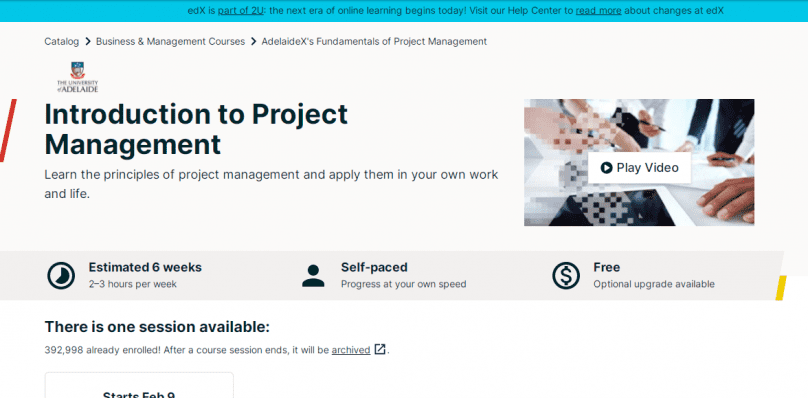 Whether your project is gigantic or tiny, you will discover practical methods to employ project management skills in the Introduction to Project Management course. Even though primarily geared at business, project management is also a valuable life shill anyone could use in their daily life.
Everyone needs project management skills, but if you're planning to transfer them from just your home life into an actual business skill, Introduction to Project Management is a great place to start.
It's also an excellent choice for those planning a project in the near future and wants to improve their project management skills. While the course itself is free, certification does cost money.
Final Thoughts
Consider taking online courses if you don't have much free time but want to improve your project management knowledge.
Education lasts a lifetime, and even if you don't have the money for a paid-for course at this very moment, you can always start with free ones and climb your way forward.