Web hosting is a service that lets you have a website on the internet. The company that provides this service has the technologies that allow you to post your site online. Your hosting company provides you with features that are needed for hosting a site, such as unique email accounts, a domain name, FTP access, and WP support.
Web #hosting is really important as you want to make sure your site is running well, is fast to load, has good quality pictures, and is #responsive to all #devices.
That is why you want to make sure you choose a good company. A good web host should have technicians on their team that make sure your website is up and running all the times, and in case of some issues, they are there to help you troubleshoot it, debug it, or find whatever is wrong with it, and of course, fix it. Basically, a hosting company takes care of your site so you can focus on other aspects of running a business.
Here is a list of the best hosting companies you probably don't know about, but we think you should.
1. WP Super Host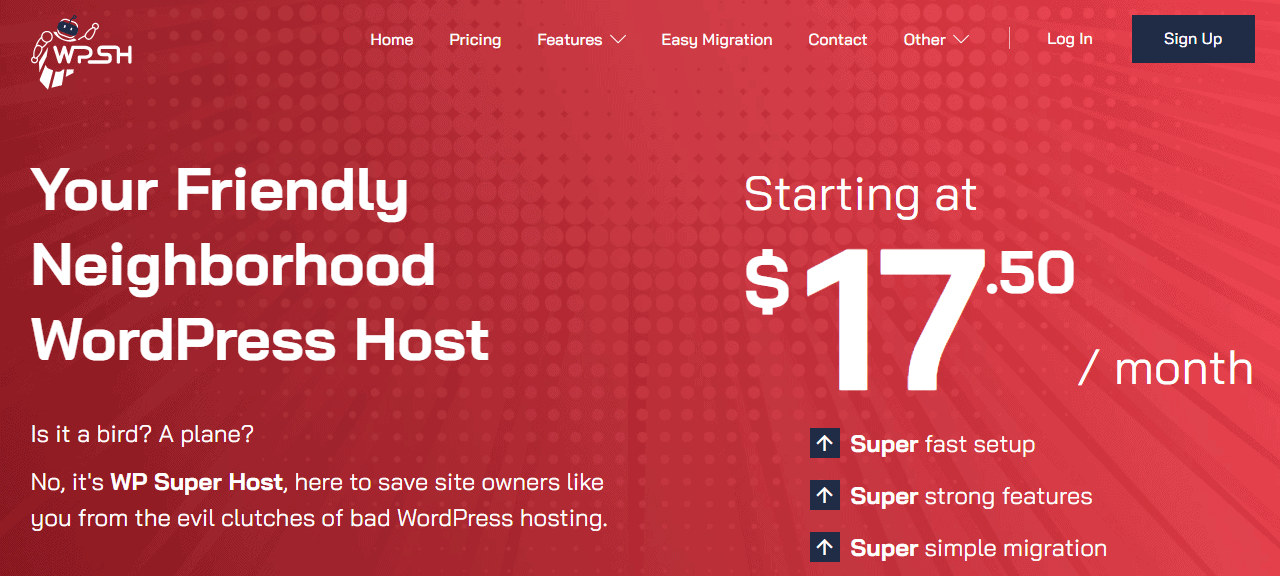 WP Super Host is a WordPress hosting service designed to help you migrate your site easily. It is great if you already have a host you are not satisfied with so you can quickly migrate to a better one.
WP Super Host engineers can move the site for you, you just have to fill out a form. But you can also do it yourself (you will get step by step instructions).
The service also comes with a friendly user interface and an intuitive dashboard, so it is easy for you to manage your site.
On the dashboard, you can see all of your updates, get insights on what is happening with your site, and see how you can improve your SEO.
Probably the best thing about this hosting company is that it offers a reliable web hosting service with lifetime access for just $69. This is great once you realize that other hosting companies charge you yearly or monthly fees. But with WP Super Host, you pay once and use it forever.
2. Brixly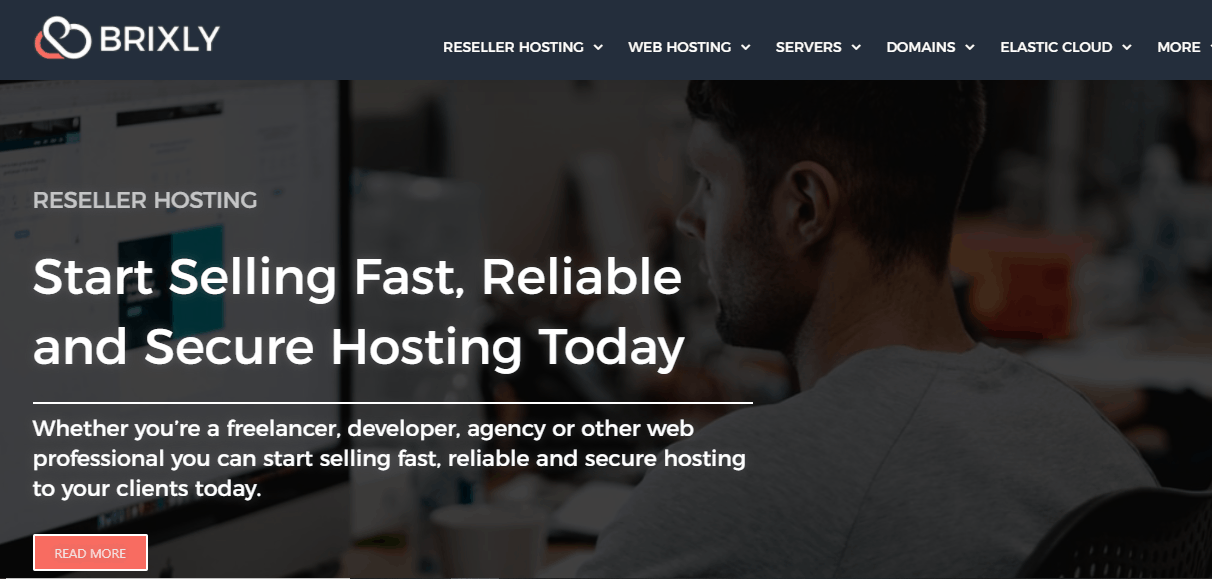 Brixly is a hosting company used by freelancers, developers, and agencies. It offers fast, reliable, and secure hosting to you and your clients.
You will get performance-optimized hosting, free SSL certificates, an unlimited number of mailboxes, and a drag and drop builder for your site. Also, you get a web application firewall and malware protection that will keep your site safe.
Using Brixly, you can quickly migrate your site with a full cPanel backup which can be restored to avoid any data loss. It is also WP optimized to ensure you have the best possible hosting.
There are several different payment plans that you can choose from, ranging from €3 to €59.95 with some extra features and benefits added to each plan. These fees are paid monthly. And naturally, you get technical support in case there are any issues you need to solve.
3. Scala Hosting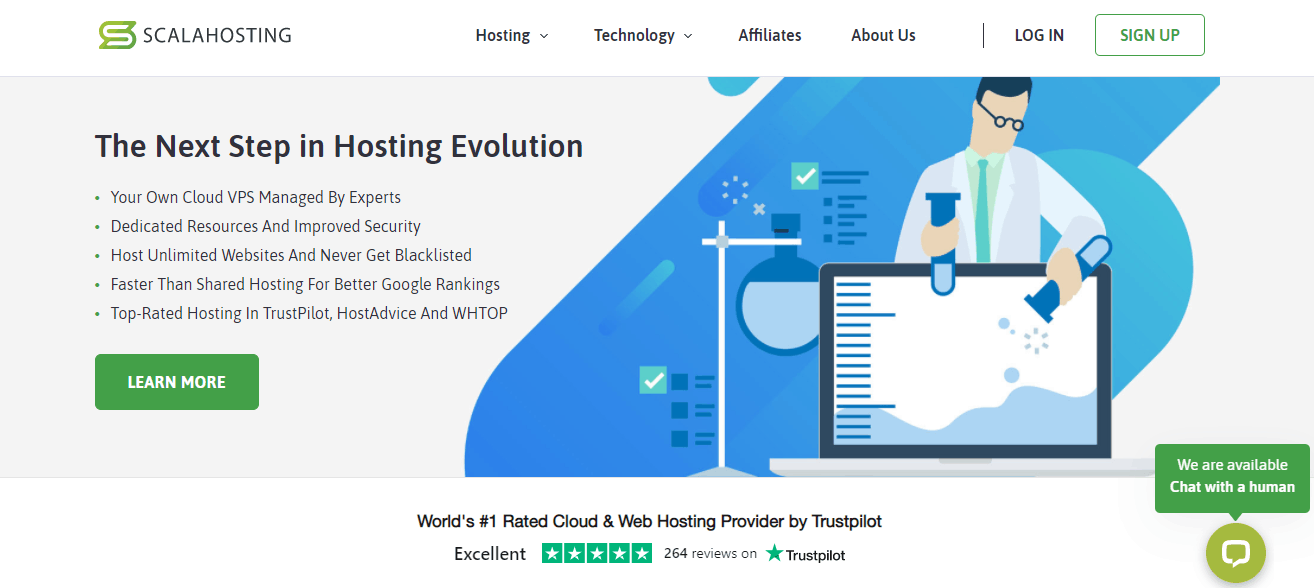 Scala Hosting is a cloud and web hosting provider. It offers you your own cloud VPS managed by great staff, extra security, and faster hosting for better SEO. You also get hosting for an unlimited number of sites and your site cannot be blacklisted.
All websites are also protected by SShield Cybersecurity protection. Also, Scala Hosting is one of the best hosting companies when it comes to customer satisfaction, which serves to prove it is a reliable hosting company.
There are also different types of hosting available, each with different features, pros, and costs. You can choose from a managed cloud VPS, self-managed cloud VPS, web hosting, WP hosting, and many others. The fees are paid monthly.
4. Hostwinds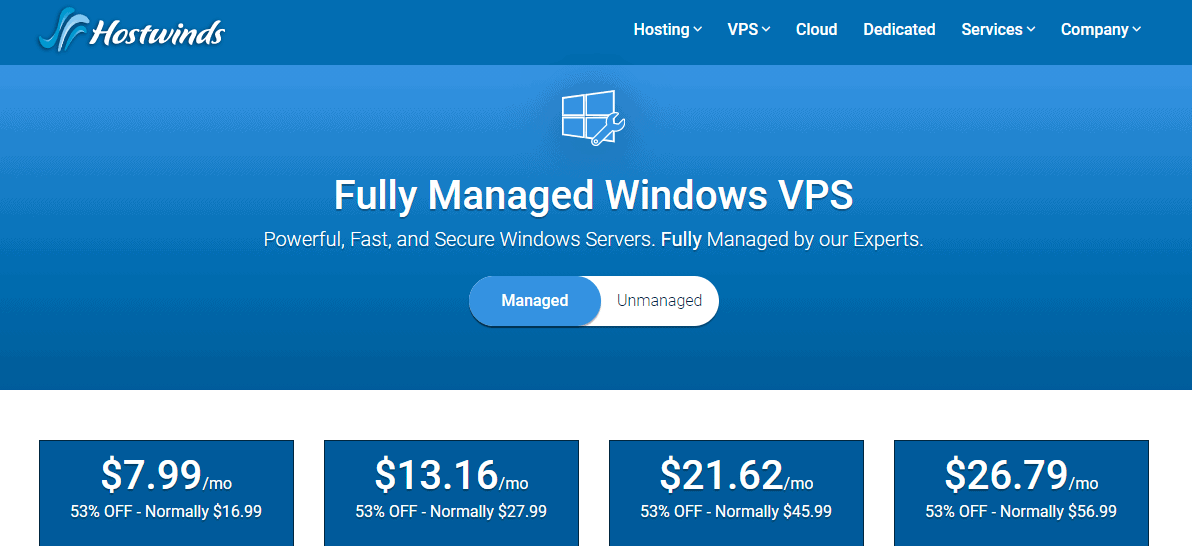 Hostwinds is a powerful, fast, and secure Windows Server. With it, you will get full support and stability from its redundant network of providers. Real-time service monitoring is also offered so once an issue is identified, a ticket is created and the experts can fix the issues on your site right away.
You also get night backups so your data is automatically backed up to a cloud each night. That way you don't lose any data. And naturally, you will get full technical support at any time.
Other features include load balancers that are designed to control how your traffic is distributed, custom images, the ability to increase your server's storage capacity, and the ability to build rules for incoming traffic to protect your server.
There are different payment plans available, starting from $7.99 per month, and going up to $26.79 per month.
5. BigRock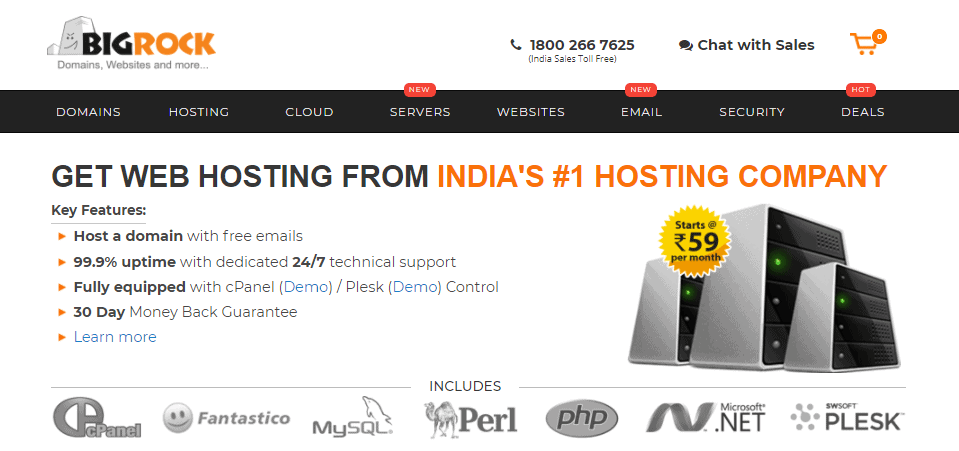 BigRock is a web hosting company that allows you to choose between a Linux or Windows plan for website hosting. There are also other types of hosting plans you can choose from (Linux or Windows shared hosting, WP hosting, and Linux or Windows reseller hosting). Choose one based on what it is you require from a website hosting service.
Main features include different programming languages (PHP, asp.net, python), single domain hosting, unlimited number of emails, email tracking, spam protection, URL masking, qualified technical support, and 24/7 live chat access in case you have any issues.
6. MochaHost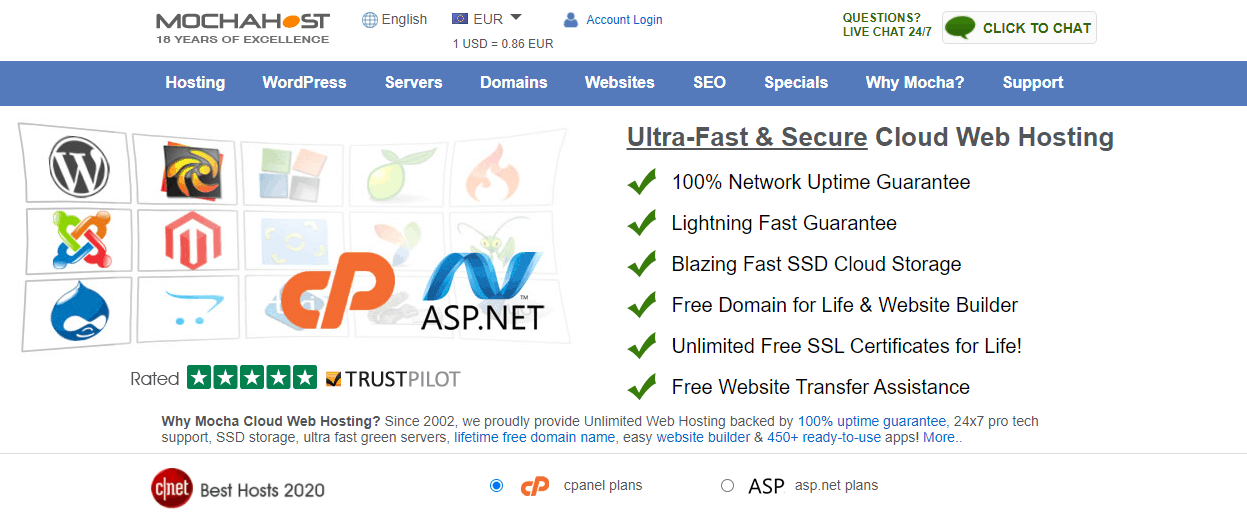 MochaHost is a cloud web hosting provider that offers a free domain, a web builder, and an unlimited number of SSL certificates for free. You get migration assistance and a website builder with over 500 templates you can choose from. All of the clouds are equipped with the fastest processors that give you plenty of resources and application firewalls for better security.
There are different plans you can choose from, starting at $1.52 per month and going up to $4.36 per month. All of the plans are GDPR compliant and you get them for unlimited monthly traffic and with unlimited disk space.
7. Just Host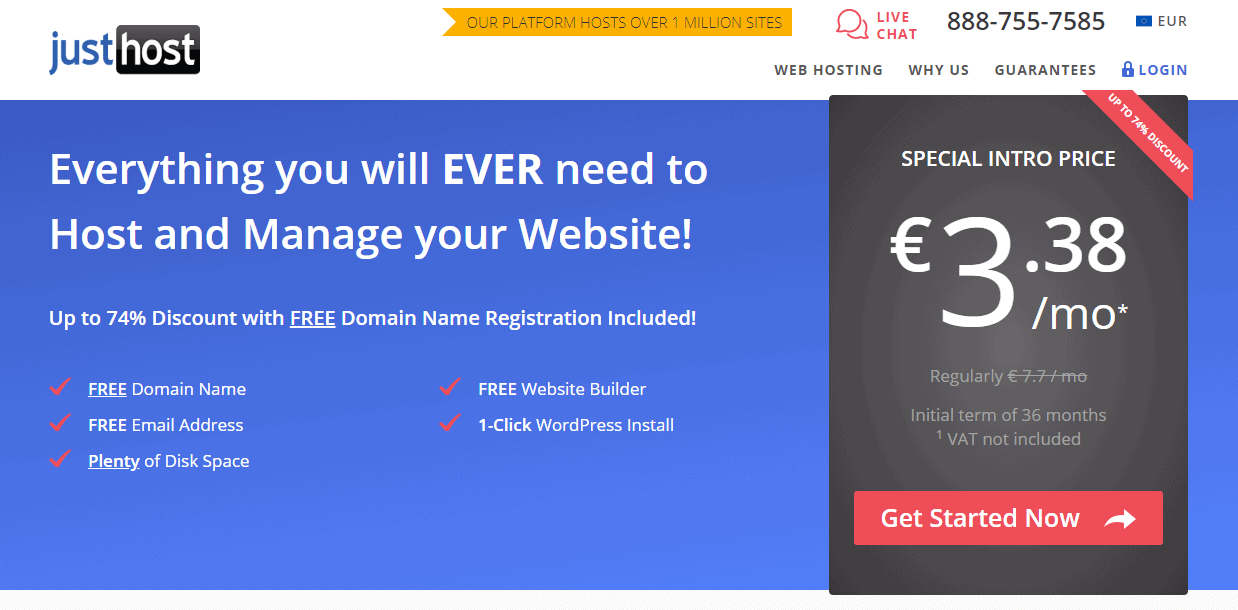 Just Host is another web hosting company that gives you a drag and drop builder for your site and thousands of templates to design your site. You get free domain registration for 1 year, domain forwarding, and DNS management.
There is also 24/7 email, phone, and chat support, and great tutorials that explain what web hosting is and how to fix many common issues you might have. You can also set up unlimited email addresses for your own domain with forwarding and autoresponders.
On top of that, you get cPanel account control, FTP access, web file manager, secure shell access, hotlink protection, log files, site statistics, and some more features.
8. tsoHost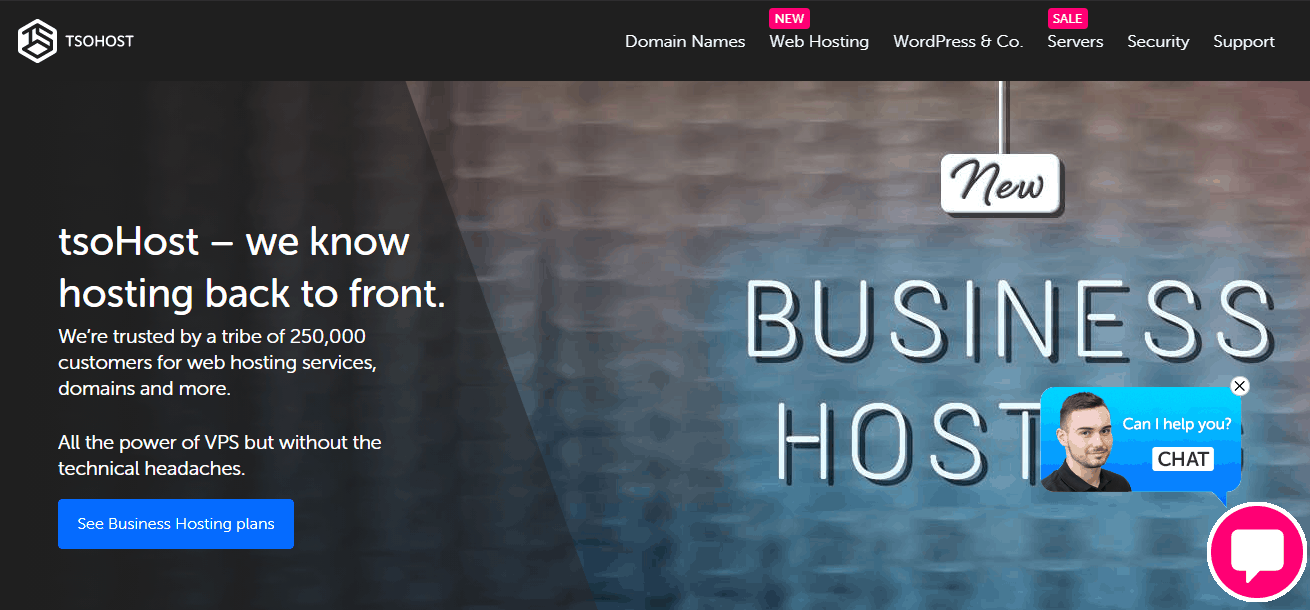 tsoHost offers you WP hosting, cPanel web hosting, or fully managed VPS hosting for your site. You also get a domain name for free and can choose from different extensions (.co, .org, .com) for your site.
You get great customer service, the cPanel control panel, one-click app installs, free website migration, unlimited bandwidth, and future-proofing (PHP and MySQL). There are also advanced firewalls for better security and free SSL certificates.
There are different payment plans offered, starting at $3.99 per month and going up to $14.99 per month.
Conclusion
As you can see, there are many hosting companies that are doing a great job and offer you the best features for safe and reliable website hosting. Choosing the right web hosting company is very important, so make sure you spend some time checking and analyzing which ones are the best.
The one we would recommend is WP Super Host. It offers you a lot of great features, great technical support, and is also the cheapest as you only pay once and get lifetime access to a website hosting service.