Now every website needs a lot of groundwork. Content, images videos, links, etc. What if you have the website made, but the intricate details are still a work in progress? What if it's time for your website to undergo renovation or a complete overhaul? At such times, the maintenance mode or under construction plugin is the best friend you can lean on.
Need a coming soon page for your #WordPress site? One of these plugins will meet all of your needs.
Going further down this page, we will take you through the best 8 'Coming Soon, Maintenance Mode or Under construction pages' that are available in the market. The features that these plugins offer and every other intricate detail. By the end of it, you will surely have a clear picture of what exactly you need when your website has a facelift in the pipeline.
UnderConstructionPage offers dedicated page building options. The plugin offers a very simple, user-friendly design option and is packed with only the essentials that you will need to build a page in the shortest span of time.
Making your under construction pages requires a lot of work and one of them is putting up the right image to suit the ambiance of the website. Searching such an image that matches your requirements is a tricky task. Well, not anymore. UnderConstructionPage is powered by Unsplash offers you more than 400,000 images in HD and 4K resolutions!
If you wish to build your maintenance page, then there is no dearth of templates under the umbrella of UCP. With the UCP you can track your users and share the intel on Social Media for your affiliates, thus ensuring the highest conversion rate. Upon getting the UCP plugin, you can authorize control for the complete website, the front page, and any page to ensure optimum flexibility.
The support provided by UnderConstructionPage is exceptional. The guys are friendly, forthcoming, fast and mean business when you ask for assistance. The UCP plugin comes in 2 price packages. The Pro Package for $69 is mainly for one website with lifetime upgrades and support. It offers you MailChimp integration, almost 200 templates, instant download and activation coupled with the affiliate module. The Agency package at $250 allows you plugin installation in 'unlimited' sites, over a hundred templates, drag & drop builder modules, Zapier integration plus all the features in the Pro Package.
Coming Soon & Maintenance Page is another plugin that you should give a serious look. This one comes with a very elementary drag & drop page builder. Your involvement with coding or intricate designing will be none. The plugin offers you an impressive array of themes with 650,000+ images. The plugin is SEO ready and provides you with analytics-driven input. The Coming Soon & Maintenance Page also allows you to block search engines if your website is under maintenance.
On the page designing front, this plugin has the simplest drag & drop page building features and once you get a hang of it, it is going to blow you away. You are offered a transparent background just for the content section and over 40 introductory animations among other features. You can select a static image background or an animated video background for the maintenance page, reposition the image of the video, alter background color and image size.
Make your own logo for the maintenance page, edit the page header, experiment with over 700 Google fonts, be creative with the content, content size, text, color, and font. You can also add a map and edit its features, design a contact/subscription form, social icons, countdown timer and a lot more features waiting to be used by you.
The plugin is very strategically priced. The cheapest package is the Pro Yearly package at $29 a year usable in the only site and packed with over 30 templates, fully feature packed and carries a year-long tenure for updates and support. The Pro Lifetime package offers that same features as the Pro Yearly but for a one-time payment of $79. The Pro Lifetime also offers you a lifetime of updates and support. The $199 worth Agency Lifetime package allows the plugin to be used in unlimited sites. Added to that you get access to more than 70 templates and a lifetime of support and updates.
This free plugin is used by more than 400,000 users which are happy to use its vast features when creating new coming soon or maintenance pages.
Maintenance allows you to configure practically every part of your pages. Add custom images, upload logos and even control the blur effect to make the page more visually stunning than before. When it comes to editing content, it's easy to customize titles, headlines and any custom text you want to show on the page.
Maintenance plugin allows you to choose pages that won't be a part of the maintenance mode, so you show them to your regular visitor while the other pages are covered by the maintenance page.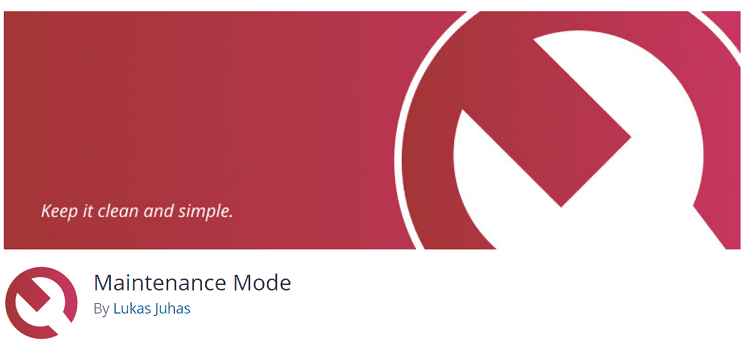 WordPress Maintenance Mode is currently being used by over 600,000 happy customers and the feedback garnered is amazing. Download and activate the plugin to put your website in maintenance mode. Visibility can be restricted to all users or can be limited for select users which completely depends on you.
The plugin has completely customizable features allowing alteration of colors, fonts and backgrounds, the export of subscription form to .csv files, compatibility to any WordPress theme, a contact form to keep receiving emails, a countdown timer, social media icons, landing page templates and coming soon pages, GDPR compatible. The feature list is short and crisp and that is the reason, WordPress Maintenance Mode plugin is regarded as one of the best.
The plugin is free for use and if you like what you get when you can always go ahead and make a contribution to it.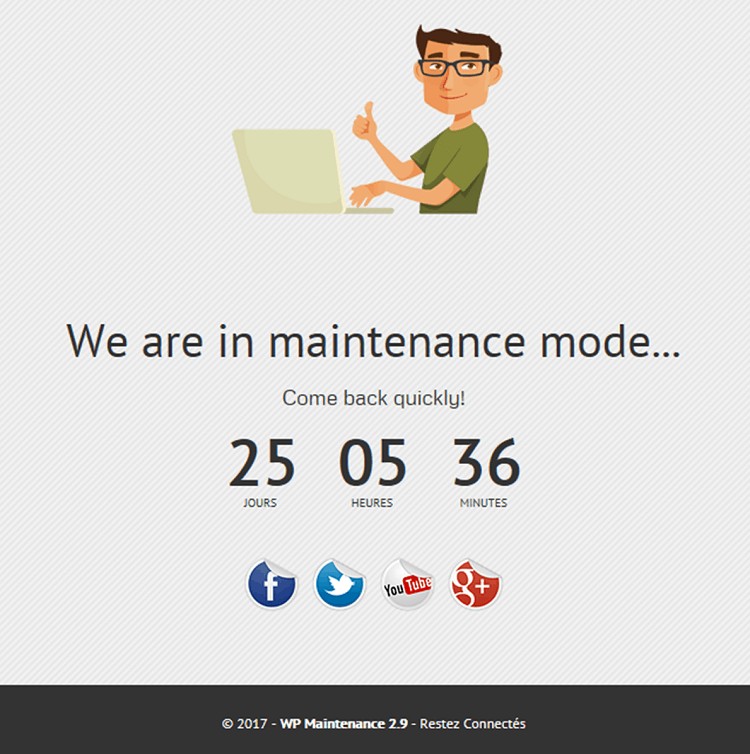 Created by Florent Maillefaud, this plugin comes with a huge array of features and options. You can upload your custom logos, display the banner with a countdown timer and in multiple languages. You get to unleash your creativity with the text colors, fonts, and sizes, alter the background picture or pattern.
The plugin is Google Analytics and Social Media ready. The accessibility in this plugin can be chosen selecting options such as IP Addresses and ID badges, etc. The default page is very simple, but you do get access to HTML/CSS to make more intricate or personalized changes, However, if you are not a coder, than sticking to the default page is the best thing to do.
The plugin is free to install and activate.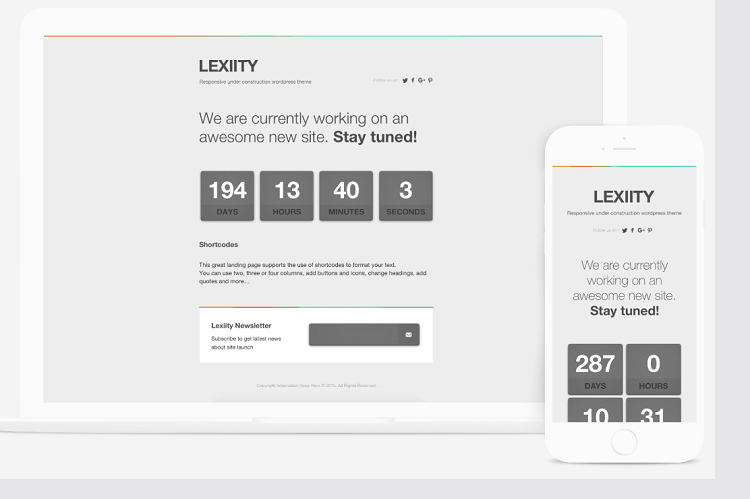 Lexiity is a fantastic coming soon theme in the current market. The theme layout is device responsive which means it can be opened is any smart visual device. The theme supports multiple languages thus catering to a multilingual audience. It comes without the original branding thus opening the doors for your customization ideas. The theme has a shortcode generator that allows you to edit rows, columns, buttons, etc. without spending a second to learn to code.
Lexiity has very extensive documentation data thus if you get stuck with your themes, the solution is round around the corner. Moreover, the support system of Lexiity does not let you down and is at your beck and call even on Facebook and Twitter.
For a single theme, you have to make a one-off payment of $49 and you get lifetime theme updates and premium support, license for personal and commercial use, lifetime usage and domain access, all the.PSD files and 20% off on future purchases. Going up the pricing band, you can pay $89 for a year and get access to all the themes and except the discount, you get everything from the Single Theme package. Now if you pay a one time sum of $247, then you get access to all the current themes and also the future themes along with the features of the $89 yearly package.
However, there is this one tiny thing that some might find upsetting about Lexiity – it is a black and white theme. So if your demand is in color, then please read further to see other options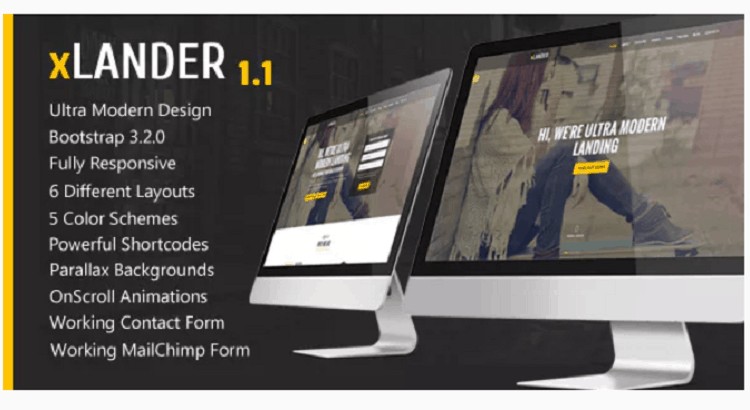 The XLander WordPress theme is a robust, eccentric, and professional theme perfectly usable for blogs, business websites, or online entrepreneurs. The theme is incredibly flexible regarding features and configuration options that you can use to launch your site quickly and with style all thanks to its Bootstrap responsive landing.
xLander packs a Visual Composer Page Builder which helps users to create pages with multiple layout options. The plugin has HTML5 and CSS3 as its underpinnings making it a lightweight plugin. xLander is also compatible with MailChimp. On the lower side, what might set off the new user is the complex features of the theme. So if a beginner lays their hands on xLander, they are going to have a hard time navigating through this plugin.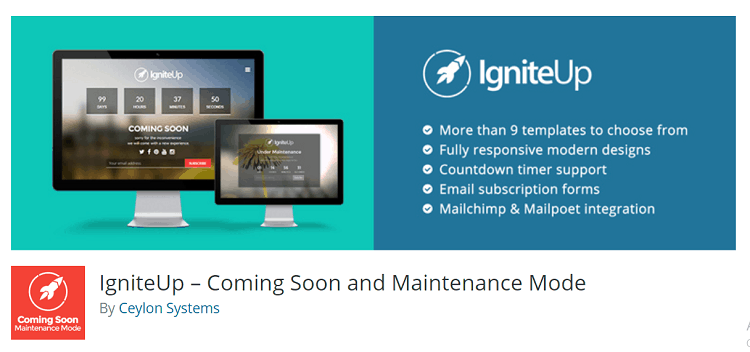 IgniteUP is another feature-packed maintenance or coming soon plugin. It comes with more than 7 pre-built templates, responsive to multiple devices and supports every WordPress Theme. The plugin also gives the 503 error response to the search engines, it is equipped with email subscription forms, integrated to MailChimp and Mailpoet, supports multiple languages. Moreover, IgniteUP also provides a contact form and map feature as well as animated background effects.
Now the best part of IgniteUP is, all these features are free. Yes, you heard it right. The plugin is open-source. Nonetheless, if IgniteUP has impressed you and added value to your website, you can always go ahead and make a contribution towards the advancement of this plugin.
Over To You
Well after looking at all these plugins and themes, it is indeed a very hard choice to make. Understanding the purpose of the under construction is critical. It can be used as a page the relays basic information before the actual website is live or it can be used as a curtain-raiser if you have something exciting for users. What you should first look into the project, your preference and the overall perception of your website. Once these three factors are out of the way, finding your desired plugin is just a walk at the park.