HubSpot is a well-known marketing and sales software used for almost 16 years. It was developed in 2006 by Brian Halligan and Dharmesh Shah at MIT. HubSpot tools are created to help companies with various aspects of CRM tools, social media marketing, customer service, content and lead generation management, etc.
HubSpot is considered an excellent overall "marketing solution" software used worldwide. It became popular with its CRM Free tool, launched in 2014. But, this software is mainly created for well-established businesses or large companies to use it.
If you are looking for a quality #HubSpot #alternative, look no further. We've listed #six excellent #options worth giving a shot in this article. Read on!
Although it has some free features (CRM Free), you will have to pay hefty subscription fees for paid plans to access its main tools, which are significant in marketing and sales.
HubSpot is not affordable for small businesses or startups with limited budgets. Below are 6 top alternatives to HubSpot you can use to get the same results at an affordable price:
1. EngageBay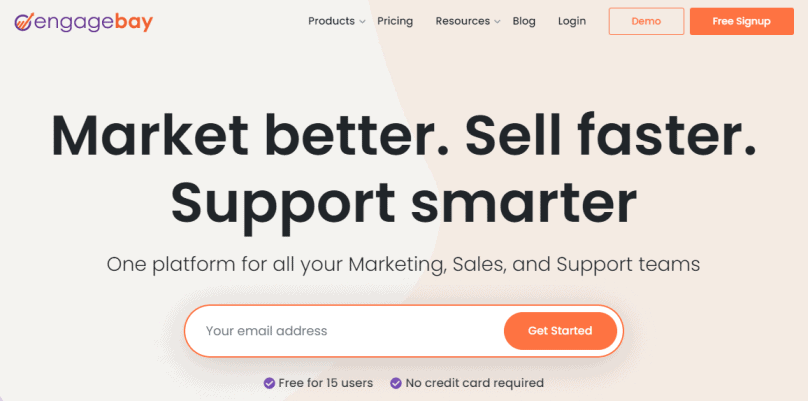 EngageBay is a software platform that connects tools for marketing, sales, and customer support teams. It has a set of four products that are called Bay:
All-in-One Suite
Marketing Bay
CRM & Sales Bay
Service Bay
All-in-One Suite has around 15 features that are necessary for sales and marketing, like marketing automation, email marketing, email sequences, landing pages, CMS, scheduling software, free CRM, and more.
Marketing Bay is more narrowed down to important marketing tools:
automation,
email,
SMS and inbound marketing,
site messaging,
contact segmentation, etc.
CRM & Sales Bay consists of sales tools, free and sales CRMs, CRM email integration, and CRM telephony. However, Service Bay mainly focused on customer service, with tools to improve customer satisfaction, prompt help, and support.
EngageBay has a free plan and three paid plans: Basic, Growth, and Pro. All paid plans are scalable, and the migration service is free.
2. Sendinblue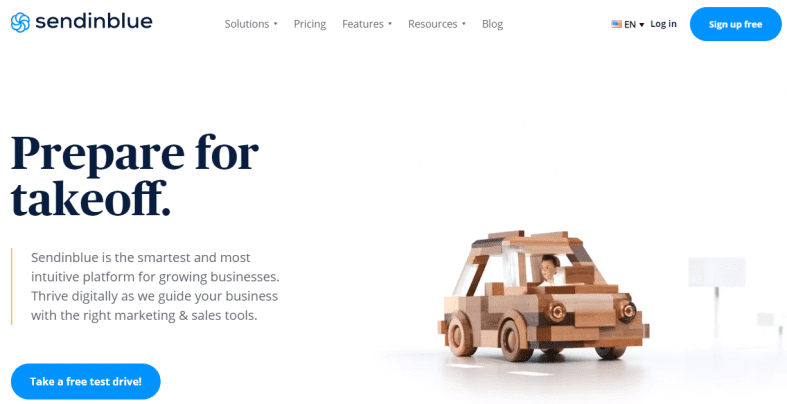 Sendinblue has marketing and sales tools to grow your business.
Features of Sendinblue
Communication Features
Email Marketing
Email API
SMS Marketing
Chat
Inbox
Personalization Features
CRM
Marketing Automation
Transactional Email
Convert Features
Signup Forms
Landing Pages
Facebook Ads
Sendinblue is perfect for small businesses with a limited budget. The tools that Sendinblue provides will enable the growth of the company. Furthermore, you will be able to connect your eCommerce business to Sendinblue and have access to around 150+ integrations.
Also, we must mention that this tool is rated as one of the best SMBs platforms in 2021. It has a free plan and scalable paid plans from Lite ($25/mo), Premium, to Enterprise pricing plan.
3. Ontraport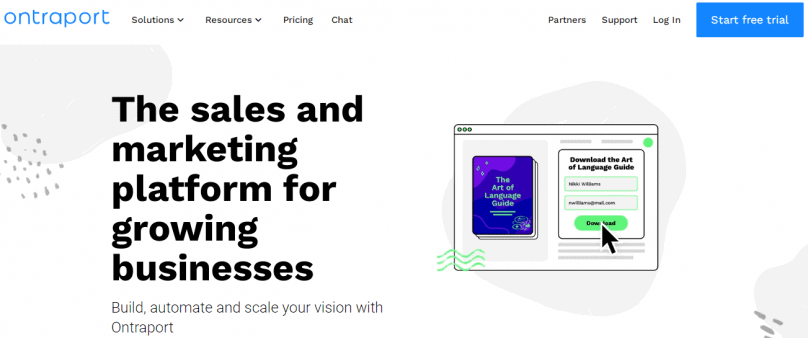 Ontraport platform will help you to build, automate and scale your business. This online app provides users with sales, marketing, and management tools. You can also scale all Ontraport sales and marketing platform features as your business grows.
Some of the Ontraport solutions are:
Sales + CRM
No-Code Web Apps
Payments
Pages + Forms
Marketing Automation
Platform
Support
Ontraport has four pricing plans (Basic, Plus, Pro, and Enterprise) and has a 14-day free trial.
4. ActiveCampaign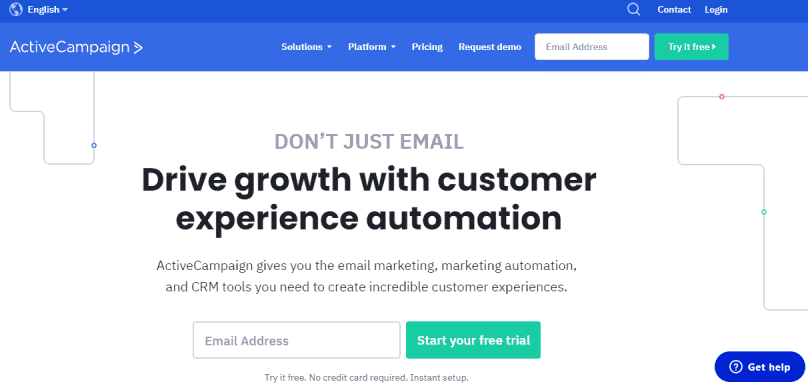 ActiveCampaign is the platform for Customer Experience Automation. It covers industries from Small Businesses, Education, Travel, Non-Profit to Technology and Enterprise. Also, the solutions of ActiveCampaign will fulfill the needs of B2B, B2C and eCommerce businesses.
ActiveCampaign features by-product are:
Email Marketing
Marketing Automation
CRM & Sales Automation
Sales Engagement
Service & Support
Pricing is scalable by the number of contacts (from 500 to 100K contacts), and then you get calculated prices per plan (Lite, Plus, Professional and Enterprise).
5. Drip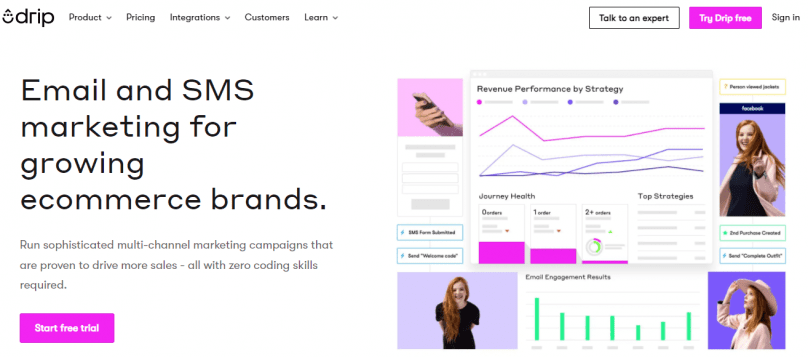 Drip is slightly different from the previous ones, however, it is still a great alternative to HubSpot. Drip's main selling point is also that it offers multi-channel marketing solutions for eCommerce.
Furthermore, it is vital to point out that no coding is required to use Drip, and it will help you drive more sales through its marketing campaigns.
Features of Drip are following:
Forms & Popups
Automation
Email Marketing
Segmentation & Personalization
SMS Marketing
Insights & Guidance
Additionally, it is designed for individual marketing for owners of eCommerce stores. Moreover, Drip easily integrates with Shopify, WooCommerce, and Custom Store and has around 100+ featured integrations.
Lastly, the essential fact is that pricing is flexible, and it starts at $19/mo for 500 contacts, and you can scale pricing up to 10,000K contacts.
6. GetResponse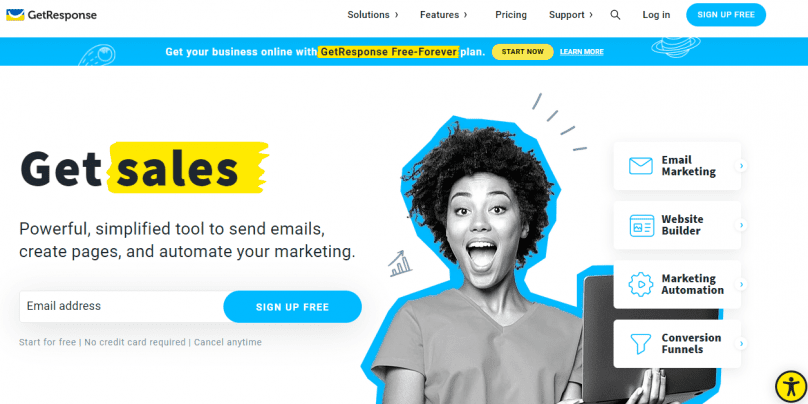 GetResponse offers a Free-Forever plan, which is helpful if you are starting with your online business. It is a marketing automation tool that will create pages and send emails for you.
Furthermore, this online tool also has many beneficial features to an online marketer, marketing manager, or medium and large businesses. With this tool, you can generate leads, sell knowledge, or work from home.
Some of GetResponse features are:
Email marketing
Marketing automation
Web push notification
Live chat, and many more useful ones.
You can create a Free account (up to 500 contacts); three paid plans are Basic, Plus, and Professional.
Conclusion
Marketing and sales are essential parts of any business.
Everybody needs good and affordable software tools to help them run this side of their business. Since Startups are beginning to be more and more important in developing various business solutions, this list of 6 top alternatives to HubSpot is of great help to all of you.