Regardless if a site was coded from scratch or built using a CMS like WordPress, it is never completely safe from cyber attacks and people with malicious intentions. For any site admin or owner, this is very bad news because your site holds not only your data but also the data belonging to thousands of people who use the site every day.
Besides the data theft that occurs when a site has been hacked, there are a lot of other things at stake as well such as your online reputation, SEO rank, all the content on your site, and even the possibility of you having access to the site ever again.
Want to strengthen your site's security? Try adding one of these #security #plugins to it!
Taking all this into consideration, it's really shocking to think that a lot of people leave their site completely unprotected, without any security plugin or addon installed. Some of these people are just being irresponsible, while others might be overwhelmed with all the options for security plugins which are available on the market.
While we can't help the irresponsible ones, we can help those of you who are looking for security plugin suggestions. That is why, in this article, we will present you with the best and most popular plugins people use to protect their site around the clock.
Each of the plugins we will mention is unique and has its own special set of features and ways of functioning, so all of you will be able to find a plugin that fits your needs.
Without further ado, let's see what the best security plugins for WordPress have to offer.
WP Login LockDown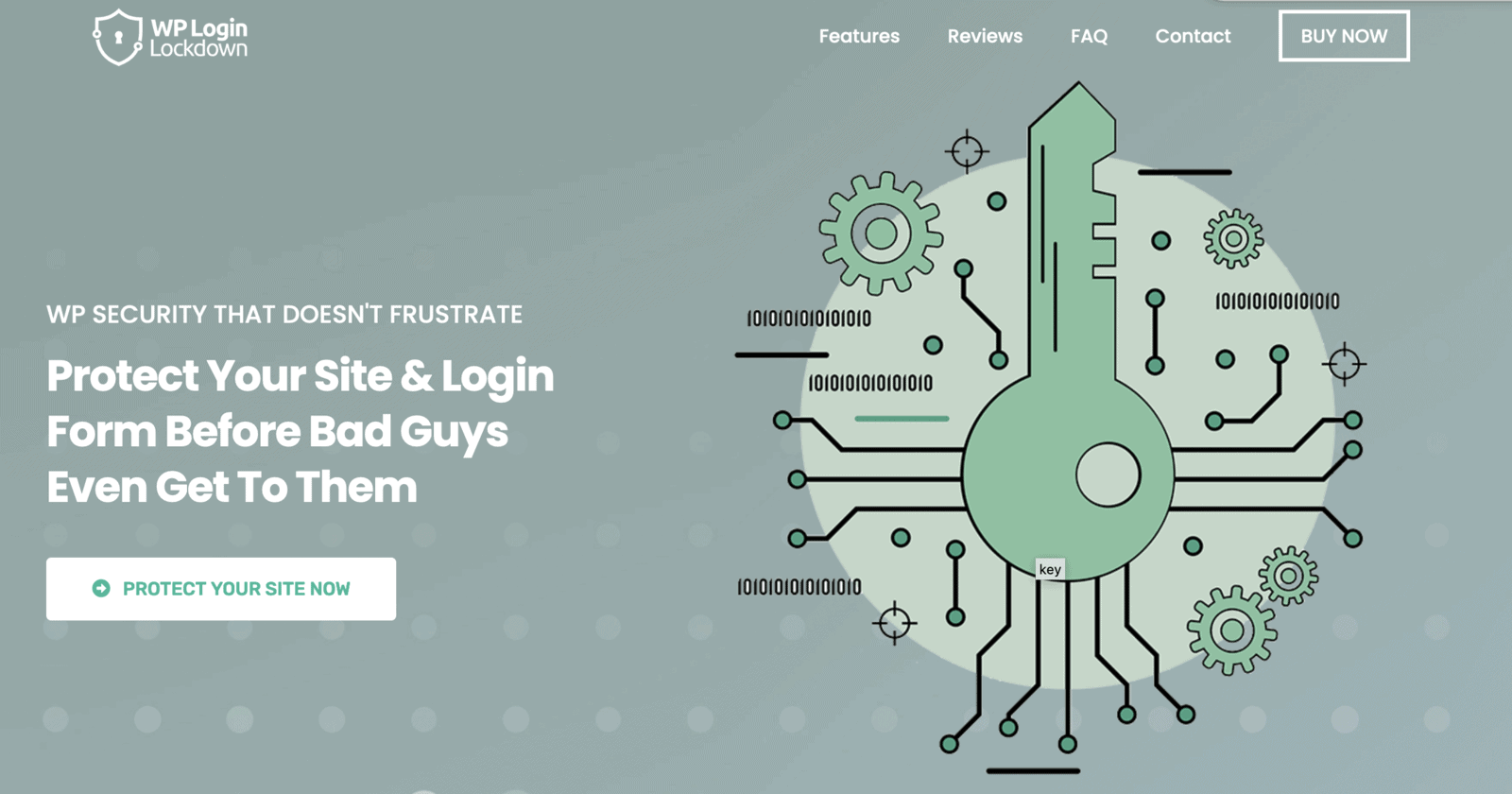 WP Login LockDown is a security plugin for WordPress that provides effortless setup. The Cloud Blacklists function enables you to manage blacklists and whitelists across all sites with one click, and the plugin offers automatic bot protection and a detailed log feature to detect suspicious activity. The centralized dashboard lets you manage all aspects of your site from one location, and the plugin also provides premium support from its developers.
WP Force SSL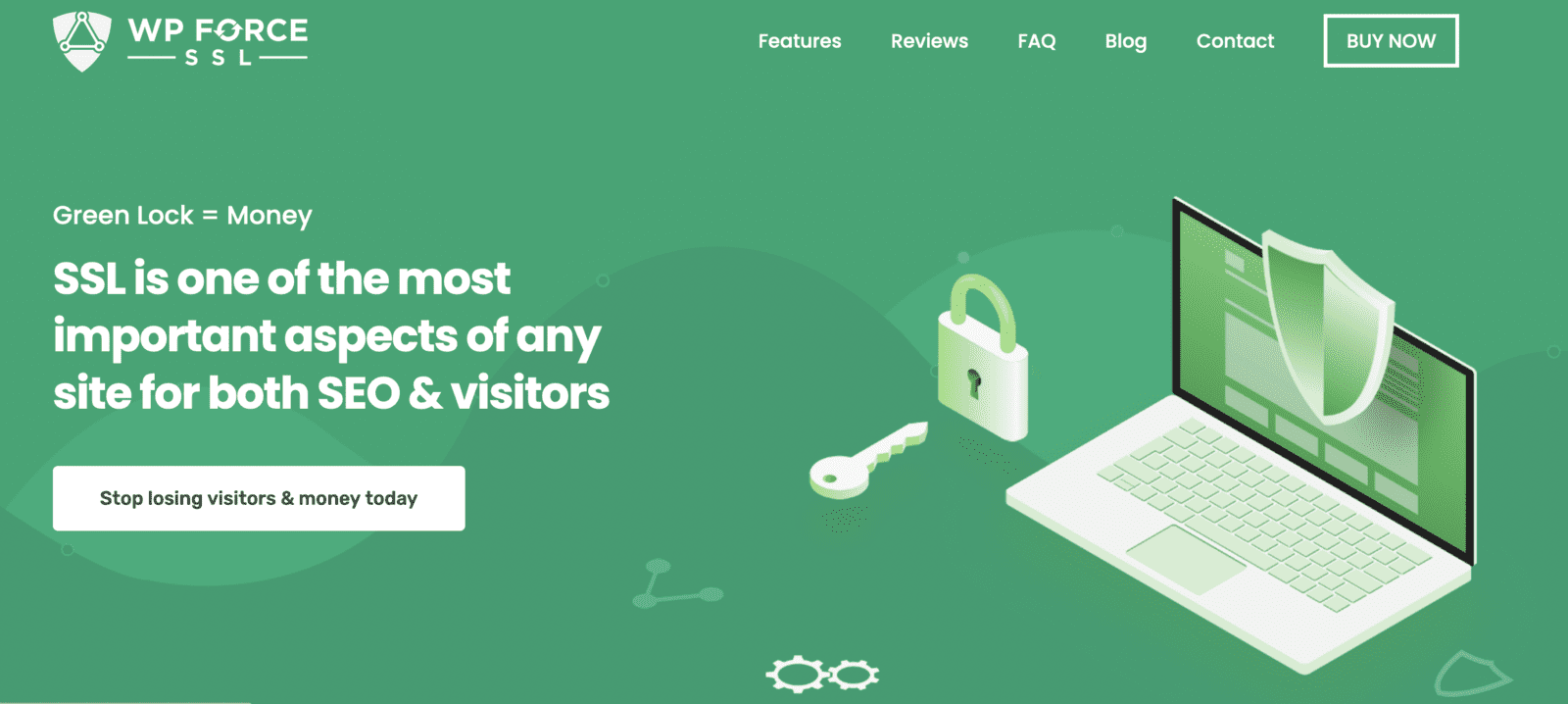 WP Force SSL is an all-in-one security plugin that simplifies SSL configuration by providing all the tools and options you need. It offers a content scanner that detects mixed content errors in minutes and a real-time SSL monitor that checks for over 50 errors to prevent SSL certificate issues. The plugin is user-friendly, and its centralized dashboard allows you to manage all aspects of your site from one location. Additionally, the plugin offers premium support from its developers, ensuring that you receive expert help when you need it.
All In One WP Security & Firewall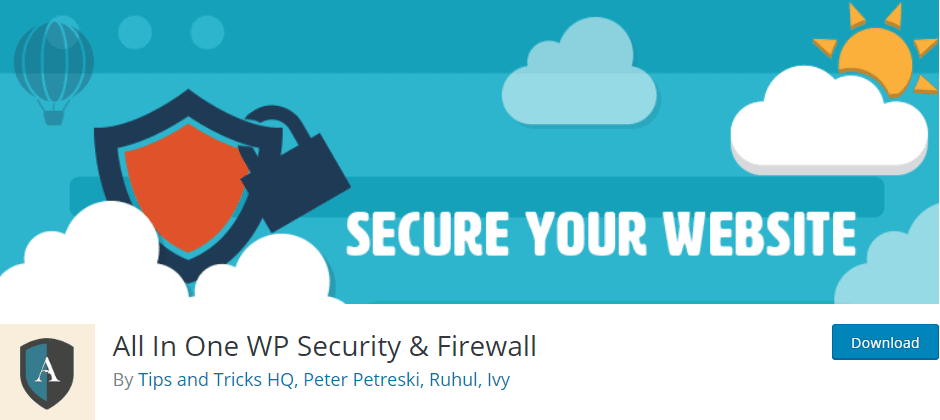 All In One WP Security & Firewall is a very popular security plugin that takes a lot of pride in its comprehensiveness, ease of use, and reliable support. It helps its users better understand how to use its features by categorizing them either as basic, intermediate, or advanced.
To give you a clear answer on the state of your site's security it has a security strength meter, which will give you an accurate assessment based on its security points scoring system. Besides that, this plugin will also come with a widget that offers recommendations for features that should be activated in order for your site's security to reach a specific or at least acceptable level.
If you need a firewall along with security features, this plugin has you covered. It will allow you to apply firewall rules gradually, so the speed or function of your site won't suffer. But that's not all, this plugin can even get rid of spam comments on any part of your site and can even detect IPs that are notorious for spamming.
Other notable features of this plugin include protection from brute force attacks, monitoring failed login attempts, force logout time configuration, file change detection, manual IP address blacklisting and so much more. And believe it or not, this plugin is completely free and has no paywalls that will block you from using any of its features.
WP Security Ninja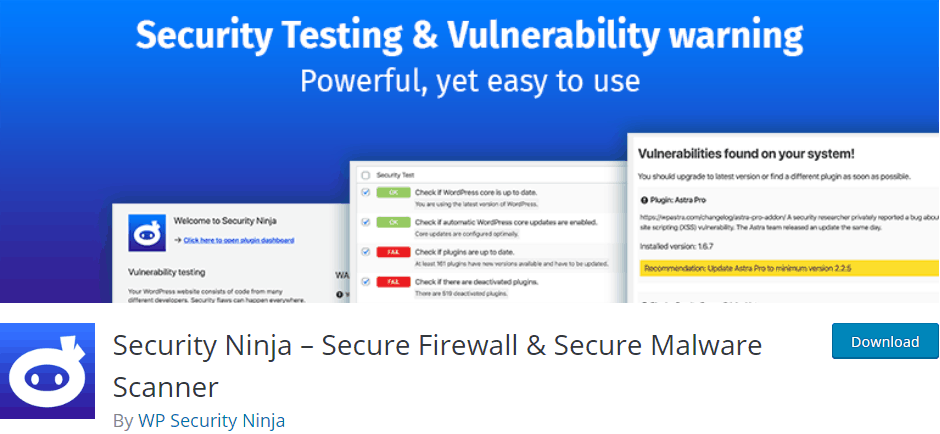 Continuing with the theme of easy to use yet powerful plugins, we present you with WP Security Ninja.
Packed with 50+ security tests, this plugin is ready to protect you against any threat that finds its way onto your site. The free version of this plugin can be thought of as more of a threat detection mechanism while the pro one is basically a toolset you can use to take any necessary action against threats and vulnerabilities and also to set up a cloud firewall.
Using Security Ninja you will be able to check the state of each of your plugins to see if they are up-to-date and clean from malware. Also, you'll be able to test user password strength through simulated brute force attacks and check if debug is enabled (JavaScript, database, or general).
On top of that, this plugin will come with an auto fixer module and code suggestions for fixing security issues.
Some of the highlight features of this plugin are malicious visitor redirecting, suspicious request blocking, an event logger, WP core file scanning as well as scheduled scans. You can get Security Ninja's pro version for a starting price of $39.99/year which is really a bargain considering all the features the plugin will provide you with.
BulletProof Security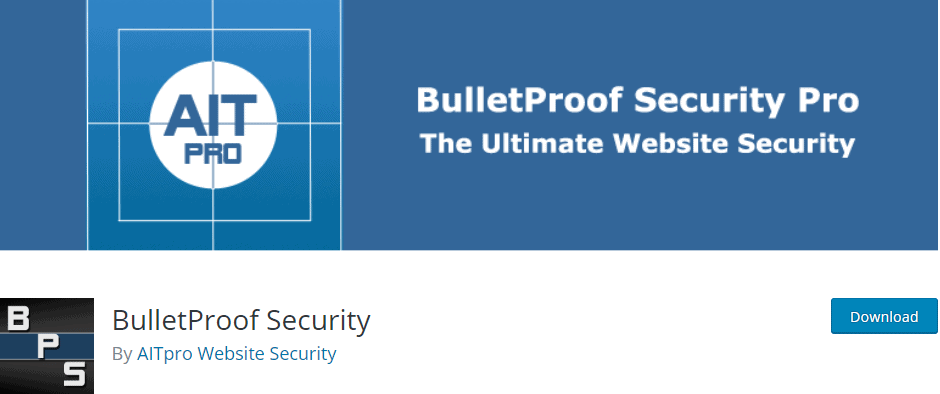 Bulletproof Security is a plugin that doesn't have the friendliest interface but definitely packs a punch with its features. Along with the regular malware scans, this plugin supports database backups, setting up a firewall and so much more.
Setting up the plugin is really a piece of cake thanks to the 1-click setup wizard.
The plugin requires very little action on your part since it will do the detecting and fixing automatically.
Brute force attack protection is, of course, part of the package and so are full database backups. Plus, one special feature called maintenance mode that can be used for protecting the frontend or backend of your site while updates are being done.
Also, this plugin will allow you to turn on email notifications for any suspicious logs or alerts. The plugin is available in a free and premium version with the premium one costing a one-time fee of $69.95.
Wordfence Security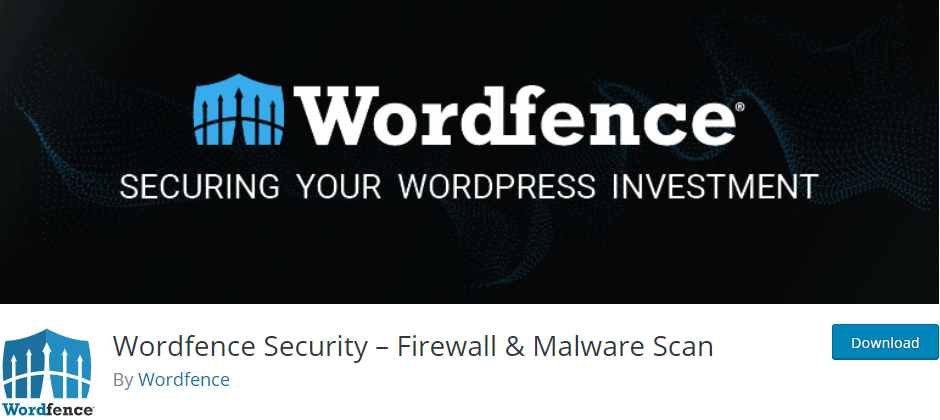 Unlike BulletProof Security, Wordfence is one of the most comprehensive and user-friendly security plugins on the market.
The plugin can do a lot, from automatic to full site scans at any time. Of course, it will come with all the essential features such as malware scanning, brute force attack prevention, and a firewall.
For those of you who suffer from attacks that seem to come from one specific region, you will love the country blocking features, but we're sure everyone will enjoy the feature that allows you to block entire networks that show signs of suspicious activity.
Wordfence Security offers the possibility of two-factor authentication and locking out users with invalid usernames. You will even get a feature that can check IP address reputation and, in that way stops your customer emails from going into spam.
If you have an issue with scrapers and bots performing security scans and other unauthorized activity on your site, with this plugin that will become a thing of the past.
If any damage is done to your files, this plugin can restore them to the original version with the help of overwriting, and if any breach of security does happen, you will get an alert, along with instructions necessary to fix it.
Like most plugins, Wordfence Security comes in a free and a premium version, the premium version costing $99 for one license.
Conclusion
We know that deciding on a security plugin is quite a difficult thing to do, not only because the plugin will have such an important role on your site but also because the market is so oversaturated with options.
You can be sure that all the plugins you read about in this article are truly the best of the best and that each one of them will give your site enough protection to keep you from staying up at night and worrying about your site's wellbeing.
That being said, although security plugins are very powerful and effective, they shouldn't the only resource you use when trying to protect your site.
Other things such as regular backups, updates, and the use of strictly reputable themes and plugins should be standard practice on your site.
With that short word of advice, we will end this article. We hope you enjoyed reading it and saw at least one of the mentioned plugins as a potential solution for maintaining your WordPress security.