The ease at which your visitors can navigate your site is important. It counts towards their user experience, your SEO ranking, and whether you have a high or low bounce rate.
A website needs to direct traffic and let its visitors find what they need. That is why WordPress, by default, supports navigation modules and menus. And most themes support navigation, too.
Need a #NavigationMenu #plugin? Check out these 6 great ones!
However, the default navigation menu is not so powerful as the ones provided many plugins that you can download and use. Plus, it doesn't work best on mobile phones, either.
That is why, in this article, we will list the 6 best WordPress navigation menu plugins you can use to make your site easy to navigate.
1. Mega Main Menu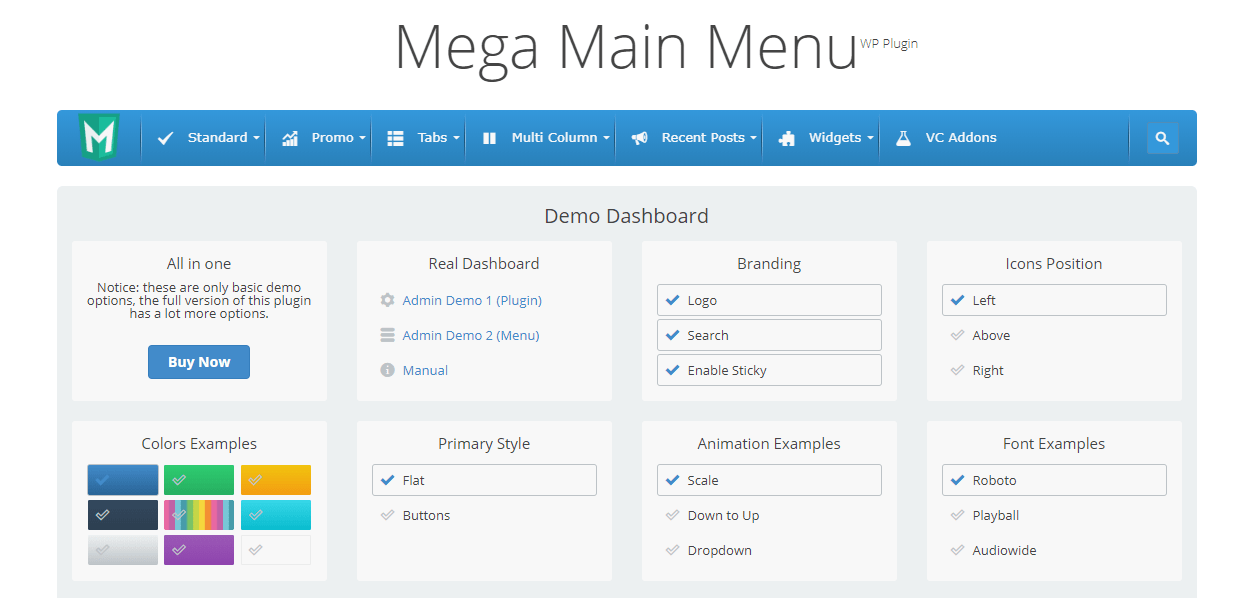 Mega Main Menu is one of the most popular WordPress navigation menu plugins with a great rating of 4.6/5.
Its features include the option to add icons and graphics to your menu, more than 600 Google fonts to customize your menu, widgets, and images to make it more visually appealing, different dropdown variations (more than 10 combinations), custom colors, etc..
The plugin uses shortcodes or PHP functions to let you display your menu. It is also easy to use since you can build your menu with the help of drag-and-drop editing.
It costs $16 to get this plugin and once you buy it, you will have access to its great friendly support.
2. UberMenu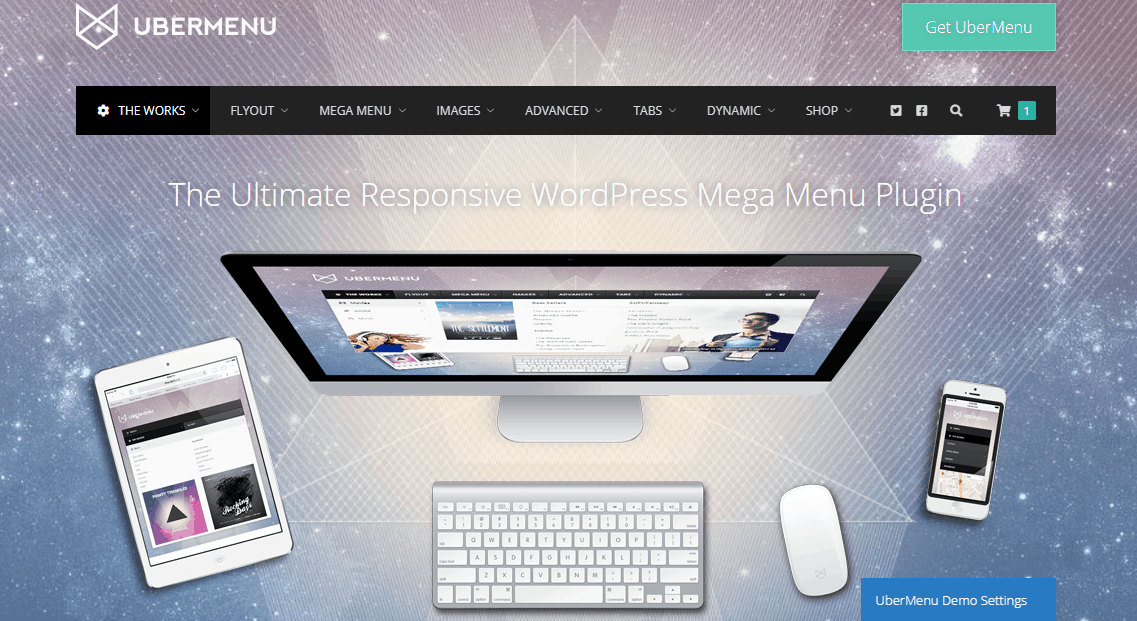 UberMenu is another famous plugin with a rating of 4.6/5. It is responsive and comes with the option to create a mobile menu that is user-friendly, customizable, and responsive so your visitors can easily find what they need.
There are two ways you can integrate this plugin; automatically (UberMenu replaces the existing menu in your theme) and manually (UberMenu gives you a line of PHP code to insert into your theme and add the menu where you want to). Either way, the menu will be mobile optimized for all types of devices including iPhone, iPad, and Android.
Features include having a vertical or horizontal menu, different fonts, submenus, touch support, and the ability to add content, images, widgets, and shortcodes.
This plugin costs $25 for a one-time purchase.
3. Responsive Menu

Responsive Menu Plugin provides your website with a responsive mobile-friendly version of the main menu. It is a highly customizable plugin allowing you to make the most use of your website's surface area and make it attractive and easy to navigate to the visitors.
Some of the Responsive Menu Plugin's feature are:
Desktop and Mega Menu Support
Add custom Header Bar to your website
Seamless control with Touch Gestures and Keyboard Commands for navigation within the Menu
Comes with 20+ Awesome Button Animations to choose from
Supports Multilingual Sites as it comes with WPML and Polylang integration.
600+ Font Icons Supported from FontAwesome and Glyphlcon.
And that's not it, you can also install pre-made themes from the Responsive Menu to enhance the overall look of your websites. We would highly recommend trying its 7-day free trial and you can get it canceled anytime within the said period.
4. Superfly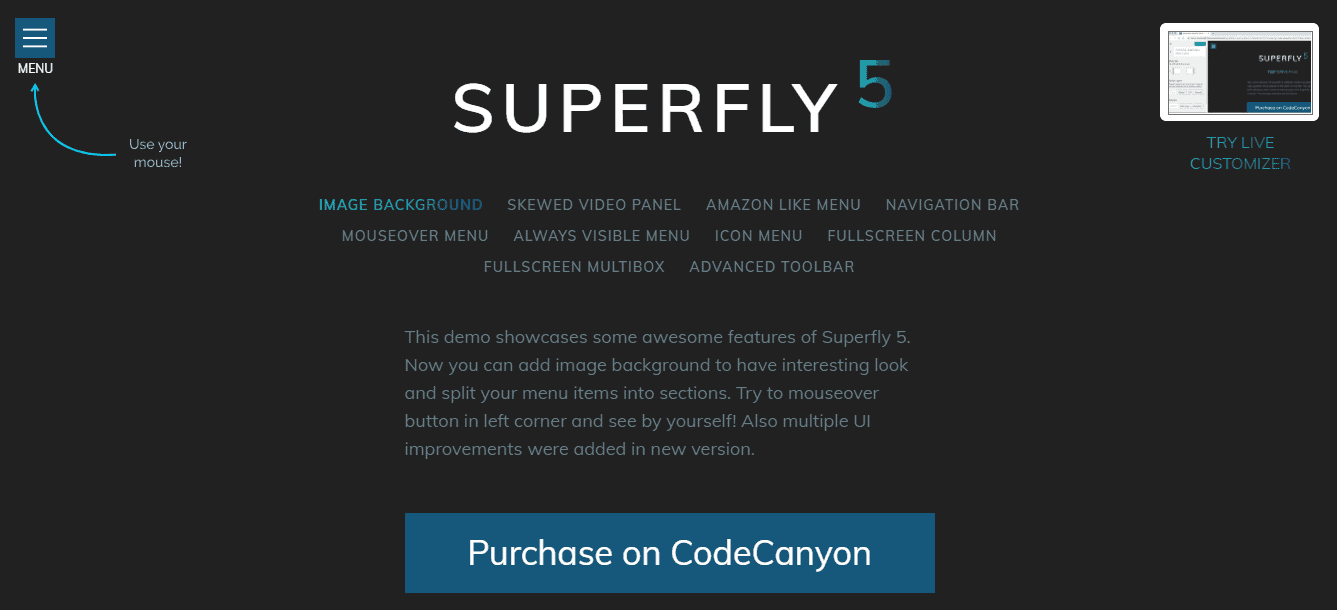 Superfly is a powerful WordPress plugin with many interesting features, such as creating menus with multiple levels of display, displaying a contact form in your menu area, making the vertical menu visible, and everything being mobile responsive so it works well on desktops, laptops, and mobile devices.
The vertical menu lets you have space-efficient navigation. For example, you can put a menu icon in one part of your website that, when hovered over, reveals a vertical menu that contains links to other parts of your site.
You also get to decide the way the menu is displayed, such as a skewed layout, a full-screen menu, or an icon option.
Using Superfly, you can add and change the background image, add an always visible navigation bar, an icon menu, and a social media icons bar. And you can also create your content areas with its rich text editor, use different Google fonts, and decorate menus with widgets, shortcodes, or custom HTML.
Basically, you can do whatever you want and edit things any way you want. On top of all that, the plugin is GDPR compliant so it won't store any data from your visitors.
It costs $29 to get this plugin and before you decide to buy it, you can try the demo version and see if you like it.
5. Hero Menu
Hero Menu is a plugin that aims to make menu creation as easy as possible. It relies on a drag-and-drop editor to create menus (and layouts) so you can set up professional-looking menus, from very complicated ones filled with features, down to really simple ones.
You can organize your links using multiple columns in your drop-down menu, add large or small images, change the background, assign icons, change colors, add a contact form, and a Google map to your menu so your visitors can find your location.
Additionally, the menu will be fully responsive and you can add shortcodes or HTML code to it.
 The license for this plugin costs $20, but there is also the demo version so you can try it out before buying it.
6. WP Responsive Menu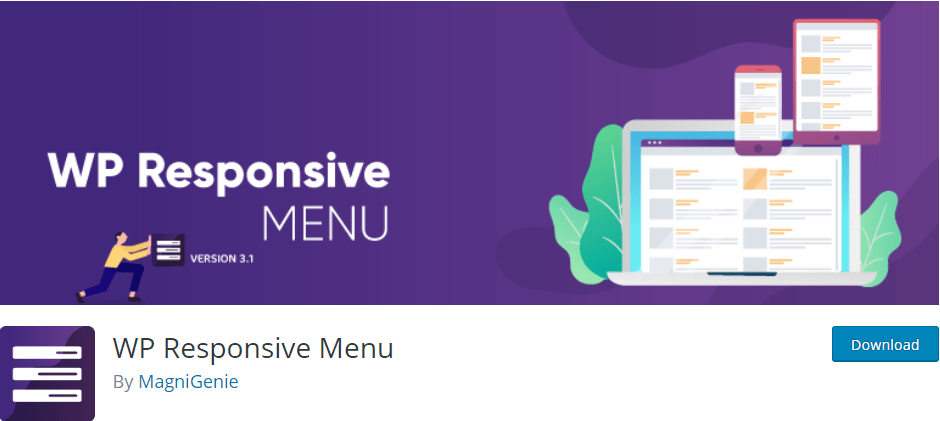 WP Responsive Menu is a plugin designed for easy setup. Using it, you can add a responsive navigation menu and do all of the editing directly from the settings page. And what's even better, it won't require any coding knowledge.
To make the user experience even better, you can change the icons on your menu, place the menu anywhere on your site, add your logo to it, choose how to display it, hide any unwanted elements, customize its colors and fonts, and add social media icons.
Moreover, it can be integrated with WooCommerce and has RTL support, so it is great if you have an online store.
It has a free and premium version. The premium version costs $25 for 1 site, $79 for up to 5 sites, and $149 for an unlimited number of sites.
7. Max Mega Menu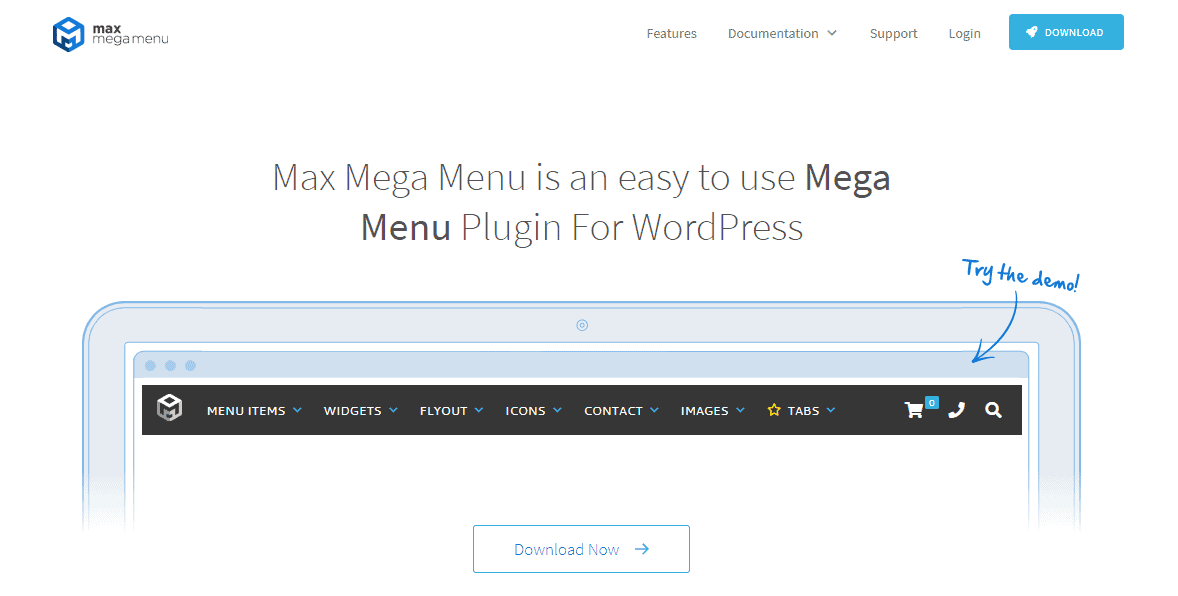 Max Mega Menu is a popular free plugin for WordPress that has more than 30,000 active installations. With this plugin and its drag-and-drop builder, you can add numerous widgets to your navigation menu, make it responsive, add content to it, and change its layout.
You can also customize the colors and fonts of the menu to make it seem as part of your website/store. And of course, the menu created using the plugin will be fully responsive and will work great on any device.
We should mention its other features as well which include flyouts, hover triggers, and a fading menu
The pro version of this plugin comes with even more features, such as creating vertical/accordion/sticky menus, WooCommerce integration, custom styling options, and access to great priority support.
The price for that will be $29 for 1 site, $49 for 5 sites, and $99 for 99 sites.
Conclusion
To create the best user experience, you need to spend some time researching navigation menu plugins. They truly make it easier for your visitors to navigate your site and find what they need.
There are great plugins, both free and premium, and in this article, we listed the top 6 ones we think are the best.