Are you searching for WordPress hosting for your site? You know how a wide range of options is available over the internet.
With these numerous web hosting providers that offer exceptional features at different prices, choosing the best one can put you in chaos.
Especially for a newbie, who doesn't know what factors to consider while picking a web host, may fall into the trap of those bloggers who recommend web hosts based on their affiliate commissions. This just makes it even more difficult to differentiate the genuine recommendations. Therefore, to clear some of your doubts, we will put the limelight on this MilesWeb review to reveal why they are considered as one of the best web hosting providers in the market.
A Quick Introduction
MilesWeb is a popularly known web hosting company in the market. You probably must have heard its name on the Internet while searching for hosting for your website.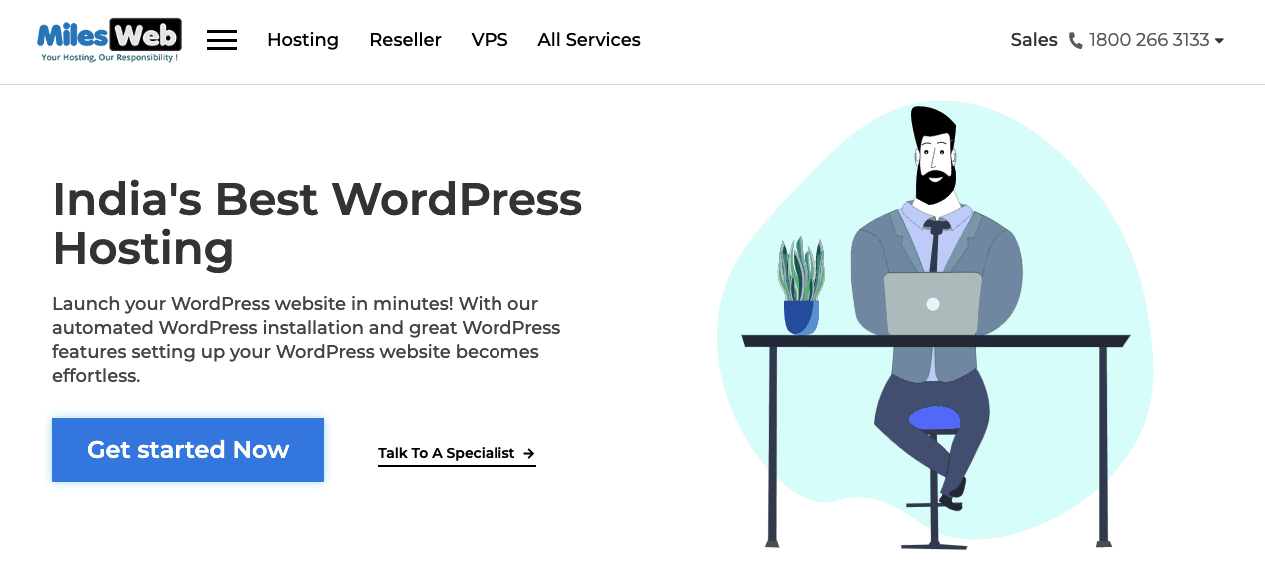 They started back in 2012, and on today's date, they have their presence in 19 countries. This company was started by three hyper-focused peeps that hold immense knowledge and experience in the web hosting industry.
The plans of MilesWeb are designed especially to meet the needs of all sizes of businesses. Right from SME's to larger organizations, they've got plans for all. Whether you have a hobby website, a blog, or a large e-commerce store, they've got you covered.
Their wide range of web hosting solutions include unlimited web hosting, shared hosting, WordPress hosting, VPS hosting, dedicated server, cloud hosting, reseller hosting, Magento hosting, and more.
Not only this, but they also offer a lot of add-ons that are needed for your website, such as domains, SSL certificate, SpamExperts, Office 365, GSuite, etc.
Among all the other web hosting services they offer, WordPress hosting will be the focus of this review. If you are in search of a WordPress hosting provider for your website built in WordPress, then you must go through this review before making your decision.
What Do You Get With MilesWeb WordPress Hosting?
For the website owners who want to build their website with WordPress specifically, MilesWeb has hosting that serves fast, efficient, and highly secure hosting for those websites.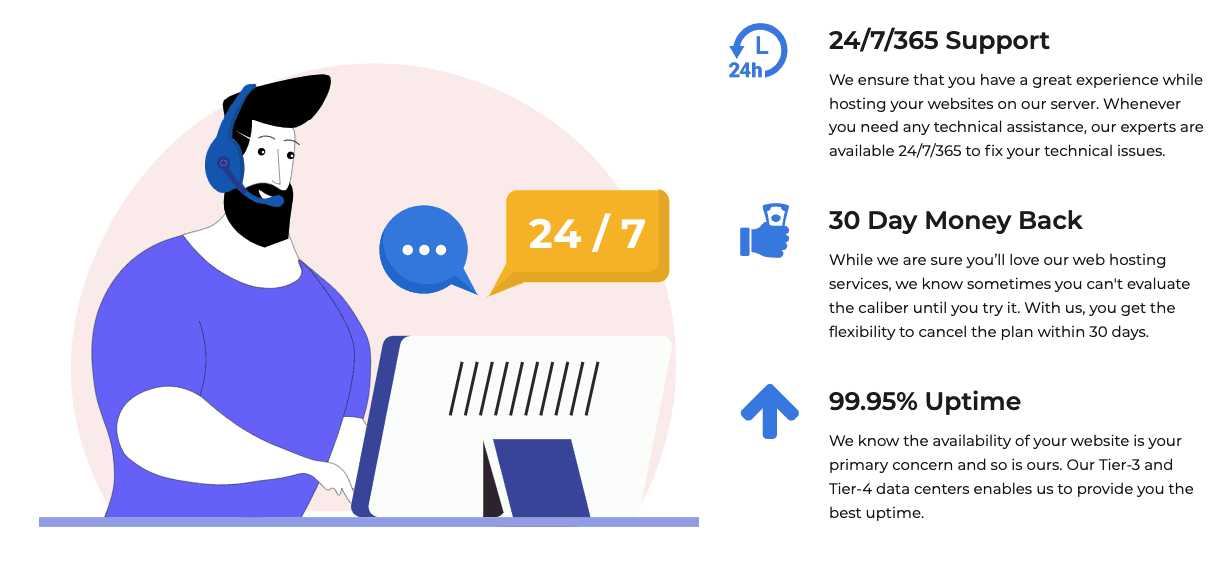 These features altogether make MilesWeb WordPress hosting running into the ground without any hassles.
Ease of Use
Hosting a website at MilesWeb WordPress server is quite easy. No, you don't have to start from scratch. WordPress is already installed on your hosting platform so that you don't have to do this process manually. Not only this but also WordPress updates are automatically installed on your hosting platform. The version of your WordPress will remain always updated along with the themes and plugins.
Security
In order to provide a safe and hassle-free environment, MilesWeb offers an SSL certificate for free on each site hosted at their server.
An SSL not only provides an extra layer of security for your website, but it also helps in improving the search engine rankings. When a green padlock appears in the web browser on your site, your visitors start trusting your website, and this increases the chances of purchase.
Speed and Performance
MilesWeb provides some features such as SSD storage, Cloudflare Railgun, GZIP/Brotli Compression, CDN, and Caching. These features help in improving your website's performance as well as page load speed.
Full List of Features:
Automatic WordPress Updates
30 Days Money Back Guarantee
95% Uptime
24/7 Support
SSD Storage
Fully managed WordPress
Free Domain
Pre-Configured WordPress
Free SSL
Fast Provisioning
Secure Email
Datacenter Choice
Cloudflare Railgun
GZIP/Brotli Compression
SFTP Access
WP-CLI
Dedicated WordPress Support
Free migration
Daily Backups
CDN
Cloning
Server-side Optimizations
Caching
Pricing
MilesWeb WordPress hosting plan starts from Rs.138 per month (Ace plan) followed by two other plans, namely Heart and Diamond, that costs Rs.420 per month and Rs.980 per month, respectively.
With their ongoing discount of 50% off on these plans, you get these plans at:
Rs.69 per month: Ace plan
Rs.210 per month: Heart plan
Rs.490 per month: Diamond plan.
To avail of this discount, use coupon code "WP50".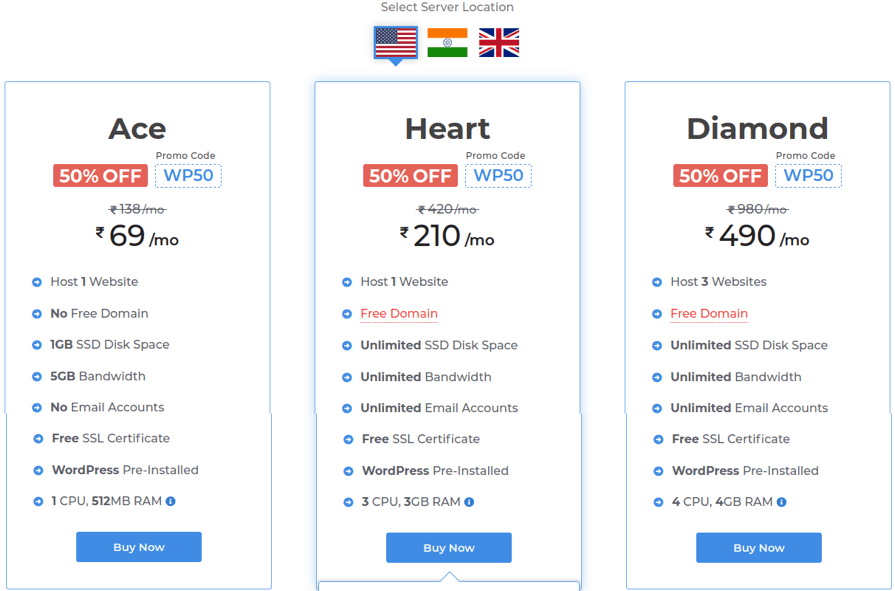 MilesWeb accepts payments via Paypal, Debit/Credit Card, Net Banking, and Bank transfer. They also accept cheques and DD payment.
What Do Their Clients Say?
Millions of users are hosting their website with MilesWeb. We've collected some of the reviews in which their clients have shared their hosting experience with MilesWeb.


Brands That Have Hosted Their Website With MilesWeb
See which brands around the world use MilesWeb hosting service to establish their presence online. Some of these names are Dabur, Kotak Mahindra Bank, ETMoney, rankingCoach, etc.

Who is MilesWeb WordPress Hosting For?
From the overall review above, it is evident that MilesWeb takes care of your website when it comes to speed, performance, security, or usability. Additionally, they also offer some other technical features that help in the entire performance of your website.
All these features are worth the price you pay for hosting. Therefore, MilesWeb is recommended for anyone who wants to set up their presence online. Whether you are a blogger or a large eCommerce store, MilesWeb is suitable for all.
MilesWeb offers blazing fast performance and a secure web hosting environment, which makes them preferable for most of the website owners.
MilesWeb is recommended for all those that fall under any of the following categories:
Beginners
Basic WordPress website
WordPress users/ WordPress bloggers
SMEs to high traffic eCommerce sites
Website owners that are looking for website security, guaranteed uptime, faster load times and overall great performance
To conclude, MilesWeb would be an excellent choice for websites like WpSauce, which receives a huge amount of traffic every month and needs to be always fast and available.
Conclusion
To summarize, MilesWeb's main asset is security, speed, and performance, which is quite important nowadays. They guarantee 99.95% uptime, 30 days money-back, and 24/7 technical support on all their WordPress plans.
If you are looking for excellent WordPress hosting, MilesWeb will never disappoint you. The features and quality of hosting you get are definitely worth the price you pay.