Now some of you might wonder, why would anyone want to reset their already established website. That's a good question.
Sometimes, even if your website is running properly, you may not be satisfied with the way it looks. A quick redesign of the site might make you feel better about what you are doing. But that's not the only reason why you would want to reset your site.
You never know when something unfortunate strikes up. Suppose you are unable to access the site and you need to restore your data from your backup. In such a situation, you have no other option but to reset the site.
Do you have a WordPress site that you wish you could reset? Believe it or not, resetting takes just a few seconds.
In this tutorial, let's look at how to reset your WordPress site without any prior experience.
Generally, there are several ways through which you can reset your WordPress site. In today' post, let's check out how to do it with the WP Reset Plugin. But before that, let's have a quick look at the Plugin.
About WP Reset
The WP Reset is an amazing plugin that lets you rest your WordPress database to the default installation. And in doing so it does not modify any other file in the website, but it will delete all your customization settings and content that you have so far kept saved.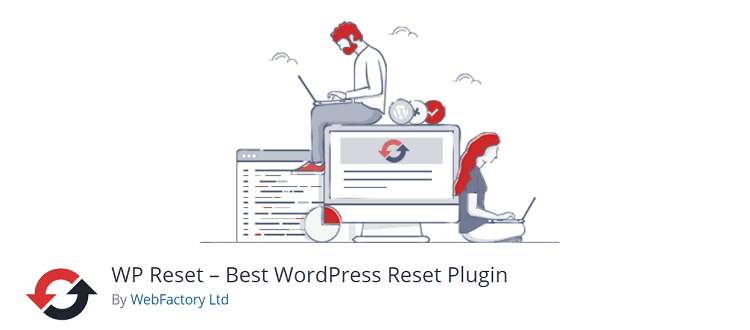 The best thing is that it offers tons of fail-safe mechanism to protect your data. This helps you keep all your data safe even if something unfortunates strikes.
Not just this, it will also fasten up any testing or debugging on your site by letting you quickly reset your settings.
WP Reset Features
The plugin helps you clean your website by deleting a lot of stuff from it. Obviously, you can keep your data backed up before the process starts. But what does it delete for you? Let's check.
All posts, pages, custom post types, comments, media entries, users
Default WP database tables
All custom database tables that have the same prefix table prefix as the one defined in wp-config.php and used by default tables
The following will, however, not be either deleted or modified –
Your Media files – these will be safely stored in the wp-uploads folder as it is but you will no longer find them listed under Media in the admin.
All your files, plugins, themes, uploads also remains untouched.
The site title, WordPress address, site address, site language, and search engine visibility settings will not be altered
All your currently logged in user will be restored with the current username and password.
Installing WP Reset
Installing the WP Rest plugin is not a difficult job. If you have been using WordPress for a while now, this will be the easiest thing for you. Install the plugin, just like any other plugin. Go to your WordPress website dashboard. Now go to Plugins>Upload>select already downloaded plugin folder from your computer.
Now click on the activate button to let it start working.
How Does The Plugin work?
The plugin works by resetting your WordPress database, back to its original form. This takes less than a minute. Once you hit the reset button, a confirmation message asking for permission will pop up.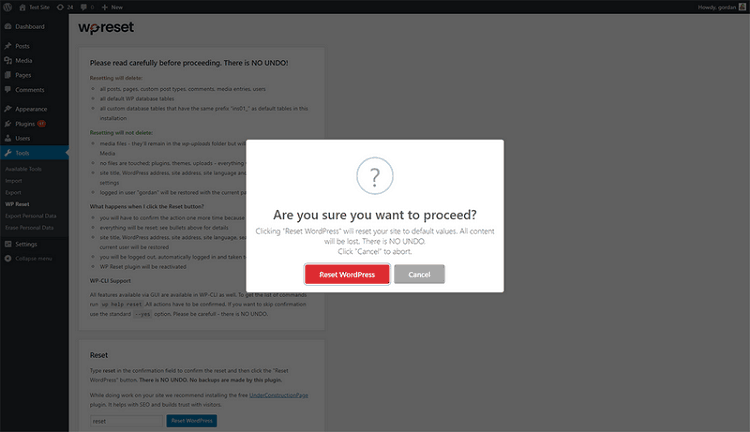 Your database will be clean with seconds of your confirmation. In the process, it will get rid of all kinds of custom data, options, or transients. All the tables with the same prefix as your default WP tables will also be removed. All other files, WP installation, and database, tables, etc. will remain as they are.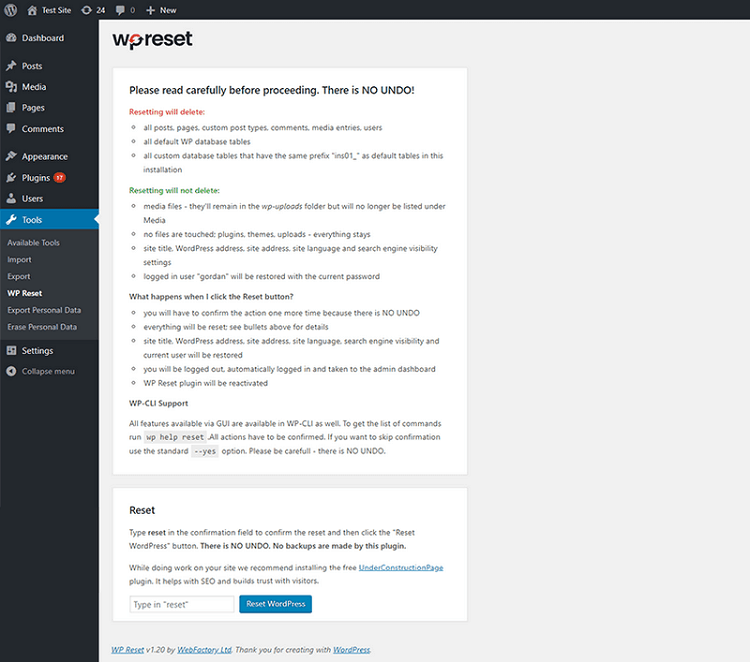 To fasten up things, you can also use the WP-CLI, which is very well supported by the plugin.
Time Needed For The Process To Complete
The plugin works quite fast. So irrespective of what and how much data is in store, it will not take more than a few seconds to reset your site. You will see the results almost immediately.
After The Reset
Well, after your reset is done, things become quite simple and quick. You do not have to do anything on your own. As soon as the reset is done, the plugin will first log you out of your website. Then using the same username that you had used at the time of the reset, it will log you into your WP dashboard. And there you are. Back into the website.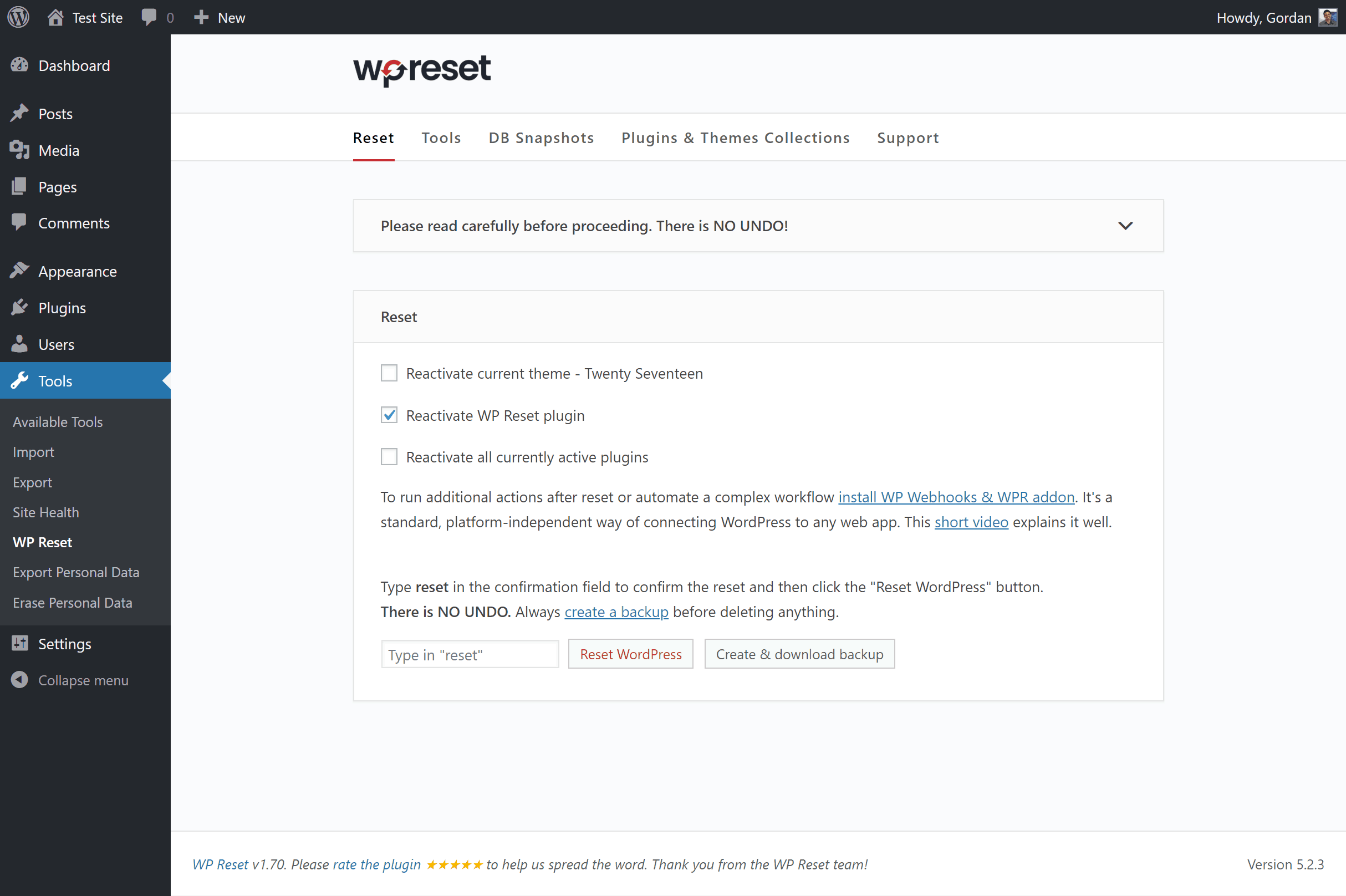 You are now free to use the plugin to check the activation code. At this point, if you go to the Setting page of the plugin, you will see that you have the options to activate the post-reset setup. By using this, you can select the plugins that you want to activate on your website.
This will be done automatically by the plugin, and nothing needs to be taken care of manually. You can see a better insight into what changed from the default settings in the Database diff function.
How To Login After Resetting The Website
Once the resetting is done, you can log in back into your website just like you did before. All you need to do is to use the same username and password that you used at the time of logging in just before the reset happened.
The plugin will restore just one user post resetting the website.
Who Is This Plugin for?
Ideally, this plugin can be used by anyone who is into developing websites. But it can be more helpful to developers who are quick with codes and use the website for testing, etc.
You can immediately get an idea about the way things work. The best thing is that it won't even take the time that you generally spend in resetting your website.
A Word Of Caution
The only disadvantage about this plugin is that, once you hit the reset button to start the process, all the data that it deletes are gone. It makes no backup of anything that it is going to erase. So once gone, there is no way of getting it back.
It is therefore recommended that you do your own backup, just in case you want to recover them in the future. This keeps you in the saver side, and you can have them anytime you want.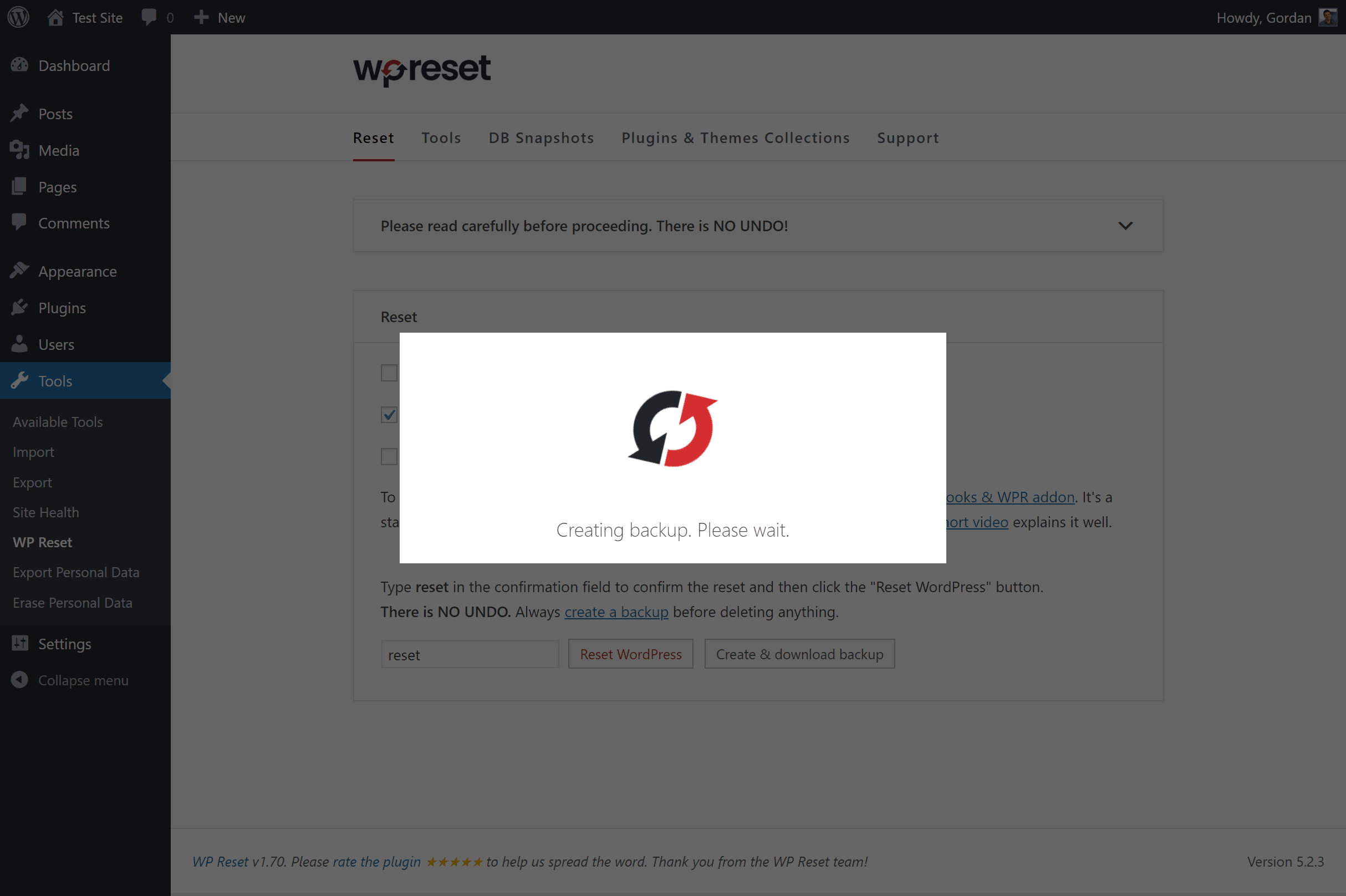 Translations and Active Installations
The plugin can be translated into four different languages. They are Croatian, German, Romanian, and of course, English(U.S). This makes it easier for people from different communities to use the plugin with ease.
The plugin is currently active in more than 100,000 websites and has bagged a stunning 5-star rating for its amazing performance.
Pricing
WP Reset is a free plugin that is available in the WordPress directory of plugins. You can get it without paying a penny and start using it right away on your website. The best part is that since it's an open-sourced plugin, it also lets you contribute more features if you are not satisfied with the ones that it provides.
Conclusion
WP Reset is a helpful plugin that lets you reset your website in a matter of seconds. You can do this without any coding and in no time at all. We hope this post was helpful to you. Do let us know if you are using any other plugin for the same purpose. We would love to hear from you.