Thanks to the many amazing improvements in technology and the appearance of various tools that we can use, you can now deliver different content to your visitors based on their actions and behavior on your site. This is really important as you want to make sure your visitors are getting information that is relevant to their search and that they would consider useful.
To improve your #content, you need to analyze and combine it with the information you get about your #audience. That way you can study what #customers are most likely to convert.
This includes making sure that some basic features are present on your site, such as the content being mobile-optimized, your site loading in less than 2 seconds, content being properly shown, and the site looking overall visually appealing.
Next, you want to pay attention to your performance analytics and see what resonated the most with your audience. This includes information on what content is shown, when it is shown and how it is shown. Also, you want to decide what information is visible to new and returning customers as showing the same information to both can cost you in the long run.
If-So Dynamic Content plugin
Since you now realize the importance of giving your visitors a personalized experience on your site, here is a pretty useful tool you can use to deliver dynamic content to your visitors and base the content you show them on their actions and behavior.
If-So Dynamic Content is a WordPress plugin designed for marketing agencies, site owners, and anyone who wishes to deliver personalized dynamic content to their visitors.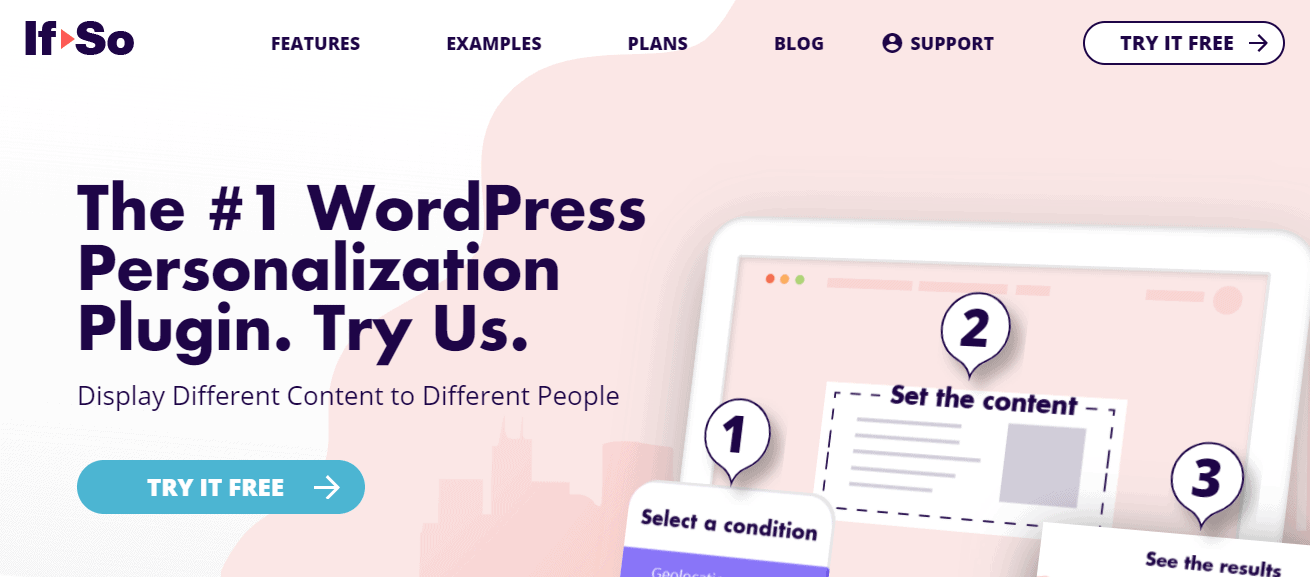 However, before we discuss its features, let's first define dynamic content. Dynamic content is content that changes based on the user that is viewing it or the user that is visiting your site.
The If-So Dynamic Content plugin lets you show dynamic content to users based on certain conditions or parameters. These include search terms, language, and geolocation. Since every visitor is different, you need to show them different content and make sure that they are getting relevant and personalized information based on their interests. That way you are increasing your chances of higher conversion rates and higher revenue.
How does it work?
This plugin will display content to your visitors based on the different conditions that you have set. These conditions (or parameters) can be divided or customized based on search terms, location, visited pages, and the number of visits from each user.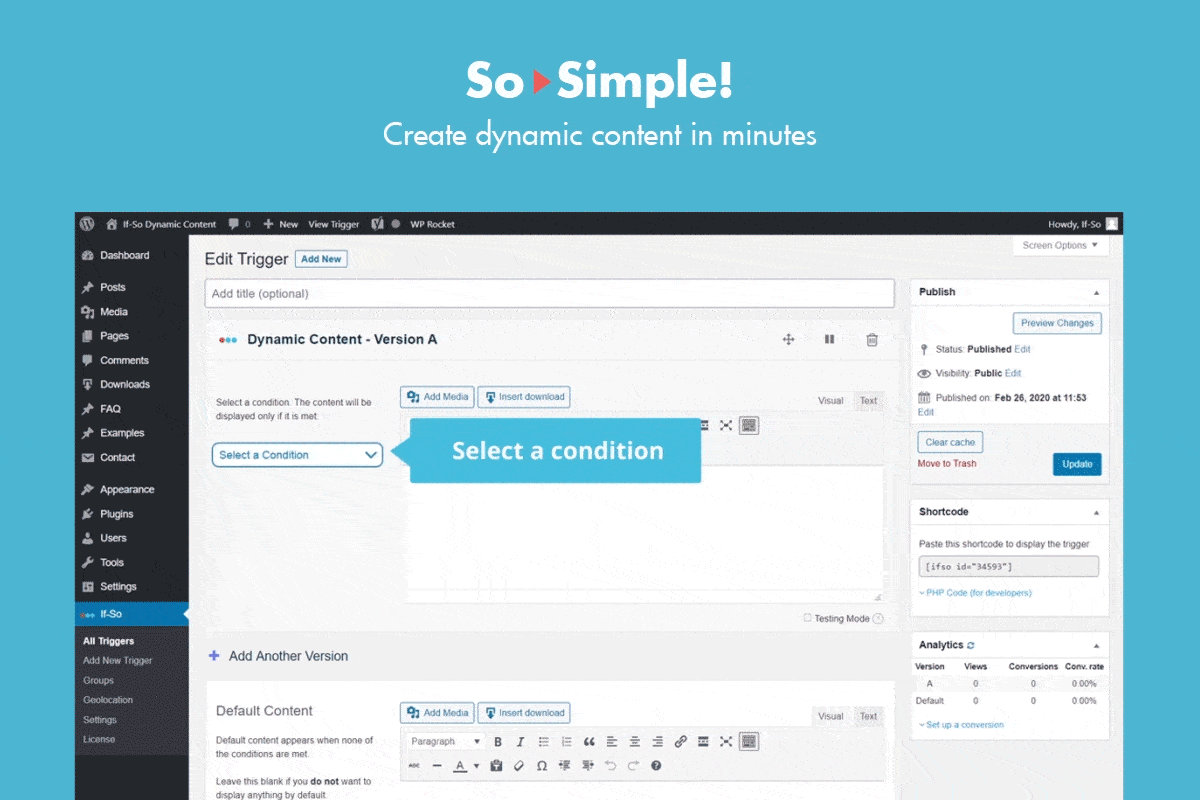 You can analyze and check how the content is doing as the plugin comes with built-in statistics for easier performance analysis. The plugin is compatible with any page builder and lets you customize any piece of content on your pages, including menu items. On top of that, you can also create as many versions of your content as you want to (or need to).
The best thing about is that no coding knowledge is needed since the plugin is quite easy and intuitive to set up.
You can segment your visitors into groups based on shared interests and characteristics and show them content designed specifically for each group. For example, you can segment them into two groups, one with visitors that started a free trial but didn't make a purchase, and one with visitors who stayed even after the free trial.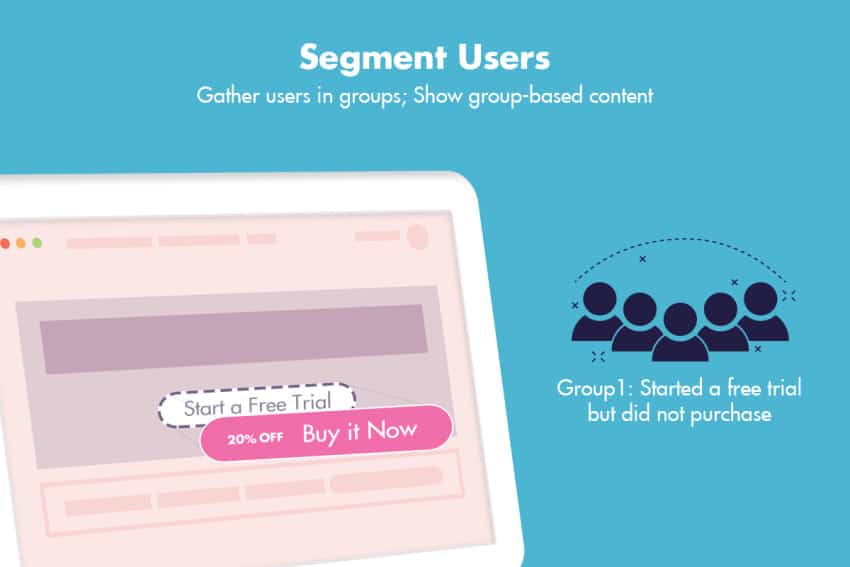 Since the groups are different, you need to show them different things. Also, you can A/B test your parameters and the content you show to your customers to see what type of content works best.
Moreover, since this plugin checks which sites your visitors looked at before, you can group them based on the stage of the buyer's journey that they are in. You can also tailor landing pages and their content to match the user's search terms.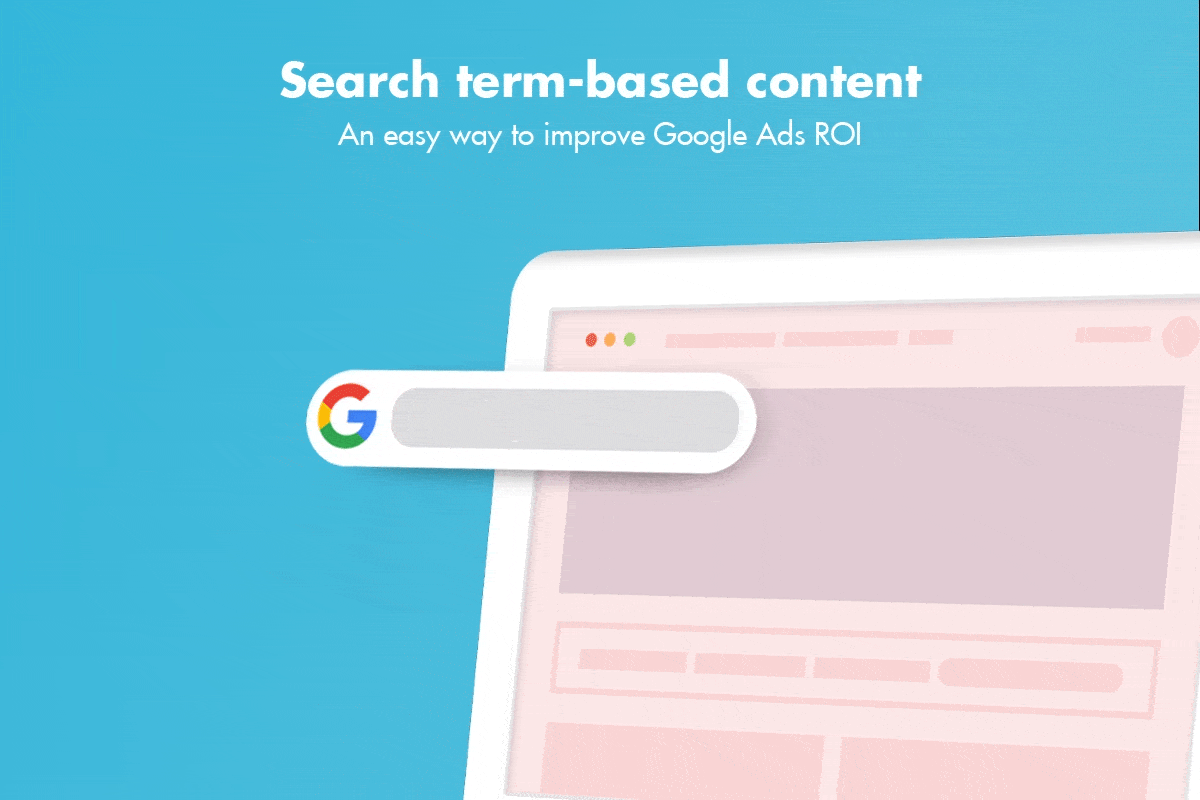 This is great for users who find you through Google as you can create a more coherent experience.
If you want to take a different approach, you can allow your visitors to choose the most relevant content themselves based on parameters that relate to them, such as demographics, geolocation, buying intent, etc.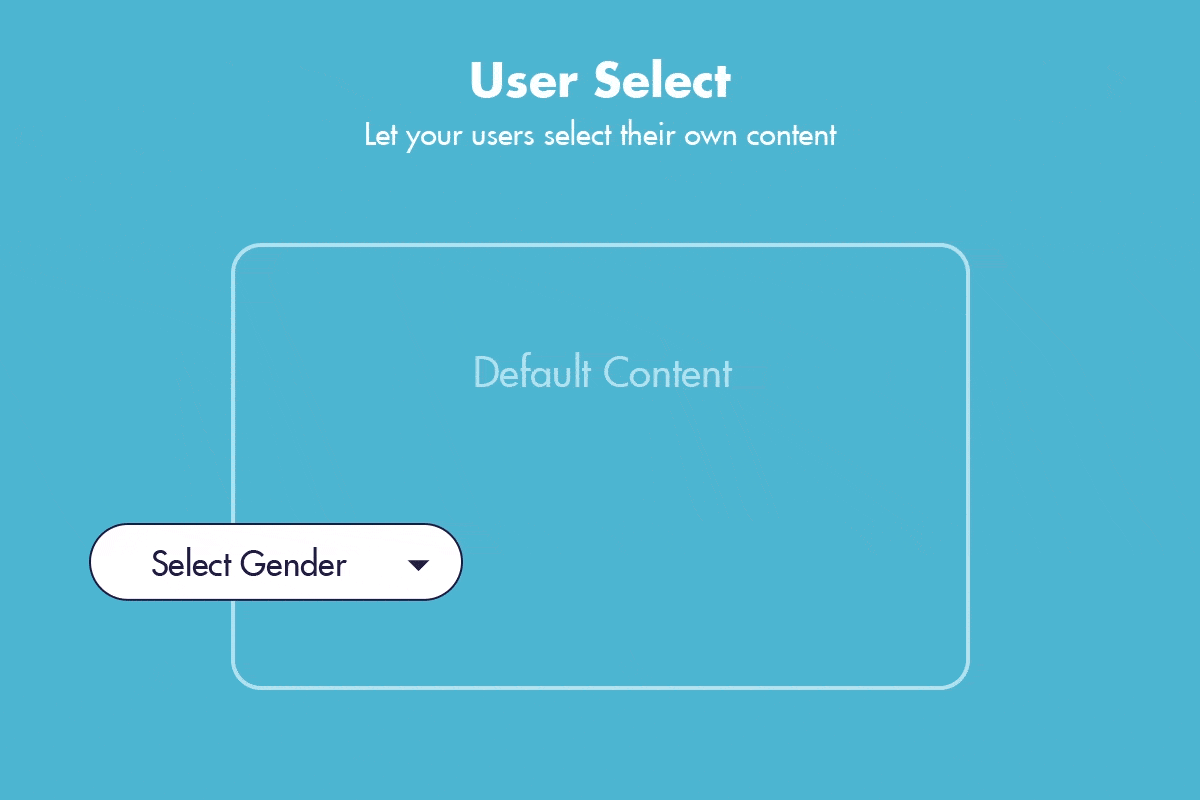 This way you can ensure that your customers will see only the content which they wish to see and which they will find relevant and useful.
How do I know if my strategy is working?
As with any marketing strategy, you want to know if it is working. That is why, this plugin comes with built-in statistics that show you how many visitors have seen your content, what type of content they saw, and how many have converted. That way you can see if anything has changed and if the change is positive or negative.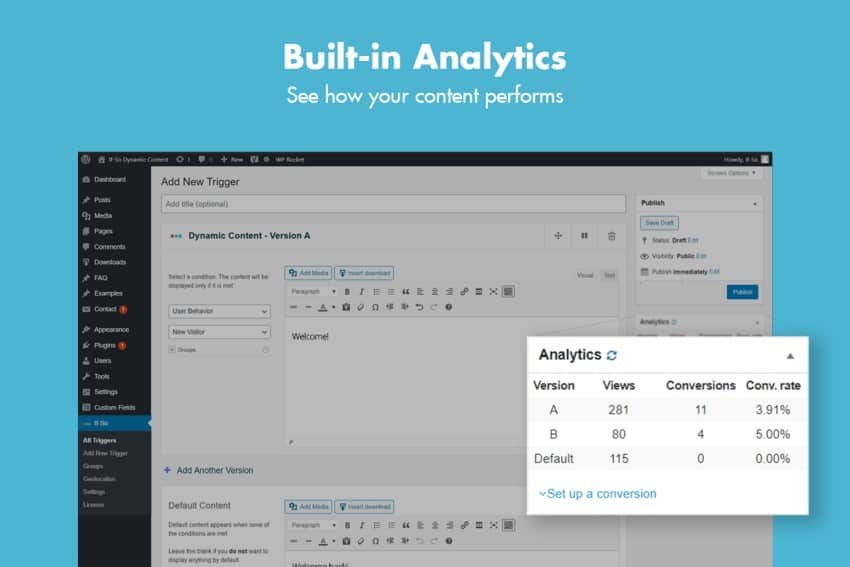 If you need more information, you can even integrate Google Analytics into your site in order to track and get access to more data.
Pricing
This plugin costs $149 annually and you can use it on 5 websites, have 1,000 geolocation sessions per month, see the device type, logged-in users, their IP addresses, UTM parameters, and their browser language.
You can even connect to Google and Facebook ads, check the referrer sources and see if someone is a first-time or returning visitor.
Also, you can see what sites they visited, the page URL, and you can disable or enable certain site and behavior triggers.
Conclusion
As you can see, If-So Dynamic Content is quite a versatile and useful plugin. There are numerous benefits to offering different, but relevant content to your audience, especially since everyone is now used to receiving personalized communication from companies.
Also, since the plugin comes with many options and features, you will have a lot of opportunities to customize the content the way you want to and base it on your customers, their behavior, and interests.