Let's start with a simple question. What is onboarding, and why is it so important in business? In every company, hiring managers as the central task have to find new potential employees. Also, they are supposed to keep those who are more talented and ambitious in the company.
However, getting in contact with them, reaching an agreement, and making them part of the company culture is challenging. It is crucial to plan and organize the onboarding process with a smooth and exciting transition.
So, for successful remote work, we cannot overlook the human resource management systems or personnel management software, which have become so popular after the pandemic. These programs allow you to manage employee data, expenses, benefits, recruitment, training, absences, workload, productivity, and more. For example, a useful business automation tool is the UK HR software which is designed for small and large businesses, enabling them to effortlessly automate and manage their HR processes, even in remote work settings or with limited financial resources.
In addition to the mentioned features, it also facilitates the onboarding process, making it more efficient and seamless.
Without a good #onboarding plan, new #employees will undoubtedly search for a better #working place.
A better onboarding process results in better employees' connectedness with the company's culture, mission, and vision. Through onboarding, hiring managers can make all the new employees feel like a part of a family. This fact also enhances the idea of company culture.
This way, the new employees feel welcomed and have a pleasant experience even before they start working in the company. Having a good onboarding phase, new potential employees will surely recommend your company to their friends or people they know.
Furthermore, they might leave a positive review online, which can be an excellent genuine marketing tool. Onboarding helps employees with their productivity, as well, which is a crucial part of success. In this article, I will tackle some of the most popular and best-reviewed onboarding software in 2021.
Rippling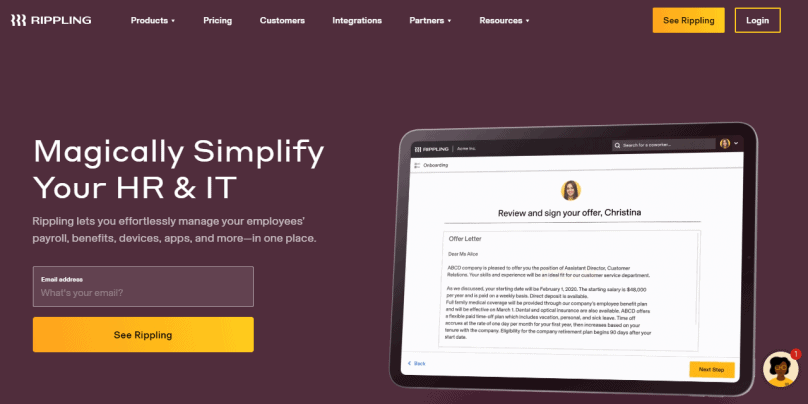 Rippling is a fantastic HR tool that instantly helps you with onboarding new hires in just one click. It automates the process of sending offer letters, employee handbooks, payroll, health insurance, etc. With Rippling, you can easily connect your HR data with payroll.
Further, it will automatically calculate employees' earnings with deductions for you. You can manage everything online and pay employees no matter where their location is. Besides the payroll feature, Rippling allows you to manage employees' apps.
And with just one click, you can add them to any app (Slack, Dropbox, etc.) they need with a certain level of access. Everything is so easy to control. Thus when employees leave your company, you can easily disable their apps and revoke their access to your company's data.
Even the process of purchasing and shipping computers for new employees is automated, all thanks to Rippling. When it comes to pricing, it starts from $8 per month, and it can vary depending on how many features you select.
Process Street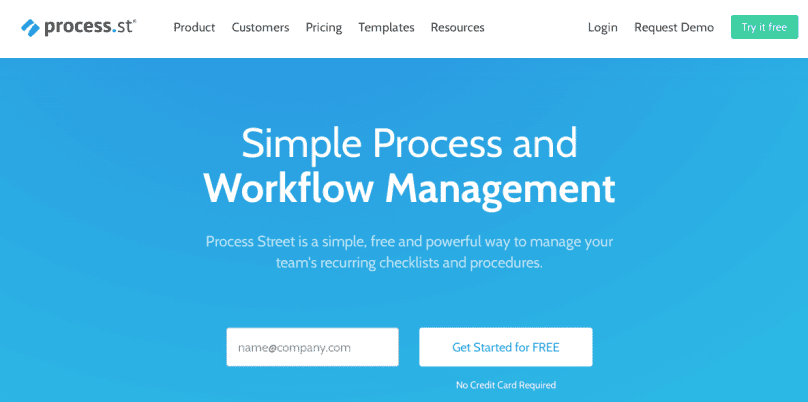 Process Street is another HR automation tool that does all the heavy onboarding work for you. It automates tasks, tracks your employees' progress, and increases productivity, engagement, and retention. With the Process Street tool, managers can easily document the established knowledge of their employees. But also store it in a well-structured way.
You will be able to create interactive workflows for your employees, track their progress, and get notified when they finish their tasks. Workflows don't have to be static because you can build a dynamic one using conditional if/then logic with Process Street.
Another essential feature of this tool is integrating your assigned and scheduled workflows with over 1000+ external apps. Also, updating them once something happens inside Process Street.
This tool is a bit more expensive than the prior. However, it provides a FREE and TRIAL version, so you can try out the service before subscribing to the PRO version. PRO version starts from $30 per month.
WorkBright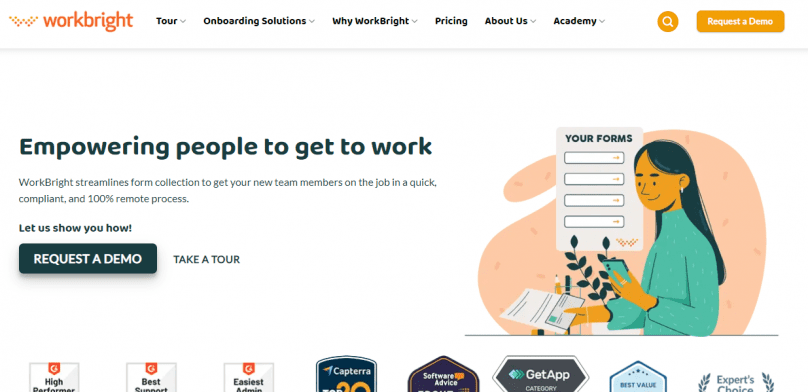 WorkBright is an onboarding tool that claims to enable hiring managers to do all the heavy paperwork online during the onboarding. Everything from filling out W4s, uploading photos of licenses and IDs, and signing papers. WorkBright can do all of that right from your laptop or smartphone.
We guarantee that you will forget about that traditional messy way of preparing documents for new employees' signatures with this tool. Since with WorkBright, hiring managers can easily do all the paperwork online in a digital form. And this way, get it done before the new employees show up on the first day at the workplace.
WorkBright completes the onboarding process through interactive forms, which these forms can also be complete on any device. This new way drastically removed the burden from hiring managers and employees; because there is no longer a need to welcome new employees with a massive pack of paper forms.
This tool has inbuilt data accuracy checkers and helpful deadline reminders so that employees never forget or miss out on activities they need to get done.
Their website motto tells everything about their service – "Manage people, not paper." It is essential to mention that WorkBright is the most expensive tool among these three, where pricing starts from $158/mo. And the price scales up based on how many employees you are planning to hire in a year.
Conclusion
Taking new employees through the onboarding process has always been a painstaking task for hiring managers.
The introduction of onboarding software became a lifesaver for HR(s), which drastically saved up a lot of time and energy.
This article presented only three of the most popular onboarding tools. However, plenty of them offers the same or very similar service, which are different only in pricing.