For a long time, Mailchimp was the number one email marketing tool. So what changed? It is still popular if you judge by the number of people using it. But in a recent couple of years, due to ownership transformation, Mailchimp started to change.
The free plan now lacks so many valuable features. Prices have increased in Mailchimp paid plans. Poor performance of its customer support (it is pricey, but users have to wait a long time to have their issue resolved).
We have #created a #list for you with four #fantastic #alternatives for Mailchimp that can be very helpful.
As a result, users are becoming increasingly dissatisfied with Mailchimp. It may be an adequate solution for newcomers, but serious marketers should look for an alternative.
That's why we decided to present you some of the email marketing tools that are not only the best alternative but maybe a better overall choice.
These are four we picked:
1. Sendinblue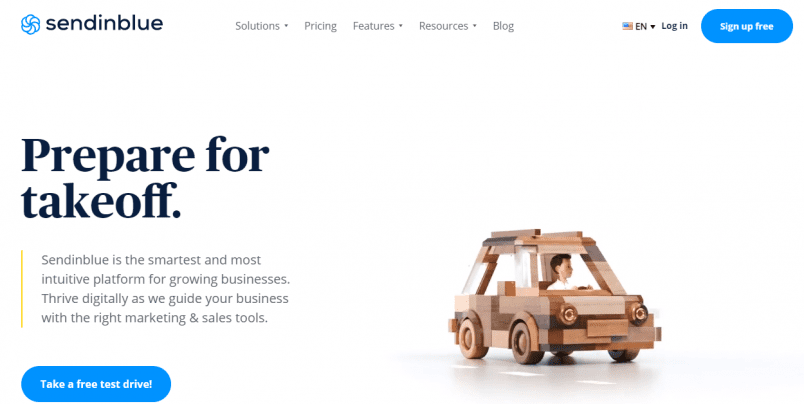 One of the platforms that is an excellent alternative to use instead of Mailchimp is Sendinblue. Sendinblue had a successful 2021 year, being named one of the top software companies and best platform in Marketing Automation.
Sendinblue's Communication, Personalization, and Convert solutions will assist your growing business in staying in touch with your customers. These are some of the Sendinblue features:
Communication Features
Email Marketing
You will get to choose an email template from the library or create an entirely new design for your emails. There is a drag & drop builder that will help you create emails. You will be able to personalize email content, select recipients from an unlimited contact list, and segment Group contacts.
Sendinblue has a machine learning-powered A/B testing available and send-time optimization tool, which will send your emails with the right message at the right time.
SMS Marketing
Use this type of communication with your customers when sending time-sensitive messages. Sendinblue gives you the ability to send bulk SMS for your marketing campaigns.
Chat
Sendinblue has a chat feature you can use on your website for instant communication with customers. So you will have real-time communication with your customers while browsing on your site.
Personalization Features
CRM
Sendinblue CRM is easy to use. You just need to upload your contacts to it. Also, you will have features of Marketing Automation, Transaction Email, and Segmentation. Sendinblue has conversion-boosting features like landing pages, sign-up forms, and Facebook ads.
Pricing plans are from Free ($0/mo.) to Enterprise (get a quote on the site), and all plans have unlimited contact storage.
2. GetResponse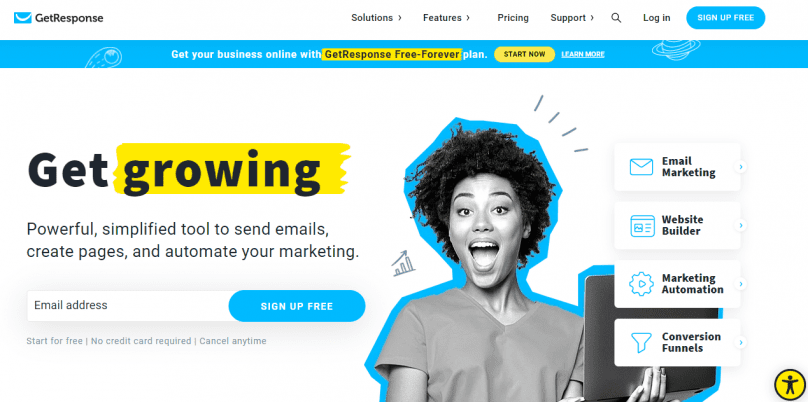 Another alternative for Mailchimp for you to use is GetResponse. GetResponse is a solution that caters to the needs of small businesses and large corporations. It is a straightforward tool that you can use for email marketing, marketing automation, conversion, or even website building.
GetResponse is an email marketing tool that offers the following features:
Newsletters: email broadcast messages with updates
Autoresponders: you can create email sequences to follow up
Automation emails, and many more.
You can use different layouts to create messages with them. GetResponse provides a free photo library as well as GIFs for use in emails.
This tool has a free photo library and GIFs you can use in emails. After creating an email, you can preview how it will look on a large or small screen, so your message will have the right impact on your customers.
A/B testing is a feature that is also available. This A/B testing will optimize your email content by testing subject lines, layouts, and call-to-action buttons.
Conversion Funnel tool automates sales funnel creation (automate, sell, and convert). This feature will give you ready-maid funnels for a lead magnet, sales, and webinars. With GetResponse, you can use live chat, sign-up forms, web push notifications, etc.
GetResponse pricing plans are FREE (up to 500 contacts), BASIC, PLUS, and PROFESIONAL (up to 100K contacts). Paid plans are scalable: per no. of connections/per plan.
3. MailerLite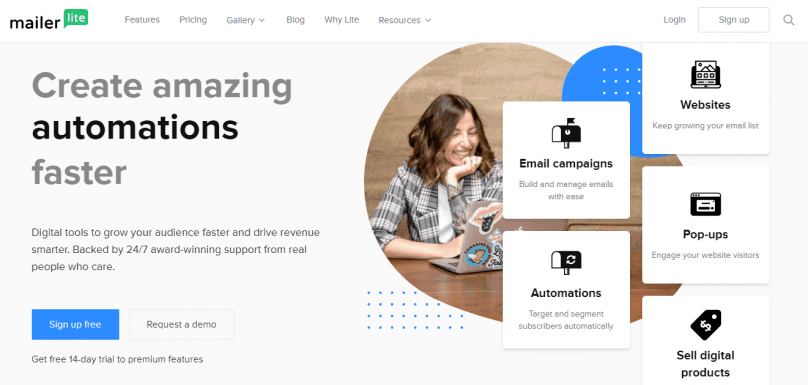 As a third solution, we picked MailerLite. MailerLite features are similar to Mailchimp, which is a helpful alternative for you. Features are:
Email Marketing
MailerLite has a drag & drop editor that helps you create email newsletters. It also has a Rich text editor, Custom HTML editor, premade newsletter templates, and you do not need any prior HTML knowledge. You can use this Email marketing feature to run e-commerce marketing campaigns.
Grow Audience
MailerLite has the following solutions to help you grow your audience: subscriber management, website builder, landing pages, pop-ups, and embedded forms.
Campaign Personalization
MailerLite provides email automatization, tagging, segmentation features, and many more personalization features.
Optimization
For email optimization, you can use tools like A/B testing, time zone deliveries, auto resend option, and RSS campaigns.
MailerLite pricing: for 1K subscribers is free/month, the price range is calculated (per no. of customers/per month).
4. Constant Contact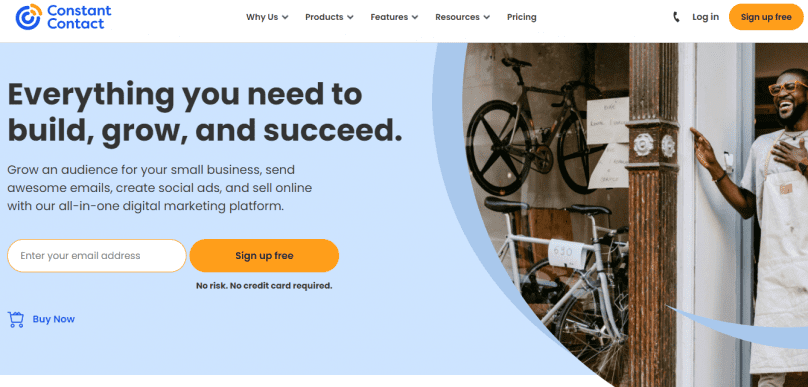 Constant Contact has all the valuable tools in one place that you will need if you run a small business. To help you grow your audience, Constant Contact provides these tools:
Email marketing (drag & drop email editor, pre-designed templates, automation email sending, and tracking tools)
List growth (sign-up forms, pop-ups, SMS messages, landing pages)
Social media (Facebook and Instagram ads)
Automation of your email marketing
Constant Contact has two paid plans, Core ($9,99/month) and Plus ($45/month).
Conclusion
If your business is growing or you run an eCommerce site, these four tools are the right solution for you to use.
These alternatives are more than just a tool to send an email.
Try them and decide which one is best for you.