If you're running an eCommerce shop, chances are you're always on the lookout for the latest tools that will enable you to make your job at least a bit easier. Since, let's face it, running your own digital business is a pretty demanding job.
Automation #software can be your number one helper when it comes to running a #successful #shop.
However, what these tools do is make processing orders easier. Of course, you still need a supplier, and some of the apps are exclusive to one supplier only. So we'll make sure to include tools on this list that can work for absolutely anyone, no matter your choice of supplier or other tools you have to integrate with.
1. Dropified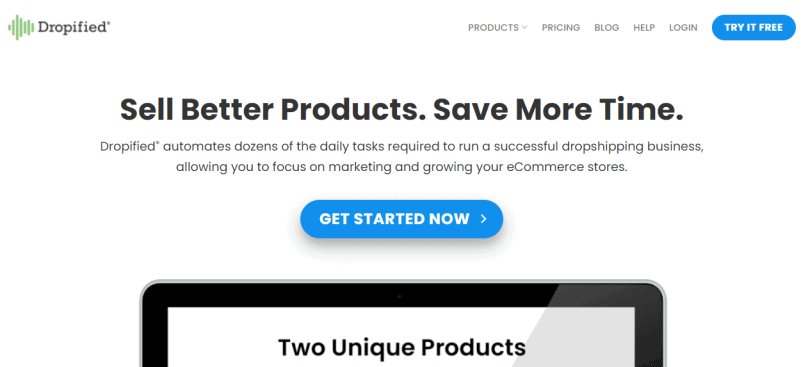 Dropified is our number one choice purely because it'll save you a lot of time. They support both eBay and AliExpress as suppliers. Aside from just the two dropshipping giants with Dropfiied, you could also easily use a whole slew of other sites without any issues.
And still, you'll be able to navigate the interface without any problems, regardless of previous experience.
However, one of the best features of this tool is that it allows for elaborate personal branding. It will enable the user to add their custom-designed labels or logos to their selling products.
Also, this will enable you to dropship a brand instead of a product. In turn, this doesn't only help with customer trust but also boosts brand recognition. This tool can also fulfill all of the orders in three days within the US. An excellent shipping time indeed.
The limited starter plan is 100% free, but it does offer only essential functions and a minimal number of products. However, if you decide on Dropified, you'll be looking at a price tag of either $19 or $47 per month when billed annually.
2. Oberlo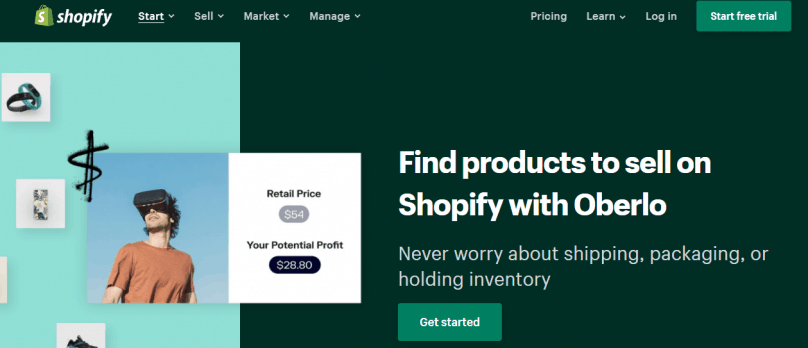 Oberlo is a well-loved tool among dropshippers as it offers many useful functions. But, there are some downsides to it. The first one is that it only works with AliExpress as a supplier, and it is a Shopify tool. So, you'll only be able to use it if your store is Shopify-based. However, if your store matches this description, you'll be more than happy to choose this tool as your automation software.
Also, Oberlo will not only help you find products to sell but more than that. It will also allow you to avoid packaging the orders yourself. The inventory problem also becomes obsolete, as you never have to worry about storing or keeping any inventory for your shop.
Believe it or not, it is that simple. In addition, Oberlo will grow together with your business. Once you expand, you'll be able to add multiple accounts and work with your team. As well as extend your product catalog over time.
There are three different pricing plans available. The Basic plan is recommended for beginners and comes around to $29 per month. When your business grows, you can upgrade the tool and opt for either the Shopify plan or the Advanced Shopify plan.
3. Inventory Source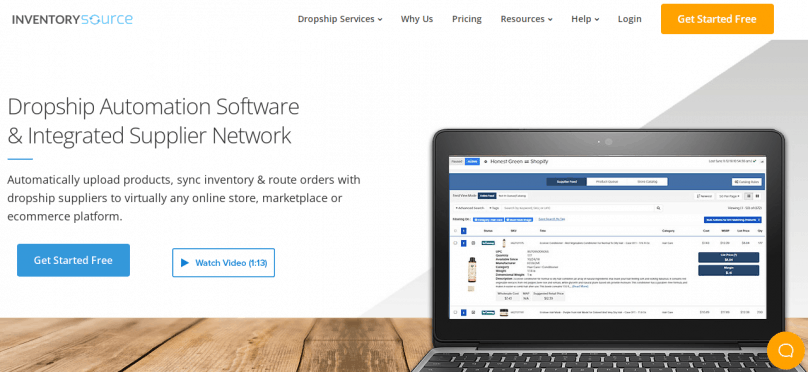 If you're getting into dropshipping and need some extra help along the way, Inventory Source'd well advise you to give Inventory Source a try. This platform offers over 25 suppliers, 25 eCommerce integrations, and over 200,000 products you can add to your inventory with only a few clicks. It is a one-stop solution for eCommerce dropshippers.
Using Inventory Source, you'll be able to contact the suppliers from their network. And you will even be able to add your own. The communication process is made easy through this simple solution. You don't have to go around looking for possible suppliers and checking if they'll e a good fit.
All there is to do is choose one already in business with the platform and move right ahead. Another feature that's bound to make your job easier is that all of your inventory syncs up automatically – no need for manual uploads, ever.
Also, a handy automation feature is automatic order processing. Any order made in your shop will automatically be sent to your supplier and synced back to shipment tracking. As easy as one two three. This tool is a bit pricer than our two previous recommendations. But we think it's a fair deal presenting its features. The Inventory Automation for $99 per month and Full Automation for $199 per month are two pricing plans.
4. Spocket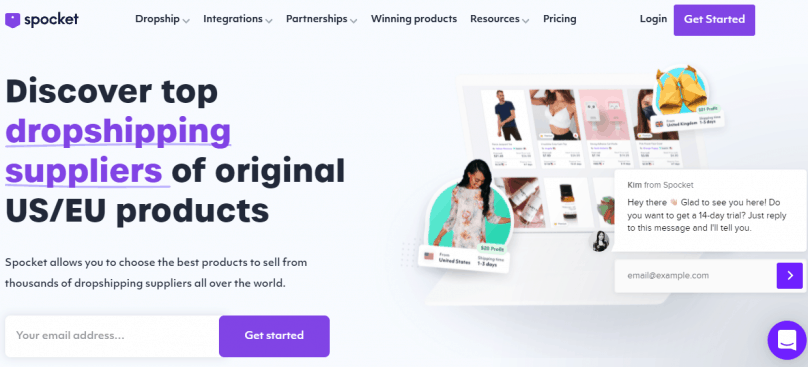 Spocket is a great tool that might be the best choice for companies in the US or Europe. It even allows you to connect to suppliers from either of those places.
Also, this can not only provide access to different products but can significantly impact your shipping speed. While most dropshippers usually take somewhere between 2 and 4 weeks to deliver, you could cut that time in half. In some situations, even more for domestic shipping, by working with suppliers within the US.
Another great feature is being able to order a trial product straight from the tool's dashboard. If you want to try everything you intend on selling to ensure its quality, Spocket is the perfect tool for you as it makes the whole process straightforward.
Furthermore, this is also one of the more affordable tools we're recommending today. And the remarkable fact is that it offers three pricing plans depending on where you are with your business. The Starter plan comes around $24 per month.
Further, the Pro plan will cost you $49 per month. It is essential to mention that both have a 14-day free trial. So you can assure this is the tool for you before making the final decision.
Final Thoughts
Dropshipping can be risky, but it can be pretty lucrative if you play your cards right.
Automation software can be only your first step towards success as it makes everything a bit simpler.
Still, any business takes time, effort, and passion for running. So, if you want to have an eCommerce business, do your research and make sure you have enough time and drive to put into it.