Having built your product and launching a website for it are the first steps you take in business. However, suppose your website does not have any way to enable visitors to contact you and get their doubts cleared up. In that case, you will see how significantly that impacts your sales and overall user experience.
People never buy products if your customer service is poor and slow. You should employ customer agents to do that work for you. Besides, this will significantly increase the number of sales, but also your product will look genuine and trustworthy.t
Provide your #customers to get in #contact with you at any time. 3CX Live Chat is the #ideal plugin for that!
Your clients will be able to ask you a question at any moment and receive a prompt response. One option is to include a contact page on your website where customers can access your contact information. However, this way of establishing communication and connection with your potential customers is quite old and traditional.
Also, nowadays, people mostly go for the live chat option. The live chat option includes integrating a live chatbox into your website. This way, you will allow visitors to enter their name and email address, automatically connecting them with the first available agent in real-time.
This way, you can ask anything you want and get a quick, real-time response. Now, you might wonder, "Where do I find those live chat boxes?". Well, there are plenty of them (both free and paid) on the internet right now, but their prices and features differ.
In this post, we'll take a look at one of them,  3CX Live Chat, which appears to be a valuable and promising live chat agent service.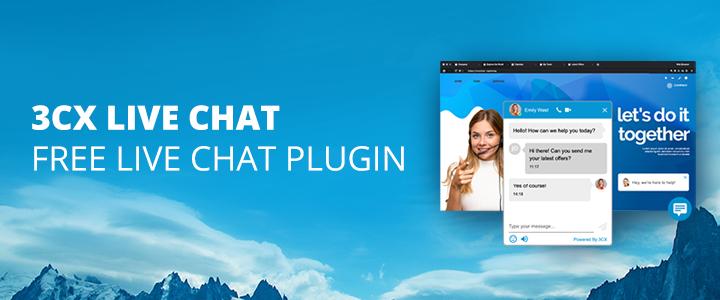 Before going deeper into its features and other vital things, it's crucial to note 3CX Live Chat is a completely free plugin powered by a forever free 3CX StartUP plan.  There's also an option to take advantage of the complete 3CX PBX system which does come with an annual subscription, but if you're looking to just add the live chat option, there's no fee whatsoever.
Features
3CX Live Chat gives you a more modern, real-time communication channel between your agent and website visitors than the traditional way of connecting through email and contact forms     . You can customize and add different chat greeting messages based on the current working hour and track the agent's performance through call and chat      reports that people leave at the end of the chat session.
Voice or Video Call
Generally, when we talk about those live chat agent tools, most of them offer you the same stuff for a very similar price. However, this is not the case with 3CX Live Chat because, besides those standard features, it turns a live chat session into a live voice or video call with one of your available agents in just one click.
Plus, all communication runs simply in the browser thanks to the dedicated 3CX Talk links, and it doesn't cost anything for you nor customers –      everything is free. Your consumers won't have to look for a phone number before calling you because this tool does everything for them. With one click, you can start a call with the same agent directly from the live chat bubble, who can assist you in fixing the issue much faster than just over the chat, without the need to repeat your issue again to another operator.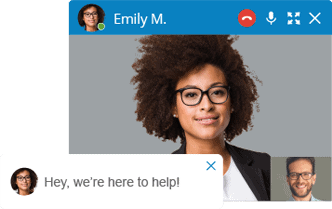 The principal role of 3CX Web Client, on the other hand, is to integrate, keep track and respond through all communication channels. This is especially convenient since      3CX Live Chat offers Facebook, business SMS and very soon WhatsApp integration. By accessing all messages from one place, you will never leave a message unread, and will not waste time switching between the windows. Everything is managed and kept in one single place.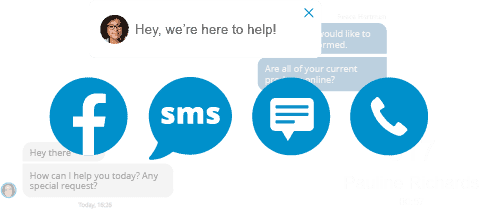 Don't worry if you are not quite familiar with hosting and managing apps in the cloud or on your private machine. 3CX StartUP enables you to get quick and easy access to the PBX system, without the need for OS or network management, performing updates and upgrades of the device. 3CX hosts your system on a shared instance instead of a dedicated one and takes care of the system setup, management and updates for you. You can focus on the important business tasks instead.      
Installation Process
During the installation you'll also go through the registration process, after which you'll have access to The Web Client, which you'll then finally connect to your WordPress plugin.
Signing up follows an easy step-by-step process:
Sign up for your free account.
Add your users or agents to the system and assign them roles (managers, receptionists, standard users). Visitors will contact them via messages and calls.
Determine if you'll use a SIP Trunk, which is used for inbound and outbound calls. If you'll be using the system just for Live Chat and internal communication just click on "Next".
Now you can start setting up your live chat by choosing the option "Yes" and selecting if you have a WordPress website or not – enter the URL if you have and click "Set".
You need to link the system to the plugin, so download and activate the plugin and then copy the 3CX Talk URL and save it for later. The 3CX Talk link is what is used to link your website to your StartUP account. It creates the bridge that carries the chats, calls and video calls over the browser, so there is no need for a telephone number to call.
You're all done. Through the "Login" button you can access your dedicated 3CX Web Client which is where all your customization options and chat messages are located.
Now it's time to configure your Live Chat.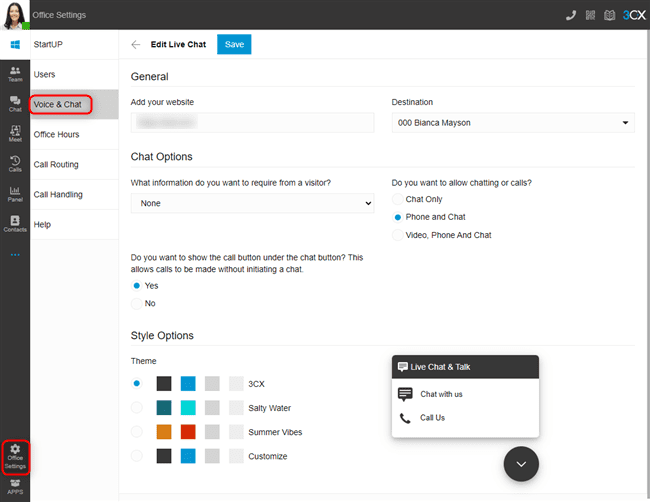 To set up live chat so that calls and messages can be answered from The Web Client, go to "Office Settings > Voice & Chat" and click on the pencil icon.
Your website address will already be populated from the wizard process, but you can amend this if required now, or later.
The "Destination" field shows where live chat messages or calls will be sent. To amend the "Destination", navigate to "Office Settings > Call Routing" and choose your destination. By default, the live chat will route to a ring group. For more information on ring groups, check out the getting started guide.
Under the "Chat Options" section, use the drop-down selection to choose what information visitors need to provide you with.
Use the radio buttons to choose if you want to allow "Chat Only", "Phone and Chat", or "Video, Phone, and Chat".
If you want the option for "Call Us" to be displayed immediately on the chat bubble, use the radio button to show or hide the option.
Under "Style Options" choose from one of the 3 pre-defined themes or select "Customize". For the last option, click on each of the color tiles and use the pop-up color picker or enter your RGB numbers.
Use the preview of the chat bubble to interact and test the functionality and if you're satisfied, click "Save" at the top of the page.
3CX Live Chat Plugin for WordPress
With almost two million installations, 3CX Live Chat is considered one of the most popular live chat agent WordPress plugins you can use on your website. As already mentioned, it's free to use and offers an unlimited number of chats.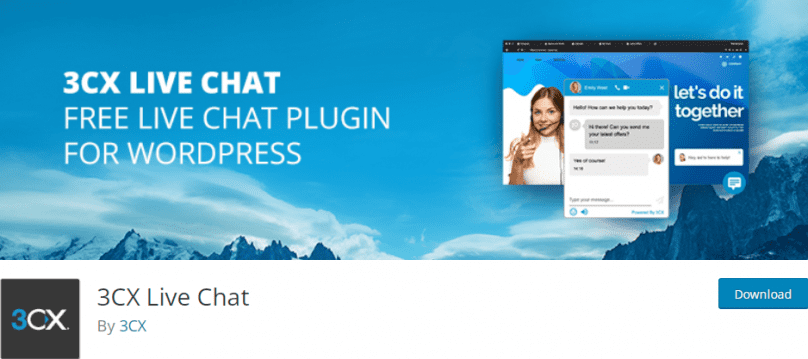 To set it up, you'll need to do follow the next steps.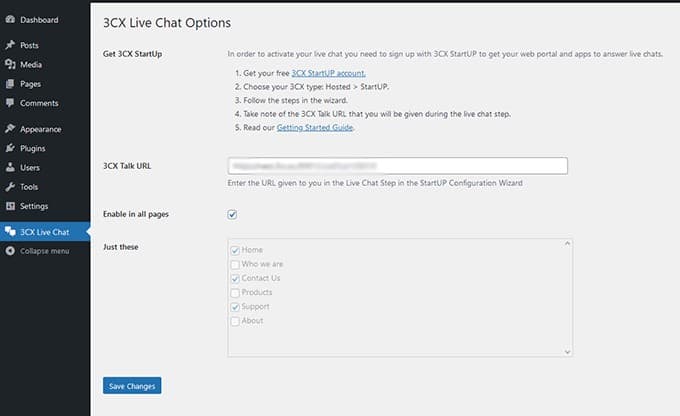 Log in to the admin panel of your WordPress website
Navigate to "Plugins" and click "Add New" at the top of the page
Click on "Upload Plugin" at the top and choose the file you downloaded during the sign-up process. The same can also be obtained from The Web Client in "Office Settings > Voice & Chat" and click the 'i' icon next to the pencil icon and click "Install Now"
After installation, click on "3CX Live Chat NextGen" in the sidebar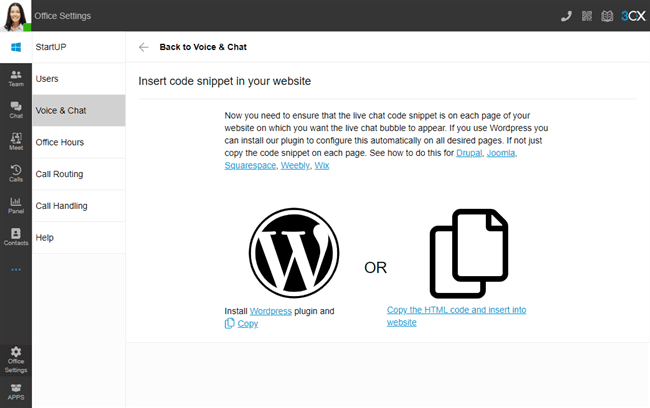 Paste the URL you copied earlier (the 3CX Talk URL). If you haven't copied it, you can find it again in The Web Client in "Office Settings > Voice & Chat" under the "Information" field or within the confirmation email sent earlier in the setup process.
Either tick the box to show the chat on all pages or use the tick boxes below to select individual pages. Click on "Save Changes" and you're done.
The 3CX Live Chat plugin is designed to be straightforward. Additionally, this method lowers the cost of support lines while increasing revenue. When customers connect to the live chat, you can transfer them to a particular agent that you choose.
The interface for both customers and agents is straightforward to navigate, and the live chat box, displayed in the bottom right corner on the screen, is fully customizable. If you need to access the chat history, you can quickly get records of the past customers that your agents communicated with.
Customization
Integrating this plugin with other translation WordPress plugins lets you make the product you are selling internationally available, providing real-time support for customers in multiple languages. You can enable or disable sound notifications in your browser whenever a new live chat session is established.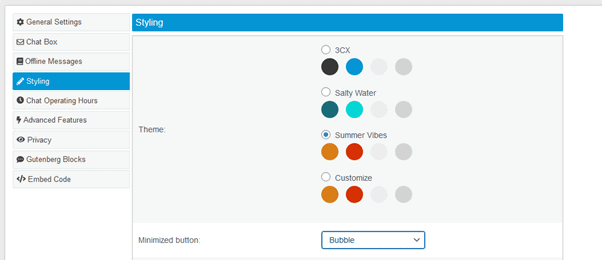 You can customize the live chatbox to be unique for your company, by adding your company logo.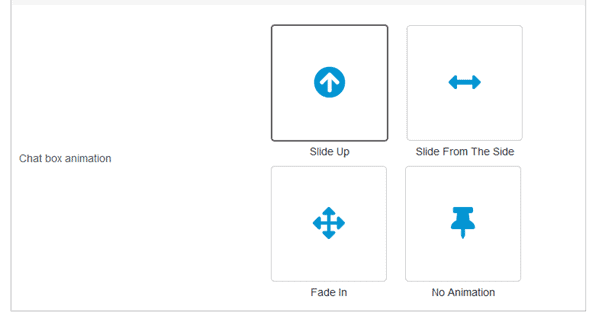 You can select different themes and colors to change the look of the live chat button. Even animations, which you can find in the bottom right corner, are included. You can, however, make it appear in the left corner if that is more appealing to you.
In the settings, you are free to define a welcome message and set up the plugin. So, it will automatically respond to the customers when they send the first message or at the end of the chat session.
3CX Web Client
We've already mentioned the connecting web client that works with the plugin, but let's go into a bit more detail about what it's all about and why it's good to have a separate client that handles some of the features aside from the plugin.
The Web Client will function as your all-in-one interface/dashboard for all your communication channels which include CRM, Facebook messages, and SMS integration. All the channels are traced through the client instead of the plugin, meaning there's a lesser strain on your site's resources, ensuring the speed of your site won't be affected.
Even if you're not considering the speed implications, a unified interface for your communication channels makes it much easier to manage, especially, if you're using multiple channels at once. It's not just channels either. You'll get to add contacts, track groups, open new chats, start calls or video meetings, everything from the same window/tab, making it a life saver for those that dread having infinite tabs open in your browser.
Accessibility is also a step above the dashboard you'll be working with WordPress. Because the client is "cloud native" it's designed to work directly in your browser, on any device. Nowadays when being mobile and working on the go are commonplace, having an easily accessible interface is crucial to be always on top of your business.
With the addition of the 3CX StartUP package there's also been an overhaul of sorts regarding the subscription tiers, which now count three, with the free tier being more than enough for most businesses:
| | | |
| --- | --- | --- |
| STARTUP FREE | STARTUP PRO 10 | STARTUP PRO 20 |
| Shared Instance | Up to 10 users | Up to 20 users |
| Up to 10 users | Own SIP Trunk | $275 |
| Video conferencing | Multi Level IVR |   |
| 1 Ring Group | Call Queues |   |
| 1 Auto-attendant | Reporting |   |
| 3CX Talk Links | $175 |   |
| Live Chat |   |   |
| Mobile Apps |   |   |
| $0 |   |   |
Conclusion
For every serious business, you need a professionally designed and developed website. However, having only a good design will not talk people into buying your product. You need to have good customer support for the design of the website. A long time ago, websites used to have a contact page.
There, potential customers could contact you to ask questions or report some issues they may experience. Nowadays, more and more websites are turning to a modern way of communication with your customers via live chat.
This article tackled one of the most popular support live chat tools you can use on your website, called 3CX Live Chat.
This tool is very comprehensive and rich, enabling you to have standard agent support for customers and giving them the ability to get into a voice or video call with one of your support agents in real-time. Also, this is probably the most prominent feature that makes 3CX Live Chat stand out against its rivals.