Having built your product and launching a website for it are the first steps you take in business. However, suppose your website does not have any way to enable visitors to contact you and get their doubts cleared up. In that case, you will see how significantly that impacts your sales and overall user experience.
People never buy products if your customer service is poor and slow. You should employ customer agents to do that work for you. Besides, this will significantly increase the number of sales, but also your product will look genuine and trustworthy.
Provide your #customers to get in #contact with you at any time. 3CX Live Chat is the #ideal plugin for that!
Your clients will be able to ask you a question at any moment and receive a prompt response. One option is to include a contact page on your website where customers can access your contact information. However, this way of establishing communication and connection with your potential customers is quite old and traditional.
Also, nowadays, people mostly go for the live chat option. The live chat option includes integrating a live chatbox into your website. This way, you will allow visitors to enter their name and email address, automatically connecting them with the first available agent in real-time.
This way, you can ask anything you want and get a quick, real-time response. Now, you might wonder, "Where do I find those live chat boxes?". Well, there are plenty of them (both free and paid) on the internet right now, but their prices and features differ.
In this post, we'll take a look at one of them, 3CX Live Chat, which appears to be a valuable and promising live chat agent service.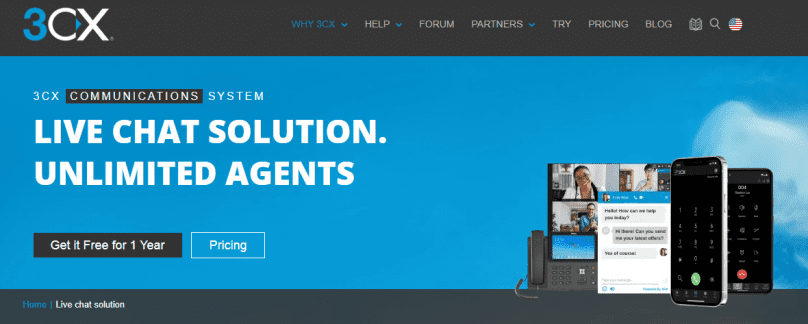 Before going deeper into its features and other vital things, 3CX Live Chat gives you an option to try it out entirely FREE for 1 YEAR. You do not pay anything!
Features
3CX Live Chat gives you a modern, real-time communication between your agent and website visitors than the traditional way of connecting through email contact boxes. You can customize and add different chat greeting messages based on the current working hour and track the agent's performance through ratings and reports which people leave at the end of the chat session.
Voice or Video Call
Generally, when we talk about those live chat agent tools, most of them offer you the same stuff for a very similar price. However, this is not the case with 3CX Live Chat because, besides those standard features, it turns a live chat session into a live voice or video call with one of your available agents in just one click.
All of that runs simply in the browser, and it costs neither you nor customers; everything is free. Your consumers won't have to look for a phone number before calling you because this tool does everything for them. With one click, you can start a call with an agent, which can assist you in fixing the issue much faster than the old live chat.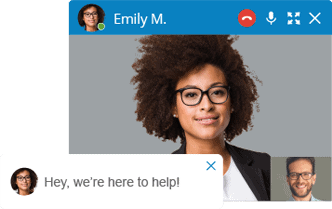 They primarily created the 3CX Live Chat tool to integrate all communication systems, keeping and managing all in one place. It's simple to integrate it with the most common CMS platforms, such as WordPress or Drupal. Not only that, but you can also use 3CX Live Chat to connect your Facebook business page and SMS business number.
Further, it will automatically send all the messages from your Facebook page and SMS number directly to this tool. Your customers will get their questions answered much faster. Also, the agents can do all the work without opening the Facebook page or checking the business SMS number. Everything is managed and kept in one single place.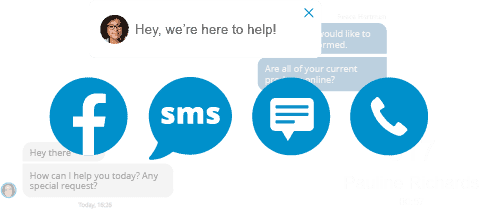 Don't worry if you are not quite familiar with hosting and managing apps in the cloud or on your private machine. You can choose to let them host your 3CX Live Chat on their machines. You do not have to worry about OS or network management, performing updates and upgrades of the device.
3CX will do all the heavy technical work for you. Monitoring the system and performance of your live chat 24/7 and running daily backups to ensure that you do not lose any data.
Installation Process
The installation process is straightforward. First, you need to create a 3CX customer account if you do not have one. Then, you need to choose a subdomain and select the extension length for the live chat instance you are creating. After that, you need to click on a button to accept the 3CX License Agreement, and your live chat instance will be hosted and up running in about 15 minutes.
However, suppose you already own a 3CX Customer account and want to migrate to a hosted instance. In that case, you can go to "Subscriptions" and click "Reinstall" to begin the process of installing your model.
3CX Live Chat Plugin for WordPress
With almost two million installations, 3CX Live Chat is considered one of the most popular live chat agent WordPress plugins you can use on your website. As already mentioned, there is a current offer giving you a completely free one-year usage of this tool with an unlimited number of agents that you can add.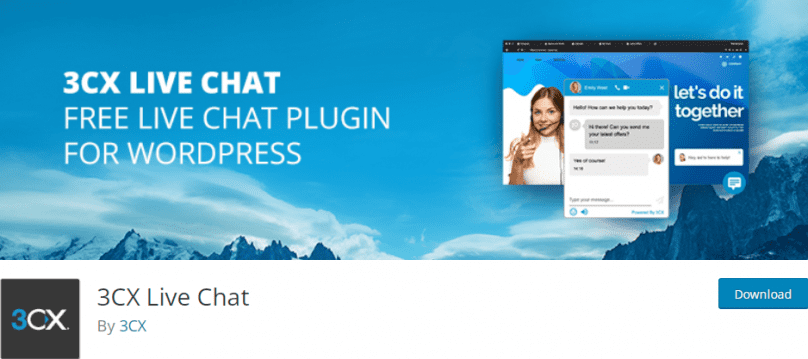 The 3CX Live Chat plugin is designed to be straightforward. Additionally, this method lowers the cost of support lines while increasing revenue. When customers connect to the live chat, you can transfer them to a particular agent that you choose.
The interface for both customers and agents is straightforward to navigate, and the live chat box, displayed in the bottom right corner on the screen, is fully customizable. If you need to access the chat history, you can quickly get records of the past customers that your agents communicated with.
Sending and receiving messages is blazing fast due to the powerful 3CX servers on which your live chat is hosted and run.
Customization
Integrating this plugin with other translation WordPress plugins lets you make the product you are selling internationally available, providing real-time support for customers in multiple languages. You can enable or disable sound notifications in your browser whenever a new live chat session is established.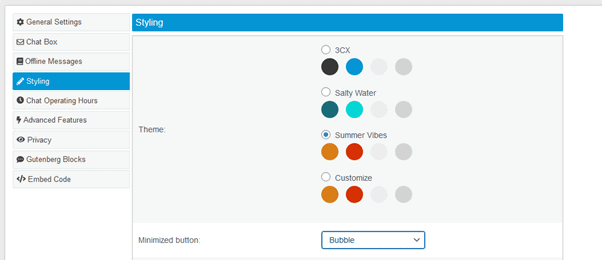 You can customize the live chatbox to be unique for your company, adding your company logo. However, as mentioned in the first part of this article, the 3CX Live Chat plugin is probably the only one that gives you an option to communicate with agents via a voice or video call.
Also, this is one of the most significant advantages this tool offers you. Mainly because the issues that your customer may run into are easier to fix through a voice or video call than standard text chat.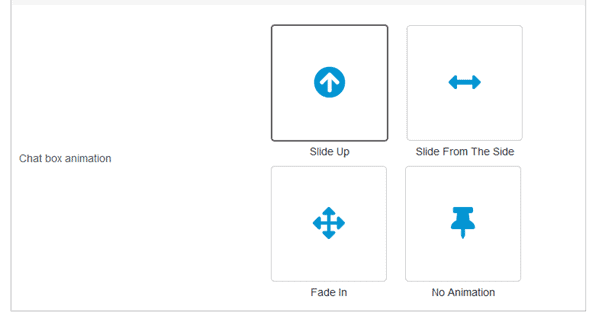 You can select different themes and colors to change the look of the live chat button. Even animations, which you can find in the bottom right corner, are included. You can, however, make it appear in the left corner if that is more appealing to you.
In the settings, you are free to define a welcome message and set up the plugin. So, it will automatically respond to the customers when they send the first message or at the end of the chat session.
3CX Management Console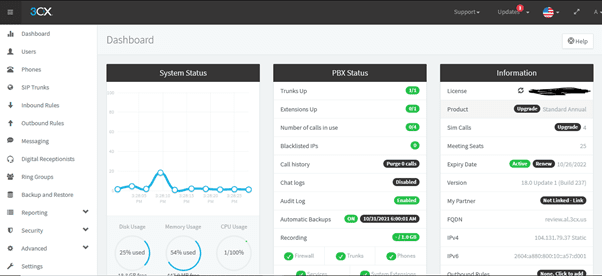 Besides a plugin available for WordPress, 3CX gives you access to the 3CX Management Console. So you can monitor 3CX Live Chat instances, change settings, perform backups, add users, etc. When you enter your credentials and open up the console, you will see a list of categories used for performing different actions on the left side.
There are information and graphs on the right part of the screen. Information about the machine that hosts your live chat instance. Such as disk and memory usage and CPU performance in real-time. Just next to it, there is a box that shows you information about PBX status, some trunks and extensions which are up, blacklisted IPs, enabling or disabling chat logs, and so on. If you need to check some general information about the console, such as:
a license key,
expiry date,
a current package that you are using,
information about static IP, etc.
If you go to a "Users" category, you will see a list of all users that you previously added. Also, you can add new users, edit those that already exist, and remove them. You can manage SIP trunks by
adding trunks,
gateways or bridges,
writing rules for inbound and outbound calls,
connecting your Facebook business page and SMS number with a WordPress website linked with 3CX Live Chat plugin.
Ring Groups
There is also an option for adding ring groups or paging if you need to customize it. It's important to mention that you can perform backups from this console manually or automatically by setting a schedule. Another essential and valuable feature that you can find in the 3CX console is call logs.

You can track all calls there and filter them based on the date or specific patterns you define. If you ever feel concerned about security, you can head over to the "Security" tab.
Further, change the settings you prefer, including IP blacklisting, SSL support, DDOS mitigation, and other security measures. However, if you want to explore the console more in detail, you can get 3CX Live Chat free for one year. This way, get familiar with all the settings and customizations that you can do in the WordPress plugin and 3CX Management Console.

Conclusion
For every serious business, you need a professionally designed and developed website. However, having only a good design will not talk people into buying your product. You need to have good customer support for the design of the website. A long time ago, websites used to have a contact page.
There, potential customers could contact you to ask questions or report some issues they may experience. Nowadays, more and more websites are turning to a modern way of communication with your customers via live chat.
This article tackled one of the most popular support live chat tools you can use on your website, called 3CX Live Chat.
This tool is very comprehensive and rich, enabling you to have standard agent support for customers and giving them the ability to get into a voice or video call with one of your support agents in real-time. Also, this is probably the most prominent feature that makes 3CX Live Chat stand out against its rivals.