Illustrations are a crucial part of both design and non-design projects. They make the project more appealing and help you to convey your message better. A project/design without illustrations can be done, but it might seem bland or even outdated, considering the popularity of illustrations in all areas of modern design. The level of popularity illustrations has was achieved largely due to the fact that they work well in whichever way you use them.
The illustrations are great as decoration, as a visual representation of your words, as infographics, as a centerpiece of your design.
Illustrations do fall under intellectual property, and if they aren't your own work, you can't use them without the owner's permission; otherwise, you might end up in serious legal trouble because of copyright violations. If you are considering doing the illustrations by yourself, you have to make sure you are actually capable of doing so. Being a good Web UI designer or something of that sort doesn't automatically make you a good illustrations designer. Although both areas do fall into the design category, they are very different indeed, so reaching out to web design Sydney professionals might be the right move to make to guide you with next level ideas.
If you aren't already an experienced illustrations designer, a good option would be to use free stock illustrations. Free illustrations could be a great alternative to creating your own since they were most likely created by a skilled artist and can be easily modified to be unique for your project and to work great with your concept. While searching for free illustrations online, you might be overwhelmed with all the possible options. That is why in this article, we will cover the top sites for free illustrations you should consider using in your search for the perfect one.
Flaticon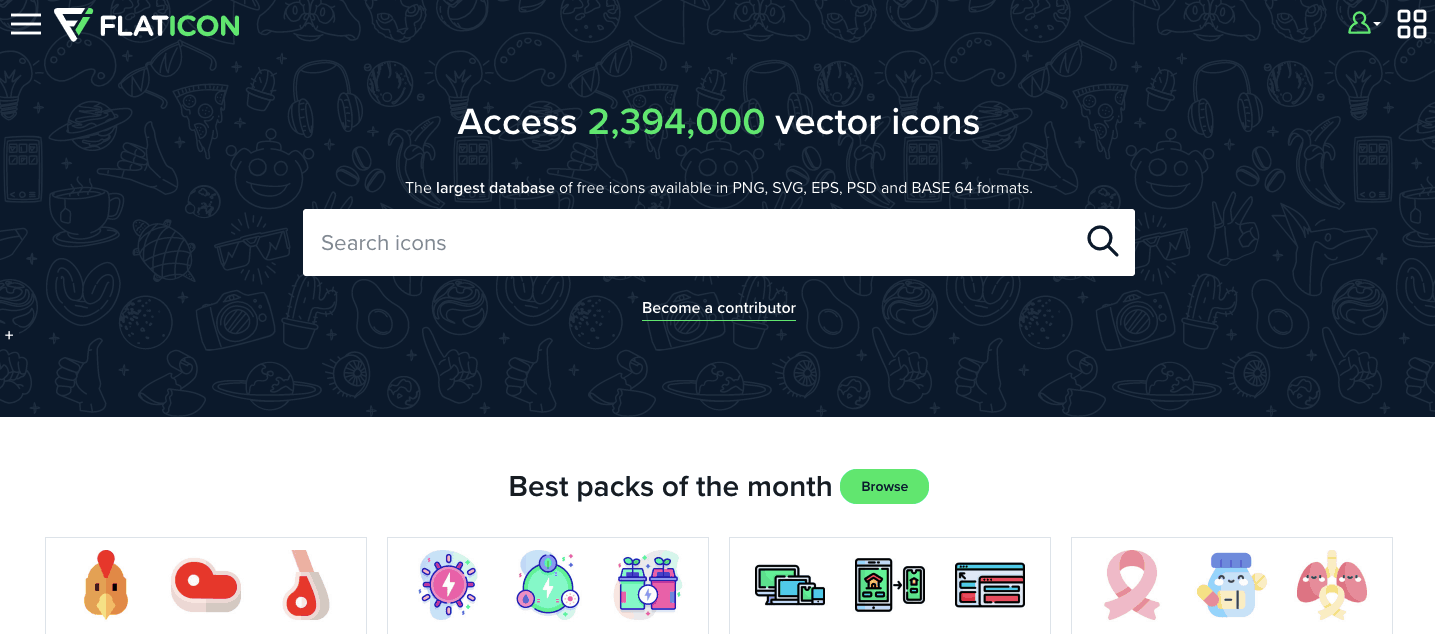 Flaticon boasts a collection of over 450,000 vector icons, which makes it the largest database of vector images, with everything in the database being free. The icons come in the following formats, PNG, SVG, EPS, PSD, and Base64 and are grouped into sets for a variety of themes like management, eCommerce, marketing, SEO, and more. This makes browsing the icons database much easier. The icons come in vibrant colors, which makes them perfect for projects that have a colorful design or are in need of a splash of color. Like already mentioned, the icons are free to use; you just need to give attribution to the artist in your project.
Pixabay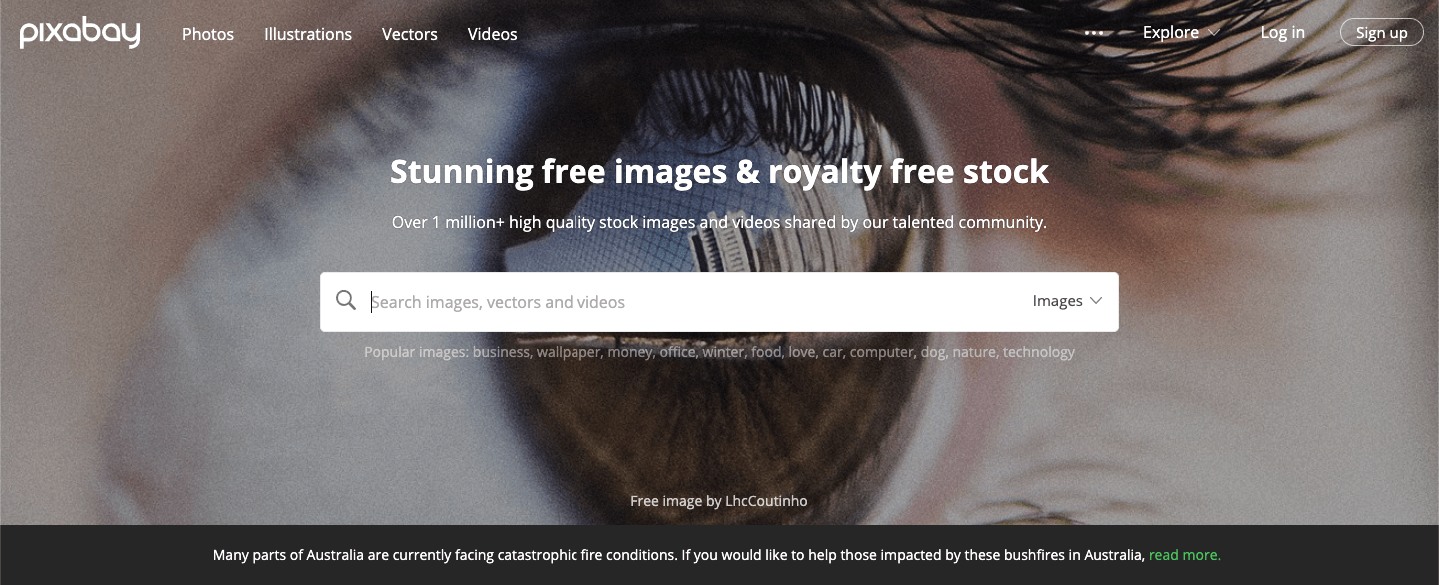 All images on Pixabay are of high quality and have been donated by photographers. The collection consists of 1.5 million stock images and 8.500 stock videos, which makes this collection one of pretty significant size. When using Pixabay to find illustrations, you should be a little cautious since some of the illustrations aren't free.
Vecteezy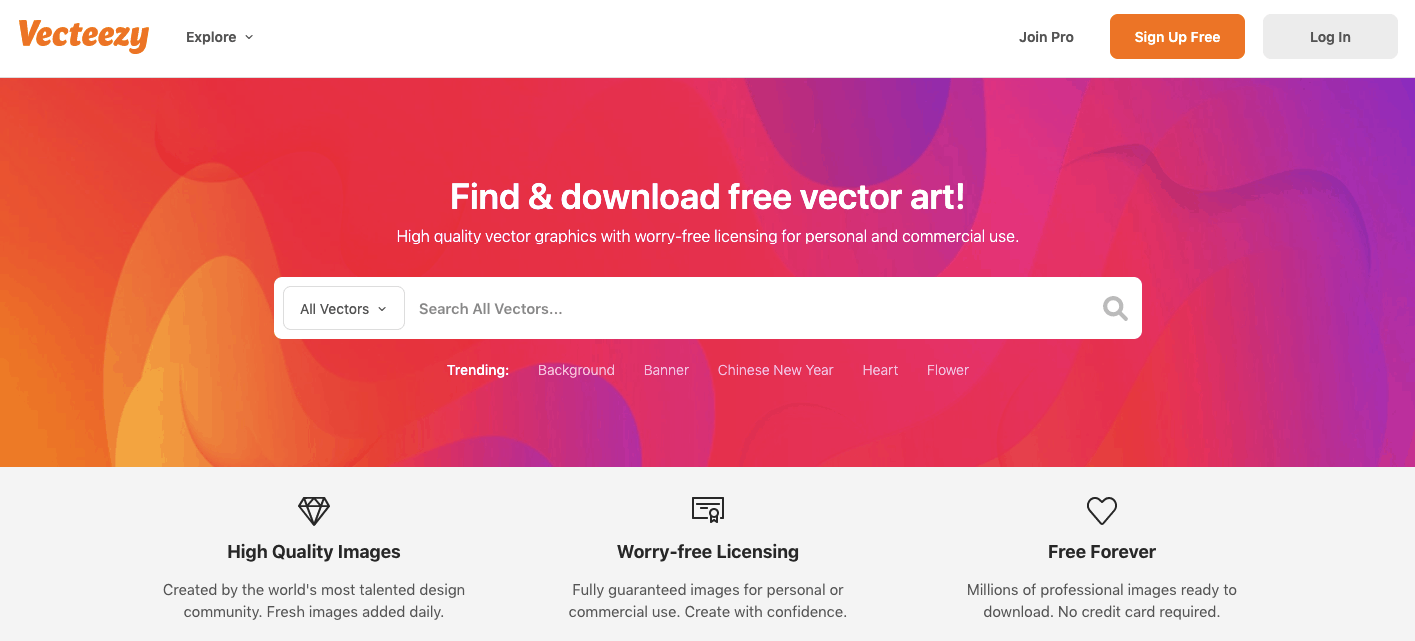 Vecteezy is an easily searchable collection of 100000 pieces of vector art. While browsing the site, you can sort the art by category or keyword, making your search a lot more specific. Here you can not only find free illustrations for your project but also leave your opinion on the art submitted on Vecteezy. Most illustrations are free to use in your project, although that can depend on the license. All in all, Vecteezy is great for people looking for free illustrations and for artists wanting to get exposure and constructive criticism for their work.
Freepik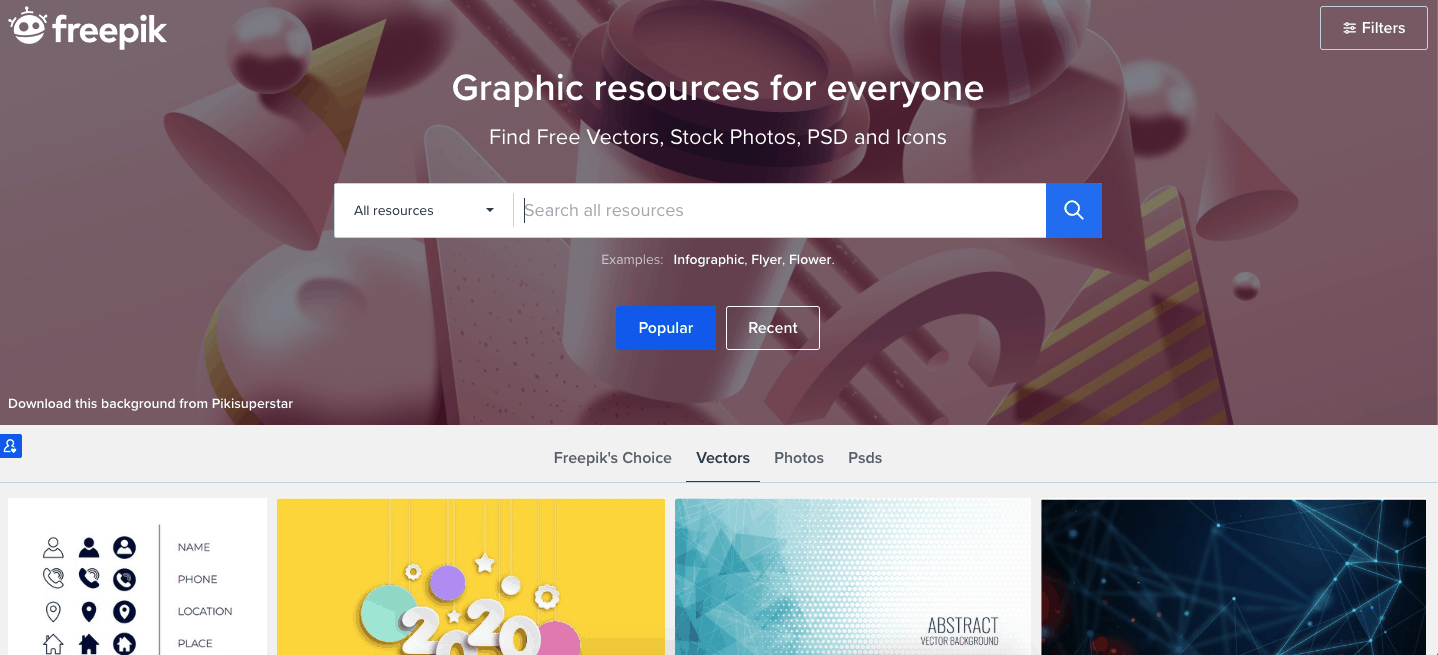 This is one of the most popular sites when it comes to free illustrations. Freepik's collection is made up of 800.000 free illustrations as well as premium vectors. Hundreds of new free vectors are produced and uploaded to Freepik on a daily basis. The vectors come in AI, EPS, and SVG formats, and browsing of the site is done using keywords. Premium vectors are indented for premium users, but more than plenty are available for free. Illustrations from Freepik are particularly good to use in infographics.
Absurd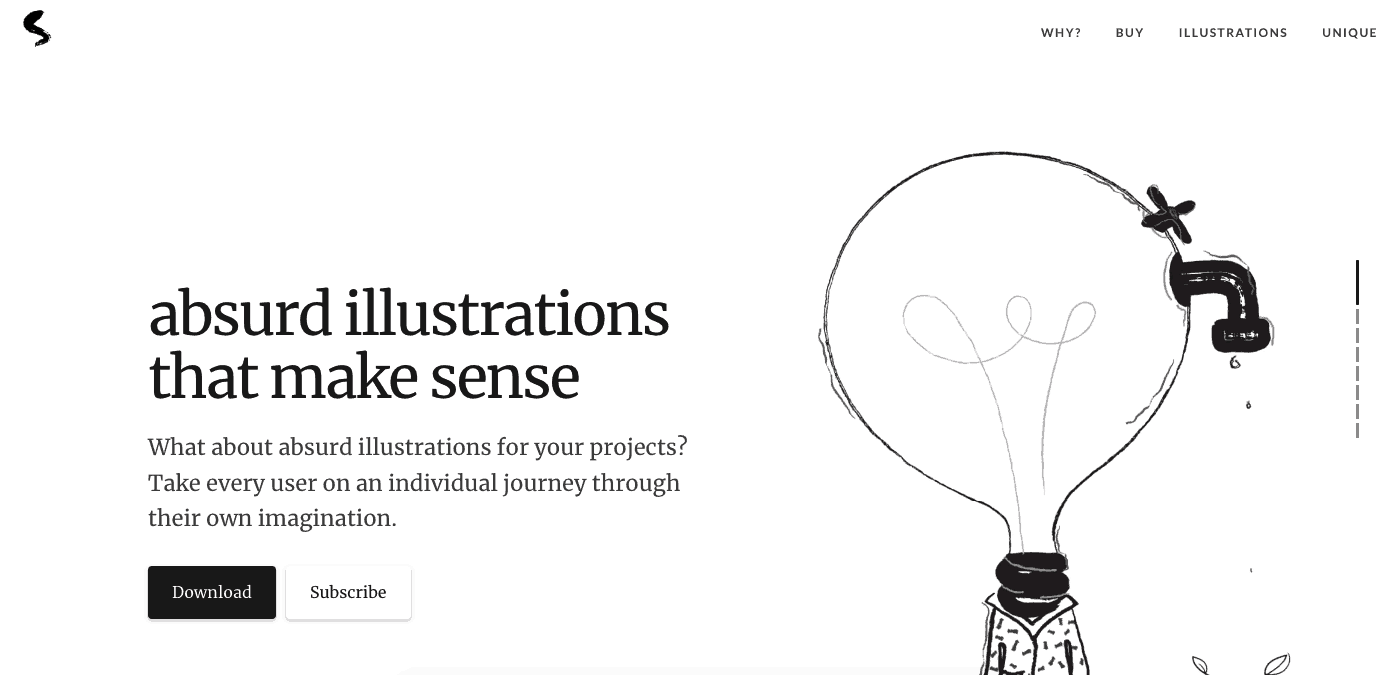 Absurd can provide you with surrealistic illustrations perfect for your landing page. The free illustrations come in a black and white color scheme and PNG format and can be used for free if you link back to the original project. Colorized versions are available in different formats but are paid for by signing up for a premium membership of 19$.
Stockio

On Stockio you can find free vectors in AI and EPS format, icons, professional photos, and videos as well. All of the art is in high quality and can be edited. For registered users, Stockio keeps track of all the files you downloaded by creating your own personalized portfolio.
DrawKit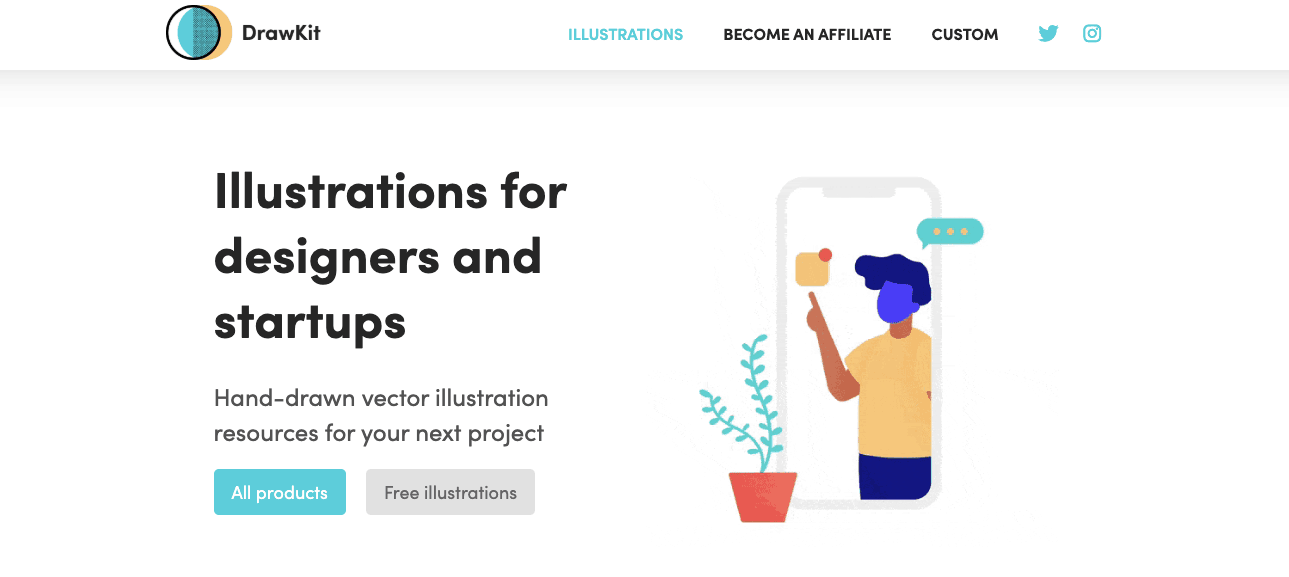 DrawKit consists of 50 illustrations created by James Daly. All of the illustrations were created in a clean style, ranging in categories like education, finance, business, abstract, and more. They are fully customizable, available in monochrome or bright colors. For free, you can get SVG and PNG files, but you can also sign up for premium packs. The illustrations fall under the MIT license, making them suitable for personal and commercial use.
Humaaans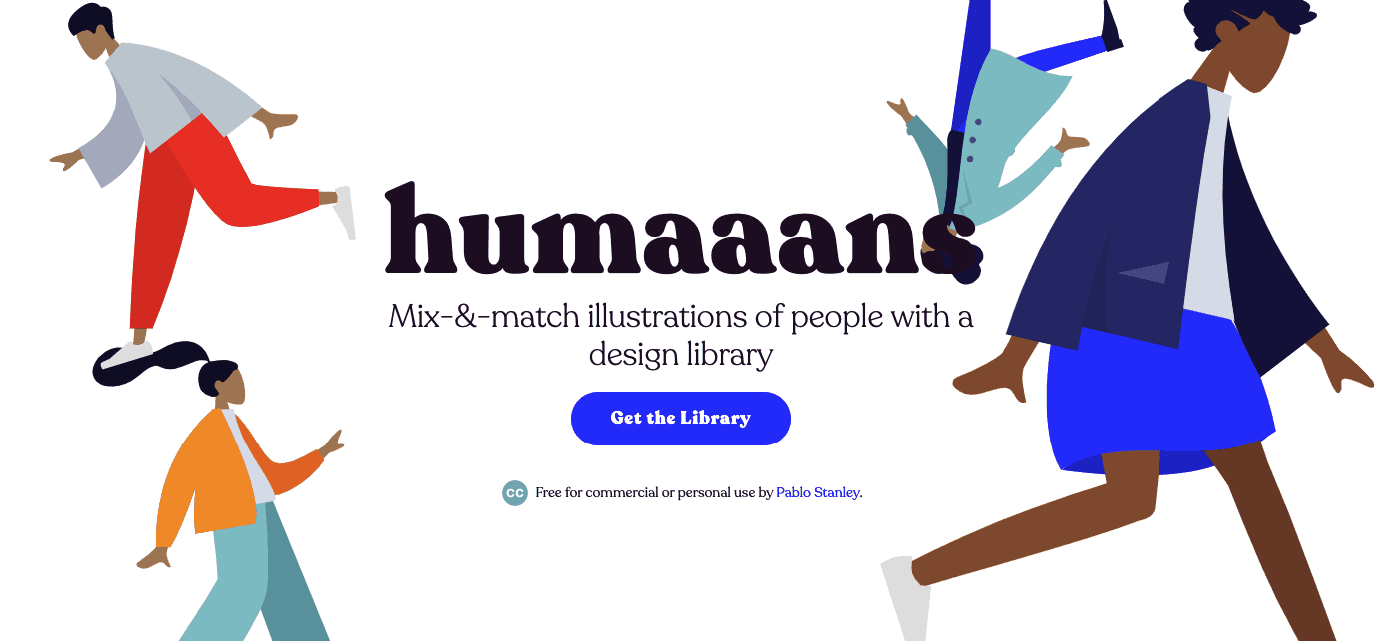 Humaaans is a relatively new site on the vector illustrations market. It gets its name from the focus it puts on the connection of humans to design. The collection is full of characters, objects, and elements such as people and background scenes. Existing characters, objects, and elements can be customizable, enabling you to create your own unique ones. All illustrations are free to use for either personal or commercial use if credited appropriately.
Ouch!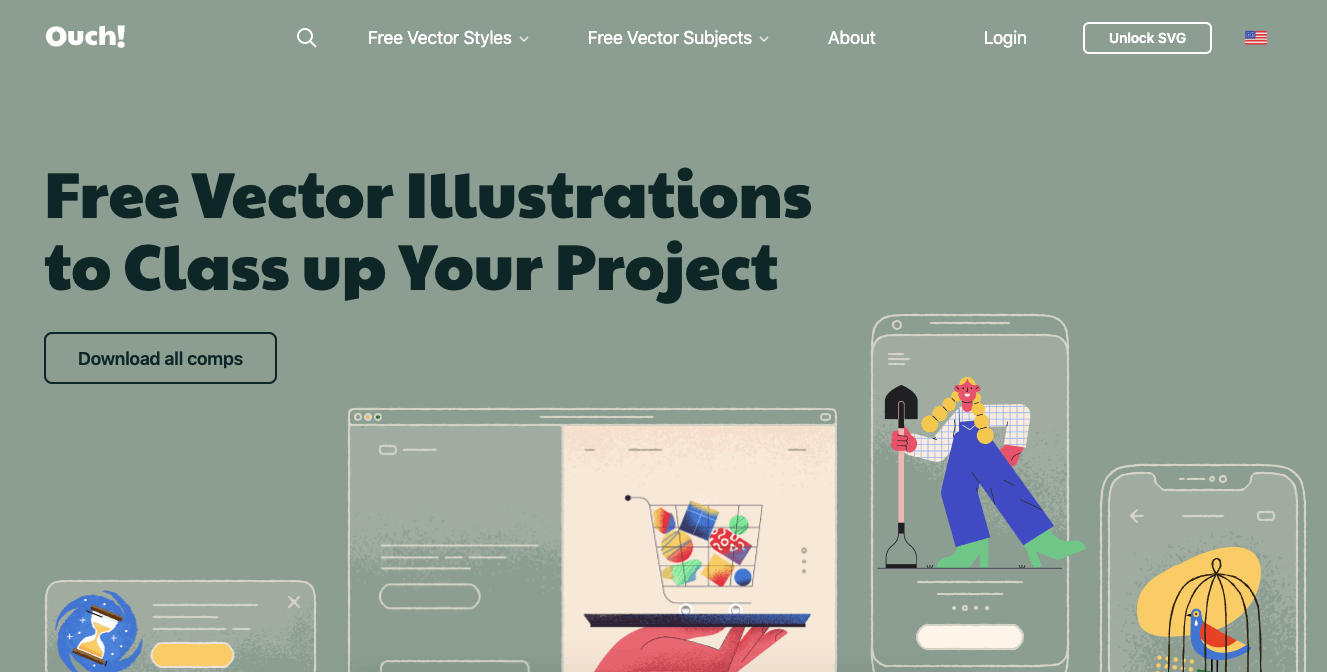 Ouch! is another large collection of illustrations for categories like education, finance, eCommerce, web design, and more. The illustrations come in 20 different styles ranging from flat to textured, geometric to cartoonish. Illustrations in PNG format are free if you link back to Ouch! and credit the artist. Subscribers, on the other hand, get them in an SVG format and don't have to link back or credit the artist.
UnDraw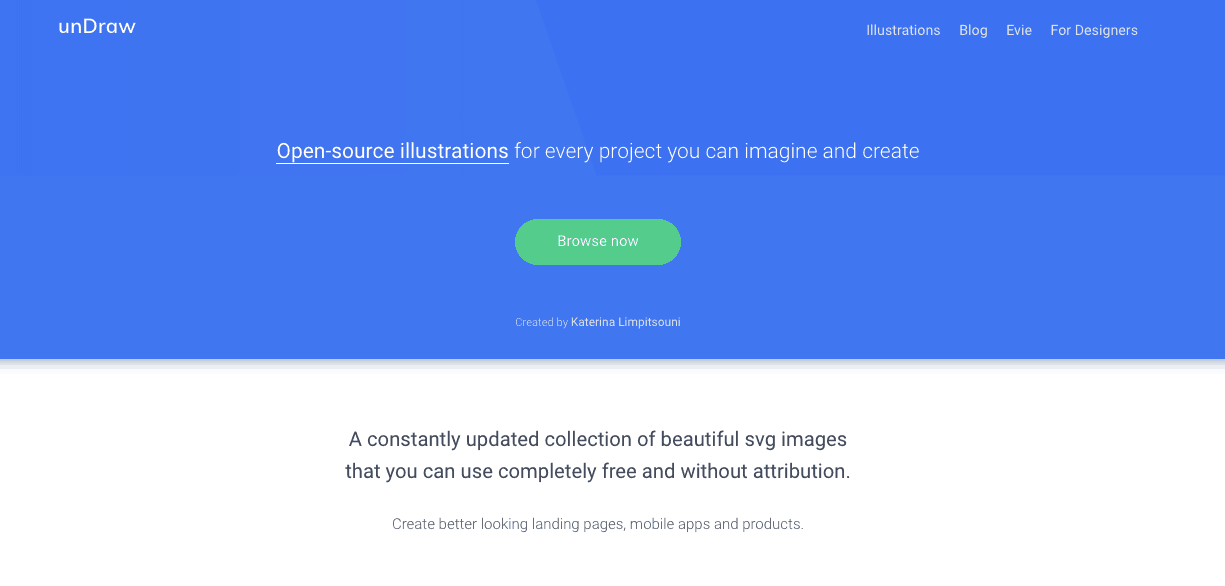 The illustrations on UnDraw come in an SVG format. Without having any effect on the quality of the images, they can be edited and combined together, and their colors can be customized using a color picker. The art is generally focused on the theme of people and technology and is done in a modern style. The collection is constantly updated, and all of the pieces fall under the MIT license. When using illustrations from UnDraw, you don't have to link back, and if you are a user of AdobeXD, you can use the Undraw plugin, which will allow you to customize further and animate the illustrations.
Conclusion
Hopefully, this article can serve as a guide in your search for your next project's illustrations. It's true that this process can be time-consuming and confusing, but it doesn't have to be. At least a few, if not all, of the above-mentioned sites will have exactly what you are looking for, so don't be afraid to embark on this task. Just make sure that illustrations fit well into your project, work with your design, and above everything, that they truly convey your message. And one last tip, just as a precaution, always double-check for copyright and the licensing terms, so that one free illustration doesn't lead you in a lot of costly legal trouble.