It seems like Black Friday gets bigger every year. There are more stores involved, deals are getting better and the merchandise cheaper. While this might mean more problems for retailers, having an online store or offering a digital product is a different thing.
We won't get into the problems of Black Friday & Cyber Monday nor discuss why people like to fight on this day. Let's enjoy the sheer number of the WordPress deals that we managed to acquire. We are sure that there are at least a few WordPress plugins, themes or services that will catch your eye.
Although usually, all WordPress deals last for more than just the weekend spread between Black Friday and Cyber Monday, make sure that you check the dates for each deal. It wouldn't be fun to miss an opportunity to save even up to 50% percent on a deal because of a missed date.
---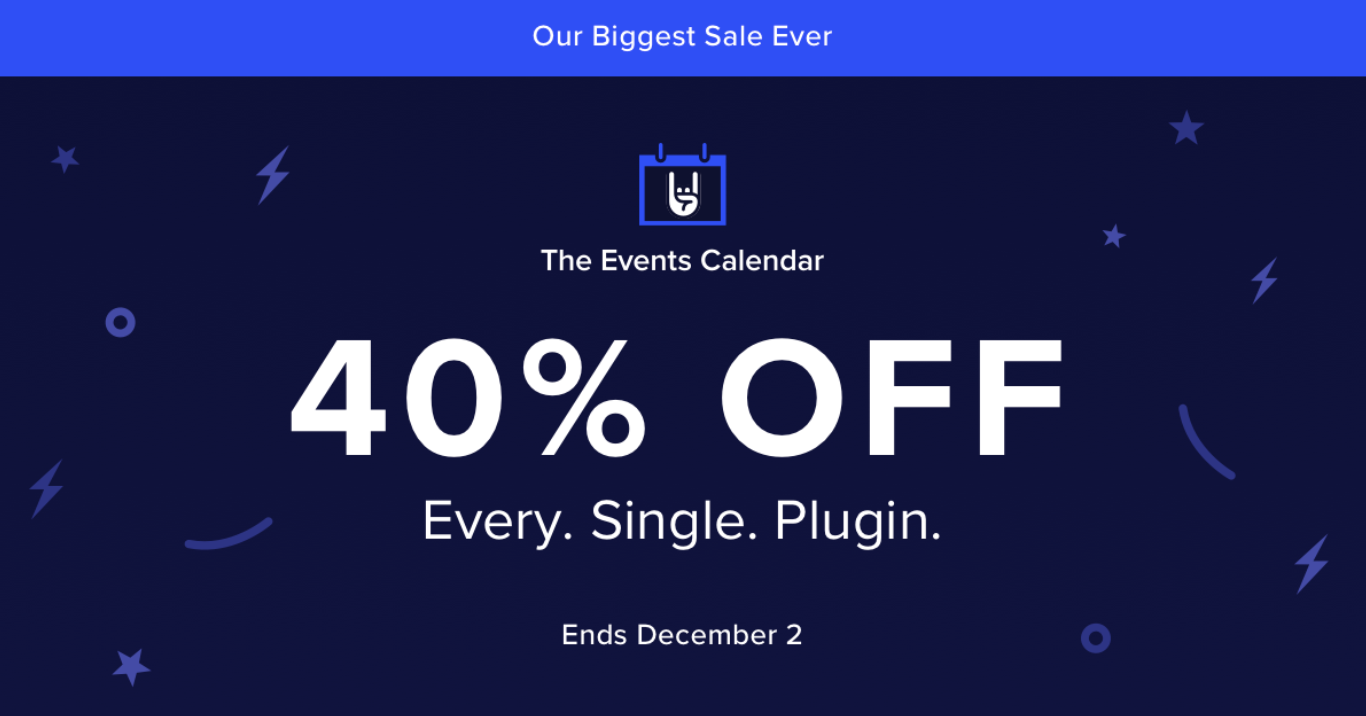 The Events Calendar is the number one calendar and ticketing solution on WordPress, powering more than 750,000 calendars across the web. For Black Friday they are running their biggest sale ever. They are offering 40% off every single plugin on their site from Monday 11/25-Monday 12/2!
Valid from November 25th, 2019 till December 2nd, 2019
---
---
---
Name
Discount
Description
Valid From
Valid Till
7Theeme
30%

We give a 30% discount on all WordPress themes in our shop (htttp://www.7theme.net) with discount code "blckfrdy"
The code is valid from 11/25 till 12/03

Nov 25th
Dec 3rd
99Robots
50%

Get 50% off of all the products at 99Robots, including 20+WordPress plugins for marketers and publishers that help you generate more leads, lead generation, page peel advertising, interstitial overlays, content sharing, fancy quotes, author stats, notification bars, and more using the code BLACKFRIDAY50. This deal expires Monday, December 3rd at midnight EST.

Jan 1st
Jan 1st
Acme Premium Themes
40%

Let's Celebrate Black Friday & Cyber Monday With Joy As We Are Giving a 30 % Discount on All of Acme Premium Themes.

Nov 14th
Dec 4th
AdSanity
40%

AdSanity is a light ad rotator plugin for WordPress. It allows a publisher to create and manage ads to be shown on their website as well as keep statistics on views and clicks through a robust set of features.

The discount code "HOHOOHYEAH"" will be valid from 11/29/19-12/6/19 and is worth 40% off the entire purchase of any license. Note: there is a limit of one use per customer.

Nov 29th
Dec 6th
Advanced Content Templates
30%

Advanced Content Templates is a full WordPress post content template solution. If you publish new posts, or pages, or custom post type posts that contain similar content, ACT allows you to choose your starting point every time you create a new post/page. They are offering a 30% discount for all licenses.

Use coupon code: BLACKFRIDAY

Note: This offer is good from 11/27 through 12/4.

Nov 27th
Dec 4th
AffiliateWP
25%

The best affiliate management solution for WordPress brought to you be the Sandhills Development Team. Take your affiliate marketing to the next level and get 25% off by using BFCM2019 at checkout.

Nov 29th
Dec 6th
Ahoy
40%

Ahoy is a targeted messaging WordPress plugin that allows site admins to show different messages to different visitors based on different conditions which allows people to show messages for:
* Upsells
* Cross-sells
* Cart abandonment
* Announcements
* and more!

This year, Ahoy is offering a 40% discount during our Black Friday sale starting November 25th and ending December 3rd. No discount code required

Nov 25th
Dec 3rd
AmaLinks Pro
50%

Get this premium Amazon affiliate WordPress plugin for only $47/year ($20 off) for a Blogger plan or only $97/year ($100 off) for a Premium plan! This is the ONLY sale we will run all year where you get to keep the discounted sale price for your yearly renewal rate. Sale valid November 29th thru December 2nd, 2019. No coupon code required.

Nov 29th
Dec 2nd
AMPforWP
40%

We Build AMP like nobody else. We breathe and live AMP technology and nobody can beat us in this game. Currently building #1 AMP Plugin for WordPress. Coupon Code: AMP2019

Nov 29th
Dec 31st
Amplify Plugins
35%

Amplify Plugins offers unique plugins to enhance your WooCommerce site. Our plugins are focused on converting more customers, and providing a more personalized shopping experience. Customers will receive 35% off all purchases between November 29, 2019 - December 6, 2019. No discount code required.

Nov 29th
Dec 6th
Astra Pro
30%

The fastest WordPress theme with over 500,000+ active users. Sale price $41.

Nov 25th
Jan 4th
Atiframe Builder
45%

"Agency WordPress theme with 18 homepages, 8 designs, unlimited colors.

Coupon code FSBFCM2019"

Nov 25th
Dec 2nd
AzonPress
50%

AzonPress is an affiliate management plugin solely developed for the Amazon marketplace by WPManageNinja. In this Black Friday and Cyber Monday, AzonPress offers a 50% discount on its unlimited lifetime plan. That means now you will get AzonPress with $199 for a lifetime. This discount will be applied by using the coupon BLK199.

Nov 25th
Dec 5th
Barn2 Plugins
50%

With over 10,000 happy customers, Barn2 sell high-quality WordPress plugins, including the bestselling WooCommerce Product Table and WooCommerce Quick View Pro. Get 50% discount between 29 November and 2nd December with coupon code BARN2CYBER2019.

Nov 29th
Dec 2nd
BetterDocs
75%

This Black Friday our users get BetterDocs Lifetime Unlimited Deal, at only $49. BetterDocs is a powerful knowledge-base solution for WordPress. It comes with many advanced features i.e. Sticky TOC, Instant Answers, Advanced Live Search, Stunning Template, Insightful Analytics and many more.

Nov 20th
Nov 30th
BuddyBoss
30%

BuddyBoss creates innovative themes and plugins with a focus on online communities, memberships and online courses. Key products include the BuddyBoss Theme, BuddyBoss Platform plugin, and the Social Learner.

25% OFF SITEWIDE - USE COUPON CODE BLACKFRIDAY2019B

Nov 30th
Dec 1st
Checkout for WooCommerce
30%

CheckoutWC is a WooCommerce extension that replaces your checkout page with beautiful, conversion optimized templates with minimal configuration. This holiday season they are offering a 30% discount for all licenses.

Use coupon code: BLACKFRIDAY
Note: This offer is valid until December 3, 2019.

Nov 25th
Dec 3rd
Click Ranger Pro
40%

Click Ranger Pro helps publishers easily track user clicks, downloads, form completions, and other events on their WordPress website with Google Analytics. Get the data you need without the fuss of JavaScript or PHP.

The discount code "HOHOOHYEAH"" will be valid from 11/29/19-12/6/19 and is worth 40% off the entire purchase of any license. Note: there is a limit of one use per customer.

Nov 29th
Dec 6th
Conditional Checkout Fields
35%

Conditional Checkout Fields is the best way to collect additional information from event attendees, workshop students, and other customers. Forget the back and forth emails trying to get meal choices, or even additional attendee names. Conditional Checkout Fields prompts the customer to provide this information right at checkout, saving you and them time and hassle. Customers will receive 35% off all purchases between November 29, 2019 - December 6, 2019. No discount code required.

Nov 29th
Dec 6th
Content Aware Sidebars Pro
30%

The fastest and most powerful WordPress widget area plugin. Easily create your own sidebars and add them to any post, page, category, etc. NEW: Make any sidebar sticky without a single line of code!

Use coupon code BFCM19 to get 30% discount on all plans

Nov 27th
Dec 2nd
Contest Code Checker Pro
50%

Get 50% off with code - BB2019 for Contest Code Checker Pro the best way to run contests on your WordPress Site.

Nov 19th
Nov 30th
Dev4Press
25%

Dev4Press is home to more than 15 premium plugins for WordPress and bbPress. Dev4Press currently has 6 plugins for supercharging bbPress powered forums with a wide range of features, including the full templates and styling replacement of the default bbPress front end templates. Our offer includes plugins for website administration, security, widgets, rating and much more.

Nov 27th
Dec 3rd
Divi Theme
25%

"* 25% off both our Developer and Lifetime Packages (Best discount of the year)
* Free Prizes with every purchase (Over $1Million worth of prizes while supplies last)
* Exclusive Discount Perks from our Partners"

Nov 29th
Dec 1st
DragDropr
50%

"DragDropr is a revolutionary drag&drop page builder that smoothly integrates with any leading content management system such as Shopify, WordPress, Magento and others. The app can be utilized by bloggers, web designers, content managers or web shop owners to edit existing pages or create stunning landing pages that would skyrocket your conversion.

Our Black Friday / Cyber Monday coupons can be used on our monthly and annual plans.

Monthly discount: 20% off
Monthly coupon code to activate: BF/CMmonthly20

Annual discount: 50% off
Monthly coupon code to activate: BF/CMannual50"

Nov 25th
Dec 6th
Easy Digital Downloads
25%

Our annual sale for Easy Digital Downloads passes and renewals. The best way to sell digital products by the Sandhills Development team. Use code BFCM2019 at checkout.

Nov 29th
Dec 6th
Elementor
30%

"Elementor, a leading global WordPress website builder platform with over 3 Million sites built, is making web design even easier. For Black Friday, Elementor is offering up to 30% discount on its premium plans for new customers, as well as on upgrades for existing customers.

Throughout the promotion period, Elementor will also be running a giveaway for 88 contestants to win free one-on-one sessions with leading experts from the Elementor team. The sessions will include the following tracks:
"

Nov 22nd
Dec 4th
Essential Addons for Elementor
80%

With EA Exclusive $119 Unlimited Lifetime Deal Bundle our users get 4 Premium WordPress Plugins for Free.
Bundle Includes- Essential Addons PRO Lifetime Unlimited + BlogVault - Ultimate Backup Solution (3 sites/1year) + NotificationX - Best Social Proof & FOMO Marketing Solution (1 site/1 year) + Icegram - Email Marketing Solution (1 site/1 year) + WP Security Audit - Advanced Site Security Plugin (1 site/1 year)
Coupon Code-BFCM
Link for automatically adding the coupon at checkout: https://wpdeveloper.net/ea-black-friday

Nov 20th
Nov 30th
Fatcat Apps
20%

Fatcat Apps is offering 20% off all of our lightweight, easy-to-use WordPress plugins with the coupon code BF2019. In addition, get 30% off our Product Bundle, containing the premium version of all five of our plugins, with the code BFBUNDLE2019.

Nov 27th
Dec 6th
Flothemes
35%

35% Off all Flothemes and up to $179 Off bundle deals

Nov 18th
Dec 1st
FooPlugins
30%

30% off new licenses and renewals for any FooGallery and FooBox licenses. Use the promo code: BlackFriday2019

Nov 29th
Dec 3rd
Freemius Special Promotions
50%

All deals use discount coupon code: FSBFCM2019

Nov 29th
Dec 2nd
Full Screen Background Images
35%

Full Screen Background Images is the easiest way to add your beautiful images to the background of your website. Add an unlimited number of full screen background images to your WordPress site. Have a different image on each page, or use one image globally across your whole site. The choice is yours! Customers will receive 35% off all purchases between November 29, 2019 - December 6, 2019. No discount code required.

Nov 29th
Dec 6th
GeoDirectory
40%

40% OFF Everything Including our Limited Lifetime Membership

Nov 27th
Dec 3rd
GiveWP
50%

Enjoy a 50% discount on the Pricing Plans for the GiveWP WordPress donation plugin from Black Friday through Giving Tuesday (November 29, 2019 through December 3, 2019). Use code ThanksGIVEing2019

Nov 29th
Dec 3rd
Grace Themes
20%

Grace Themes develops and design beautiful, professional WordPress themes with a minimal and clean design, to help your site stand out.

Choose from a wide variety of our modern themes and start your blogging journey today.

Nov 21st
Dec 5th
Gravity PDF
40%

Get 40% off Gravity PDF All Access Passes for Black Friday / Cyber Monday with coupon code GRAVITY40

Nov 29th
Dec 2nd
HostingSpell
50%

The user will get exclusive 50% off coupon in this blackfriday sale. Coupon code will be : BLACKFR50

Nov 20th
Nov 25th
Iconic
50%

Huge savings on our Iconic Bundles. Everything you need for your WooCommerce store. Iconic's WooCommerce plugins are trusted by over 10,000 store owners. This Black Friday (Nov 29th to Dec 6th) you can get access to everything you need for your WooCommerce store with up to 50% off!

Nov 29th
Dec 6th
Invoicing Plugin
40%

40% OFF Everything Including our Limited Lifetime Membership

Nov 27th
Dec 3rd
Jupiter X
50%

Jupiter X WordPress theme is a featured item in Envato Market Cyber Monday campaign and is offering 50% discount on the following dates (it has already started):

Starting on Tuesday Nov 26 at 12 PM AEDT, and finishing on Tuesday December 3 at 8PM AEDT 2019.

Nov 26th
Nov 30th
Launch & Sell
50%

The biggest Launch & Sell sale of the year. We're offering a massive 50% off our newly launched WordPress plugins. Use the coupon code: BLACKFRIDAY19

Nov 25th
Dec 2nd
Link Whisper
30%

Link Whisper is a revolutionary WordPress plugin for automatic interlinking of blog articles that uses artificial intelligence in order to offer contextual internal link suggestions. The tool not only saves a lot of time by automating the otherwise cumbersome process of internal linking but also helps with Google ranking and, last but not least, enables readers to find relevant content more easily.

Our Black Friday/ Cyber Monday deal will be valid from Nov 29 to Dec 02. The discount is going to be 30$ off on all of our plans and the discount code is 'blackfriday'

Nov 29th
Dec 3rd
Liquid Web's Managed WordPress Professional Plan
50%

Get 50% off 3 months PLUS another $2k in bundled bonus savings

Nov 28th
Dec 2nd
LiveAgent
10%

LiveAgent is a simple and intuitive multichannel helpdesk software that helps businesses provide excellent customer service across all channels – social media, phone, email, and chat. All streamlined in one place.

Deal offer:
$100 credit for LiveAgent

Nov 22nd
Dec 3rd
MailOptin
25%

MailOptin is giving away 25 percent off your entire purchase from Black Friday through Cyber Monday. Use the coupon BFCM2019 on checkout.

Nov 29th
Dec 3rd
Mastering Beaver Builder Course
25%

Take your Beaver Builder knowledge to the next level with this master course. Coupon BEAVERMASTER

Nov 14th
Dec 6th
MetaSlider
20%

20% off MetaSlider Pro - Use code "BF20newsifyMS2019" at checkout

Nov 29th
Dec 3rd
mintWP
40%

24/7 WordPress Support and Maintenance Services

Nov 25th
Dec 2nd
MyThemeShop
55%

All 100+ Premium themes and 20+ premium plugins with unlimited domains license for just $99.47/year and the products can be used on client websites as well.

Dec 1st
Dec 7th
Ninja Tabels
50%

Ninja Tables plugin is the leading table builder plugin in WordPress developed by WPManageNInja. In this Black Friday and Cyber Monday, Ninja Tables offers a 50% discount on its unlimited lifetime plan. That means now you will get Ninja Tables with $199 for a lifetime. This discount will be applied by using the coupon BLK199.

Nov 25th
Dec 5th
NotificationX
40%

We are offering a 40% discount on all plans for NotificationX, the best Social Proof and FOMO Marketing Plugin for WordPress.
Coupon Code-BFCM40
Deal Landing Page- https://wpdeveloper.net/black-friday/

Nov 20th
Nov 30th
Page Generator Pro
35%

Automatically mass generate content (Pages, Posts and Custom Posts) to maximise your search engine presence for your business.

Use coupon code BF2019 for 35% off

Nov 29th
Dec 2nd
Paid Member Subscriptions
25%

"Paid Member Subscriptions is a powerful membership plugin, that lets you accept (recurring) payments, create subscription plans and restrict content. Integrates with WooCommerce.

User coupon code CLBF25OFF to get 25% OFF your purchase."

Nov 28th
Dec 3rd
Password Policy Manager
40%

"Do not let weak users passwords jeopardize the security of your WordPress website. Easily create password policies on your WordPress and eCommerce store with the Password Policy Manager plugin. Don't take risks, ensure all users use strong passwords!

For this Black Friday 2019, you can get 40% off any of the packages by using the code BF201940 between 27th November and 3rd December 2019."

Nov 27th
Dec 3rd
Patron Plugin Pro
20%

Patron Plugin Pro allows you to connect your site to Patreon. The code HAPPYBLACKFRIDAY2019 will give 20% discount to all purchases for Patron Plugin Pro, and any other purchase at Codebard.com

Nov 22nd
Dec 6th
Perfmatters
30%

Slow WordPress sites have higher bounce rates and fewer conversions. The lightweight Perfmatters WordPress plugin was created by web performance geeks to speed up your site!
Coupon code: BLACKFRIDAY

Nov 22nd
Dec 2nd
Permalink Manager Pro
25%

I am offering 25% off for customers who will use "BLACKF19" during the checkout.

Nov 1st
Nov 30th
Plugmatter – Premium WordPress Support
50%

Lifetime 50% discount on our Premium WordPress Support service plans (Professional and Business). Coupon: WPSBF50OFF

Nov 14th
Dec 31st
Popup Maker
40%

Popup Maker is a WordPress popup plugin that allows site admins to quickly and easily add popups to their WordPress sites. Popup Maker can be used for:
* Email List Optin Popups
* Content Upgrade Popups
* News Popups
* Contact Form Popups
* And more!

Nov 25th
Dec 3rd
Post Affiliate Pro
10%

Post Affiliate Pro is an affiliate software that runs and automates your entire affiliate program.

Deal offer:
$100 credit for Post Affiliate Pro

Nov 25th
Dec 3rd
Product Options and Price Calculation Formulas for WooCommerce – Uni CPO
40%

Our special discount code BF2019 gives - 40% discount for any types of licences, both new and renewal.

Nov 18th
Dec 3rd
Profile Builder Pro
25%

"Profile Builder Pro is a bestselling user profile and registration plugin, packing tons of features and integrations.

Use coupon code CLBF25OFF to get 25% OFF your Profile Builder Pro purchase."

Nov 28th
Dec 3rd
ProfilePress
25%

ProfilePress is giving away 25 percent off your entire purchase from Black Friday through Cyber Monday. Use the coupon BFCM2019 on checkout.

Nov 29th
Dec 3rd
Quick Checkout
35%

Quick Checkout is the fastest one page checkout extension for WooCommerce. It reduces the time it takes for customers to checkout, increases conversion rates, and improves the checkout flow. Quick Checkout is the Amazon "Buy Now" button for WooCommerce. Use it on standard shop and product pages to improve the customer experience, or create completely unique landing pages with no additional page loads for a quick and easy checkout. Customers will receive 35% off all purchases between November 29, 2019 - December 6, 2019. No discount code required.

Nov 29th
Dec 6th
Remove WooCommerce Features
50%

50% Off All Licenses with Code BF2019 at Checkout

Nov 19th
Nov 30th
Responsive Pro
40%

Responsive Pro is a highly customizable WordPress theme with 150+ Customizer options. It comes with 30+ ready to use website templates to help you with quick setup.

Dec 4th
Dec 4th
Restrict Content Pro
25%

A light and powerful membership solution for all the solid features, brought to you by the Sandhills Development team. Get your license or renewal for 25% off by using discount code BFCM2019 at checkout.

Nov 29th
Dec 6th
Schema Pro
30%

Outperform your competitors on Google by implementing schema markup on the website quickly and easily.

Nov 25th
Dec 4th
Securing WordPress with HTTPS Course
60%

60% OFF Securing WordPress with HTTPS Course - No Coupon Needed, Expires Dec 3 2019

Nov 20th
Dec 3rd
Shoptimizer
60%

Shoptimizer is a FAST WooCommerce theme built for speed and conversions, based upon real research. Black Friday And Cyber Monday Sale Details: $60 off! Normal RRP $99, get Shoptimizer for only $39.

Only with the coupon code: BFCM39

Nov 29th
Dec 2nd
Simple Feature Requests Pro
40%

Simple Feature Requests takes the pain of gathering feedback from your users and customers away. Now you can manage feature requests through your very own WordPress website and keep your users in the loop with an up to date product roadmap.

Nov 29th
Dec 6th
Simple Giveaways
30%

Simple Giveaways is a WordPress plugin for hosting great giveaways. The coupon code to get 30% off from the first purchase and all renewals is BFCM2019

Nov 25th
Dec 6th
SKT Themes
20%

SKT Themes Black Friday deal for 2019 is valid only between November 05th to 31th Dec, 2019. So make sure to grab the deal between that dates.
SKT Themes includes a assortment of gorgeous, elegant and useful WordPress themes that square measure good for business, eCommerce, blogs, magazine, education and lots of a lot of.

Nov 21st
Dec 1st
Smartmockups
30%

All Smartmockups plans will be 30% OFF with the discount code BLACKFRIDAY30. The deal will be up from Nov 20th to Nov 29th.

Nov 20th
Nov 29th
Social Booster
20%

Social Booster lets you fully automate the social sharing of your website content on major social media platforms without leaving your website.

Use the code REX19BF on checkout to get a 20% discount.

Nov 27th
Dec 7th
Starfish Reviews
78%

Starfish Reviews helps small businesses get more reviews on Google, TrustPilot, Facebook, and all other online reviews platforms. Our limited lifetime deal this year is 70% off! Limited quantity and time, so get it quick!

Nov 15th
Nov 30th
Sugar Calendar
25%

The simple solution to manage your events on WordPress, brought to you by the Sandhills Development team. Get your license during our Black Friday/Cyber Monday sale by using BFCM2019 at checkout!

Nov 29th
Dec 6th
Suki WordPress Theme
30%

No coupon code needed, we directly applied the discount on our site globally.
Suki is the most flexible and lightweight WordPress theme that helps you build beautiful and lightning fast websites with less time and effort.

Nov 25th
Dec 4th
Swift Performance
70%

"Swift Performance is an all-in-one performance plugin. It helps optimize your WordPress website, speed up load time and improve user experience. Swift Performance also provides unlimited free image optimization with WebP support.
"

Nov 18th
Dec 3rd
SyncSpider
50%

SyncSpider is a universal marketing tool that helps you synchronize your web app data across 100's of channels and platforms.

You can sync all your Webapp data like contacts, support tickets, tasks and product details to your CRM or to other apps. SyncSpider will easily automate your everyday time-consuming tasks!

SyncSpider eliminates any need for copy-pasting the data manually. From your customer data, sales, inventory, tasks, support tickets to everything else – simply update your data at one place and SyncSpider will sync it with all your active platforms in seconds.

Our Black Friday / Cyber Monday coupons can be used on our monthly and annual plans.

Monthly discount: 20% off
Monthly coupon code to activate: BF/CMmonthly20

Annual discount: 50% off
Annual coupon code to activate: BF/CMannual50

Nov 25th
Dec 6th
The Plus Addons for Elementor
30%

We have blackfriday & cybermonday sale for our The Plus Addons for Elementor of 30% on all packages. Which is from November 26th to December 4th 2019. They need to use coupon code ""THANKYOU"" to get discounts. Website URL is : https://elementor.theplusaddons.com/pricing/

Nov 26th
Dec 4th
The WP Gurus
70%

Join any of The WP Gurus WordPress Maintenance & Support packages and get 70% off your first payment! If you choose a yearly subscription, you could save over $1,000! The WP Gurus cover everything from daily backups to site migrations, security hardening to hack cleanups, unlimited bug fixes, small job requests (design changes, plugin customisations, 3rd party service integrations) and so much more. Simply use the code "BFCMWPGRP" at checkout.

Nov 14th
Nov 30th
Theia Post Slider
50%

We offer a 50% discount on our one-of-a-kind post slider

Nov 14th
Dec 2nd
ThemeHunk Themes
30%

ThemeHunk is a popular place where you can get a wide range of beautiful, professional WordPress themes and plugins. All themes are easy to set up and customize as you need with a top-notch responsive design. Get 30% off on Premium themes.
Coupon Code - 30% off

Nov 25th
Dec 5th
ThemeIsle Themes & Plugins
25%

"The biggest ThemeIsle sale of the year (25% OFF)
Get access to super-fast, easily customizable, multi-purpose WordPress themes with a focus on Elementor compatibility. Pick your favorite between Neve, Hestia ShopIsle and Zelle.

Plus a collection of WordPress premium plugins tailored for your website: Feedzy RSS, Visualizer, Wordpress Product Review.
"

Nov 27th
Dec 3rd
Themeum
50%

Themeum is offering a 50% discount on all of its WordPress themes and plugins. The plugins include WordPress LMS plugin Tutor LMS, Gutenberg block toolkit Qubely, WP Crowdfunding plugin, WP Mega Menu plugin and WP Page Builder. Just use the coupon code: BLACKFRIDAY50 during checkout and enjoy the discount.

Nov 25th
Dec 5th
Themify
40%

Themify is offering 40% off all themes, plugins, and Master Club with coupon code: BLACKFRIDAY and $75 off Lifetime with coupon code: BFLIFE

Nov 25th
Dec 2nd
Total WordPress Theme
50%

Builld the website you've always wanted with WordPress and the Total WordPress theme - now 50% off for Black Friday! No code needed - discount already applied.

Nov 25th
Dec 3rd
TranslatePress
25%

"TranslatePress is the most intuitive WordPress translation plugin that lets you translate everything on your website directly from the front-end, using a visual translation interface.

It's fast, SEO friendly and works out of the box with any theme or plugin, including WooCommerce or page builders. Supports both manual and automatic translations.

Use coupon TPBF25OFF to get 25% off your purchase."

Nov 28th
Dec 3rd
Tyche Softwares
35%

We are offering 35% off on all our WooCommerce plugins, bundles & license upgrades. Some of our most popular plugins are Order Delivery Date, Bookings, Abandoned Carts & Deposits for WooCommerce. We are also offering limited lifetime licenses for all our plugins. Lifetime licenses can only be purchased during this sale.

Discount code: BFCM19 (Automatically applied)

Nov 25th
Dec 2nd
Ultimate Addons for Beaver Builder
30%

Take Beaver Builder to next level with 55+ unique custom modules and 300+ ready-made page & section templates.

Nov 25th
Dec 4th
Ultimate Addons for Elementor
30%

A unique and powerful widget library that enhances the possibilities and customization options of Elementor

Nov 25th
Dec 4th
UpdraftPlus
20%

20% off UpdraftPlus Premium - Use code "BF20newsify2019" at checkout

Nov 25th
Dec 3rd
UsersWP user profile plugin
40%

40% OFF Everything Including our Limited Lifetime Membership

Nov 27th
Dec 3rd
Visual Composer
40%

Get 40% OFF Visual Composer Website Builder

Nov 25th
Dec 4th
Wallace Inline
30%

30% Off with Code BLACKFRIDAY

Nov 25th
Nov 30th
WCAG and ADA WordPress themes
50%

Grab professional WCAG and ADA WordPress themes 50% OFF. Take advantage of the PixelEmu Black Friday / Cyber Monday offer.

Nov 25th
Dec 2nd
Weglot
30%

Weglot is a no-code WordPress translation plugin that enables you to translate, display and edit your multilingual website content in minutes.

Simple install, 100% compatible with all WordPress themes and plugins, and optimized for multilingual SEO - ensuring you're searchable in your new markets.

Use code: WG2019BF30 for 30% off any paid plan FOREVER!

Nov 22nd
Dec 3rd
WisdmLabs' Premium WordPress products
30%
Nov 28th
Dec 2nd
WooCommerce Product Feed Manager
20%

WooCommerce Product Feed Manager helps you to create an accurate product feed for Google Shopping, Amazon, eBay, Facebook Dynamics, Yandex, and 45+ other popular marketplaces.

Use the code REX19BF on checkout to get a 20% discount.

Nov 27th
Dec 7th
Woostify
40%

Woostify is a Free Powerful WordPress WooCommerce theme. The Pro version comes up with a variety of awesome features such as Mega Menu, Sale Notification, Size Guide, Sticky add to Cart Button, Buy Now, Elementor Bundle, etc. On Black Friday & Cyber Monday, Woostify Pro is going to be 40% OFF. Coupon code: BLACKOFF

Dec 26th
Jan 6th
Woostify
40%

Woostify is a Free Powerful WordPress WooCommerce theme. The Pro version comes up with a variety of awesome features such as Mega Menu, Sale Notification, Size Guide, Sticky add to Cart Button, Buy Now, Elementor Bundle, etc.
Coupon Code: BLACKOFF

Nov 26th
Dec 6th
WordPress Theme
40%

40% OFF + Black Friday Social Media Kits for any purchase on ThemeMove Club.
Use gift code: TMBF2019 at checkout.
The deal is applied at: http://thememove.com/

Nov 20th
Nov 29th
WordPress to Buffer Pro
35%

Automatically send WordPress content to your buffer.com account for scheduled publishing to Facebook, Twitter, Instagram (Direct), Pinterest and LinkedIn.

Use Coupon Code BF2019 for 35% off.

Nov 29th
Dec 2nd
WordPress to Hootsuite Pro
35%

Automatically send WordPress content to your Hootsuite account for scheduled publishing to Facebook, Twitter, Instagram, Pinterest and LinkedIn.

Use coupon code BF2019 for 35% off

Nov 29th
Dec 2nd
WP Coupons
30%

WP Coupons is an affiliate marketing coupon plugin for WordPress. It was developed by affiliate marketers for affiliate marketers to help increase your CTR and conversions.

Coupon code: BLACKFRIDAY

Nov 22nd
Dec 2nd
WP Coupons and Deals
40%

"WP Coupons and Deals is the best Coupon plugin for Bloggers and Affiliate Marketers. It comes with everything you need to make more money from your affiliate coupons and deals. This Black Friday get 40% discount on all plans, including lifetime plans.

Use the Coupon Code: WPCD40"

Nov 20th
Nov 30th
WP ERP
33%

WP ERP is an all-in-one web business manager solution on WordPress for small and medium sized businesses. It takes care of all operations of Accounting, CRM, and HRM with its feature-rich interface. Additionally, it comes with a host of powerful extensions that augment its capabilities.

Offer: 33% discount on all WP ERP products (extensions, plans & bundles)
Validity: 4th December, 2019
Coupon: ERP-BFCM33
Link: https://wperp.com/

Nov 20th
Dec 4th
WP Fluent Forms
50%

WP Fluent Forms plugin is one of the quality form builder plugins in WordPress developed by WPManageNInja. In this Black Friday and Cyber Monday, WP Fluent Forms offers a 50% discount on its unlimited lifetime plan. That means now you will get WP Fluent Forms with $199 for a lifetime. This discount will be applied by using the coupon BLK199.

Nov 25th
Dec 5th
WP Fusion
30%

At WP Fusion we offer 20% (recurring) affiliate commissions on our products, which retail from $247 to $540. Our best selling product is the Plus license, which is $347.

WP Fusion (https://wpfusion.com/) is a plugin that enables a bi-directional integration between WordPress websites and CRMs and marketing automation systems.

People use it to track and engage their customers, LMS students, and members inside their marketing platform.

WP Fusion can also track abandoned carts from WooCommerce and other ecommerce plugins, sync form submissions to your CRM, unlock site content and trigger automated enrollments based on CRM tags, and much more. WP Fusion includes support for 70+ plugins and 35+ CRMs.

THE BLACK FRIDAY DEAL THIS YEAR:

* Coupon Code: BLACKFRIDAY19
* 30% discount on all new licenses and upgrades
* The offer runs from midnight (EST) on Thursday, Nov. 28th, until midnight Monday Dec. 2nd

Nov 28th
Dec 2nd
WP Gratify
30%

WPGratify is an easy to use WordPress review management plugin. It allows us to grab a review from Google and also make reviews within the website. WPGratify also has features for social proofing, review automation and Google My Business management. This makes WPGratify one and only plugin with all these features.

EPIC BLACK FRIDAY SALE : Flat 30% OFF Apply coupon 'BFCM19'

Nov 28th
Dec 2nd
WP Legal Pages - WordPress Privacy Policy Generator Plugin
40%

Use coupon BFPLUG19 to get 40% off on the plugin

Nov 10th
Dec 4th
WP Mobile Menu
40%

WP Mobile Menu is the best WordPress responsive mobile menu. Provide to your mobile visitor an easy access to your site content using any device smartphone/tablet/desktop. Improve your WooCommerce shop user engagement with a good looking sliding carte and a specific product filter for mobile devices. No coding knowledge is required. Works with all WordPress responsive themes.

Nov 22nd
Dec 3rd
WP Recipe Maker
30%

Use the code WPBF19 to get a 30% discount on WP Recipe Maker and all other plugins by Bootstrapped Ventures!

Nov 28th
Dec 3rd
WP Rocket
35%

"Recognized as the most powerful caching plugin by WordPress experts, WP Rocket makes your WordPress website load blazing fast!
Forget complicated settings and headaches, and try it ! Now is the perfect moment since we offer our biggest promotion of the year: -35% on your WP Rocket's license!"

Nov 26th
Dec 3rd
WP RSS Aggregator
20%

Boost visitor engagement and grow your following with content curated specifically for your audience. Over 60,000 websites use WP RSS Aggregator to keep site visitors intrigued and coming back for more. Save 20% on the Basic and Pro plans between 29th November and 6th December.

Nov 29th
Dec 6th
WP Scheduled Posts
74%

WP Schedule Post is the best content management and Editorial Calendar solution for WordPress. Our users can get the Plugin at only $39 this Black Friday and save 74%.
It comes with many Advanced Features i.e. Schedule Calendar, Auto Post Scheduler, Manual Post Scheduler, Missed Post Handler, Social Sharing on Twitter and Facebook and many more.

Nov 20th
Nov 30th
WP Security Audit Log
40%

"WP Security Audit Log is the most comprehensive WordPress activity log plugin with the broadest coverage and real-time logs. It is trusted by more than 100,000 administrators to keep a log of all user and under the hood changes on their WordPress websites and WooCommerce stores.

For this Black Friday 2019, you can get 40% off any of the packages by using the code BF201940 between 27th November and 3rd December 2019."

Nov 27th
Dec 3rd
WP Sent Mail
30%

WP Sent Mail adds a Sent Mail folder to your WordPress site. See what gets sent and when it gets sent. Or block WP from sending emails in your testing environment, but still capture them for testing. They are offering a 30% discount for all licenses.

Use coupon code: BLACKFRIDAY

Note: This offer is good from 11/27 through 12/4.

Nov 27th
Dec 4th
WP Simple Pay
25%

The easiest way to pay is more simple than ever. Get your WP Simple Pay license for 25% off by using BFCM2019 at checkout.

Nov 29th
Dec 6th
WP Webhooks Pro
30%

Get 30% off of WP Webhooks Pro with CYBERHOOKS2019

Nov 25th
Dec 2nd
WP Word Count Pro
50%

50% Off All Licenses with Code BF2019 at Checkout

Nov 19th
Nov 30th
WP-CRM System
35%

WP-CRM System is an easy to use plugin for managing your business data. It empowers you to take control of your most valuable business information with less manual input than traditional data entry methods. WP-CRM System integrates with popular WordPress plugins like Gravity Forms and WooCommerce, and 3rd party apps like Slack and MailChimp. Customers will receive 35% off all purchases between November 29, 2019 - December 6, 2019. No discount code required.

Nov 29th
Dec 6th
WP1099
35%

WP1099 is the plugin that every site owner with an affiliate marketing program or multi-vendor marketplace needs. None of the existing affiliate or marketplace plugins allow site owners to easily export data for year end 1099 tax reporting. WP1099 produces a clean, easy to read export file that can be used to prepare 1099's for vendors. Whether you send the export to your CPA or do it yourself, WP1099 takes the hassle out of 1099 reporting. Customers will receive 35% off all purchases between November 29, 2019 - December 6, 2019. No discount code required.

Nov 29th
Dec 6th
WPDandy
50%

WordPress Maintenance, Management and Support Services with a 50% discount.

Nov 25th
Dec 3rd
WPeka Platinum Club Membership
40%

Use coupon BFPLAT19 to get 40% off on the WPeka Platinum Club. Get access to 20+ premium WordPress plugins.

Nov 10th
Dec 4th
WPKoi Themes
30%

Add BF19 coupon code for 30% discount!

Nov 25th
Dec 1st
WPPayForm
50%

WPPayForm is one of the best payment plugins in WordPress that accepts multiple gateways. In this Black Friday and Cyber Monday, WPPayForm offers a 50% discount on its unlimited lifetime plan. That means now you will get WPPayForm with $199 for lifetime. This discount will be applied by using the coupon BLK199.

Nov 25th
Dec 5th
WPVR - Virtual Tour Builder
20%

Create a virtual tour of your store, shop, hotel or any of your property easily, using WPVR. Let your visitors get a realistic view of your place while sitting at home.

Use the code REX19BF on checkout to get a 20% discount.

Nov 27th
Dec 7th
But that's not all! If you're looking to get more amazing deals, check out the best WordPress hosting Black Friday deals.